While trick-or-treating might be off the table this year because of COVID-19 (are the free Tootsie Rolls really worth it?) and the annual Village parade has been canceled, the Halloween spirit in NYC isn't dead just yet. Costume shops are still popping up all over the city, stores are stocked with large bags of candy, and New Yorkers are ready for a scare in 2020 that doesn't involve turning on the news.
This Halloween, you can visit a haunted house that's far removed from your own apartment you've been haunting since the lockdown began, head to a cemetery to honor the dead, sip a spiked "HallowCream" cider-and-butterscotch cocktail while carving a pumpkin for your windowsill, or catch a double feature of horror flicks at a drive-in. We've rounded up our 15 favorite haunted houses and spooky attractions to check out for hair-raising chills all in the name of fun.
Until November 7, dates and times vary
Tribeca
While most of 2020 has already seemed like a house of horrors, you can make your way through a real one—and hopefully find a little catharsis—at this year's Blood Manor haunted house. Popping up in 10,000 square feet of Manhattan real estate, the Manor is full of killer clowns, bloody nurses, and a cross-section of the undead. Bring your game face and try to reassure yourself that (unlike 2020!) you can leave through an emergency exit whenever you like.
Cost: Tickets start at $40
Until November 1, Thursdays to Sundays, 7pm to midnight
Staten Island
Staten Island's Kreischer Mansion is said to be haunted by Edward B. Kreischer, the house's owner who died by his own hand in 1894. After passing through the care of a man who was moonlighting as a mafia hitman—using the mansion as a site of a murder—the Kreischer Mansion has taken on an even spookier reputation. This October, it's turning into an actual haunted house so you can see the ghosts of Staten Island for yourself.
Cost: Tickets start at $30
Until November 1, Friday to Sundays
Ulster Park, NY
If you're willing to venture a little further from the five boroughs, you can take a trip to the Headless Horseman hayride and haunted house. Less than a two-hour drive from Manhattan, the Headless Horseman has reimagined its haunted hayride for social distancing with a haunted "Horseman's Trail" drive-through. If you're not too scared to get out of your car, you can take a walk through a spooky corn maze and haunted house, too.
Cost: Tickets start at $39.95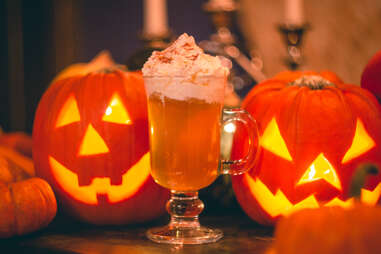 October 28 to November 1
FiDi
The Cauldron, a potions-themed bar and restaurant, is hosting boozy pumpkin carving sessions for those of us with dull knives at home. You'll get a hollowed-out pumpkin, a cup of HallowCream—that's hot apple cider spiced with cinnamon and orange, mixed with ginger beer and butterscotch syrup, and then topped with butterscotch whipped cream—and a selection of carving tools and templates. (Go ahead and add cognac, rum, or bourbon to your HallowCream to make all those sharp knives extra exciting.)
Cost: $30 includes pumpkin, tools, an appetizer, and a boozy drink.
October 23, 24, 29, and 30
Virtual
NoHo's Merchant House Museum, home of many noted ghosts, is hosting Lingering in the Shadows: Spirits of the Merchant's House, Past & Present over Zoom. They'll share stories about the Tredwell family, the original owners of the house, who are said to haunt the Museum to this day. Even though you'll have to stay in your own home for the tour, don't be surprised if you still feel a ghostly presence at your back. Or maybe that's just your weird roommate standing in your doorway again…
Cost: $10

Until November 1, Thursdays to Sundays
The Bronx
If you've had your fill of frightening humans this spooky season, why not try some scary animals? At the Bronx Zoo's annual Boo at the Zoo party, you can watch a pumpkin carving demo, follow a scavenger hunt through the exhibits, and join in the animal-themed costume party for an Instagram photo opp. The zoo is practicing strict social distancing guidelines, so don't worry about getting too close to a snake, a bat, or the scariest of all, someone with their face mask around their chin.
Cost: $39.95 for adult admission
Ongoing, 8pm
Greenwich Village
How many ghosts can you encounter in a mile-long walk around the Village? Turns out...a lot. As you make your way through spots of historical (and supernatural) significance, you'll hear all about the spirits of Mark Twain, Aaron Burr, Edgar Allen Poe, and more. As your guide uncovers NYC's long-hidden secrets—including speakeasies, brothels, fires, and burial grounds—you might never walk through the streets of the city in the same way again.
Cost: $25
Thursday, October 29, 8pm
Virtual
What could put you in the Halloween spirit faster than the iconic trio of Bette Midler, Sarah Jessica Parker, and Kathy Najimy? The Hocus Pocus-inspired I Put a Spell On You puts the Sanderson Sisters front and center in a campy streaming performance. With special guest stars including Bob the Drag Queen, Todrick Hall, and Nick Rashad Burroughs, it tips its black pointy hat to the still-dark stages of Broadway. Donations will go to Broadway Cares/Equity Fights AID, where they're helping those affected by HIV/AIDS, COVID-19, and other critical illnesses.
Cost: Free; donations encouraged
October 23rd to November 1st, 10am to 4pm
Greenwood
Green-Wood Cemetery is hosting a Dia de Los Muertos ceremony to honor the city's departed. A large altar for ofrenda—offerings to the dead—will be built by artist Scherezade Garcia in the cemetery's chapel. Bring flowers, photographs of loved ones, letters to the deceased, or anything else you'd like to offer up to their memory. After visiting the altar, pay your respects to some of Green-Wood's most famous inhabitants including Leonard Bernstein and Jean-Michel Basquiat.
Cost: Free
Check IG account for start date
East Village
Downtown bar Beetle House keeps it spooky all year long, but it's especially fun to visit in October. While they've been closed most of the year due to COVID-19, they plan to reopen by Halloween. When they do, sip on cocktails like the This Is Halloween (made with Fireball, apple cider, and pumpkin liqueur), Edward's Lemonade (whiskey, cherry, and orange), or a copyright-skirting The Beetle's Juice (tequila, blackberry, and cranberry.) The space is normally decorated for the season with spiderwebs and gravestones, giving you plenty of opportunities to shoot a Tim Burton-themed TikTok.
Cost: Depends how many Beetle's Juices you drink
October 26 and 27, November 2 and 4, 8pm
SoHo
Mister Dusty Rose is bringing his spirit-channeling, mind-reading powers to bear in this show at the Museum of Interesting Things. In this modern take on a phantasmagoria from the Victorian era, he's teamed up with immersive theatre artist Anthony Logan Cole to spin spooky ghost stories, show off his supernatural talents, and send shivers down your spine. A ticket to the show gets you special access to the Museum of Interesting Things' collection of rare films and spiritual artifacts.
Cost: $50
October 29, 30, and 31
Virtual
Sharon Needles, breakout star of RuPaul's Drag Race, is hosting a virtual drag show with Club Cumming Productions. Joined by drag legend Amanda Lepore; journalist Michael Musto; Drag Race faves Peppermint, Aja, and The Vivienne; and the incomparable chanteuse Countess Luann, Needles will be bringing her signature brand of spooky camp to the proceedings. Wear your favorite Sharon-Needles-inspired outfit (Head-to-toe latex? Leather? A black tulle ballgown with a mouth full of blood?), invite over everybody in your quarantine bubble, and livestream the show.
Cost: $25
October 24 to October 31
Flushing Meadows Corona Park
The Queens Drive-In is celebrating Halloween with a week of horror film double features. Catch a Hitchcock night with Psycho and The Birds, a pair of new favorites with Get Out and The Babadook, or a Halloween night showing of Little Shop of Horrors and Beetlejuice. Drive your car onto the grounds behind the New York Hall of Science, wait for the sun to set, and tune into your car's radio for your own version of the Thriller music video.
Cost: Tickets start at $45
October 23 to November 1
Upper West Side
Titus Andronicus, Shakespeare's bloodiest play, is being performed at the steps of Ulysses S. Grant's tomb just in time for Halloween. The Rogue Ensemble Theatre Company has reimagined Shakespeare's violent tragedy into something even more horrifying (and that's saying a lot, since the original play features cut-out tongues, chopped-off hands, and baked heads). The performances are donation-based, with a suggestion donation of $10; if you find yourself so scared you can't sleep, feel free to give a little more.
Cost: Suggested donation of $10
October 21, 28, and 30, 6:30pm and 9:30pm
Williamsburg
Vale Park, an open-air venue in The William Vale, is pairing with film streaming services Shudder and IFC Films for a few Halloween-themed nights of dinner and a scary movie. Reserve a table, a romantic blanket, or lounge seating for your crew—each ticket comes with your choice of dinner, and you can purchase additional food and cocktails throughout the night. (If you're easily scared, don't be afraid to down a little extra liquid courage!)
Cost: $49/person
Sign up here for our daily NYC email and be the first to get all the food/drink/fun New York has to offer.