New York City has plenty of purportedly haunted locales, but a surprising paucity of that suburban childhood Halloween staple: "haunted" houses. Sure, you can head to a bar downtown and wait for the ghost of Jack Kerouac to manifest itself in a cocktail garnish, or hope to run into a tragic silent movie star on the site of an old film studio in Queens, but there aren't a lot of places where you can pay for an aspiring actor in passably believable gore makeup to make scary faces at you.
But, the haunted houses and attractions (or, in modern day internet speak, "haunting-inspired immersive experience pop-ups") we do have come correct. They've got your fake blood, your corpses, your jump scares, your actual boneyards, tableaus straight out of your most terrifying nightmares, and it's all so very Instagrammable. So go ahead and stake out an abandoned hospital to catch a glimpse of the ghost of a mercurial psychiatrist for as long as you want. Then get back in the New York groove, and pay a fee for instant gratification and an artificial thrill at the city's best fake fear factories.
Flushing
What do you do with an empty Toys "R" Us store in Queens? Transform it into a House of Horrors, of course. Instead of sugar-mad children, "zombies" now stalk the aisles of the 50,000 square-foot space, lurking "at every corner, ready to attack." The terrifying walk-through of "Zombies R Back" lasts an estimated 15 minutes, but wait, there are more screams to be had! Expect carnival games and snack stations, too. 
Cost: General Admission is $25.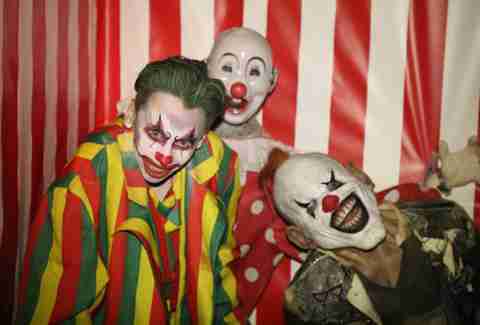 Midtown West
The self-described largest haunted house in New York has more than 100 gore-covered actors who are being paid to disturb you to your core. Instead merely walking through of a faux blood-covered building, Bane visitors climb, jump, spin and crawl through room after room. For added artificial trauma, Bane's creators say that they've curated the haunts to "play on every one of your fears; claustrophobic, separation anxiety, clowns, and more." Fun!
Cost: General Admission is $35.
Financial District
The creators of this intensely terrifying ordeal stress that it is not a haunted house, but rather an "immersive horror theater experience." Scary! Whatever you want to call it, expect to be filled with anxiety and dread as you're plunged into darkness and embark on your own personal scary story. Voices on a headset will guide you and engage each of your senses -- except for sight. That means someone, or something, will touch you at some point, and your sense of taste be provoked, too. Don't worry; organizers say all consumables are vegan-friendly. That's right, this non haunted-house respects dietary restrictions.
Cost: General Admission starts at $45
Tribeca
The ghouls, ghosts and zombies who populate this sprawling house of horrors in downtown Manhattan do a frightfully fantastic job. These creepy thespians don't just stand there shouting "boo!" as you move from room-to-room; they chase you around screaming the wittiest insults. You'll have to wait in a long, winding line outside the 5,000-square-foot haunted house, but it's worth it to get creepy facetime with this merry cast of sarcastic New Yorkers. Warning: Don't wear nice clothes. Visitors are known to leave with (fake) blood stains.
Cost: General admission is $35 in advance, $40 at the door
Downtown Brooklyn
Although it's been around for years, not many New Yorkers know about this pop-up "inn" fashioned after a seaside resort. For starters, it's one of the cheapest haunted house experiences in the five boroughs. Why is it so affordable? It's run by students from New York City College of Technology (City Tech) design, rather than the typical craven corporate creepshow profiteers. Plan a trip to the nautical nightmare during the last week of October to see possessed portraits, decapitated tourists, and to visit with guests who checked in, but never checked out (because they died and now they're scary ghosts).
Cost: General admission is $10
Upper East Side
Few New Yorkers are familiar with the Mount Vernon Hotel Museum and Garden, which was once a 19th-century vacation destination for wealthy city dwellers who needed to take a break from the chaos of downtown. On October 19, 25, and 26, the museum transforms into an interactive mystery game. You'll explore the historic grounds by candlelight, and collect clues to solve the mystery of the unidentified spooky skeleton inside the museum. Plus, the place is so old there's got to be some actual ghosts kicking around.
Cost: Tickets are $25
Bronx Zoo
The city's largest zoo is celebrating Halloween season with a vast menu of spooky thrills through November 3. Check out the extinct animal graveyard, see pumpkin carving experts create elaborate displays, and catch a buzz at Bootoberfest.
Cost: Adult tickets are $35.95
Sunset Park
It's a pretty short trip to take Green-Wood Cemetery from regular haunted to Halloween-themed haunted, what with all the decayed corpses underfoot, but this boneyard tour will give you a chill and tug at your heartstrings. On October 25, guests will encounter all sorts of surprises along candlelit paths. This year's theme is "lovesick" and storytellers, musicians, and performers will evoke "the pleasures and pains of romance, and the impermanence of all the things that we hold dear."
Cost: Tickets are $85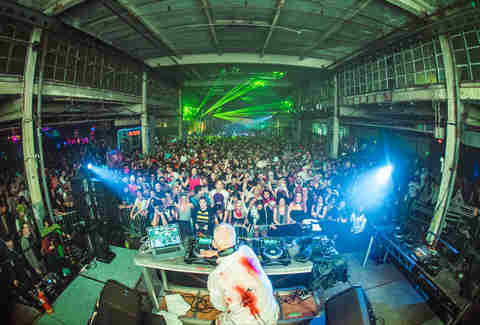 Maspeth
This haunted manor/party hybrid is a Halloween twofer. Expect spooky performance artists, music, and costumed dancers in rave-like environs on October 25 and 26. Make a fun game of guessing who's in costume and who's in their regular going-out garb.
Cost: Tickets start at $59
Sign up here for our daily NYC email and be the first to get all the food/drink/fun New York has to offer.