With 178 state parks in New York, there are literally THOUSANDS of hiking trails to choose from. But don't sweat it (or, um, do). We scouted, skinned our knees a little, and consulted an outdoor adventure expert to uncover the best upstate hikes worth a getaway, including trekking to the Devil's Hole whirlpool in Niagara Falls, summiting the famous Saranac 6, and wandering through an under-the-radar wildlife sanctuary. These trails offer something for every kind of nature-starved New Yorker -- there's even a hike for people who don't like hiking.
Recommended Video
Lovers Are Making the Pilgrimage to Kiss In This Hidden Alleyway
Adirondacks
Distance: 4.8 miles
Cascade Mountain's bare summit has 360-degree views of the Great Range and is a classic climb in the High Peaks Wilderness. "Most people who attempt to hike the 46 Adirondack High Peaks start with Cascade," says Cristin Steding of Upstate Club, a guide to outdoor adventures in the Adirondacks. "It's easier and shorter than the other high peaks, but moderately difficult overall, which makes it a great getting-your-feet-wet option." After hiking the 4.8-mile trail to the 4,098ft peak, which ends with a little open rock scrambling, rest your weary legs at nearby Draper's Acres Campground, where you'll find new cozy cabins and tent sites tucked into the woods, along with fire pits, picnic benches, and showers.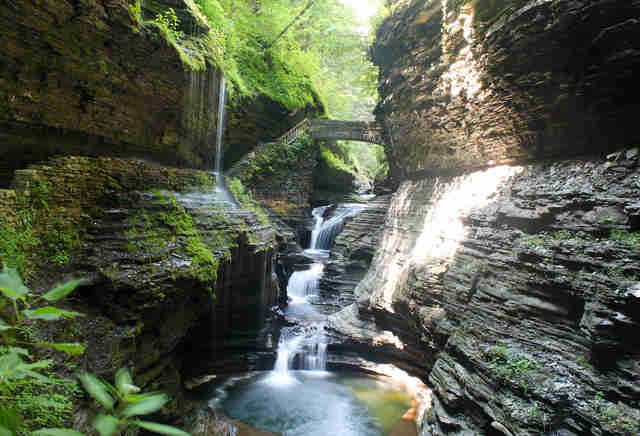 Finger Lakes
Distance: 1.3 miles
No mountaintop vista can compare to the scenery found along the 1.3-mile Gorge Trail, which passes over and under waterfalls, up stone steps, and through the mist of the Cavern Cascade. There may be more challenging hikes in upstate New York, but none are as mesmerizing as those found within Watkins Glen State Park, where it's worth a road trip just to get up close to the 19 waterfalls and 200ft cliffs. Consider camping in the park and exploring other routes, such as the Rim Trails, Indian Trail, and the Finger Lakes Trail/North Country National Scenic Trail.
Saranac
Distance: 31 miles
Feeling competitive? Now is the best time to take on the borderline-crazy challenge of hiking six peaks in a single day because the weather is perfect, you'll get a serious nature high from all those mountaintop views, and hot dog contests aren't really your thing. If you can conquer all the summits -- which have names like Scarface and St. Regis, and range in elevation from 2,452 to 3,322ft -- you get an "Ultra Sixers" patch and the honor of ringing the special "6er bell" in Downtown Saranac Lake. If 31 miles is a little intimidating (what?! Really?!), hike one individually -- Baker is the easiest at 1.8 miles and offers lookouts onto Saranac Lake, Lake Flower, and the High Peaks.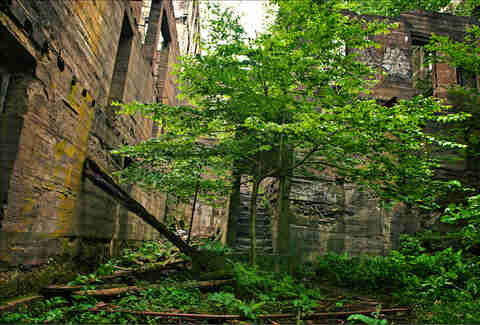 Woodstock
Distance: 4.6 miles
"This is a hike for people who don't like hiking," says Steding, about the 4.6-mile round-trip gravel trail. "Near the top, there are very cool hotel ruins from the Overlook House to explore. At the 3,140ft summit, there's a fire tower that offers great views, a ranger cabin that gives the sad and creepy history of the failed hotel, and a bit farther down the path is a ledge that offers additional views." Watch out for rattlesnakes amidst the wildflowers, and plan an early start to get a parking spot and avoid crowds.
Adirondacks
Distance: 5.8 miles
This hike comprises two segments that are perfect for backpackers; one leads to the dramatic sheer cliffs, and the other to secluded makeshift campsites around the lake. "Once base camp is set up, take the side trail to the cliffs," says Steding. "The trail to the cliffs was an unmarked herd trail for years, but was recently made official with trail markers." Along the challenging yet mercifully short hike to the summit, you'll pass caves and boulders, and you'll know you've reached the ledge when you're met with sweeping views of the Southern Adirondacks.
Ithaca
Distance: 1.7 miles
If you're visiting Watkins Glen State Park, you absolutely must drive 30 minutes up the road to Buttermilk Falls State Park, where Instagram filters are unnecessary but swimming in a natural pool at the base of 165ft Buttermilk Falls is. Go for a dip after hiking some of the five short but strenuous trails throughout what feels like a magical waterfall theme park.
Niagara Falls
Distance: 2.5 miles
According to Buffalo natives, Devil's Hole is the Niagara that tourists typically miss. This beautiful 2.5-mile out-and-back trail along the Niagara River may be short, but the steep, uneven terrain is only for the sure-footed as it winds its way beside Class V rapids en route to the bottom of the gorge and the Devil's Hole whirlpool.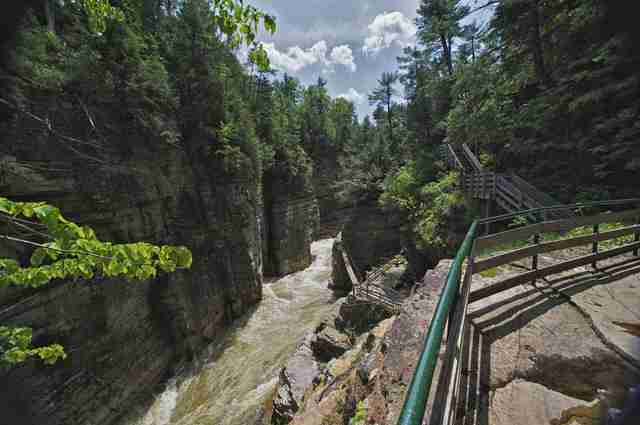 Keeseville
Distance: 5 miles
This is an adrenaline-pumping climb above "the Grand Canyon of the East," also known as the Ausable Chasm. With a harness and an Indiana Jones mentality, you'll traipse across cable bridges and a cargo net, edging your way through the spectacular sandstone gorge while the river roars below. Nearby Ausable Chasm campgrounds offer tent sites, cabins, bike rentals, and a pool.
Shawangunk Mountains Region
Distance: 7.5 miles
While the dramatic Verkeerderkill Falls might seem like the pièce de résistance, the entire 7.4-mile out-and-back path is packed with thrilling encounters, from rock scrambling to stream crossings and solar-lit ice caves. The expansive views of Minnewaska State Park, Wallkill Valley, and the Shawungunk Ridge are also part of the reason this challenging, yet rewarding, 4.5-hour hike is so popular, so make sure to do it on a weekday or early on a weekend -- especially for those spontaneous travelers wanting to score a good walk-in tent site at nearby Mohonk Preserve's campground.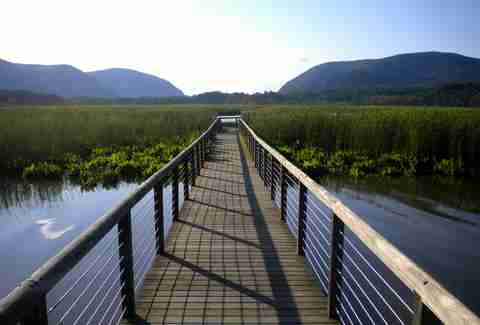 Garrison
Distance: 2 miles
While you may see your fair share of binocular-eyed birders, you don't have to live and breathe winged creatures to revel in this awesome under-the-radar hike in the Constitution Marsh Audubon Center and Sanctuary. The two-mile blue-blazed out-and-back trail takes an hour (or 10, if birds are indeed your thing), and features stellar views of the Hudson River and Highlands and United States Military Academy at West Point. The coolest section of the hike is the boardwalk, which juts out into the 270-acre tidal marsh and offers the equivalent of a month's worth of meditating.
Sign up here for our daily NYC email and be the first to get all the food/drink/fun New York has to offer.