Is there anything more satisfying than the giddy joy of zipping across the ice with a sharp wind on your rosy cheeks and an ear-to-ear grin frozen in place on your face? Possibly watching some cocky backwards-skating upstart rip the seat of their sequin-studded pants -- but that's about it. NYC is blessed with rinks across the five boroughs, and you don't even need to wear an Olympics-ready frilly leotard to enjoy them (although nobody's judging if you do). Better still, many are full-on soul-warming experiences, complete with mugs of steaming hot chocolate. These are the best places to go ice skating in New York: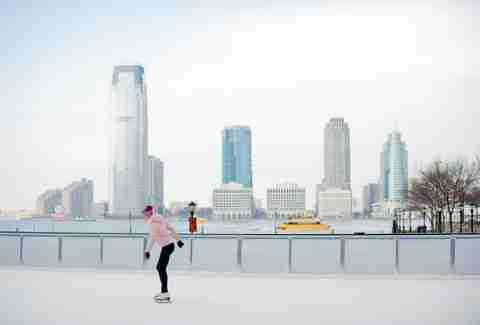 Battery Park City
Price: $15 for a 90-minute session, skate rental $5
Hours: Weekdays from 12pm to 8:30pm; weekends from 10:15am to 9:30pm
The Hudson River runs alongside this rink, and the views are so gorgeous you might feel like skating right into them and over to New Jersey. Don't try it, of course, unless it's been a really cold winter, or you don't mind swimming with skates on. In the other direction, you'll see the World Trade Center, and it's a short walk to Battery Park for a glimpse of Lady Liberty pre- or post-skate. The rink is owned by US Olympians Melissa Gregory and Denis Petukhov, who frankly deserve a medal for the premium skating experience on offer -- it's one of Manhattan's less-crowded rinks too, because its limited opening hours keep it off the tourist trail. You can take private or group lessons with the cryptically named Learn to Skate USA, or buy a seasonal pass if you plan to blade-up regularly.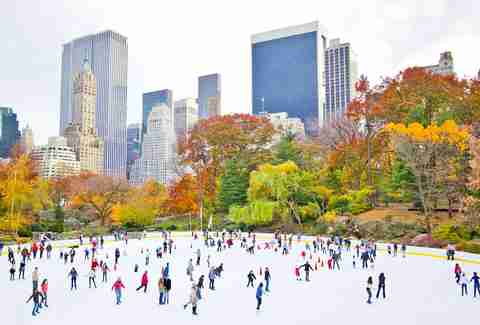 Central Park
Price: Skate rental $10; $12 for adults from Monday to Thursday (otherwise $19); $6 for kids
Hours: From 10am until 2:30pm Monday and Tuesday; 10pm Wednesday and Thursday; 11pm Friday and Saturday; 9pm Sunday
When people think of ice skating in New York, Wollman Rink is the classic image, surrounded by the Midtown skyline at the southern end of Central Park. It has a cinematic quality you won't find anywhere else, evidenced by its frequent film appearances. It's the place to do your best skating impression of John Cusack/Kate Beckinsale in the 2001 rom-com Serendipity, or (more likely) the calamitous Wet Bandits from Home Alone 2.
Midtown
Price: Admission is free; skate rental from $20 ($6 extra for a helmet)
Hours: 8am to 10pm
This rink is encircled by the Bryant Park Winter Village, which means you'll have plenty of options for finger-thawing hot chocolate, and all kinds of artisanal shops and restaurants nearby. To ensure a little more space for all those triple-Lutzes, visit at quieter times (before 11am or after 6pm) -- and re-energize afterward with gingerbread cookies and warm apple cider from the Breezy Hill Orchard stand.
West Harlem
Price: $5 for adults; $3 for kids under 12; $6 skate rental
Hours: 6pm to 9pm Friday-Sunday. 1pm to 4pm and 6pm to 9pm Saturday and Sunday
This rink on the banks of the Hudson has one standout feature: it's indoors, so you can still enjoy it, even in the throes of a nasty Nor'easter. Its Upper Manhattan location is easily accessible from the 1 train, and it's far enough away from Midtown that it doesn't get as crowded as more touristy rinks.
Long Island City
Price: $7 Wednesday; 10 Sunday; skate rental $6
Hours: 12pm to 3:50pm Wednesday; 11:40pm to 2:20pm Sunday
This is one of the largest rinks in New York, fit for skaters who want to practice twirls and jumps, or those who appreciate an extra-long perimeter fence to cling to. And, like Riverbank, the wide-open space is usually blissfully free of the crowds of tourists who skate in Manhattan -- situated just two blocks from the 7 train station.
Midtown East
Price: $13
Hours: 8:30am to midnight
It's the most famous skating rink in New York -- perhaps even the world. Its greatest endorsement though, is surely the fact that Buddy brought his date here in Elf. He's not the only one who's had that idea -- the rink is typically swarming with couples, gazing lovingly into each other's eyes and trying desperately to stay upright. The lines are long, but there are never more than 150 people on the ice, so there's enough space for a pirouette. If you can't bear the wait, reserve online in advance (from $60).
Staten Island
Price: $13 for adults; $11 for children; $7 skate rental
Hours: 8pm to 11pm on Fridays, 2:40pm to 4:40pm on Saturdays, 3:30pm to 5:30pm on Sundays
 
The Skating Pavilion is a rink for skating enthusiasts -- and anyone who fancies themselves as the next Chazz Michael Michaels. The gigantic, regularly zamboni'd surface is ideal for the hockey games and pro figure-skating coaching hosted here, but it transforms into a public rink on weekends. All-comers are welcome to develop their skills in the inspiring Olympic-scale setting.
Prospect Park
Price: $7.25 on weekdays; $10 on weekends (beginning Friday at 4pm through Sunday); skate rental $7
Hours: Monday 9am to 5pm, Tuesday-Thursday 9am to 7:15pm, Friday 9am to 9pm, Saturday 12pm to 9pm, Sunday 12pm to 5pm
The southeast end of Prospect Park is home to not one but two ice rinks at the LeFrak Center. Tourists don't often venture this far out of Manhattan, which helps the lines stay short and the ice stay empty(ish). The Bluestone Cafe is a relaxing spot to rest up and sip a hot chocolate, and there's a snack bar for munchies, too.
 
Coney Island
Price: $10, skate rental $5
Hours: Saturday from 2-4pm
Think Coney Island is all about cotton candy, roller coasters, and boardwalk strolls in the summer sun? Think again. The Abe Stark rink is the hidden gem of New York's skating scene, with a vast indoor surface for all ages and abilities -- from pro skaters escaping the city crowds, to first-timers who'd rather slip and tumble with fewer bystanders failing to suppress chuckles in the background. The snag is that local hockey teams book up much of the schedule, so check availability before you go.
Sign up here for our daily NYC email and be the first to get all the food/drink/fun New York has to offer.