You probably already know that "karaoke" is Japanese slang that shakes out to "empty orchestra" in translation. But really, the participatory NYC nightlife singalong staple should be called some variation of "Tawagoto to shite ōgoe de, tokiniha waruidesu," which loosely translates to, "loud as shit and sometimes bad," -- or "we are different, we laugh a lot and dance" (depending on whether you believe me or Google Translate).
In either form, the phrase adequately captures the true spirit of what karaoke means to New Yorkers. It's a hoot-and-a-half whether you're in a dark room the size of a closet with 10 of your closest friends, or on a pseudo-stage surrounded by 100 friends you haven't met yet. You can join jams in Chinatown walk-ups, beneath bougie french bistros, and even in Staten Island.
Karaoke, at least in New York, isn't the realization of an empty orchestra. It's a night (or in some cases, a day) of unbridled fun. And these 11 venues are the absolute best places to experience the joys of what I now like to refer to as "Tawagoto to shite ōgoe de, tokiniha waruidesu."
Koreatown
Best For: Big groups who like privacy and Korean BBQ
Koreatown -- an enclave amid Midtown's skyscrapers, with thousands of neon lights, and seemingly infinite Korean BBQ joints -- could be considered the central nervous system of New York's karaoke scene. And if that's true, then Gagopa is the temporal lobe: where all the action happens. You have two floors of private rooms for up to a dozen guests, cheesy posters of Taylor Swift flickering under strobe lights, an option to BYOB or purchase wine and Sake onsite, and a staff that has seen (and heard) it all. It can get kind of… sloppy, to be polite, as they're open until 4am. Here's a challenge: see if you can stay 'til close. Your prize will be several very annoyed Gagopa employees, literally pushing you out the door.
Song You Should Definitely Sing There: "New York, New York," by Frank Sinatra (while making empty beer can angels on the floor).
Soho
Best For: People who want the Japanese karaoke experience, sans the $1,000 plane ticket
This diminutive bar and karaoke spot in SoHo (they also have a fairly new Greenpoint location, but the intimate magic of the original got lost crossing the East River) was modeled after the type of lively, communal karaoke bars you might see scattered across Tokyo. It's since turned into a hipsterific haven for those looking to blow off steam -- or perhaps live out their failed dreams of Broadway superstardom -- while downing a few cocktails in-between. The vibe is super-welcoming, and even in a bar full of regular ringers, only the most bashful performers will be spooked from the stage and the always attentive crowd. Don't worry -- everyone gets high-fives afterwards.
Song You Should Definitely Sing There: Try "Purple Rain" by Prince to break up the standard golden oldies, and inspire a true, soulful singalong -- just what this place does best.
Brooklyn Heights
Best For: People who truly believe in dive bar singalongs
Let's get one thing straight, Montero's is a nice bar, but it's not a nice bar. It's nearly a century old, the drinks are cheap as chum, and the whole nautical theme they have going on isn't just to be cute: at one point, it was an actual longshoreman's hangout. Now, on Fridays and Saturdays, it hosts a raucous karaoke night, featuring two available booklets: one stained, water-logged volume of traditional karaoke hits, and one stained, water-logged volume of Broadway showtunes. Pick the hits, buy a shot and a beer, and prepare to face swaths of bleary-eyed, raspy voiced patrons on the communal "stage." And by "stage," I mean "part of the floor that is slightly cleared out for singers and right in front of the bathroom."
Song You Should Definitely Sing There: This is the one place you can unironically put on "Don't Stop Believing" by Journey and actually have the entire bar be into it. Take advantage. If you want, I mean.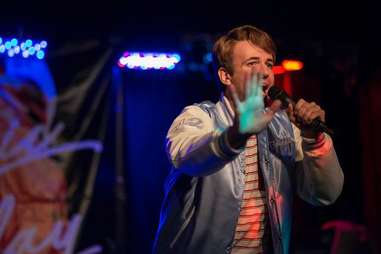 Lower East Side
Best For: People who think Karaoke is hokey and also might wear studded belts on occasion
Signing live band karaoke (like, with a live, actual band) at Arlene's Grocery is a true, NYC "bucket list" experience, and the closest us average Joes can get to living the bona-fide rockstar life -- without having to try to bone Richie Sambora. Their setup adheres to traditional karaoke "rules" (there's a songbook where you can select your tune of choice) while providing a more visceral experience than most other karaoke operations, and generally skews towards the hard rock/metal sphere. Be warned: it will bring in some legitimate talent. Basically, if you want to sing with the band, you should probably be good. I'm not saying this to discourage you, I just want you to know the stakes are high.
Song You Should Definitely Sing There: "Mother" by Danzig. If you have to ask, you probably shouldn't go near this one.
Chinatown
Best For: People looking to get weird.
This one is easy to miss since it's -- yes -- literally upstairs, on the second floor of an innocuous-looking Chinatown walkup. Once you scale the slightly sketchy looking staircase and emerge on the other side of the Hello Kitty-covered door, you'll know you've stumbled upon a slice of weirdo NYC heaven. There's an equal selection of tried-and-true Western anthems, and truly prolific Cantonese pop hits. The vibe is dive-y. The decorations are kooky. And B-roll of bored-looking Chinese models loops eternally on the screen's background. It's… kind of perfect.
Song You Should Definitely Sing There: This is the place to venture into Canto-Pop. Broaden your horizons people!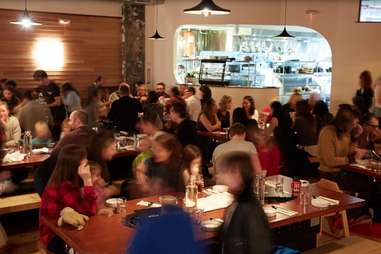 Gowanus
Best For: People who want a slightly more intimate "Koreatown" experience, preceded by a lovely dinner
On the outside, Insa is simply a Korean BBQ restaurant with nary a sign of karaoke hijinks in sight. On the inside, Insa is a scaled down, alternative "Koreatown" karaoke experience for Brooklynites who are too timid (or tired) to cross the bridge into "The City." Beyond a spacious dining room and bar, you'll find a handful of chic rooms ripe for private group sessions. They are smaller than the ones you'd find in Koreatown proper (putting 10 people into one will make you feel like a pack of clowns inside a Volkswagen Beetle), but you are getting the same vibe. Plus, they have Scorpion Bowls. Just make sure you share.
Song You Should Definitely Sing There: "Thinking 'Bout You" by Frank Ocean. It's modern. It's smooth. And it's a good match for post-dinner indigestion.

Williamsburg
Best For: People who don't take themselves too seriously, and also like free pizza
On Friday, Saturday, and commonly several other nights a week (check their schedule for details) this consummate Williamsburg "fun bar" hosts extremely low-stakes rounds of karaoke. Even the worst warblers will find solace, as songs devolve into singalongs that drown out any (lack of) talent. Oh also, there's free pizza. It's a win-win.
Song You Should Definitely Sing There: 90s throwbacks are always hits here, and really any will do. I'd suggest "Return of the Mack" by Mark Morrison, because . . it's just a really, really good song.

Astoria
Best For: People who want a sleeker, more modern venue…. and also live in Queens
The caveat here is that Shout is -- as everything in Astoria tends to be -- a venue for locals, that you (let's be honest) probably wouldn't venture into Queens to go to. But if you do (maybe you're visiting friends!), you will definitely appreciate Shout's modern digs. The bar eschews the traditionally respected dive-y-ness of the other entries on this list, to present a clean, smooth bar for karaoke night. Well, about as smooth and clean as a crowded karaoke bar in Queens can be. But listen: it's a great option for the frankly underserved borough. Scratch that, the best option.
Song You Should Definitely Sing There: 'Girls Just Wanna Have Fun" by Queens native Cyndi Lauper seems appropriate here, no?
Union Square
Best For: People who want to be regulars at a karaoke bar
Karaoke Cave is located inside of the Midi Restaurant in Union Square, and -- aside from its slightly clandestine entrance -- there's not much remarkable about the place. Its stage is more of a standin' around area near the bar. It has a handful of rooms for private sessions. It has a standard songbook, standard drinks, and a staff unphased by any and all degree of debauchery. It's the crowd here that's noteworthy. This joint has a cast of regulars, and they cater to those regulars. Expect to be skipped in favor of someone who has been there for the past five nights. Expect newcomers to be judged. Expect to be expected to show up all the time if you want to earn your amatuer singing stripes. And you know what? That's alright. It's not the friendly confines, but if you're looking for a true community of crooners, this may be your zen.
Song You Should Definitely Sing There: Don't sing anything you already haven't sung there before.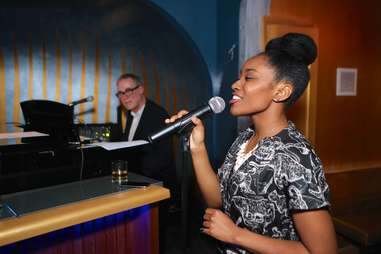 Midtown
Best For: People who just like raw, unadulterated fun
For the uninitiated, this glorious, debauched mess of a piano bar on 'roids will do one thing: turn every timid would-be singer into a flamboyant performer. You sing along to a smattering of (professional) piano players. Every night ends with a slow-burn rendition of the "Rainbow Connection." The crowd -- despite being bewilderingly talented at times -- is always welcoming and warm. This seems to be the natural evolution of what karaoke can, and should be, in a city like New York. Just go for it, and the rest will fall into place accordingly.
Song You Should Definitely Sing There: Though it may not be a classic piano standard, try your luck at the recently re-popular "Love My Way," by the Psychedelic Furs. Mainly, because recurring in-house piano man Joe McGinty was actually in the Psychedelic Furs in the late 80s. Yes, this place is legit.
Staten Island
Best For: People who like their karaoke early… and somehow find themselves in Staten Island
Jimmy Steiny's is a truly awesome dive bar in NYC's most forgotten borough. And it happens to host a lively, totally inclusive karaoke session several times per week. It's remarkable in the fact that the bar is not remarkable: it's a divey pub with surprisingly good food. For people looking to get in on the happy hour karaoke -- or you know, maybe start at 11am, when they turn on the mics -- Steiny's may be the only bar in town that will let you eat breakfast while singing about breakfast. And it might just be your excuse to finally go to Staten Island (hey, you get to ride a boat to get there, too!)
Song You Should Definitely Sing There: Hit the mic stand at 11am, and get at "Breakfast in America" by Supertramp.

Sign up here for our daily NYC email and be the first to get all the food/drink/fun New York has to offer.