No city has a finer movie-going culture than New York. While plenty of towns are home to a prized independent theater that serves as a film-lovers oasis, here in New York our options are absurd. On any given night, we can choose from a smorgasbord of mainstream releases, indie fare, foreign language imports, and a host of curated revival titles. Even those wonky Nicolas Cage direct-to-VOD flicks get at least one week on a screen somewhere here.
With this thriving plenty in mind, we broke down the city's very best theaters, based on what you're looking for.
Harlem
Sometimes you want to see the new movie on opening night (or a midnight preview screening) and you want a clean, good theater with solid projection and an enthusiastic crowd. But you sure as hell don't want to go to Times Square. The AMC Magic Johnson right off 125th Street is near all the trains and, more importantly, has outstanding nearby restaurants and bars that aren't overrun by tourists. Anyone who dines post-screening at Bubba Gump when they could have gone to Red Rooster isn't doing New York right.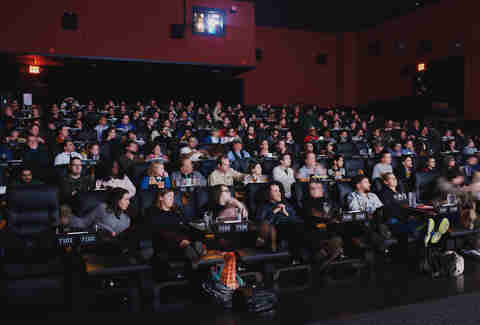 Downtown Brooklyn
This Austin import branched out to New York before it ever did in LA or Chicago, a further reminder that we rule and everyone else drools. It's centrally located in Downtown Brooklyn near every imaginable train, and while seeing a movie inside a mall may make you feel like you're in the suburbs, once you take the elevator up all that all disappears; you'll be greeted by an enormous King Kong and plenty of craft beer at the creepy House of Wax bar (go in the back to see the really gruesome medical oddities on display).
The Alamo is known for its specialty screenings of both new and old movies, oftentimes hosted by celebrities. But this is still the place to go when you want to down a few brews and see the newest Hollywood action picture. If you've never gone to a theater where waiters bring you drinks and snacks (or even a meal) during the movie, know that this is the chain that cracked the code on how to do it without being disruptive.
Best to bring visiting parents to: The Paris
Midtown
You either just schlepped through Central Park and are in desperate need of air conditioning or did the Christmastime window-shopping march up Fifth Avenue from Rockefeller Center and are freezing to death. Either way, it's time to park it at The Paris.
A tony staple since the late 1940s, The Paris is the last single-screen theater in New York, and shows, for lack of a better term, "nice" movies (meaning something with Helen Mirren or Judi Dench in a leading role). The theater has a lush, blue velvet interior and a snazzy mezzanine, and even the downstairs bathrooms offer a touch of class. Your folks will also love that it's right across the street from the Plaza Hotel, which will inspire them to remind you of when you used to love the Eloise books.
Upper West Side
If you're making the effort to get off your couch to see something, you should try to squeeze every drop out of the theater-going experience that you can. Lots of chains boast specialty screens with massive surround sound or rumbling seats, but at the end of the day it's size that matters. IMAX is king, but not all IMAX screens are created equally.
Like cheapo $1 pizza that makes a purist weep, the city is rife with fake IMAX, so if you're gonna get charged extra for higher resolution, make sure you choose wisely. Other than the screen inside the American Museum of Natural History (which shows great nature and NASA shorts) the only legit IMAX screen is up at 68th and Broadway. As you ride that lengthy escalator you can rest assured that your eyeballs will soon be soaked in the greatest large-format system there is.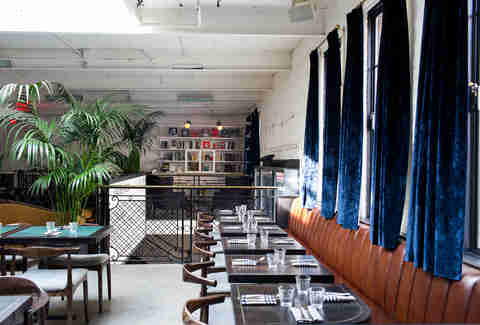 Best theater to impress a date: Metrograph
Lower East Side
It's only a little over a year old, but Metrograph has already become an essential part of the New York film scene. With a décor reminiscent of LA noir and ticket sellers that look like they just stepped out of a fashion shoot, Metrograph has plenty of razzle-dazzle (like a little restaurant, a bar, a bookstore devoted to film criticism, a highly curated candy counter, etc.) but most import is its impeccable programming under the hood.
Boasting two screens and an almost fanatical commitment to projecting on 35mm film, one look at the Metrograph's weekly schedule inspires at least one "where'd they get a print of THAT?" Add to that the overall look of the place (its founder is designer Alexander Olch) -- from its spacious wooden-backed seats to the window that lets you watch the projectionists work their splicing magic. It's not just taking in a movie, it's a night out.
Upper West Side
A stone's throw from Lincoln Center (and its excellent Film Society with two outstanding theaters working in tandem) is a true New York City curiosity. Down an escalator beneath an apartment complex, you'll find a rickety mess with stained carpeting and talkative, hilarious elderly patrons. This is Lincoln Plaza Cinemas, and the biggest surprise is that it usually programs the smartest and best current foreign language and offbeat movies.
Yes, the grandmas that fill out the matinées might complain a bit about the seats, but these are the hippest women in the city who have seen it all, and you are on their turf. The Upper West Side has a large Jewish population, and you can bet that one of the six screens is devoted to something from the Middle East or about the Jewish experience.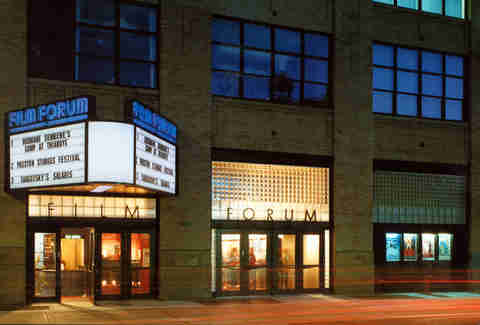 SoHo
OK, this one is really tough, because the pride of New York's filmgoing is its revival/repertory screens. But, as you'd learn in a "Best of '80s Fantasy Retrospective" that's bound to play at one of these places: There can be only one!
The competition is fierce (hats off to dedicated screens at The Quad, IFC Center, Film Society of Lincoln Center, and many others), but the consistency of high-quality selections at this weirdly shaped SoHo jewel earns it the top prize. Film Forum often devotes two of its three screens to older films. In one, you'll frequently find a new print of a beloved or lost classic, and in the other, a definitive run of a specific director, actor, or theme.
It also draws a nice mix of nearby NYU students and the last holdouts of the "Downtown artist types" who were smart enough to get rent-controlled apartments decades ago. One whiff of their peanut-oil-popped popcorn and a glance of those Sol LeWitt prints and you know you're home.
East Village
If Metrograph is best to impress a date, Anthology may get some of them running in the opposite direction. This very not-for-profit home for hardcore film studies purists is located in a converted courthouse, and for years didn't even have a sign out front. (It still doesn't, really. It's on the corner.) There are no snacks or drinks sold. Your ticket is one of those little paper dealies that you redeem for a plastic toy after playing Skee-Ball. The smaller of the two auditoriums has a wooden bench in the back. If you are seeing an old silent movie from the Soviet Union you need to check that the inter-titles are translated into English.
This is a serious place for serious cinephiles, and one of the few places where you can regularly see non-narrative, experimental film art projected to an audience of people who seem to exist in a parallel universe to the one that's home tweeting about the latest Netflix binge. I've been coming here for decades but I admit that I still feel like a tourist.
Astoria
While the Museum of Modern Art boasts remarkable and expansive film retrospectives, a movie ticket alone doesn't get you access to the rest of the building. At the Museum of the Moving Image in Queens, you can catch one of the museum's great repertory (or special event new release) titles and wander the galleries of the converted early movie studio. The curated series are specifically programmed to double-fist esoteric arthouse with audience-pleasing hits.
The main screen is a state-of-the-art affair with the most gorgeous theater curtain on earth, the lobby is straight out of 2001: A Space Odyssey, and among the museum's interactive galleries and changing exhibitions you can find the Bride of Frankenstein's hair.
Upper West Side
This was the first theater in Manhattan to install mechanical reclining seats. A new, very pricey place by South Street Seaport has even more lush seating, but if you'd like to avoid the South Street Seaport, these easy-to-use recliners are still a nice, relaxing perk on the Upper West Side. It's also a neighborhood theater far enough away from Times Square and the IMAX-packed crowds of Lincoln Center that you'll steer clear of too many tourists. Come for a kiddie flick and count how many exhausted parents conk out before the coming attractions end.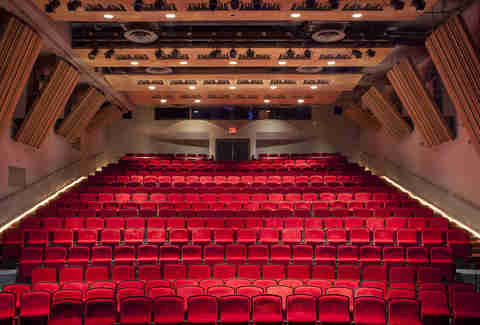 Meilleur théâtre pour les films Français: French Institute
Upper East Side
Being the center of international commerce (and home to the UN) has its perks. Many foreign nations have cultural centers in New York. There's Spain's Cervantes Institute, the Japan Society, the Nordic Center's Scandinavia House, among many others. While all show films, none are as dedicated as the Alliance Française's decades-long cinésalon series every Tuesday at Florence Gould Hall.
This is a great, out-of-the-usual spot to catch a French language movie. (And French language frequently means films from North Africa, Quebec, or elsewhere in the Francophone world.) French film stars and scholars regularly give introductions or hold post-screening Q&As. Hitting up this series is a prime example of something you just can't do in other cities.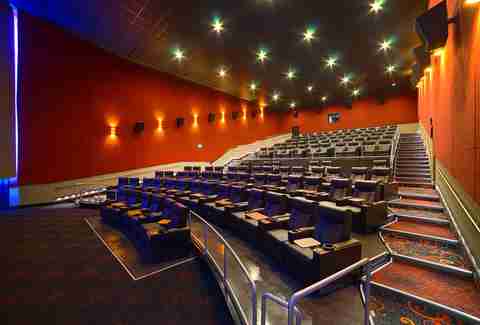 Best theater to see a movie and have the place all to yourself: Regal Battery Park
Battery Park
Quite honestly, I'm not even 100% sure this place is real. I can't even tell you from memory how to get there. It's in Battery Park City, which doesn't feel like New York to begin with, and on top of a hotel or office building or something. You go through the lobby and take a bunch of enormous escalators and then somehow you are inside a large, modern, mainstream movie theater.
You get your ticket and wonder, "Hey, did I sneak in after-hours or something?" It's like a zombie plague hit town and you are the only survivor. Still, it's fun to sit in a large auditorium with hardly anyone else in there. It may mean less laughter during comedies or frightened yelps during horror flicks, but when you just want to be left the hell alone, this is the place to be.
Williamsburg
New York doesn't just have great movie theaters, it has great movie culture. Brooklyn's Videology has asserted itself as a meeting point of cinephiles and movie-snobs for years now, with special events like film trivia and book readings. In addition to being a functioning DVD rental shop, the back room has a decent-enough projection system. If everyone at the large tables turns to face the back -- voila! -- how is it not a movie theater? There's a little noise bleed from the bar out front, but that's a decent trade for the access to drinks, special guests, and the overall vibe of the place.
Sign up here for our daily NYC email and be the first to get all the food/drink/fun New York has to offer.