Despite the fact that it's basically impossible to afford living here, New York City is still a place that, against all fiscal reason, young people in their 20s want to live.
But what's the best neighborhood for someone young and (likely) broke? To find the best neighborhoods for people under 30, we spoke to five real estate agents throughout the city about areas with amenities particularly suited toward New Yorkers in the first several years of their careers: coffee shops, restaurants, nightlife, subways, and rents that, while still exorbitant, do not necessarily require you to be the offspring of an oil mogul.
Washington Heights, Manhattan
Average one-bedroom rent: $1,850, estimates Chyann Sapp, a licensed real estate salesperson with Citi Habitats
What you get: "You get so much more space compared to what you would get in more Southern Manhattan," says Sapp. "It feels like a real apartment."
Why you want it: "Washington Heights is the fastest-growing neighborhood in Manhattan," Sapp says, and for good reason: Without sacrificing too much convenience, you can live like a civilized adult (though you certainly don't have to). "It's really appealing to pretty much everybody -- families all the way down to young roommates." And, she adds, "The cuisine is fantastic." The neighborhood's large Dominican population means there's a ton of great Dominican food, in addition to Salvadorian food, Mexican food, tapas, and very solid pizza. The neighborhood is also home to The Cloisters, the Met's four-acre medieval art museum-slash-garden at Fort Tryon Park, which is blissfully removed from the bustle of the city.
Nearest subways: The A express train (with stops between 155th and 190th Streets) will get you to Midtown is less than half an hour.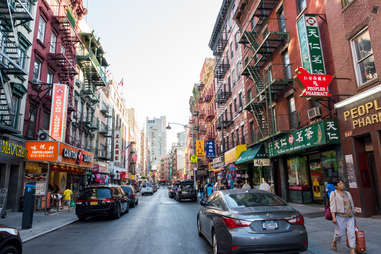 Chinatown, Manhattan
Average one-bedroom rent: Around $2,400, according Joshua Juneau, a senior real estate specialist TripleMint
What you get: "I think the best way to describe Chinatown apartments is, 'don't judge a book by its cover,'" Juneau says. "A lot of these buildings might look awkward from the facade, but once you're in, you're like, 'oh my goodness, this is better than I ever thought I could afford!' A lot of management companies are upping their game."
Why you want it: Because you can be in the middle of everything, but in a human-sized apartment, on a normal-person salary. Or in the more delicate words of Juneau, it's "advantageously priced." "The huge selling point for a lot of people is [Chinatown's] proximity to everywhere you go out," he says. But while easy access to SoHo, Nolita, and the Lower East Side is definitely a selling point, Chinatown has plenty of character in its own right. Obviously, the area is brimming with Chinese restaurants of all different kinds, whether you're looking to spend $5 or $50. And if you want to spend $35 on absinthe, you can definitely do that here, too.
Nearest subways: Chinatown gets you the B and the D at Grand St, plus the J, N, Q, R, and 6 trains at Canal. In other words, it's the rare neighborhood where you can get to the East Side, the West Side, and both lobes of Brooklyn without transferring, which is like winning the MTA lottery.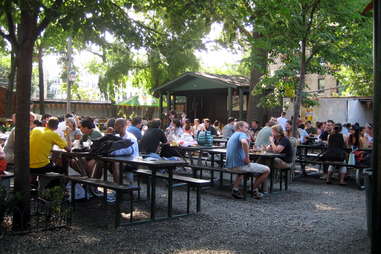 Astoria, Queens
Average one-bedroom rent: $2,100, according to the MNS Queens Market Report
What you get: A good-sized unit -- 600 or 700sqft -- likely in a private home or small walk-up building. And while the average may top $2,000, you can do it for less. "Astoria is one of those places where if you venture out a couple of blocks away from where all the action is, you can still find some reasonable deals," Vittorio Faricelli, licensed associate real estate broker with Citi Habitats, says. The neighborhood also has a solid stock of three- and four-bedroom shares.
Why you want it: The wonders of Astoria aren't exactly a well-kept secret at this point, but the neighborhood's insanely diverse food scene -- and the easy commute to Midtown -- keep drawing new people in. "There's Greek food, there's Italian food, there's Middle Eastern, then you have your comfort food," Faricelli says. "They have all different types of entertainment as well. You go from mom-and-pop bars to higher-class lounges, and then you have everything in the middle of the road." Taverna Kyclades is a neighborhood landmark, though you'll do just as well at the lower-key Gregory's 26 Corner Taverna. Faricelli himself is partial to Queens Comfort, which does what it sounds like, though it's hard to argue with the shawarma at Duzan. Astoria is also home to the consistently fantastic Museum of the Moving Image, Socrates Sculpture Park, and what is arguably the city's best beer garden, so it's not like you're in any danger of running out of things to do.
Nearest subways: N & W trains stop at multiple stations in the neighborhood, including 36th Ave and Ditmars Blvd.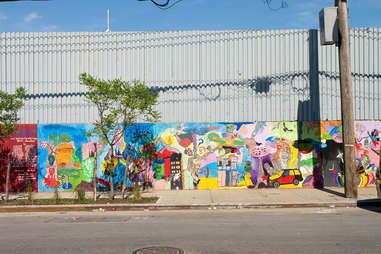 The South Bronx
Average one-bedroom rent: Sapp puts it around $1,500.
What you get: A spacious, "normal-living-size" one-bedroom with hardwood floors and high ceilings. There's a strong chance you won't have to pay a broker fee, and, Sapp says, you might even find something rent-stabilized.
Why you want it: If you're already oriented toward Northern Manhattan, then "you're probably going to be OK with another five minutes on the train," says Sapp. A few stops further north on the 6, the South Bronx isn't quite as convenient as East Harlem (another neighborhood that could have easily made this list), but in exchange for those five minutes, you get tons of new restaurants, an influx of coffee shops, and a startling number of breweries. "[The South Bronx] is attracting small businesses, and they're finding that business is good." This year, the Times ranked the South Bronx 51st on its annual list of 2017 travel destinations (to mixed reactions), mainly for its ever-growing food scene -- Bruckner Market, an "affordable" food hall, is set to open this year, and the neighborhood also has plenty of great old-school eats, but the biggest perk of the area might be unlimited access to the legendary Oaxacan moles at La Morada.
Nearest subways: The 6, 2 & 5, 4, and B & D lines are scattered throughout different neighborhoods in the area.
East Village, Manhattan
Average one-bedroom rent: $3,050/month, according to data from TripleMint. MNS' Manhattan Market Report puts it at a more optimistic $2,457.
What you get: Not space. "I would say in general, the apartments in the East Village are a bit smaller than you'd find in many other areas of the city," says Blake Tretter, a licensed real estate salesperson with TripleMint. But what you lose in space, you make up in location. "You're renting the neighborhood, honestly," agrees Juneau.
Why you want it: Once the gritty hub of the city's arts scene, the East Village used to be cheap, dicey, and bohemian. And while the neighborhood has lost some of its edge -- it's come a long way since Rent -- there's a reason it's still one of the most popular neighborhoods in the city. Brave the hoards of NYU students, and be rewarded with some of the best drinking and dining in Manhattan, from the fantastic burger at the Brindle Room to historic drinking at McSorley's to the whole Momofuku empire. If and when you're done eating, head to the Nuyorican Poets Cafe, Anthology Film Archives, or The Public Theater to catch what could be the next Hamilton. Also, five words: Tompkins Square Halloween Dog Parade.
Nearest subways: You've got easy access to the F at 2nd Ave, the 6 at Astor Place, and the N/R/W at 8th St, plus everything at Union Square. If you're based further east, invest in a Citi Bike membership.
Williamsburg, Brooklyn
Average one-bedroom rent: $3,130/month, per TripleMint. If you're willing to take the L a few stops past Bedford, though, Faricelli is confident you can find something in the $1,800 to $2,200 range.
What you get: If you want a pre-war walk-up with a lot of character, you can find that in Williamsburg. If you want a luxury-esque building with all-new hardware and a ton of amenities, you can get that, too.
Why you want it: North Williamsburg is basically the East Village of Brooklyn, says Tretter: hip, trendy, and heavily gentrified. What used to be a working-class neighborhood of Jewish, European, and Hispanic immigrants is now home to approximately a billion new developments, including a crop of swanky high-rises along the waterfront. That said, the neighborhood's list of local attractions is pretty much endless, and the list of companies flocking to the area is ever-growing. Bedford is the main post-hipster drag, though you'll be better off veering away from it. Meander over to Radegast for some Teutonic day drinking, investigate the untapped wonders of Japanese-Jewish fusion at Shalom Japan, or celebrate a special occasion with a 19-course Scandinavian tasting menu at Aska, which on the bright side, is definitely less expensive than your apartment. A sign of the times: In the last few years, Williamsburg has (controversially, though conveniently) welcomed its first Starbucks, Whole Foods, and Apple Store.
Nearest subways: You're pretty much stuck with the L train (with stops at Bedford Ave, Lorimer St, and Graham Ave), which Faricelli promises can get you to Manhattan in eight minutes -- but only if it's running. But while the L's impending 2019 shutdown is a (very reasonable) deterrent for some, Faricelli is confident "the city's not going to leave everybody hanging to dry." You can also get the J, M, and Z trains at Marcy Ave.
Turtle Bay, Manhattan
Average one-bedroom rent: Mid-to-high $2,000s
What you get: Choices. "What I love about Turtle Bay is the wide range of options," says Adam Werner, a licensed real estate salesperson with Corcoran. Turtle Bay has plenty of luxury high-rises, but the neighborhood also boasts a "healthy mix" of smaller, renovated pre-war buildings.
Why you want it: The patch of Manhattan between 43rd St and 53rd St in Midtown East is one of Manhattan's few remaining hidden gems. "People don't always think of it," Werner says, "but for someone that wants somewhere more quiet, that has reasonable options, I would recommend going up there." So if you're over the East Village and looking for a quiet refuge that also happens to be in Midtown Manhattan, look no further: "The UN is there, so the streets are really, really broad, and there's a lot of really quiet, really glamorous blocks." The neighborhood also comes with a "seriously long history," he adds. "There are landmarks everywhere." But as Werner is quick to point out, Turtle Bay has come a long way since Colonial times. Now bars and restaurants line Second Ave and feature all kinds of food, from Peking Duck House and Sip Sak to that old American classic, Starbucks.
Nearest subways: Someday, many moons from now, the neighborhood will be easily accessible via the Second Ave Subway; until then, you'll have to make do with the 4/5/6 and 7 at Grand Central, the 6 at 51st St, and/or the E and the M at 53rd.
Sign up here for our daily NYC email and be the first to get all the food/drink/fun New York has to offer.
Rachel Sugar is a freelance writer based in a neighborhood that is not on this list. She likes it anyway.