The Ultimate Guide to NYC Nightlife
From century-old dives to live music venues and music venues, these spots will remind you why you loved NYC nightlife to begin with.
Presented By
The Sultan Room

| Photo by Jutharat Pinyodoonyachet for Thrillist
The Sultan Room

| Photo by Jutharat Pinyodoonyachet for Thrillist
New York earned its reputation as the city that never sleeps for good reason. Some of the best New York moments happen when you go out for one drink and end up staying out past 3 am, or when you casually wander into a dive to find out a cult-loved DJ hits the decks once it gets late.
With the sheer volume of nightlife across the boroughs, it can be hard to decide where to go when you want to make a night of it. Whether you're hoping to go dancing, savor specialty cocktails, see live music, or throw down cash for a beer and shot combo before letting fate decide the rest, these spots will help make it a night to remember—no matter what you decide to do.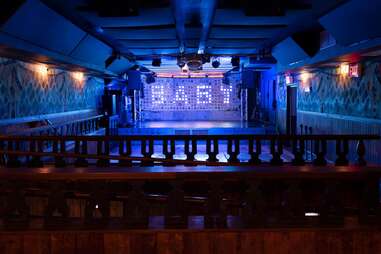 Bars in NYC
Lower East Side
Start, end, or make the most of your night at this NYC dive and century-old institution that wears its age well. The kitschy space is decked out in string lights and a leopard-print pool table, while it gives off vaguely Floridian vibes thanks to potted palms, seafaring decor, and a general sense of chaos in the air. You can't help but love this grimey dive, especially with its beer and shot deals. Whether you get a pickleback or pickle martini, 169 is perfect for a full night out or just a quick stop for a couple cheap drinks before moving on to one of the Lower East Side's other spots.
Bed-Stuy
Feel like you're at Andy Warhol's Factory or Studio 54, or channel your inner Parker Posey in Party Girl, at this vibrant queer-owned-and-operated nightlife sanctuary. The Bed-Stuy staple is a multi-room bar and art space that uplifts LGBTQ+ performers and encourages its queer patrons and allies to feel their most liberated on the dance floor. From parties with cheeky themes (Balls Deep Disco, HIMBO, Sad and Boujee) to spectacular burlesque, comedy, drag, and live music shows, you can count on any night at this vibrant club to slay. Drink up any one of the adorably named craft cocktails, like the Lavender Menace or the Nile Rogers, and let the good times roll.
Williamsburg
Ask any NYC band or scenester where to catch the city's best live music, and they'll have one word for you: Baby's. Since opening a decade ago, this Williamsburg venue has welcomed onto its stage (lit by a wall made of ashtrays) everything from Brooklyn upstarts to trendy touring acts and special sets from indie faves. Baby's reputation as a tastemaker holds no bounds either: Porches is basically the house band; Blood Orange has played secret shows; The Strokes have turned it into the band's afterparty; and stars like Charli XCX have partied there. In recent years, owner Billy Jones and team have gotten music fans particularly excited about nightlife again by making Baby's the resident host for concerts thrown by rising local talent and popular partystarters like Perfectly Imperfect. Baby's is beyond all right; it may as well be the center of the city's music scene.
Lower East Side
There's no sign outside this underground haunt, but the excessive fog emanating from a staircase leading below Chrystie Street marks the spot. Home Sweet Home is like a holdover from another downtown era, with a general griminess, a taxidermy-heavy decor, and vintage chandeliers hanging from the low ceiling. Whether a DJ with a taste for electroclash hits the booth or a punk band tears through a set on the tight dance floor, it's the kind of anything-goes place that'll make you remember why you loved NYC nightlife to begin with. Weekly sets from indie band Sunflower Bean and Harrison Patrick Smith, who DJs as The Dare and hosts the recurring Freakquencies parties, have turned Home Sweet Home into even more of a destination—one that feels like the places you could have read about in Meet Me in the Bathroom if you didn't experience aughts in NYC for yourself.
Little Italy
For those still mourning the kitschy, hedonistic fever dream that was the dim sum restaurant-turned-nightclub China Chalet, Manero's fills the void. After hours, this classic Italian joint transforms into a sceney den of debauchery that, if anything, is "so New York". Beloved local artists frequently DJ; downtown types throw pop-up parties; fashion and literary events commence; and on Wednesdays patrons play chess as the DJ spins. If the red sauce ambiance gets you craving a late night bite, don't worry: Manero's keeps the pizza ovens fired up late.
Ridgewood
If a raver dreamt up an outdoor oasis in the middle of a concrete jungle, it would be Nowadays. Founders Eamon Harkin and Justin Carter (both veteran DJs) opened the hangout in 2015 after years of hosting roving parties (Mister Saturday Night and Mister Sunday) in DIY and outdoor spaces around the city. The Ridgewood favorite keeps the dream of the nonstop party paradise alive with an outdoor Sunday afternoon set in its massive backyard (when weather permits) while hosting a roster of eclectic resident DJs inside late on the weekends. You can expect the energy from the discotheque to trickle outdoors, but the spacious patio is also a great spot to kick back, enjoy bar bites, and drink local beer.
Clubs in NYC
East Williamsburg
You can always count on something exciting going down at Elsewhere. Owned by Jake Rosenthal, the former owner of shuttered Williamsburg staple Glasslands, Elsewhere helped revive the local music and party scene when it opened in 2017. With multiple spaces, including a main room, a smaller stage called Zone One, and a rooftop with no shortage of outdoor shows when the weather's right, regulars know this venue always keeps the party going with both live music and events. Dozens of touring acts come through—from indie-pop mavens to emo bands—and there are also frequent parties with impressive talent lineups.
Greenpoint
Amid Greenpoint's many cocktail lounges and dives, Good Room is the lively neighborhood's resident club—although it's a lot hipper, a lot less elitist, and more unassuming than the typical NYC club. Despite the lack of signage, you'll likely know you have arrived when you see a line going down Meserole (even if you're wandering in well past midnight). Inside, several rooms—all good—each have a different DJ, all of whom are skilled and serious about the craft. The space may be dark and foggy, but when the light hits the disco ball hits just right, you'll notice that everybody getting down to house, hyperpop, or techno is hot, effortlessly cool, and everyone is there as much for the music as the good time.
East Village
Co-owned by Broadway legend Alan Cumming, this 21st century cabaret is named for the club that Cumming operated out of his dressing room during the 2014-2015 revival of Cabaret. This queer performance space and dive may not be the same secret backstage haven, but it will still inch you closer to a night of ecstasy. Club Cumming flaunts old school cabaret and drag shows in contemporary style, from a suggestive mural on the wall to arty, queer entertainment and clientele. Your night out there could go a number of ways. You could catch stand-up sets from top comedians like Catherine Cohen, titillating burlesque acts, or drag lineups. Or you may wander into a space that's no bigger than your friend's studio to find the best LGBTQ+ dance party ever.
As Brooklyn's unofficial nightlife epicenter, Bushwick serves up the gamut—live music from DIY bands, dance floors in both stylish bars and modified warehouses, cheap dives buzzing with skaters and people who identify as "creative directors," and marathon-length parties. House music fiends will feel blissed out at dance haunts like Bossa Nova Civic Club and Mood Ring (where they'll also feel the planets align with a menu of astrology-themed cocktails). Impeccable live music and scenester DJs never quit at venues like Market Hotel and The Sultan Room. And there's nothing else quite like an all-nighter at House of Yes, a hot party spot with queer-friendly events, patrons in flamboyant outfits, and legion of aerialist performers that will leave you feeling like you lived through the '90s club kid movement.
Cocktail Lounges in NYC
Lower East Side
For a bit more of a traditional Manhattan nightclub experience that isn't a total cliche, Kind Regards should do the trick. The cocktail lounge becomes quite the scene—long line and doorman included—the later it gets on the weekends. Featuring several spacious rooms throughout the sleek, European disco-inspired lounge, it's great for a night out with friends. If your crew snags a booth, inevitably you'll move up to perch atop your chair's backrest when the nostalgic hip-hop and pop music starts bumping. Vibe hard enough, though, and the basement dance floor will beckon you to continue letting loose under an array of hypnotic lights.
Greenpoint
Since opening its doors in 2019, Ponyboy has been turning Greenpoint into even more of a destination than it already is. By 10 pm, this bar and restaurant transforms into a very popular, very happening nightclub. Fashionable while still feeling like a Brooklyn tavern, white bricks line an interior that includes tchotchkes along the bar in the front room and green velvet booths along the periphery in the back. It gets packed, but quality cocktails and live bands or DJs (playing anything from soul to hip-hop) encourage a good time nonetheless. That energy, paired with the sleek space and romantic lighting, make it ripe for making connections (cocktails like the spicy and sweet Forgetmenot and refreshing Giddy Up Pony may even help convince you that you've found your soulmate, at least for the night).
Gowanus
For those who start their nights out as early as afternoon, Public Records might be the answer. The multi-purpose venue is quite literally music to the ears of vinyl heads, electronica, funk, and jazz fans, and vegan connoisseurs alike. This hi-fi Gowanus wonderland boasts a record store, a vegan restaurant, a laid-back patio, a listening-lounge-style bar upstairs, and a ticketed club space known as the Sound Room. Sweaty bodies may abound on the dance floor, but a calendar of avant-garde DJs (sets can start as early as 3 pm or as late as 11 pm) spin beats that leave no choice but to dance it out. Alternatively, if you want to sip wine and special cocktails while still taking in delectable sounds, head upstairs where a collection of rare vinyl is always spinning and the vibe is more relaxed.
Lower East Side
Hit this chic and low-key Lower East Side cafe for appetizers and cocktails, and you'll feel like you're at a European bistro. With as many seats on the sidewalk and street as there are seats indoors, it's the perfect spot for those whose ideal night out includes gabbing over dinner or snacking on light bites paired with wine. Stay late and you'll really feel like you are partying abroad: The speakers start bumping with Italo disco, and the crowd rises from booths and chrome tables to dance.
Where to Enjoy Mocktails
Having a night out without alcohol has become increasingly en vogue, and there are more than a few places getting in on the trend in the Big Apple. Mystical East Village bar Hekate (the one sober bar in the city) will cast a spell on you with an extensive menu of alcohol-free beer, cocktails, teas, and elixirs, alongside events of the witchy variety (like tarot readings). Pay attention to events hosted by Absence of Proof and Listen Bar too, as both frequently throw booze-free parties across the city. Plus, cute and colorful locales like Chelsea's Jungle Bird offer a fair amount of mocktails, and TALEA Beer Co. has zero-proof beers. At the latter, you'll find options at both the Cobble Hill and Williamsburg taprooms.
Sadie Bell
is the former Associate Culture Editor at Thrillist and a contributor who covers music, pop culture, and nightlife. Most nights, you can find her at her favorite place: Baby's All Right.