In a town where being nocturnal is a personality trait, we've decided to fully lean into the whole "city that never sleeps" vibe—because let's be real, the after hours scene in New York City is thriving.
Post-daytime explorations like discovering the wonders of our city's top outdoor spas and pools or going on a cute afternoon date, there's still plenty to do when the sun's gone down. From taking a pasta-making class to playing arcade games at a new queer womxn concept, here are the most fun things to do after dark in NYC this winter.
Throughout winter
Bowery
Whether you categorize yourself as a near expert or a perplexed bystander in the kitchen, the pasta classes at the Roman restaurant, Forsythia, give everyone's culinary skills an impressive boost. Led by owner Jacob Siwak, learn how to make fresh pasta from scratch while sipping on glasses of natural wine. At the end, you can dig into your creation and leave with the knowledge of how to mix pasta dough, shape different kinds of pasta, and prepare the ingredients for a pasta sauce. Additionally, the Wednesday version of the class includes a cocktail class and a five-course prix fixe dinner. Classes can be booked on Resy.
Cost: Monday classes at $200 per person, Wednesday classes at $300 per person
Throughout winter
Various locations
When you're on the hunt for good beats that rattle the building, flashing lights, and steamy air from heavy-handed fog machines, New York City is most certainly not at a loss for hot clubs to dance the night away. With newer additions like the Lower East Side's deep house mecca, Virgo, and the subterranean hotspot of Loosie's, there's truly a vibe for everyone. Other always-reliable go-tos include the year-round Bushwick staple, Elsewhere, as well as the Georgia O'Keefe-inspired hotspot in the Freehand Hotel called Georgia Room.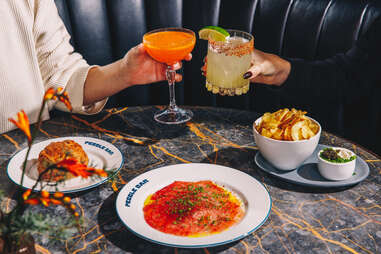 Tuesday, February 14
Midtown
Rockefeller Center is home to one of the city's hottest spots for an evening libation: Pebble Bar. Honoring the century-old legacy of its building, specifically its predecessor Hurley's—a famed hangout spot for NBC stars like Johnny Carson and the crew from Saturday Night Live—at the multi-story watering hole, drop in on V-Day for a rom com-inspired night dubbed "NY, I Love You." Kick off with ice skating on The Rink, before warming up with a candlelit prix fixe dinner and a romantic serenade courtesy of an on-site pianist.
Cost: Reservation for Johnny's at $350 per couple, reservation for the third floor Bar Room at $250 per couple, ice skating at $56 per couple
Cosplay as a reality TV star with Love Island-themed drinks
Tuesday, February 14
Boerum Hill
Known for its welcoming neighborhood ambiance, as well as intriguing cocktails and raw bar offerings, Brooklyn's Grand Army is a perpetually busy go-to most nights of the week. On Valentine's Day this year, pull up for a night of practicing your barely passable British accent and pretending you're the hot new bombshell that just entered the villa, while sipping on a lineup of Love Island-inspired beverages. Cheekily named cocktails include the I Got a Text (pineapple rum, passion fruit, orange wine), Crack On (lager, scotch), and dessert shots dubbed the Casa Amours.
Cost: Cocktail prices vary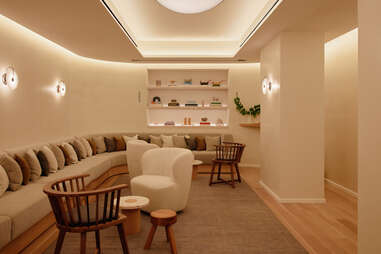 Throughout winter
Upper East Side
Within the impressive recently debuted Upper East Side wellness center, Sage + Sound, shake off a week of stress and responsibilities with one of the many tranquil mental-fitness classes. With two classes per evening six days a week—all held within The Study at Sage + Sound—choose from a variety of meditation and experiential sessions that utilize breathwork and are centered around themes like love, emotions, and calm. Before your class, reserve an appointment for a non-toxic manicure, massage, or facial then snag a veggie-forward plate and hot beverage from the on-site cafe, Isle of Us.
Cost: Classes from $28
Throughout winter
Various locations
A new pastime has been building momentum as of late courtesy of PingPod. First launched in 2020, this burgeoning concept has opened four popular community spaces (with a sixth opening this month in Downtown Brooklyn) across the city that bond New Yorkers over the fun and competition of table tennis. From newbies looking for some casual entertainment to experts ready to go head-to-head in a tournament, tables are open for reservation 24/7.
Cost: Table reservations from $15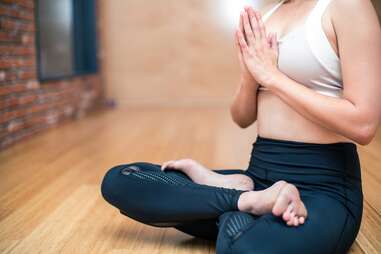 Throughout winter
Chelsea
When the concrete jungle becomes increasingly hectic, finding your center can be a cure-all. Accessible for any-level yogis, drop by the Maker's Room at Chelsea Market on Thursday mornings at 7 am for a 45-minute vinyasa flow and connect with that elusive inner peace. Mats and towels are not provided, so come to class prepared!
Cost: Free to RSVP
Throughout winter
Flatiron District
Popular for its "social spa" concept, which encourages non-members and members to celebrate self-care, guests of Remedy Place can book group sessions for a variety of luxurious treatments. Whether you're looking to switch up the usual Friday night going out plans with your crew or searching for a unique way to bond with your boo, everything from infrared saunas and lymphatic compression to ice baths and IV drips are set up for two or more visitors to enjoy together. Additionally, reach out through the website to learn more about the Remedy Place package deals.
Cost: Treatments from $50
Curb cravings at these beloved 24-hour restaurants
Throughout winter
Various locations
In our current times, the majority of the city's eateries shut off their lights to close up shop way before the clock strikes midnight. So, to say we're totally in love with the restaurants still (or newly) operating on a nocturnal schedule is an understatement. For classic diner joints, there's everything from consistently busy Kellogg's Diner in Williamsburg and the 76-year-old Court Street Diner in Long Island City. Other spots for late-night munchies are Gammeeok, a Koreatown standby; the Williamsburg and Bushwick locations of La Isla Cuchifrito; and the East Village institution of Ray's Candy Store. We also tip our hats to The Donut Pub in NoHo, Papaya Dog in the West Village, and Dim Sum Palace, which opened in Chinatown in December and serves until 4 am, deserves an honorable mention.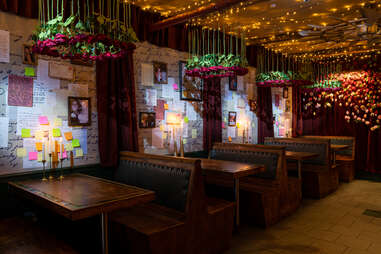 Throughout winter
Little Italy
Regardless of your relationship (or situationship) status, the season of love isn't just for those with a permanent plus one. Through March, celebrate all kinds of love at The Garret Coctelería's newest concept called Coctelería de Amor. Surrounded by vintage love letter collages, candlelight, and hanging red roses, guests can order from the limited-time menu that includes cocktails like The Passion Pit (tequila, aperol, passion fruit), which serves two. A range of tacos and small bites are also available.
Cost: Cocktails from $18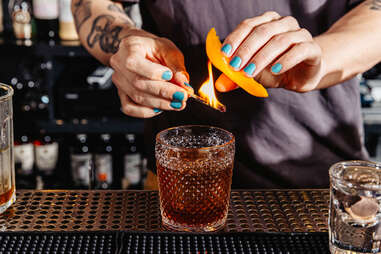 Throughout winter
Various locations
When thirsty for an expertly-crafted nightcap, New Yorkers have it good. From notable newcomers like the groovy cocktail hotspot of HiLot in the East Village to the hard kombucha haven of JuneShine New York in Williamsburg, these spots are easy to post up all night at. We're also partial to bars offering live entertainment alongside our drinks, like the listening bar Eavesdrop in Greenpoint or the Lamba Lounge in Harlem, that's set up with everything from video games to a photo booth and Jenga. And perfect for chillier nights, cuddle up in a cozy corner at Lullaby on the Lower East Side, try out new menu items at Mister Paradise in the East Village, or scope out the scene at Lobby Bar in the Hotel Chelsea.