NYC Stories You May Have Missed This Year
Like every single twelve month period that has preceded it, and every one to come, 2018 sure was a year! The zeitgeist ebbed and flowed. Some things happened, while others did not. There were good days and bad days. And now it is nearing its end.
We hope you've spent these past 52 weeks in eating, drinking, dancing, hitting the town week after week, and that you're primed to enjoy even more of what this town has to offer in 2019. Stick with us for the best of everything you need to do to make the most of the new year, and have a look at some of the best New York City restaurant, bar, travel, and nightlife stories you may have missed this year.
Dakota Delfin
"Panna II Garden has been quietly serving mediocre food in the East Village for 35 years, but only recently have crowds slammed the place to the point where you'll wait 90 minutes for a table on a Saturday night -- even with a reservation. So why are tourists and New Yorkers beating down the door to get into a spot with middling food and coarse service? Because its luminous, rainbow-hued interior looks incredible on Instagram. The decor doesn't just make up for the food; it justifies its existence."
In-Betweeners

| Julien Levi
"It's a postcard-perfect October Saturday in Sleepy Hollow, New York. The fall air is finally crisp, and tawny treetops sparkle like autumnal fireworks in the afternoon sunlight. A pack of tourists up from the city strolls past idyllic homes decorated with jack-o'-lanterns, black cats, and cobwebs. The houses are like palaces compared to the tourists' tiny apartments 30-some-odd miles downstate in Manhattan and its boroughs. The sidewalks are uncrowded, but the group's leader is careful to make sure his herd stays together. Someone remarks that he ought to have a flagpole like the kind you see out-of-towners bobbing behind in Times Square, but this isn't that sort of tour."
Lez Swim

| Flickr/sthree
"Lesbian bars are on life support. New York City has four -- four more than you'll find in Los Angeles, Boston, Washington, DC, and Philadelphia. Combined. Blame the internet, which made it easier for LGBTQ people to meet potential partners without a dedicated physical space. Also, straight people are increasingly comfortable with queer-friendly spaces in general, so same-sex couples aren't restricted to the windowless, dungeon-like hiding spots LGBTQ folks were relegated to during your parents' lifetime. Yes, things have gotten much better. But when you're part of any minority group, sharing a space with people who share your identity is priceless."
Doris

| johnny Fogg
"The thinking here is pretty straightforward and comes from 10 years of slinging drinks on two continents: Bartenders always know where to drink. Bartenders are also, by and large, big-hearted people who like to facilitate a good time, so provided you are polite and -- I really cannot stress this enough -- tip well, they are also quite likely to send you to a spot you'll enjoy. Now, I'm not saying they will necessarily send you to their favorite bar (it's too hard to tell after a brief interaction if someone can be trusted like that) but even a third- or fourth-favorite spot should suffice."
Daniel Fishel/Thrillist
"There are about 25,000 bars, and restaurants, and all-around good time establishments in New York City. Since you're here, you've probably been to 24,999 of them. And if you've ever swayed, shimmied, or even danced with more than two of your friends, guess what, you super-cool risk-taker: you've likely broken a city law."
Jason Hoffman/Thrillist
"Grumbling about crowds, delays, and other nuisances is easy. Truly, though, you don't know what you've got 'til it's gone. In April 2019, the MTA train will suspend service between Bedford Avenue and 14th Street/Eighth Avenue for a projected 15 months. Next year? May as well be never!, you say? Tell that to future you."
Jay Sprogell/Thrillist
"Since November, when New York was picked as the "winner" of a months-long tax-cut bidding war for Amazon's new headquarters, New Yorkers have been dreading what Bezos' behemoth will do to our city -- like crowd our already-crowded trains, jack up our already-jacked-up real estate prices, and bring even more tech bros in Patagonia vests to our shores."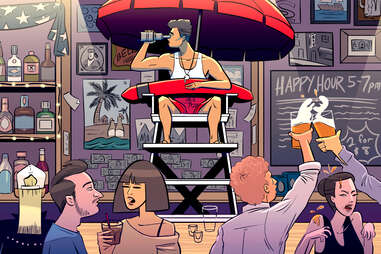 Jason Hoffman/Thrillist
"Every night across the five boroughs, bartenders like Eric are relied upon as therapist, sage, clown, cheerleader, spiritual advisor, janitor, referee, party animal, cop. Forever caught between the demands of their trade and the desire to help strangers in need, bartenders are expected step into roles beyond their theoretical job description. Now, spurred by a growing number of overdoses attributed to cocaine laced with fentanyl, the New York City Department of Health has launched a pilot initiative to train bar staff on Manhattan's Lower East Side in lifesaving measures, adding a new role to bartenders' already expansive repertoire: first responder on the frontline of the American opioid crisis."
Cole Saladino/Thrillist
"When Chick-fil-A opened its first New York City outpost in the relative seclusion of New York University's Weinstein Food Court, it seemed at once to be flying under the radar and too close to the sun. Hidden from street view and accessible via a nondescript entrance, the controversial chicken hawkers had landed in one of the most progressive neighborhoods in the world -- Greenwich Village -- and in an ostensibly liberal bastion of higher education. Now, the chain with over 2200 restaurants nationwide is opening its fourth Manhattan location at 50 East 42nd Street."
World of Wonder
"It's nearing 10pm on a Thursday night and Lady Bearica Andrews, a heavily bearded drag queen, is rocking dark, glittery eyeshadow, cartoonishly cherry red lipstick, and a leotard. She throws a collapsible nylon camping chair across the ballroom of the former Polonaise Terrace, just missing the chandelier illuminating the dim event hall. Another drag queen locks the heel of her patent leather pumps on an empty garment rack and rides it like a scooter, while a third, Ariel Italic -- dressed in chic, '60s-style colorful printed pants paired with a white, short-sleeved mock-turtleneck -- lip-syncs a stream of "drag suicide" jams (Whitney Houston, Rihanna, disco standards) played by DJ Accident Report. This trio makes up The Nobodies, a drag collective hosting (along with special guests) weekly RuPaul's Drag Race watch parties at the Brooklyn Bazaar, housed in a former Polish banquet hall."
Sign up here for our daily NYC email and be the first to get all the food/drink/fun New York has to offer.