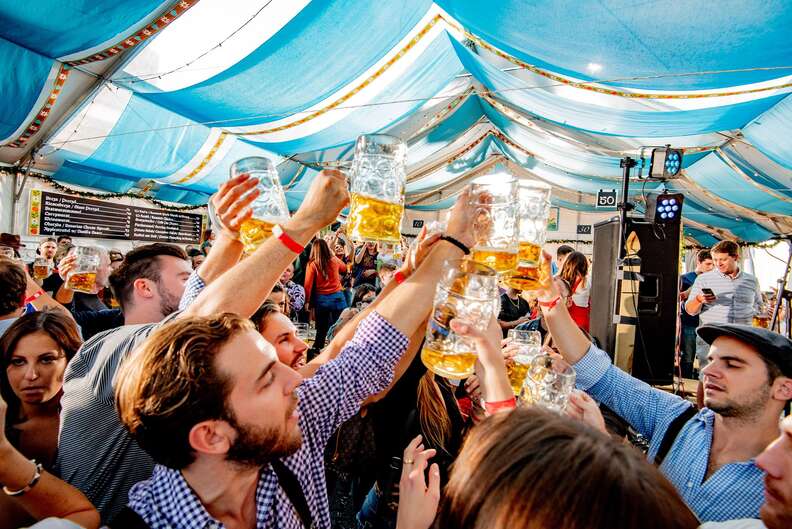 Zum Schneider Oktoberfest

| Jonathan McPhail Photography
Zum Schneider Oktoberfest

| Jonathan McPhail Photography
Now that summer, with its breath-hot humidity and hard seltzers, is starting to unwrench its White Claws from NYC's collective neck, we can bask in the beautiful decay of three months of glorious fall. And nothing chimes in this magical stretch quite like Oktoberfest. Remember beer? Trade your glorified La Croix for a 5-pound, 1-liter stein of Weihenstephaner Vitus, and chomp down a delicious bratwurst slathered in spicy mustard while you're at it. You've earned it after a summer spent in the city.
New York has one of the most vibrant Oktoberfests in the United States. With a huge number of German restaurants per capita and an abundance of bars overflowing with bier, nearly every fall weekend has something Oktoberfest-related going on. And the party starts in mid-September, so you can start enjoying the festivities while you're still in lederhosen.

Prost!
September 13-15, 21-22, 28-29, October 5-6, 12-13, 19-20
South Street Seaport
Five-pound glass chalices of high-ABV beer might give you the impression that Oktoberfest is more of a sprint than a marathon, but this celebration at the gigantic Watermark Waterfront Bar on Pier 15 in Lower Manhattan disproves that notion. Held over six weekends, Oktoberfest NYC combines giant pretzels, brats, and the finest Bavarian beverages with panoramic views of Brooklyn.
Cost: Free to enter; food and drink items start at $10
September 14
Van Cortlandt Park
At its heart, Oktoberfest is a warm welcome to fall, so why not take the opportunity to enjoy the natural wonder of NYC in the process? The Van Cortlandt Park Alliance is hosting a Hike-toberfest fundraiser, where guests can take guided history or nature hikes through the park. Food will be provided by Loreley Restaurant & Biergarten and local beers will be served by Bronx Beer Hall. Just leave the clogs at home.
Cost: $65
Anniversary Party: September 14-15; Munich on the East River: September 27-29, October 1, and 3-6
East Village and the East River at 23rd Street
German institution Zum Schneider marks its 20th anniversary this year. To celebrate, the restaurant will host a pig roast on September 14th and 15th as a sort of Oktoberfest appetizer. It's annual Munich on the East River event -- a traditionally decorated Oktoberfest tent set up on the FDR near 23rd Street complete with oompah bands, German beer and pretzels -- kicks off on September 27th.
Cost: Standard menu prices at the restaurant; Munich on the East River tickets start at $29, not including food or drink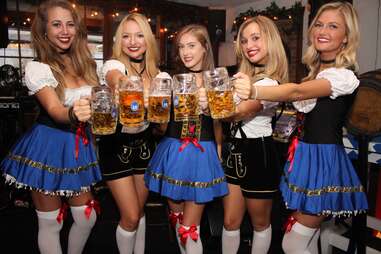 September 16, 20, 21-22, 27-29, October 4, 6-7, 11-13, 18, 20, 25-26
Upper East Side
When you bill yourself as the Oktoberfest headquarters of NYC, you've got some pretty big shoes to fill. And when your beer hall has ties to the legendary Hofbräuhaus in Munich, the stakes get even higher. Bierhaus NYC has events planned nearly every day throughout September and October. We're talking six pig roasts, an "Oktoburlesque Show," and a Rosa Wiesn celebration, which is an homage to Munich's Gay Oktoberfest celebration.
Cost: Standard menu prices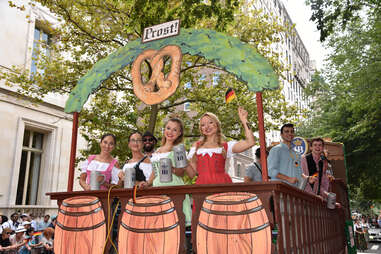 September 21
Central Park
Hitting the bar to clank steins with festive friends is an Oktoberfest tradition, but it's also nice to get outdoors and check out the cultural heritage on display at an NYC parade. German cultural groups from around the world will march up Fifth Avenue in the 62nd Annual Steuben Parade -- the largest of its kind in the US.
Cost: Free
September 28, October 5
Williamsburg
With its bustling indoor and outdoor spaces, Radegast Hall & Biergarten may be as close as you can get to the true München Oktoberfest experience in NYC. Every Saturday from September 21 to October 6, Radegast will pull out all the stops: expect mug holding competitions, ceremonial keg tappings, pig roasts, live bands and DJs.
Cost: Free to enter; standard menu prices
October 4, October 12
Fort Greene and Cobble Hill
With two locations in Brooklyn, Bavarian restaurant and beer hall Black Forest offers twice the Oktoberfest fun. Its October 4th kickoff party will feature live music from the Slavic Soul Party brass band in addition to a season-opening keg tap (beers from the first keg are free!). Its October 12th Oktober-feast party at the Smith Street location will feature live German music and a big, four-course Bavarian meal served family style. Naturally, both events will also have mugholding competitions to truly test your mettle.
Cost: Tickets to the Fort Greene party are $10, not including food or drink; Tickets to the Cobble Hill party are $45, including a family-style meal and beer
October 12
Richmond
Look no further than Staten Island for a family-friendly Oktoberfest. This annual event has carnival games, a wide selection of food trucks, live music, and beer (both foreign and domestic). It's also held in Historic Richmond Town, so you get a little old-town atmosphere as you celebrate German culture. The event benefits veterans in need, which is always a cause worth supporting.
Cost: $10 entry fee includes one drink; additional food and drink available for purchase
October 12
Williamsburg
There is something situationally endearing about oompah music, but it objectively does not slap. As a counterbalance, check out The9amBanger show at Villain. You read that right: an Oktoberfest dance party (costumes encouraged) at 9am with an open bar until 11am. For $35 you can get incredibly hype; you just need to trade in the oompah for some wubwub.
Cost: Tickets start at $35
October 19
Astoria
Oktoberfest needn't be a shitshow, I'm told, and the storied Bohemian Beer Hall will serve as the backdrop for a good old fashioned scavenger hunt in honor of the occasion. Teams of three-to-five people will compete for prizes, searching the historic beer hall and garden for site-specific clues. Teams can enjoy food and beer while scores are tallied up.
Cost: $15; food and drink available for purchase
Sign up here for our daily NYC email and be the first to get all the food/drink/fun New York has to offer.
Erik Helin is the only Brooklyn-based freelance writer.
​​​