The first Oktoberfest, way back in 1810, celebrated the marriage of the Bavarian Crown Prince Ludwig to Princess Therese von Sachsen-Hildburghausen. Two hundred and eight years later in New York, we're celebrating something a little less romantic: 2-liter beers; weisswurst and spicy mustard; the sweet, sweet sound of tubas; and a reassuringly European excuse to drink all day.
Despite its name, Oktoberfest begins in September, allowing Germans -- and you -- to oom-pah-pah in the warmer nights. That gives us more weeks of celebrating all over the city with German beers, German music, and hangover-preventing German food. Just in case you want to add a little costuming to the celebration, a frankly stunning array of lederhosen and dirndls are available for two-day shipping with Amazon Prime (Lederhosen4u, please contact me about my influencer rates). While you wait by the mailbox, you can start practicing your German:
I'm wasted, can you call me a Lyft?
Ich bin betrunken, bitte nenne mich Lyft?
September 22, September 29
Williamsburg
Drink to the last few weekends of a functional L train from 11am to 2am. Don't miss the steinholding -- or Masskrugstemmen -- contests, a traditional Bavarian show of strength where people with alcohol-inflated confidence attempt to hold a 1-liter stein of beer straight out in front of their bodies. A pig roast, brass bands, and late-night DJs take the party at this traditional German biergarten straight into Sonntag (that's Sunday for all you Amerikaner).
Recommended Video
Big Boi From OutKast Introduces Cliff to Atlanta's Food Scene
September 28–30, October 3–7
East Village
For the fifth year running, German restaurant Zum Schneider is erecting an Oktoberfest tent on the East River. Pretzels and bratwurst are on the menu, but they're also serving up über-traditional roast chicken and pork shank. An array of German beers on tap -- including a few exclusive to Zum Schneider -- are served by the stein by German-speaking frauleins in their dirndls. Music plays in the tent all day, so bring your oompah shoes. On your way home, stroll through the gingerbread and roasted almond vendors, and pretend you've woken up in Munich.
September 22–23
Coney Island
Stretch summer into September with Oktoberfest on the boardwalk. A $25 pre-sale ticket gets you admission and five beers; $40 gets you admission and a full tasting of the 12 German beers, craft brews, and ciders on tap. Pretzels, bratwursts, and schnitzel join the traditional Coney Island cuisine of funnel cakes and fries. Live bands, "jumbo beer pong" (for jumbo bros, one imagines), and corn hole will keep you occupied between your Hefeweizens.
September 22–23
Chelsea
Do you love boats and Bavaria? Have I got the bar for you. The Frying Pan at Pier 66 gets an Oktoberfest makeover this month, with live music, costume contests (good thing you got those 'hosen), and oodles of schnitzels and strudels. Twenty dollars buys your first beer in a souvenir mug, followed by discounted refills all night long. The magic mug lets you skip the line before 4pm, too, so plan ahead -- that boat is going to get packed.
September 22
Lower East Side
In 1810, Bavarian citizens were invited to carouse through the fields outside the city gates. Continue this tradition of drinking on the move with an Oktoberfest pub crawl; a $60 ticket to the 10-hour crawl gets you a 12-ounce German beer at every bar along the way. Learn a few German drinking songs (you already know one... John Denver's "Country Roads" is an Oktoberfest classic, for real) and spend the night singing on the street like a Bavarian peasant proclaiming his fealty to Princess Therese von Sachsen-Hildburghausen.
September 29
Queens
If you're getting a little sick of schnitzel and fixin's, this Oktoberfest takes a more global view of pickled cabbage. Functioning as a fundraiser for the Voelker Orth Museum -- a bird sanctuary and Victorian garden -- this party is a little lower-key and higher-class. With live music, a surprising mix of German- and Korean-American food, and an end time of 8:30pm, you can celebrate Oktoberfest without the crowds or ensuing hangover.
September 22
The Bronx
Another less-than-traditional Oktoberfest, Bronx Brewery is celebrating "Das Bronx," the new version of their Berliner Weisse style beer. Featuring multiple DJs, local drummer Anthony Anderson, and singer Xio Lynn, they'll also have food trucks on site to soak up all that beer. The first 150 tickets buyers get a limited-edition stein, so you can train at home for next year's steinholding championship.
September 21–23 and 27–30, October 4–7 and 11–14
Financial District
Held in Watermark's 3,500-square-foot space in Pier 15, this Oktoberfest has all the Hofbrau, Weihenstephan, and Radeberger you can handle. While the view's not Munich, it does have a perfect panorama of the Brooklyn and Williamsburg bridges. Turn cash into tickets for food and drink purchases -- each ticket costs $10, and it takes two to fill up a large stein ($15, sold separately) or buy a giant pretzel. If you're planning on bringing your Freundes, save a little cash by buying a package: $500 gets you 55 tickets and three large steins.
October 6-7
DUMBO
This Very Hipster Oktoberfest features a social media contest, a "virtual apple-picking photo experience" (just like they do it in Bavaria, I'm sure), and adult coloring books. If you're in it for the 'gram, you can't get a better background than the dramatic arch of the Manhattan Bridge lit up at night. Grab a beer and listen to the Polka Brothers, or stop by on Sunday afternoon with the kids for German-themed crafts.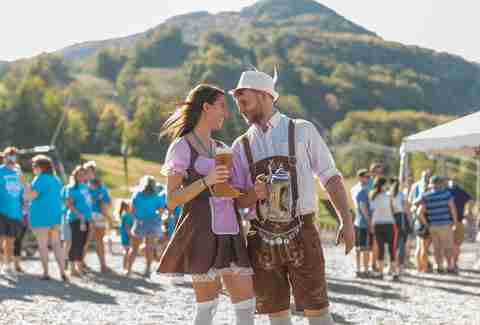 September 22–23, and 29–30, October 6– 7 and 13–14
The Catskills
OK, so this one's technically 2.5 hours outside of NYC, but this all-autumn-long Oktoberfest has been ranked No. 9 in the nation. If you get a few friends to go in on an Airbnb, you can recreate the real Oktoberfest experience with crisp country air and mountain vistas. With games, food, and beer every weekend, Hunter Mountain also hosts a Eurocar Rally and cider tastings. Plus, while you're upstate, you can go real apple picking -- unless you prefer the dystopian simulacra of a virtual apple-picking photo experience. As they say in Germany, "Hast du dieses Dirndl auf Amazon Prime bekommen?"
Sign up here for our daily NYC email and be the first to get all the food/drink/fun New York has to offer.