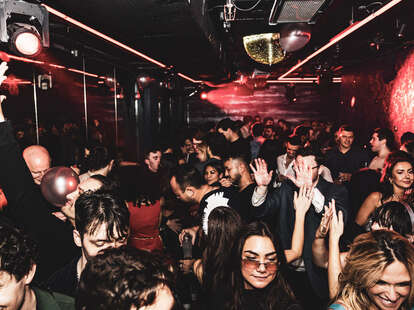 Virgo

| Photo by Davey Hiles
Virgo

| Photo by Davey Hiles
This winter, we're linking under disco balls ready to dance and with drinks in hand. And primed with impressive DJ sets, photo-worthy production design, and steamy air courtesy of heavy-handed fog machines, New York City has us covered with a squad of thriving nightclubs.
Even though we'll always stan chill dive bars and the best cocktail bars, after a long week of work and responsibilities, losing yourself on a dance floor can be the best cure to everything. From a new astrologically-inspired deep house mecca on the Lower East Side to a longtime Brooklyn favorite now offering music memberships, here's our list of the coolest clubs in NYC right now.
Lower East Side
Named after co-owner Thatcher Shultz's star sign, Virgo has quickly become one of Manhattan's hottest spots for nights out since opening in November. The latest concept by Full:Life Hospitality Group (Creatures of All Kind, Bohemia), here, the 3,000-square-foot space features a state-of-the-art VOID sound system, infinity mirrors, a purple concrete bar, and a shag-carpeted "Boiler Room" for DJ sets. Sourcing talent from across the globe and known for playing a variety of deep house, disco, and more, check their website for upcoming events.
Kips Bay
Pulling up to Georgia Room in the Freehand New York is a guarantee for a wild night. Opened in 2021 and named after the iconic artist Georgia O'Keeffe, the 5,000 square-foot dance den offers a funky and lighthearted ambiance that attracts partygoers of all types. Kick the evening off early with a more casual cocktail in the adjacent Bar Calico before taking over the dance floor or attending one of their outrageously extra parties, like the upcoming Valentine's Day cabaret show.
Lower East Side
The brains behind the perpetually packed hotspots of The Flower Shop and Little Ways teamed up with TAO Hospitality to launch a dance floor-centric subterranean club in the basement of the Moxy Lower East Side hotel. For the nightlife veterans Ronnie Flynn and Dylan Hales, the vision for Loosie's was to revive the free-spirited energy of the early aughts with a disco ball chandelier, LED light shows programmed to the music, top tier set lists, cushy velvet banquettes, and gossip-worthy celebrity clientele. This month, catch sets by popular DJs like Dexter Love, Rhett Bixler, and Turbz.
Williamsburg
One thing that we can count on in Williamsburg is a warehouse-turned-dance club becoming one of our favorite spots to hit up. A must try is Ciao Ciao, a 1970s Rome-inspired cocktail bar and discoteca from the team behind Freehold Hospitality (Freehold Brooklyn, Freehold in the Park). Within the space, you'll find graffiti-covered brick walls, lounge areas, and a super cool lit-up dance floor. Nightly DJ sets bump everything from disco to house, while the beverage program flaunts amaro- and bitters-centric cocktails along with specialty Negroni variations.

East Williamsburg
Inspired to expand the number of Black-owned gay bars in New York City, husband-and-husband business partners Charles Hughes and Richard Solomon opened their first spot in Harlem called Lambda Lounge. Following its success, comes their latest project, Club Lambda Brooklyn. Here, the East Williamsburg nightclub welcomes visitors to experience safety, inclusivity, and unfiltered joy. Let loose within its dark and sleek space featuring pops of neon color, and if you arrive before night falls, peep the beautiful sunroom casting in some natural light.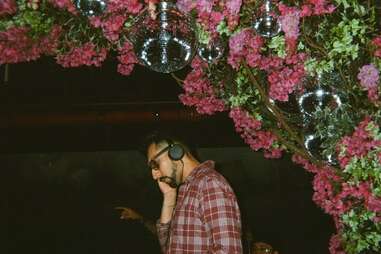 Chinatown
Hidden underneath the Hotel 50 Bowery in Chinatown, Daphne is a subterranean go-to for a high-energy night. Draped in disco balls and a massive silk flower installation designed by Floratorium, you're in for a musical treat as resident DJs spin everything from early 2000s favorites to disco and current hits. The spot's dreamy vibes will complete your after-hours experience, whether you choose to snag a table or roam the dance floor.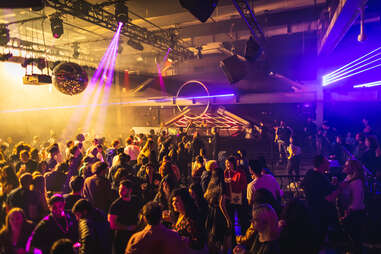 Bushwick
As far as Brooklyn clubs go, Elsewhere is undoubtedly a year-round staple. Embodying that free-spirited and underground energy of Bushwick, this three-story spot includes multiple stages, several dance floors, a rooftop bar (open during the warmer months), and an arts space. Among the regularly scheduled events, there's curated happenings thrown by local collectives and tons of DJ sets and live band performances. Also, try out their new membership experience for discounts on tickets, coat check, merch, and more.
Bushwick
Priding itself on fantastical parties, wildly fun energy, and a beautifully inclusive nature, House of Yes has become a beloved Brooklyn institution since opening in 2015. Here, revelers are encouraged to celebrate their eccentricities and express themselves on the dance floor. Think aerialists hanging from above, bumping DJ sets, and themed nights that bring out everyone's individuality. Pop in on a random night (show up early or you'll be stuck in line!) or buy event tickets in advance.
West Village
Specializing in stiff drinks, revelrous drag shows, and cabaret performances, plus seemingly endless hours of '80s disco jams, the basement of The Monster is the scene of many a late night for New York residents. First opened in 1970, the club has cemented itself as one of the great LGBTQIA+ nightlife institutions for its commitment to inclusivity, expression, and, of course, as a stellar spot to dance the night away. Open until 4 am every night of the week, pop by on a whim or snag a ticket to one of the upcoming shows.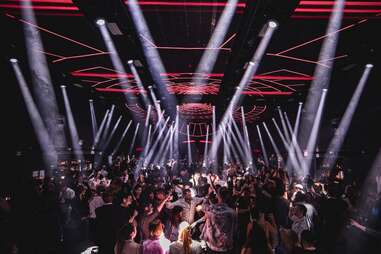 Midtown
Nebula certainly checks all the club essentials boxes. Within the expansive, multi-story space, there's LED panels hanging from the ceiling (that shift throughout the night based on the music), VIP tables, scattered banquettes, private party rooms, a 5,500-square-foot dance floor, and three bars. And, at the center of it all is a lifted DJ booth that's housed some of the hottest music industry names. Upcoming performances include sets from Bass Jackers, SJRM, and more.