Two years ago I found myself in dire need of a new way to blow off steam -- an outlet reasonably inexpensive, decidedly not chemical, and ideally not cliché. I felt too old to go to most of the concerts I liked and had gotten too fat to skateboard. As luck would have it, I got a desktop computer. I didn't need it, but it was a steal from a nearby company that was closing. I bought a game called Borderlands 2 and I was enthralled by how freaky-immersive video gaming had come in the 15 years since I'd last picked up a controller. Pretty quickly, I was as hooked as I'd been as a kid.
But soon I encountered a new conundrum, like many gamers living in New York City on a writer's budget. Namely, it's demoralizing to spend more than half your income on rent to live in the most electric city in the world when you hardly ever leave your apartment. With video games in the picture, the idea of leaving my post-apocalyptic settlement in Fallout to go to a poetry slam was hard to fathom. Even hanging out with people I liked was difficult: None of them had Lara Croft's parkour skills. I published a novel during this time that I was supposed to promote. I had an internet presence to maintain. Work, presumably, called. But none of that was going to help me shut down the 12-year-old from the UK who kept calling me an old twat after he'd blow my face off in Counter-Strike: Global Offensive.
I've gotten better at participating in the real world. Luckily, the city is filled with places where you can take your gaming into the real world, where you can use it as a retreat once you run out of things to talk about, where you can use your gaming prowess as a flirting tool (I mean, probably not, but maybe). Here are the best places to play video games in NYC while retaining your humanity.
388 Union Avenue, Brooklyn
Barcade is where the refined grown-up goes to play video games like a functioning member of society. Have you stopped wearing sneakers and book bags with your suits? Have you picked up the check at dinner with your parents more than once? Than Barcade is the social gaming spot for you. Its sweeping, warehouse-style structure feels like an underground party in a graveyard for retired arcade games. Nostalgia junkies in Williamsburg have been coming here for years to get their arcade fix.
Opened in 2004, early on in the Williamsburg hipster Exodus, Barcade has maintained steady crowds by keeping enough old-school video games blaring that there's always a machine to jump on. A solid list of 25 craft beers -- if you're of drinking age -- on tap each night helps patrons feel sophisticated while smashing barrels and discussing the socialist undertones of Q*Bert. With Ms. Pacman, Mortal Kombat II, and NBA Jam, there's a good chance you can find a game at Barcade that reminds you of growing up. Saddle up with some Satan's Hollow and some Victory Monkey, figure out which of those is a beer and which is a video game, and then go to town. (Or into the city: Two newer locations in Manhattan successfully replicate the original.)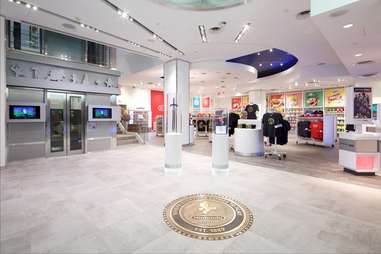 10 Rockefeller Plaza
If you've been out of the gaming loop, it might come as a surprise that Nintendo is still a top contender in the gaming world. The Nintendo Switch was the second highest-selling video game console in 2017, and one of its flagship games, Zelda: Breath of the Wild, was far and away the critics' top pick for the best game of 2017.
After a visit to the Nintendo Store in Midtown, it's easy to understand why Nintendo is still slaying. The two-floor space is a veritable shrine to your youth and to the incredible way in which the old becomes new again. The space is lined with screens hooked up to the new Nintendo Switch and loaded with new games. There's enough space to immerse yourself in some of the newer titles like Arms without worrying that you're hogging a gaming station. The 15-foot gaming wall in the middle of the second floor is an experience worth queueing up for. While you wait, you can chat with employees -- experts, all, on different Nintendo titles -- shop for gear like a Pokémon knit cap or stuffed Mario doll, or experience the mini-museum of video gaming upstairs, where every Nintendo system since the company's inception is beautifully encased and displayed like an original Modigliani… or Luigi.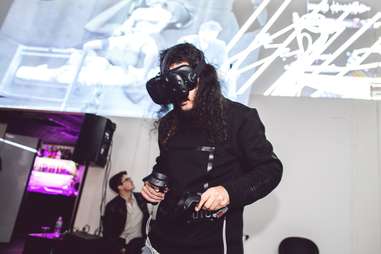 4 East 34th Street
This is an interesting moment for virtual reality. Most people can't afford a VR machine (or rig) of their own, and if they can, as a representative at Manhattan's VR World explained to me, they probably don't have the resources to run the top-of-the-line VR experiences. Instead, most VR owners use a service called VRChat, pretending to be a portly version of the Sonic the Hedgehog character Knuckles while quoting Ugandan action movies. Fortunately, only a few blocks from Penn Station is the largest VR Center in the Western Hemisphere, with more than 50 virtual reality experiences to choose from.
VR World starts visitors off with a simulation called Richie's Plank Experience, where you simply walk across a wooden plank on the ground. However, as soon as you strap on the headset you'll immediately find yourself clutching the shoulder of the nearest VR World employee for dear life as you look down and find yourself between skyscrapers Man on Wire-style. From there, choices abound. Forty bucks gets you two hours to spend shooting arrows at elves in Elven Assassin, hunting zombies in The Brookhaven Experiment, boxing, singing karaoke, even making virtual reality graffiti -- the list goes on. If you get tired or just need to decompress, there's a full bar. VR World might be the only NYC option that allows you to play video games and impress a date with your creative choice of venue.
292 Graham Avenue, Brooklyn
If you long to recreate the adolescent basement where your pals gathered to play video games and sneak booze, Action Burger is your new go-to hangout. Action Burger is a video game lover's dream: Each table gets a console and a big screen for Wii, a large arcade machine in the back brims with more than 75 different categories of games from every system imaginable, and the menu of fast-food staples was clearly curated by unsupervised teens. The environment is laid back, the food is good, and the games are free. Show up for a crispy chicken sandwich on a pretzel roll, maybe some sweet tater tots or some "pizza logs," and stay for a round of Mario Kart or enter in a Marvel vs. Capcom competition and see if you can defeat the owner of the joint.
860 Manhattan Avenue, Brooklyn
Sunshine Laundromat is not an arcade per se, but it's too good to leave out. It's a functioning laundromat with regular self-serve hours, drop off service, and even free Wi-Fi while you wait. All that, plus the chic aesthetic, make it a top-notch chore spot in its own right. Oh, and behind a false rear wall, speakeasy-style, Sunshine has one of the best pinball machine collections of any New York City bar. That's right: it's a bar too, open until 4am Thursday-Saturday, with eight drafts on tap and Roberta's pizza to snack on. Sunshine maintains a regularly updated collection of pinball machines and they keep close track of the top score earners for each machine. Current games include Guardians of the Galaxy, The Twilight Zone, and AC/DC: Back in Black. This is the place you truly deserve after all those hours in the basement.
65 Ludlow Street
Welcome to video game nerd heaven. If you want a café where you can debate the intricacies of micro-transactions in MMORPG's, this is your place. Up front, you can grab an Intelligentsia Coffee and settle in with your laptop, or you can lay down a few bucks and go back into the perfectly lit hall of desktop computers and ergonomically designed gamer chairs and play practically any popular online PC game.
With extremely reasonable prices ($5 gets you an hour), and the most competitive online games (PlayerUnknown's Battlegrounds, League of Legends, and Overwatch), Waypoint is the perfect place to brush up on your skills. If you become a truly seasoned Overwatch healer, you can sign up for one of the many tournaments Waypoint hosts. In fact, the New York esports' Overwatch team competes at Waypoint and just happens to be sponsored by the owner of the New York Mets. Serious video gaming happens here, and the cafe's internet connection is fast enough to handle it.
Sign up here for our daily NYC email and be the first to get all the food/drink/fun New York has to offer.
Jonathan Reiss is a Brooklyn-based writer whose debut novel,
Getting Off
was released earlier this year. With a focus on sex and drugs, his writing has appeared in
Complex
, Spin,
Interview
,
The New York Observer
and Evergreen Review.