New York is a terrific city for everyone who does not, right now, have a full bladder. Don't let your nostrils deceive you: Public urination is bad form anywhere in town. But where to go if you're nowhere near your hotel or apartment or an unsupervised wall of Trump Tower?
First, the basics: Starbucks, McDonald's, Taco Bell, and Chipotle are all solid options, or you revel in the brick-and-mortar splendor of Barnes & Noble bookstores (and their bathrooms). The NYC Parks Department website has a comprehensive list of public bathrooms organized by borough, and you can search it by zip code. And while we haven't tried this ourselves, rumor has it you can walk into any NYPD precinct and ask to use their restroom. Um, you go first.
We know, it's hard to read this while you jumping up and down with your legs crossed. Here are the best places to go when you gotta go in NYC:
Times Square: Marriott Marquis Hotel
Millions of tourists descend on Times Square every year, many of them with fully working kidneys. Unfortunately, most of the nearby businesses have battened down their hatches and closed off their bathrooms for the sake of their own sanity, but you do have a few options. There's Starbucks and McDonald's, of course, but for a premium pee, walk over to the Marriott Marquis Hotel and head to either the second floor or the eighth floor, where you'll find clean facilities (and only a little side eye from the staff).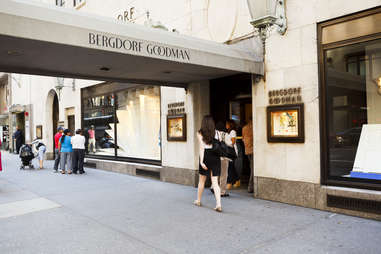 Fifth Avenue/Central Park: Bergdorf Goodman
It's worth facing down a store full of Upper East Side types and Sex and the City wannabes to use this swanky bathroom. It's, hands down, the best place to powder your nose while shopping on Fifth Avenue. There is a rotating selection of fancy soaps, fresh flowers, boxes of tissues, and lighting that actually makes you look good. There's even a changing table for babies, if you're into that sort of thing.
SoHo: Bloomingdale's
Pushing your way through the crowds in SoHo -- aka Times Square for locals -- can be thirsty work. The best bet for a pit stop is Bloomingdale's, which has bathrooms located on three floors: in the basement, and on the third and fifth floors. The basement bathroom is in the men's department, which makes it easy to dash in and out of to get back to shopping. The fifth floor takes a bit more effort to get to, but has the plushest facilities.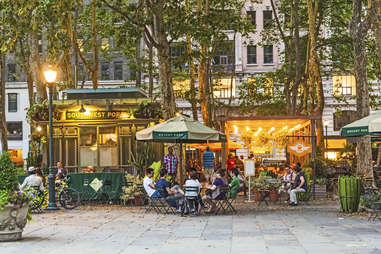 Midtown West: Bryant Park
You may shudder at the thought of using public park bathrooms, but the one in Bryant Park happens to be the poshest in all of New York. This isn't some concrete block with menacing puddles, but rather a sparkling, relatively luxe restroom, thanks to a recent $300,000 upgrade. There's a full-time attendant, fresh flowers, and piped-in classical music, making for a decadent bathroom experience.
Midtown East: Grand Central Terminal
When you're done gawking at the Grand Central's ceiling mural, head to the lower level food court for the public restrooms. The lines can be long, so an alternative is to ask nicely at the Grand Central Oyster Bar, or pop into the New York Transit Museum Annex.
World Trade Center: The Oculus
When they throw $4 billion into a transit hub/mall, you know there are going to be some nice bathrooms. The Oculus doesn't disappoint. The nicest facilities are on the fourth floor near Eataly, but you can't go wrong in the gleaming white Santiago Calatrava-designed hall. It's handy when you're visiting the 9/11 Memorial, as well.
Herald Square: Macy's
When you really need a bathroom, Macy's is a real miracle on 34th Street. Dodge the perfume spritzers in the cosmetics department as you make your way to the elevator bank. The department store map will lay out all the bathroom options. If you're looking for a quick in-and-out, head to the lower level men's department. If you want to wander around a storied department store, start at the ninth floor restroom and make your way down.
Chelsea or the High Line: Chelsea Market
The former Nabisco factory on Ninth Avenue and 15th Street has slowly transformed into a food court with a mall -- and that means clean bathrooms. They're in the middle of the ground floor, so enter with the crowds via Ninth or 10th Avenue, wander past the shops and stalls and look for the lines. After you've washed your hands, peruse the books at Posman's outpost, buy a nopal plate at Los Tacos No. 1, or try and snag a sample of Fat Witch brownie. You're also near some of
the best restaurants off the High Line.
Upper East Side: Barneys New York
You could fight your way through the tourists lining up to take a whiz at the flagship Apple store, but it's a better idea to head a few blocks uptown to Barneys. Wander past the pocket squares and $1,000 handbags to the elevator, where the map will show you the location of the Gucci, Alexander Wang, and the closest bathroom, making it easy to window-shop your way to a urinal.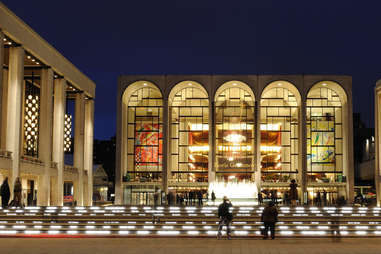 Upper West Side: Lincoln Center
Lincoln Center is home to some of the greatest opera, theater, and ballet in the country, but more importantly (if you're desperate), it's also home to some of the cleanest bathrooms in all of NYC. Head to the public space on 62nd Street where the bathrooms are free, regularly serviced, and truly open to the public, so you don't have to shuffle in on the sly.
Flatiron: ABC Carpet & Home
It's fun to ogle the $14,000 ottomans and $600 tree stumps that fill the six floors of this high-end design store, but zip right past them to the restrooms located on 2, 4, and 6. Once you've done your business, check out the woven kilims, Astier de Villatte ceramics, John Robshaw textiles, and whatever other unpronounceable, fabulously unaffordable home goods the store stocks.
Upper West Side: Time Warner Center
The Time Warner Center mall may be best known for its high-end food court, which features Per Se, Masa, and Bouchon Bakery. But it's still a mall -- and like every mall, it has bathrooms available for public use. These ones are usually clean, the stall doors lock, and since they are on the fourth floor, they're comfortingly away from huge crowds.
Union Square: Best Buy
Between Apple stores and Amazon, it may have been a beat since you've been in a Best Buy. But when you're in need, they're a sure-fire hit. The Best Buy bathrooms on 14th Street and Union Square West are squeaky clean, and nobody seems to know they exist, so you may well have them all to yourself. If you've been banned from Best Buy for reasons that should not be named, try the Nordstrom Rack next door.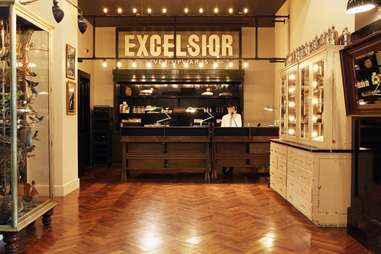 NoMad: Ace Hotel
The lobby of the Ace Hotel is a total scene, filled with hipster tourists, start-up business meetings, and people too cheap to pay for a desk at WeWork. Luckily for you, that means no one will notice when you head to the bathroom. Walk in from one of the many entrances to the hotel, head downstairs, and either head left to the women's or right to the men's. Stop by Stumptown on the way out if you want to legitimize your bathroom visit.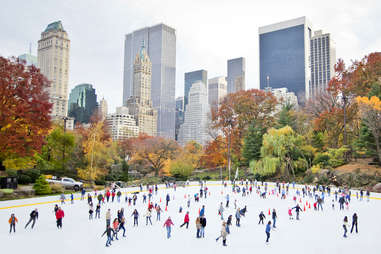 Central Park: Parks Department
According to its
website
, Central Park has 16 public restrooms located throughout the park. While some are seasonal (and some may not be serviced regularly), they are all free and available in an emergency.
Meatpacking District: The Standard
If you find yourself in the Meatpacking District and your Soho House membership has expired, your best bet is to act haughty and head to The Standard Hotel. Walk in and head to the bar, where you can politely ask the hostess to point you towards the downstairs bathrooms. Or, skip the niceties and just walk in like you own the damn place.
East Village: Tompkins Square Park or The Strand
Your best bet in the East Village is to stop by a local coffee shop and use their facilities. If you're really feeling cheap though, Tompkins Square Park has a free washroom. It's usually clean enough and usually doesn't have anything too untoward happening inside.
Harlem: East River Plaza
While there aren't that many malls in Manhattan, there are just enough that if you cross your legs and don't think about waterfalls you should be able to make it to one in an emergency situation. East River Plaza, the massive mall on 116th Street and the FDR Drive, has tenants like Target, Old Navy, Costco, and Burlington Coat Factory, as well as a bunch of shiny bathrooms for a quick rest stop during your shopping spree.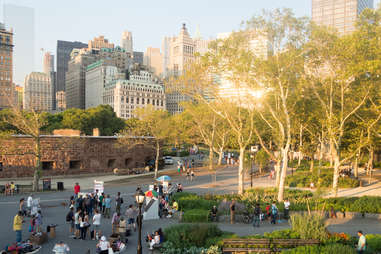 Battery Park: Castle Clinton
If using a restroom in a New York City park freaks you out, perhaps try one managed by the federal government instead. The National Park Service keeps the bathrooms at Castle Clinton National Monument conspicuously tidy. There's no entrance fee and the monument is open year-round, so next time you need a bathroom, you can top up on history, too.
Williamsburg: Starbucks/Whole Foods/Apple
One upside of profligate corporate gentrification is all the shiny new bathrooms -- and Williamsburg has recently hit the trifecta of Starbucks, Whole Foods, and the Apple store. If all that's too mainstream (and you can afford to be picky), try one of the many neighborhood coffee shops, and grab an oat milk cappuccino while you're at it.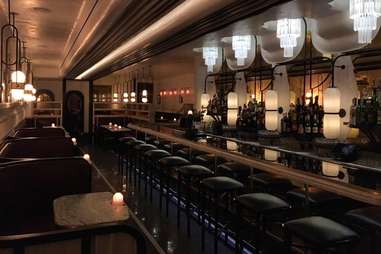 Cobble Hill: Elsa
If you're not in the mood for a delicious cocktail (what's wrong with you?), accessing this loo may require a persuasive chat with the host, or a sneak attack if you dare. It's worth the effort though, because this place was actually nominated as one of America's Best Restrooms (yes, that competition really does exist). As you'd expect, it's oh-so Instagram-worthy, with an arch of mirrored slats giving it the feel of a tiny, toilet-toting cathedral. You might as well drink to that.

Sign up here for our daily NYC email and be the first to get all the food/drink/fun New York has to offer.