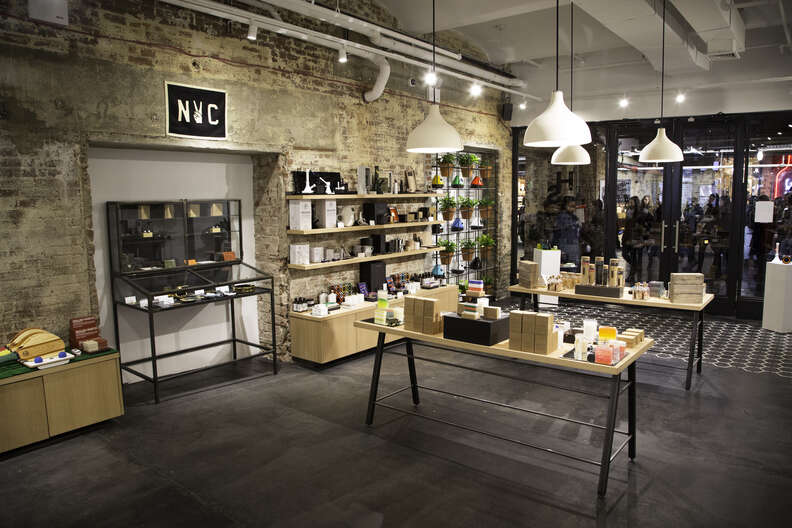 Courtesy of Higher Standards
The green tide is rising. Mayor Bill de Blasio's directive to limit arrests for public marijuana consumption took effect last September, the NY State Democratic Party has adopted a legalization platform heading into the 2020 elections; and studies have found that, by weight, New York consumes more marijuana than any other city in the world. In case you hadn't detected the herbaceous winds of change or decoded the smoke-signals, let's make it clear: marijuana is mainstream.
We're still far afield from one-stop shopping for both equipment and product, but NYC has an abundance of brick-and-mortar smoke, vape, and head shops. The legally indemnifying (if ironic) sign in every store may read, for tobacco use only, and the salespeople may still torture synonyms (flowers, plants, aromatics, etc.), but at the end of the day, this diverse array of businesses supply vapes, bongs, pipes, nails, bats, grinders, hookahs, bubblers, and papers, for you to use however you choose. Here are New York City's best smoke and head shops.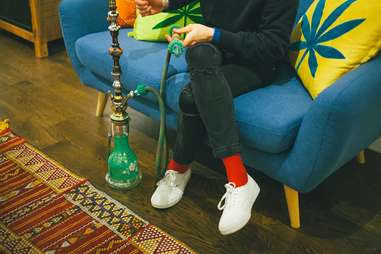 East Village
A trip to Village Grannies is a glimpse into a thoughtful space where form, function, and lifestyle converge. "Design, design, design," says Zviah Eldar, one of the two grannies behind the sophisticated experience in this beautifully appointed store. "We see it as a lifestyle. It's the art of smoking, the art of living." The pleasure and pride she and her equally stylish granny partner, Vered Behr take in their curation is evidenced in their wares. These are not items to be hidden away, but rather to be prominently displayed in your home (or very liberal office). Hand-picked bowls and one-of-a-kind artisanal glassware double as elegant decor.
West Village
Situated on Bleecker Street's bustling retail stretch, this family-owned, glass-centric neighborhood head shop also offers a wide variety of natural soaps, candles, and scents to complement your tranquil lifestyle -- with a selection that rivals many a boutique apothecary. You can grab your vape juice, CBD gummies, a two-foot Illadelph or Sheldon Black bong, and a pack of smokes in one fell swoop. Blue Nile is temporarily closed for renovations and expected to reopen in May.
Forest Hills
Is it a head shop? Is it a bodega? There are a ton of headegas in this city, where you'll find smoking tackle alongside your typical snack/beer/light grocery fare, and this is the very best. The 24/7 one-stop boasts an impressive selection of absolutely everything you need to chill the eff out. There are rows of all manner of e-liquid, pipes and accessories, vaporizers, and a lotto bar (yes, that's a thing) where you can peruse cigar offerings while you engage in some low-stakes gambling. Ask about discounts for social media follows and shout-outs.
West Village
This downtown staple has been specializing in 'heady' styles for more than 25 years. Its affable, knowledgeable staff's decades-long relationships with glass artisans and manufacturers has earned the shop a comprehensive range of styles. Artistic selections (Salt, Chip) share shelf space with scientific substance delivery mechanisms (Toro, Sovereignty, and Mobius). NY Gifts should be the first stop for any glass connoisseur. It's not unusual for eager consumers to snatch up specialty pieces before they even hit the store's shelves, so if you're looking for something specific, don't hesitate to ask.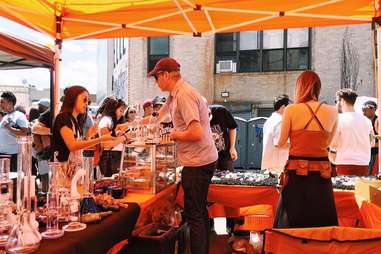 Bushwick, Williamsburg
North Brooklyn's mini-chain brings quintessential head shop vibes to its three locations. Each spot is familiar and comforting -- perfumed by incense, festooned with beads and mandalas, and staffed by earnestly laid-back salespeople working to a playlist of relaxing tunes. Here, you'll find more "tobacco" accoutrement than you'll be able to use in a lifetime, pot-themed apparel, and jewelry.
Midtown East
If you find yourself needing tobacco products or smoking essentials at any time of day or night on Manhattan's East Side, you can rely on Smoke Zone N Vape. It may not be stylized or vibey, it may not speak to you as an individual, it may not offer a bespoke retail experience, but damn if it doesn't sport a wide selection of wares, including a vast array of cigars and vape juices available 24/7.
Chelsea Market
Equal parts Apple Store, Anthropologie, and High Times, Higher Standards' conspicuous location in the tourist-glutted Chelsea Market is as much a nod toward the mainstreaming of weed culture as it is a retail outfit. Its grownup aesthetic is inviting and cool. Its product packaging is slick. Its inventory is premium, with the low stock, high markups, and lifestyle marketing to match. For better or worse, this is what the future of luxury marijuana retail looks like.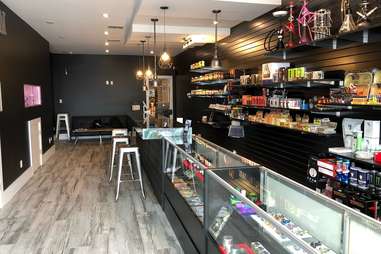 Sheepshead Bay
The lifelong outer-borough New Yorkers who own and operate this South Brooklyn shop aim to make it a neighborhood institution. They do things a little differently here, shunning tobacco in favor or products purporting to improve your quality of life. "Nobody in New York knows more or has vetted more CBD products than us," an employee told me recently. "We're trying to help people." Come by to browse that unmatched CBD selection, loosen up at the vape bar, or get approachable advice on how to curb tobacco use, manage pain, or improve sleep.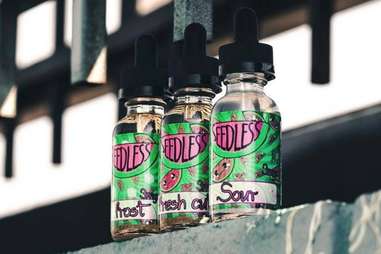 Mill Basin
With adorable shop dog Soup by his side, Brooklyn Smokes' owner Shafiq greets visitors to his sunny, inviting corner spot by name. "We choose what we have carefully," Shafiq says. "We try to specialize." Indeed, he maintains a thoughtful assortment of smoking and vaping equipment. Display cases are lined with staff-recommendations like you'd find at a bookstore. The place is a welcome respite from pretension, brand marketing, gatekeeping, and exclusivity.
Park Slope! J/K, it's in Bushwick
This shop has the widest selection of smoking goods -- including a large walk-in humidor for cigar enthusiasts -- of any other we've encountered. Merchandise rises high to the ceiling, and a visibly deep back-stock gives the relatively small space a big-box feel. Here, you'll find every type, shape, and size of rolling paper, bong, pipe, hookah you can conceive of.
East Village
Amid St. Mark's Place's bazaar of tabletop vendors, dollar pizza, tattoo shops, and faded punk ephemera, i-Vape is a triptych of glass, paper, and vapor. Staffers at this gallery-like shop inform and advise with effortless authority. Plan a visit soon, before the smoke-set collaboration by artists Hoobs and Matt Robertson -- depicting a giraffe and a ram in a game of one-on-one -- sells out. At $15,000, you'd have to be high to buy this thing.
Bushwick, Greenpoint
Each of Master Piece's three elegant locations offer an excellent variety of glass and gear, with staging that sets them apart. Proprietor Mike Chang decorates his stores in a throwback aesthetic, choosing his stock with the same attention to detail. "We want to make people feel comfortable," Chang says. "We don't want you to feel like you're on a trip to the grocery store." The shops are resultantly sophisticated with a serious wink to fun. Steamer trunks, antique furniture, and a few cheeky tchotchkes lend Master Piece locations cool, though hospitable vibes. The knowledgeable, sociable staff is always eager to help with recommendations, or just to shoot the breeze.
Barclay's Center
The atmosphere here is generic, and the nice-enough staff is all business -- perfect for when you want to grab-and-go from the shop's comprehensive smoking selection. Situated near the many lines of the Atlantic Avenue-Barclays Center subway stop, and the LIRR, this is a best bet for nine-to-fivers and out-of-town commuters who'd prefer to remain anonymous to their paraphernalia provider.
Honorable Mention:
Williamsburg
Sure, it sells some glass and rolling papers and has a cigar humidor, but, as the name implies, this is a vape shop -- a separate designation from your true smoke and head joints. It offers juice in staggering variety with new shipments twice a week, a discount section of stock overflow, and try-before-you-buy juice samples. And Vapology has one major amenity most places lack: a backyard. The beautiful, large, comfortable, outdoor space is open to smokers, vapers, and anyone who wants to hang -- and it's undetectable from the street. Members of the store's loyalty program are invited to free neighborhood cookouts.
Sign up here for our daily NYC email and be the first to get all the food/drink/fun New York has to offer.