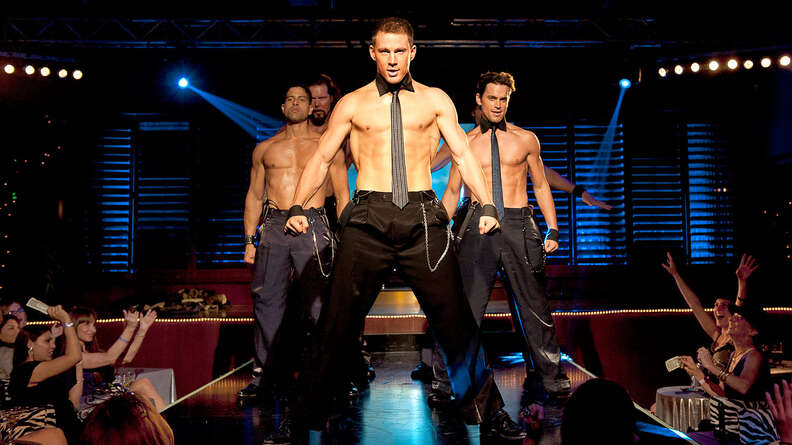 Magic Mike

| Warner Bros. Pictures
Magic Mike

| Warner Bros. Pictures
No matter who you think you are, you may very likely find yourself seeking a New York City strip club at some point in your life. A forgotten college buddy from out of town gets engaged and needs to fill out their side of the wedding party, and boom -- you're planning a bachelor or bachelorette weekend in the Big Apple. Your employer's corporate overlords are visiting from HQ and they want to be shown a good time, and somehow the task falls to you. Or maybe it's just your turn to plan girls' night, and you're looking for a sexy cocktail alternative.
Whether the strip club occasion is of your own making or not, you've got options. (Options to an extent: NYC's last full-nude venue closed in January, so you'll have to make do with topless spots, for now.) You can catch a show while you sip premium bottles of booze, see adult film stars live on stage, enjoy a steak while you admire the human form, or elevate your ogling at a burlesque show. These are all of the best strip clubs in New York City.
Best Club to Cut Loose: Pumps
East Williamsburg
Strip clubs that don't feel like strip clubs can be a good thing. Traditional venues come with certain connotations. Patrons can feel pressured, hustled, or like their wallet will dispense automatically if not kept under lockdown -- kind of like New York City itself. Pumps, however, feels more like your favorite, secret bar, the one that most of your friends don't know about, where you can really be yourself -- or if you prefer, someone else.
The outer-borough club is located on a mostly industrial stretch between Williamsburg and Long Island City. It's just far enough from everything to have a private feel. And it's outgrown its "hipster strip club" designation. Pumps feels a bit like a biker bar, only with a much more diverse crowd of all genders and orientations. The DJ spins mostly hip-hop, but not just top 40 stuff, and tattooed, pierced women with cool, brightly colored hairdos dance alongside performers you'd expect to see in more mainstream venues.
Midtown West
Rick's Cabaret is an institution, with a reputation as the best strip club in NYC. It's famous for its dancers (100 work daily), its steakhouse (with a full bar!), and for hosting Howard Stern's wildest parties (Baba Booey). Winding steps snake through three levels, up to a rooftop smoking lounge. The club avoids the gauche, catering instead to refined sensibilities at every turn. The dancers are no exception -- performers all look like the girls your teenage self gawked at in Playboy's glossy pages.
Rick's has some extremely expensive options if you really want to impress a big fish client who's in town for the night. The "Super Executive" package includes a personal VIP host, a table in the section of your choosing, two "super premium" bottles of booze, and admission for up to 10. If you really want to close a deal with a client that happens to be into women, a trip to Rick's will give you the winning edge. If you work for yourself, Rick's has more affordable $75 Champagne room dances, too.
Theater District
This quaint little club might make you feel like you're at a high school party you would never have gotten invited to back in the day, surrounded by the girls you had crushes on, who are all suddenly extremely interested in knowing all about you (and telling you how young you look for your age -- swoon). Unlike those amateur soirées of yore, Private Eyes has a full bar with fairly priced drinks, two main stages, and low-pressure vibes. It's damn near cathartic.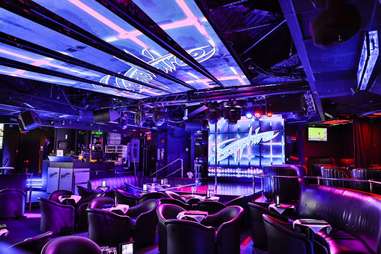 Upper East Side
At times, Sapphire's Upper East Side location seems more like a sexy, opulent nightclub than a strip club. The adjacent steakhouse, Primal Cut, easily masquerades as an everyday upscale restaurant, boasting chefs who sharpened their knives at top spots throughout the city, including Peter Luger. Were it not for the exotic dancers sipping pricy cocktails with patrons at tables for two, you might mistake the steakhouse for a buttoned-up power lunch locale -- and really, who's to say it isn't?
The club itself hosts several adult film stars per week as featured dancers. Past pros have included some of the top names in the industry, like Mia Malkova and Alexis Texas. Even the regular performers look like the most attractive adult film stars working today. Recently, a dancer on one of Sapphire's two main stages bore a striking resemblance to Sasha Grey. Come by for $5 happy hour cocktails from 6-8pm on weekdays, or splurge on a $50,000 bottle of wine, if that's more your speed. In either case, expect the host who shows you around on your first visit to greet you again and again.
Long Island City
An unassuming green awning on a nondescript block on the border of Long Island City and Sunnyside leads to Gallagher's. Inside, a sprawling hall houses two large stages, one free-standing, and one encircled by a full-service bar. The décor isn't much. The music is standard. There's a full menu of decent looking food. Doors open at noon, and the cover runs from free-to-$10 most days.
What makes this place such a gem is the women who work here. They are beautiful in a way uncommon to most NYC strip clubs. On a recent visit, there were dancers who looked like sexy school teachers. There was a beautiful dancer with enormous natural breasts performing a quiet, slow, daytime style of pole dancing that few can pull off. And they're all surprisingly friendly. They'll make you feel enthralled and giddy as they make the rounds and saddle up on the stool beside you. Be warned: The ladies here can inspire even a reluctant strip club goer start shelling out for lap dances, which, at $20, are pretty affordable compared to most clubs.
Midtown West
Like NYC restaurants and bars, some strip club behemoths fall from grace, while newcomers scale new heights. A companion club to Sapphire UES, 39 is one such newcomer. The younger of the pair holds its own in Midtown, closer to competition than the original Sapphire. Opened two years ago and still undergoing renovations (including the addition of a restaurant in the near future), Sapphire 39 boasts all the attributes that put its UES location at the top of the heap, but with a more low-key vibe.
Populated by a beautiful and engaging troupe of dancers, and featuring adult film actresses every Thursday night, 39 is a sure bet for a low-stress bachelor party. The performers here are unique and memorable, including one who's a ringer for Single White Female-era Jennifer Jason Leigh. A playful array of distractions include a game room with pinball and arcade games, a ball pit, and an S&M-themed Champagne room, where the manager assured me no actual whipping occurs (although I may have missed a sly wink).
Hell's Kitchen
It'd be unjust to liken the Hunk-O-Mania experience to a trip to your workaday strip club. This glittering production is as ambitious and polished as a lot of what you'd find nearby on Broadway. The eponymous Hunks, like their mostly women industry colleagues, are highly skilled performers with a flair for flirtation. Bachelorettes and admirers of the male form alike can slake their Magic Mike fantasies immersed in bulging biceps, and Adonis-like abs, as performers meet and greet their way through the crowd.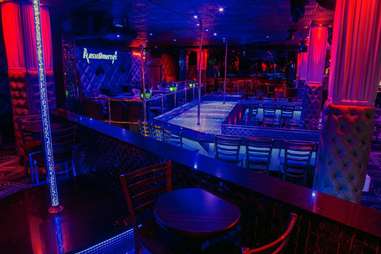 Midtown
Now in its third decade, FlashDancers is the longest-running strip club in Manhattan, and it truly does evoke that elusive Old New York feeling. Not the Old New York where literary luminaries crowded into speakeasies, but rather the Old New York where flash in the pan members of the glitterati rolled up to Studio 54 in white stretch limousines. FlashDancers feels very Times Square in the '70s, but somehow not in a divey way. Drinks can be a bit pricey, but it's worth it to see performers execute some of the best pole moves in the business.
Koreatown
Sports are the perfect diversion for when you feel self-conscious about all the bare breasts you've been ogling. Hoops (owned and operated by the same folks behind next-door neighbor Rick's Cabaret) isn't just some dingy sports bar with a few naked dancers. It's a sports haven -- a tribute to athletics. It's what Planet Hollywood is to movies, punctuated by topless dancers, all of whom look like they could run a four-minute mile.
Hoops is the perfect marriage of sex and sports, with two stages in the main areas and nine TVs playing a wide array of games at all times. Even the Champagne rooms are sports-themed, each room a tribute to sports like boxing and football. The private balcony rooms hang over the main area and provide a view of all the action. A special "Man Cave" runs $150 per person for private parties. A $20 cover after 8pm makes Hoops a great alternative to your average sports bar.
Lower East Side
Not everyone is meant for the strip club, but that doesn't mean they should be deprived of a sexy night out. The Slipper Room offers an ideal alternative -- a lineup of hilariously titillating cabaret shows, featuring comedy, burlesque, and circus acts, like feats of strength and juggling.
Whether or not performances involve nudity, they emphasize sensuality. On a recent "Slippery Sunday" night, MC Juicy Hardcore (a homoerotic, vampirical strongman) and a burlesque performer (whose nipples were covered with bells as she danced to "Ring My Bell") had the crowd of mostly women in stitches by the show's end.
Sign up here for our daily NYC email and be the first to get all the food/drink/fun New York has to offer.