Glen Island Park

| Louis Vaccaro/Shutterstock
Glen Island Park

| Louis Vaccaro/Shutterstock
For many New Yorkers, the concept of "the suburbs" sounds like the unromantic antithesis of NYC itself—an environment that some New York transplants grew up in and readily abandoned for a shot at big city life. But as summer rolls in, the simple truth is that even metropolitan folk need an escape sometimes. Fortunately, you don't need to hop on a plane to find some truly remarkable towns in the greater NYC area.
To explore greener, wider, and escape-worthy pastures, we've rounded up 10 suburban havens that are all under two hours away from NYC by car. Linear parks, outdoor sculpture gardens, and waterfront hamlets are all within reach to recharge and rejuvenate from the effects of NYC's urban hustle (along with plenty of microbreweries, craft cocktails, and an incredible range of global cuisine in the 20 best suburban restaurants outside of NYC). So dust off the driver's license and explore them all—you won't be disappointed.
Distance from NYC: 1 hour
While this area of Westchester County is not exactly a best-kept secret, every New Yorker should become well acquainted with Sleepy Hollow (and its twin village, Tarrytown). Famous for having ties to gothic writer Washington Irving—and his story The Legend of Sleepy Hollow—the town is most vibrant around Halloween, though its natural beauty and abundance of landmarks makes it an appealing destination for city dwellers at any time of year. Usually, the Rockefeller family's Kykuit Estate and the historic Philipsburg Manor steal the spotlight here, though they've been temporarily closed through the pandemic—still, you have options! The trick to navigating a day in Westchester is to park in Tarrytown and move north by foot. Grab a cup of coffee at Muddy Water, walk up Main Street, and admire the many beautiful churches on Broadway as you cross into Sleepy Hollow. Next, head over to the lighthouse along the water, journey through Kingsland Point Park, and arrive at the sprawling Sleepy Hollow Cemetery to hunt for the graves of Washington Irving himself and steel magnate Andrew Carnegie. At this point, you'll be ready to rest: Might we suggest Hudson Anchor for seafood with a view, or Bridge View Tavern for burgers and brews? Once you're satiated, a live show at Tarrytown Music Hall is in order to top the day off.
Distance from NYC: 1 hour, 45 minutes
It's no small coincidence that this Pennsylvania city shares a name with Jesus' birthplace: Bethlehem was established by members of the protestant Moravian Church on Christmas Eve in 1741. While "Christmas City" is perhaps best known for its renowned holiday celebrations—particularly Christkindlmarkt—its charm lingers 12 months a year. Bethlehem Steel, once the nation's second-largest steel manufacturer, was headquartered in the town during its heyday, and history-minded visitors can now tour the former industrial plant and attend events on its campus. One of those events is the annual August Musikfest, a 10-day event featuring show-stopping musical performances and an array of beloved local food and retail vendors. Regardless of when you visit, you'll need to carve out time to enjoy Hellertown's Lost River Caverns (which look straight out of an Indiana Jones movie) and a few of the city's most impressive restaurants, including the longstanding Apollo Grill, with dozens of appetizer options tapping into the outer reaches of your imagination, and Prohibition-themed jazz spot Bookstore Speakeasy.
Distance from NYC: 45 minutes
While big-box stores and the traffic-laden State Route 10 may be among its more recognizable elements, East Hanover is also home to 3,100 acres of freshwater wetland oasis, charming family-owned restaurants, and even a working dairy farm that dates back to well over a century. Troy Meadows, a wildlife preserve of swamplands, upland meadows, and open marshes, is home to endangered species like the blue-spotted salamander, vegetation like native wild rice and tuckahoe, and bird species like herons and hawks. Family-owned pizzeria and restaurant Giulietta & Romeo, which has been in operation for more than 35 years, has traditional Italian pies, pasta, and seafood; classic Italian pastries, cookies, breads, and savory goods are on offer at Sorrento Bakery (open 365 days a year); and specialty Greek dishes and seafood are on the menu at East Hanover Diner, opened by a Greek family of brothers who have been in the diner business for over 40 years. Ice cream sundaes and sweet treats are available at Applegate Farms, which was a family-run dairy farm dating back to the 1840s, and today brings their longstanding tradition of homemade ice cream making to northern New Jersey.
Distance from NYC: 1 hour
This New Jersey suburb has a sizable Asian population and a notable Little India—the largest and most diverse enclave of South Asians in the United States—offering a spectacular array of cuisine along Oak Tree Road. Visit Jhupdi for thalis, Dimple's Bombay Talk for chaat, Amma's Kitchen for Mysore dosas, and Moghul Express for kebabs—then peruse some sari and mithai shops to top off the experience. The Thomas Edison Center at Menlo Park, with a museum open Thursdays through Saturdays, features a 36-acre park on its grounds beside a nature trail if you're looking to get outdoors. There's also Peter J. Barnes III Wildlife Preserve, which is home to more than 175 species of birds, including a few that are endangered. Local microbrewery Cypress Brewing offers well over a dozen types of beer, from New England pale ales to Belgian dubbels. The Edison Arts Society regularly features exhibitions by local artists, and in the summers, Roosevelt Park hosts Plays-in-the-Park, a series of musical productions.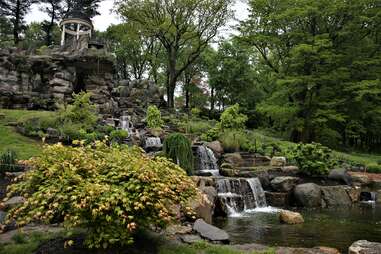 Distance from NYC: 45 minutes
With only three square miles, this tiny townlet attracts visitors due to its eco-friendly lifestyle; vibrant, walkable downtown; and thriving creative community. On select Saturdays, the Hastings Farmers Market has previously featured everything from Bombay Emerald Chutney (in Yorktown) to seasonal batch liquors from woman-owned Cooper's Daughter Spirits (in Claverack). Hikers can visit the Old Croton Aqueduct, a 26-mile linear park (a part of which winds through the village), where the trails also accommodate biking, horseback riding, and bird-watching. Family-operated Galápagos Books, a local fixture since 1987, houses an impressive 10,000 titles in 20 different languages, ranging from "best-sellers to the esoteric" (you may even catch a glimpse of the owner's dog whilst browsing). For coffee and pastries, there's French-inspired Antoinette's Patisserie, where the beans are locally roasted; Bread & Brine has a seafood market, lobster dinners, and bread pudding; gorgeous Italian fare with locally sourced produce can be found at farmhouse-turned-restaurant Harvest on Hudson; and go for relaxed classics like shepherd's pie, burgers, and steaks at Maud's Tavern.
Distance from NYC: 45 minutes
A thriving arts community, dynamic downtown (called "The Village" by locals), and festive music community make Maplewood one of the most vibrant suburbs to check out near NYC. Memorial Park, a 25-acre triangular area of sprawling hills and meadows, has streams that run under footbridges, picnic areas, playgrounds, tennis courts, and sports fields. Beloved theater groups The Strollers and The Theater Project bring regular entertainment to the township, complemented by popular music festivals like Porchfest (local musicians across every genre play on neighborhood stoops and porches) and Maplewoodstock (a two-day arts and music fest held in Memorial Park). The vibrant downtown is home to charming shops like Maker + Muse, restaurants, and local favorites like independent community bookstore Words, which has hired over 100 young people with autism through its vocational program. For local fare, try Arturo's for seasonal ingredient–laced pizza pies; Coda for craft cocktails and tacos; The Bread Stand for coffee and breads; and Lorena's for elevated, seasonal French-inspired cuisine.
Distance from NYC: 45 minutes
This eco-conscious suburb (recognized as a Climate Showcase Community by the E.P.A.) ensures living green is a central focus, through its dedication to bike paths, public charging hubs for electric vehicles, energy-efficiency efforts, and recycling and composting programs for its residents. Ideal stops for visitors include the Van Vleck House & Gardens, a 12-acre private estate featuring an Italian villa with numerous gardens, from an azalea walk to the wisteria courtyard; Alfonso F. Bonsal Wildlife Preserve, nearly 20 acres of parkland for hiking and bird-watching; and Edgemont Memorial Park, known for its World War I memorial. Montclair Film offers unique cinema experiences and the Montclair Art Museum features more than 12,000 works with a concentration on American and Native American art. Outdoor dining spots include Uncle Momo for French-Lebanese fare like Tunisian eggs and lamb tagines; vegan pastry spot Trend Coffee & Tea House, located in a home built in 1860; Samba Montclair for Brazilian cooking in a rustic setting; and Jack's Lobster Shack for lobster rolls, king crabs, and steak frites.
Distance from NYC: 1 hour, 15 minutes
Mount Vernon has evolved into one of the most diverse counties in the State of New York. As home to over 98 nationalities, including the county's largest West African and West Indian populations, and a dynamic Brazilian community, it's a place where food lovers will not be disappointed, with a wide array of restaurants, steakhouses, and bakeries throughout the 4.4 square mile area—including The Ox Box Kitchen for Caribbean and fusion fare like oxtail rasta pasta; Jamaican soul food like jerk chicken and curried goat at Flavas Kitchen & Catering; Chalanas for authentic Brazilian BBQ, ribs, skirt steak, and caipirinhas (the national drink of Brazil); and breakfasts like the traditional pão com manteiga, baked goods, burgers, and (cold) brew at family-owned Padaminas Brazilian Bakery, which has been open for more than 20 years. There is plenty to explore for history and nature buffs, too, like St. Paul's Church, constructed in 1763 and used as a hospital during the Revolutionary War; and Wilson Woods Park, a 23-acre park featuring a two-story English Tudor-style bathhouse, with a wave pool, cascades and fountains, and areas to picnic and fish.
Distance from NYC: 45 minutes
With a dynamic downtown that's flush with architectural diversity (from Art Deco to Neoclassical), 270 acres of parkland, and a waterfront cruise experience along the Long Island Sound, New Rochelle offers plenty of attractions. Parks include Glen Island Park, a 105-acre island park that connects to New Rochelle via a 1920s-built drawbridge, which includes picnic areas, a Neo-Georgian style bathhouse, and a beachside courtyard; and Neptune Park which has bocce courts, a fishing pier, and horseshoe facilities. Downtown offers a variety of interesting shops like the family-owned Main Wines and Liquors, which has been in operation since the 1900s; and Consign it on Main, a 5,000-square-foot upscale spot for clothing, jewelry, and furniture (whose goods are often spotted in films). The restaurant scene is a global roundtable of options—Olibar for traditional Peruvian dishes; Coromandel for spicy, signature Indian fare; Korean BBQ & Grill for homestyle cooking; and Italian and Argentinian classics at Magno's Grill. Also downtown is Ruby Dee Park, renamed in 2014 for the legendary singer and civil rights activist, which features artist sculptures, plant gardens, and outdoor events.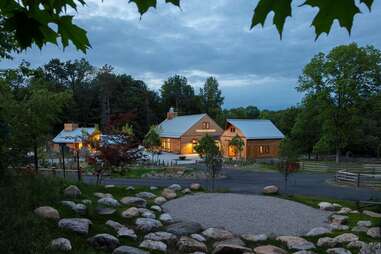 Distance from NYC: 1 hour
It might seem like another large city filled with Fortune 500 companies, but look a little deeper and the many charms of Stamford are swiftly uncovered. Cove Island Park, an 83-acre parkland of beaches, intertidal mudflats, and a salt marsh, features a walking trail, cycling path, bird-watching and kite-flying areas, and picnicking spots. Bartlett Arboretum features a dozen glorious gardens, hundreds of species to discover, walkable trails, forest baths, and even botanical illustration classes. There are 80 acres of walking trails at the Stamford Museum & Nature Center, a 118-acre museum property that's home to a working farm, planetarium, and multi-story observatory, as well as numerous art exhibitions. Microbrewery Half Full Brewery offers select hours to try its locally brewed beers, like their CSAs (community-sourced ales) and Supernova Series (tart, drinkable sours), in its tasting room. Restaurants include Brasitas for Spanish and Latin American cuisine; Madonia for a taste of the Mediterranean; Casa Villa for flavors south of the Rio Grande; F.I.S.H. for new American seafood; and Colony Grill for thin crust, hot oil–topped pizzas.
Swathi Reddy is a Louisiana-born, NYC-based freelance writer and marketer. Formerly a
Food & Wine
staffer for over a decade, she can't think of anything better to do in life than talking about food while eating food. Except maybe discussing cocktails (or wine).

Kyler Alvord is a former staff writer at Thrillist who keeps coming back for more. Find him on Twitter and Instagram, or in any Brooklyn coffee shop that serves bagels.