Courtesy of The William Vale
Feel that bead of sweat running down your back? Yup, the heat wave is officially here. With spas, gyms, and many of the city's pools still closed due to the coronavirus, it can be tough to find a spot to cool off. But if you know where to look -- and we do! -- you can still spend a summer afternoon splashing around in the shallow end.
With social distancing measures in place, be sure to wear a mask at all times (except in the water, of course!) and be respectful of all pool rules. In NYC's recently-reopened public pools, that means swimsuits are required; no food, glass bottles, or electronics are allowed on the pool deck; and only white T-shirts are allowed. If you're looking for a more private (or more close-to-a-bar) pool experience, day passes at beach clubs and hotel pools can be had, too. And if you're really looking for something exclusive, check out Swimply, where you can rent nearby private pools by the hour.
Pack your sunscreen, break out your favorite bathing suit, and prepare to get a mask tan -- you're about to go swimming in one of these lesser-known NYC pools.
Breezy Point, Queens
The Silver Gull Beach Club, with its private beach and pool, is a breath of fresh sea air after a crowded day at the People's Beach at Jacob Riis Park. If you're not a member, guest passes can be had for only $40/day -- a small price to pay for a day cooling off in a private pool. Hop in your car or take the bus to Riis Landing, where the Silver Gull trolley will pick you up and drop you off at the club.
Cost: $40/day pass
The Bronx
One of the city's recently-reopened public pools, Crotona Pool is an Olympic-sized way to beat the summer heatwave. Tucked on the side of Crotona Park -- named for Greece's Croton, famed for its Olympic athletes -- it's the largest pool in the borough and the perfect place to practice your Michael Phelps moves. If you get too hot pool-side, take a stroll along the park's 3.3-acre lake to spot all the ducks and turtles who are taking a much-needed dip, too.
Cost: Free
Sunset Park, Brooklyn
The Olympic-sized Sunset Pool is on the west side of Brooklyn's incredible Sunset Park -- make sure to get sweaty by schlepping to the tippy-top of the park for one of the city's best views of the Statue of Liberty before cooling off with a jump in the pool. Since you can't bring food to any of NYC's public pools, plan a taco tour in the neighborhood after you're done swimming -- Tacos El Bronco and Tacos Matamoros are not to be missed.
Cost: Free
Jamaica, Queens
Would you go all the way to JFK airport to take a swim? Well, New Yorkers have gone farther for less. The retro-styled TWA Hotel features a pool and bar with only-at-JFK views of planes flying low overhead. You'll have to stay the night to get access to the pool, which is bookable in 1 hour and 45 minute slots from 11am to 11pm. A table is included in the reservation, which gives you a place to put your cocktail while you soak in the rays of John F. Kennedy airport.
Cost: Pool reservations are $25 on weekdays; $50 on weekends
Brownsville, Brooklyn
Major construction is underway on Betsy Head Park -- as part of the city's "Anchor Parks" initiative, they're reconstructing the sports amenities and building a skating rink -- but the pool is reopening for all the summer fun Brooklyn deserves after 2020's long spring. The Olympic-sized Art Moderne-style pool was designed all the way back in 1935, bringing an art deco vibe to your afternoon. Kick back, relax, and pretend that you're cooling off in August of 1937.
Cost: Free
Hamilton Heights
Built on a reclaimed sewage site along the East River, Riverbank State Park has both an Olympic-sized lap pool and a wading pool. You'll have to show up early to score a ticket to swim -- the first set of tickets goes on sale at 10:30am, and the second at 2:30pm. Come with your cash (all it takes to get in is two bucks!), your swimsuit, and all your friends, since the tickets are first-come, first-served and the locker rooms will be closed for social distancing.
Cost: $2
Williamsburg, Brooklyn
One of the few hotel pools to offer its pool to non-guests, you'll have to take a day off of work to score one of the few weekday passes available. A pass gets you a reserved spot on a lounge chair on the hotel's terrace (just note that you'll have to walk through to get to the pool!) and access to the pool's bar service. If you get hungry, order food from the neighborhood (Mon-Tues only) or the hotel's restaurant (Wed-Thu) -- just remember what your mother told you and wait half an hour before you swim.
Cost: Day passes starting at $75
Staten Island
Take the ferry out to Staten Island to one of NYC's best "Cool Pools." Tottenville recently underwent a renovation, with the city adding colorful murals, lounge chairs, and umbrellas to brighten up this concrete oasis. While there might be pools closer to your apartment, a trip across the river on the Staten Island Ferry can almost make it feel like you're going on vacation. At 75' by 60' -- and only 3.5' deep -- Tottenville is an intermediate-sized pool, so be sure to get there early to score a spot.
Cost: Free
East Harlem
Another one of the city's recently-renovated "Cool Pools," Wagner Houses Pool is hidden in the narrow plot of land in Triboro Plaza on the way to the Triboro bridge. The water is blue, the walls are bright (sorry, but no selfies allowed -- you can't bring your phone or any other electronics to NYC public pool decks!), and the sun is hot along the Harlem River. So bring a book to read -- or better yet, just the thoughts in your head -- and enjoy a summer afternoon filled with absolutely nothing that has to be done.
Cost: Free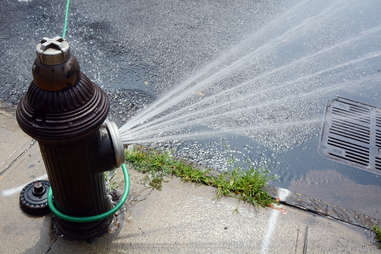 Anywhere in NYC
Can't make it to one of the city's pools? Create one on your sidewalk with a trip to your local firehouse. Anyone over 18 can request a spray cap to be fitted on a local fire hydrant for "recreational use" -- aka a streetside sprinkler. Bring buckets, an inflatable kiddie pool, squirt guns, water balloons, or anything else that helps you recreate the pool experience in front of your very own apartment.
Cost: Free
Sign up here for our daily NYC email and be the first to get all the food/drink/fun New York has to offer.
Rachel Pelz lives and writes in Brooklyn.