Summer is a magical time in New York City. The days are longer (as are the entry lines to your favorite rooftop) and the city's collective spirit is high (like the temperature... and the humidity... and your electric bill...)
OK, honestly? It can be hard to appreciate the Big Apple while it's baking in the sun. But you needn't resign yourself to three months of mopping your sweat off of the subway platform, surrounded by mocking, un-swimmable rivers. Go to the pool! We've got so many fabulous options in New York, whether you're game to have an exclusive staycation experience on a hotel rooftop, or you're looking to beat the heat for cheap at one of NYC Parks' many free, public options. Here are our top picks -- the chlorinated water is calling your name.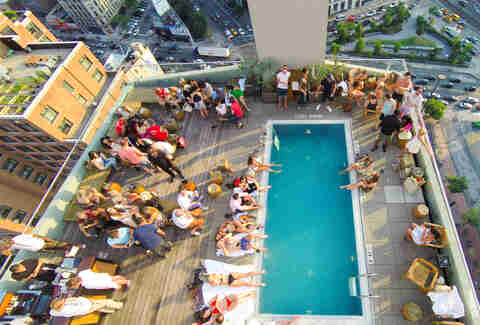 SoHo
A rooftop pool that doesn't charge a cover? Yes, please. This nirvana 18 stories up is limited to guests of The James Hotel for half the day, but come 3pm, the pool -- and its panoramic views of Midtown, Wall Street, and the Hudson and East Rivers -- are fair game for locals who lounge. Sunbathe at will, but swimming is limited to weekends when lifeguards are present. You might not need to shell out at the door, but you will at the bar; cocktails will run you $19. Even mocktails cost $14. Reservations are recommended, but not required.

Pool hours: The pool is open for swimming on weekends when lifeguards are present
East Tremont
Mapes Pool is a neighborhood summer staple. It's one of five public pools (of 53 free outdoor pools overall) that NYC Parks made-over last year -- the first major renovation any of them have had since they were built in the 1970s. The intermediate-sized pools have been spruced up with colorful paint jobs, polar-themed decals, new furniture, and new plantings, 'cause it's important that your pool looks as fresh as you do in that new suit.

Pool hours: 11am-7pm daily, starting June 27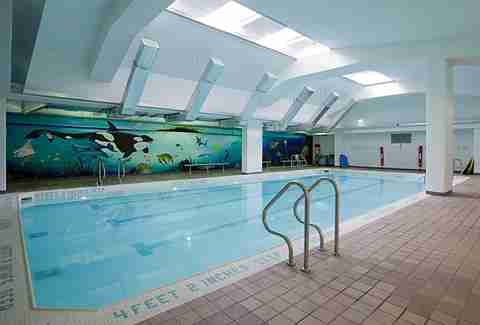 Tribeca
We love us a good unicorn float, but actually swimming is great, too. What better way is there to get a killer workout without the nasty summer sweat? Michael Phelps wannabes should consider lessons; Imagine Swimming offers adult swim classes in the early mornings and evenings, Monday-Friday, at their flagship pool in Tribeca. Private sessions are $135, and two-person sessions are $75. Students are welcome to dip into free swim periods on Sundays for extra pool time at no additional charge.

Pool hours: Lesson times vary, open daily
East Elmhurst
"Swim with the fishes," might mean one thing to some New Yorkers, but to "swim at the Fisher" is a decidedly positive experience. Although the Astoria Park pool is better known (read: more crowded), the city gave this spot its "Cool Pools NYC" treatment, so you can bask in that luxurious new paint job. (It's free, what do you expect?) Note: all of the public pools in NYC close from 3-4pm for cleaning, so use that downtime to check out some of the amazing cuisine in Queens.

Pool hours: 11am-7pm daily, starting June 27
Williamsburg
With 4,800 square feet of deck space, the McCarren is one of the largest outdoor heated swimming pools in the city, and has long been considered a summertime hot spot. As its popularity rises, so does its entry fee: Day passes are $60 Monday-Thursday and $85 Friday-Sunday. Complimentary Wi-Fi is included, at least, so everyone on the 'Gram can know how you're hanging in real time.

Pool hours: 11am-6pm, daily
Harlem
Another recipient of the city's "Cool Pools NYC" renovation, Sheltering Arms is the best place to get your splash on in Harlem. All are welcome to swim laps or chill beneath one of the new cabana-style shade structures. Like all NYC public pools, this one is free, and they even offer complimentary SPF 50.

Pool hours: 11am-7pm daily, starting June 27
Chelsea
Who says pool access needs to be limited to the summer? NYC's recreation centers are indoors, and thus open all year round. Annual membership is $150 for adults, and $25 for seniors (62+), young adults (ages 18 through 24), veterans, and people with disabilities. Membership is free for minors. Chelsea Pool is one of the most prominent locations, and its long hours make it easy for even the busiest bodies to find time for a dip.

Pool hours: 6:30am-10pm, Monday-Friday; 8am-4pm, Saturday
Long Island City
A river away from Manhattan, the Profundo Day Club at the Ravel Hotel offers a stellar skyline views. A full day pass to the rooftop pool is $60, including chair and towel service, and you can upgrade to a chaise for $100. For a $750 drink minimum you can reserve a cabana for up to six people.

Pool hours: Noon-10pm, Thursday-Monday
Gowanus
As tempting as the Gowanus Canal may look (and smell), swimming in it is unfortunately inadvisable. Enter Douglas and DeGraw, Brooklyn's most recently renovated public pool. Pro tip: Free swimming lessons are offered here, and at all of New York's outdoor public pools. Additional pro tip: While stopping at Whole Foods on your way may be convenient, outside food is not allowed. Save your snacking for the end of the day.

Pool hours: 11am-7pm daily, starting June 27
Williamsburg
The William Vale is known for its size; the 22-story hotel towers over its Williamsburg neighbors, and its 60-foot pool is NYC's longest outdoor splash stop. Located on the fourth floor, Vale Pool still boasts access to incredible sweeping views. Day passes are available for $99 from Monday-Thursday, and $149 Friday-Sunday. For summer-obsessed layabouts, Monday-Thursday memberships are also available for $1,000. *adds ferociously to birthday wish list*

Pool hours: 10am - 8pm, seven days a week
Staten Island
You're more likely to find a friend with a pool on Staten Island than in any other borough, but you have enough friends. Instead, boogie on over to the newly renovated West Brighton Pool for a day of fun in the sun. What to bring: a sturdy combination lock to keep your valuables safe. What not to bring: valuables! Leave the watch at home and pretend "island time" applies to Staten.

Pool hours: 11am-7pm daily, starting June 27
Williamsburg
This indoor pool is only one of two in the city that offers women-only swimming hours. It's a positively wonderful amenity for female members of the local Hasidic community, as well as any lady who wants to rock her swimsuit without dealing with the burden of the male gaze. The pool also offers general swim time for all community members. Swimming caps and recreation center membership ($150 annually for adults) required.

Pool hours: 7am-9:30pm, Monday-Friday; 7am-5:30pm, Saturday; 10 am-5:30pm, Sunday
Sign up here for our daily NYC email and be the first to get all the food/drink/fun New York has to offer.