We're Building Our Dream Closets Courtesy of the Best Thrift and Vintage Stores in NYC
This is our pinky promise to not gatekeep.
Seven Wonders Collective on the Lower East Side

| Photo by Lucia Buricelli for Thrillist
Seven Wonders Collective on the Lower East Side

| Photo by Lucia Buricelli for Thrillist
Real New Yorkers know that the best (and most respectable) way to build an enviable cold weather lineup and decrease their textile footprint is by shopping at our city's stunning vintage and thrift stores.
Whether you're looking to build your capsule wardrobe or find yourself searching for pieces to complete your cottage-core or Y2K vision, this is our written oath to not gatekeep (what we wholeheartedly consider to be) some of the city's top fashion paradises. When crowd-favorites like L Train, Buffalo Exchange, Beacon's Closet, and 2nd Street are packed, take a chance on these lesser-known thrift and vintage stores in New York City—we pinky promise and cross our hearts you won't regret it.
Manhattan Vintage and Thrift Stores
Country Of
Lower East Side
Since its days as a vendor at the Hester Street Fair in the Lower East Side, Country Of has remained a reflection of owner Jonah Brown's personal style. The quaint shop is known for its impressive collection of hand-selected and high-quality Made-in-USA vintage as well as Japanese and European designer pieces. On the racks, customers will peep brands like Levi's, Comme des Garçons, and Jean Paul Gaultier.
Dana Foley
Lower East Side
Run by designer and fashion collector Dana Foley, this namesake store is a fixture within the downtown fashion scene. On a mission to help New Yorkers achieve that elusive glam tomboy vibe, the racks at Dana Foley spotlight a wide variety of vintage dresses, tops, skirts, and more, alongside original designs. For those who can't make it into the store, snag statement pieces via the website.
Heart and Lou's
SoHo
For Heart and Lou's owner, Heartleigh Little, a secondhand wardrobe is all about doing less environmental harm. Since her store's debut in May 2023, Little prides herself on handpicking ultra-bespoke clothing and accessories from across the globe. In recent news, Heart and Lou's now has a permanent collaboration with vintage shoe studio, nou, to offer an incredible lineup of heels, boots, and more.
James Veloria
Chinatown
Finding this funky vintage oasis is half the adventure. Located on the second floor of an unassuming Chinatown mall called New York Mart, James Veloria welcomes guests through the heart-shaped doorway to a playful interior decked out in metallic confetti drapes. Co-owned by Collin James and Brandon Veloria, the merchandise at the store lives up to the online hype in part thanks to rare designer and archival finds, including pieces by Vivienne Westwood, Jean Paul Gaultier, Dior, and lots more. For LA residents, get hyped as a local James Veloria storefront is coming your way soon.
Metropolis Vintage
East Village
Known for its celebrity clientele—including power-couple Rihanna and A$AP Rocky—Metropolis Vintage boasts a vast selection of '90s nostalgia-dripped vintage t-shirts. First operating out of flea markets across the city in the '80s, founder Richard Colligan's concept rose to fame with the opening of his first brick-and-mortar in 1990. Now, in addition to stellar band tees (which are sectioned off similar to a record store—by genres, artists, and era), shoppers can explore loads of leather and letterman jackets, sports jerseys, and accessories.
Mr. Throwback
East Village
Specializing in sportswear from the 1980s and '90s, Mr. Throwback is a necessity for your thrift store carousel. Open Wednesday through Sunday, at Mr. Throwback you can pick up certifiably cool merch and memorabilia of the most popular NBA, MLB, NFL, NHL, and NCAA teams—with an emphasis on beloved local teams like the Knicks, Rangers, and Jets.
Rogue
Lower East Side
Rogue opened its doors in 2021 and since then has carved out its rightful place within the competitive NYC vintage scene. With a steady flow of business thanks to social media influencers and young clothing designers, there are plenty of fashion aesthetics to play around with here. From baby tees and feather boas to knit sweaters and mini skirts, owner Emma Rogue locally sources most of the store's goods from around New York State.
Seven Wonders Collective
Lower East Side
The quest to unearth stunning, thrifted finds has become a life's passion for owner of Seven Wonders Collective, Melissa Blumberg. After opening her first Brooklyn location in 2011, Blumberg now commands three stores across New York City—two Brooklyn storefronts and a recently opened brick-and-mortar in Manhattan. On the shelves of the newly minted Lower East Side shop, shoppers can explore clothing racks stocked by local vendors, each of which provides its own unique vibe. Finds include everything from cowboy boots and leather jackets to low rise pants and whimsical dresses.
SLCT Stock NYC
East Village
With its certifiably cool selection of tshirts, outerwear, and hats, SLCT Stock NYC is understandably an East Village hotspot. First launched in Indiana in 2018 by owner Nick Ayala, the company now operates an outpost in Boulder, as well as the NYC locale. Don't miss the monthly $5 sale (yes, that means everything on display caps at $5) and keep tabs on the store's IG story for secondhand gems that are fleetingly up for grabs. Oh, and the free Topo Chico while you shop is an added bonus.
Thirteen Crosby
Nolita
Nao Nishimura's vintage and curated designer shop is an oasis for '90s, Y2K, and Japanese-influenced must-haves. Named after its original location at 13 Crosby Street in SoHo, Thirteen Crosby channels a playful energy and intentionally pulls inspiration for its racks from style icons like Britney Spears and Paris Hilton. Consider the Nolita spot a guarantee for baby tees, cargos, hair accessories, and sunnies.
Tokio7
East Village
Tokio7 has gained a reputation across all five boroughs as a stellar consignment store packed full of secondhand garments from Japanese designers, big names like Versace and Fendi, and NYC-based independent brands. Since opening in the late '90s, owner and Japan-native, Makoto Watanabe, has maintained the store's influx of business primarily by word of mouth. In addition to in-store shopping, customers can check out Tokio7's inventory online via the website as well as through posts on their IG.
Trintage
Central Harlem
With a name that combines the words trendy and vintage, that's exactly what you'll find at Trintage. The brainchild of owner Bryd, the Central Harlem store prides itself on an eclectic and reasonably priced mix of secondhand dresses, puffers, jewelry, sneakers, and much more.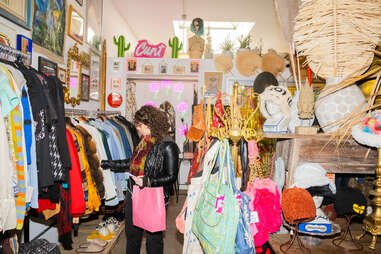 Brooklyn Vintage and Thrift Stores
Awoke Vintage
Various locations
Awoke Vintage trumpets itself as a something-for-everyone shop, and is especially great for hunting down that perfect pair of vintage jeans. Owner and Australia-native, Liz Power continues to grow her small secondhand empire, which now includes three Brooklyn locales, with one in Williamsburg (that has recently been expanded) and two in Greenpoint. Along with their expansive collection of denim, explore $5 and $10 discount tubs, under $25 racks, plus a seasonal range of clothing and accessories.
Feng Sway
Greenpoint
Greeted by a disco ball and luscious greenery, tropical maximalism is the vibe at Greenpoint's Feng Sway. From turn of the century pieces to Gen Z trends, this vintage haven sells everything from knit sweaters and quilted sets to seashell lamps and bamboo end tables. Sourcing throughout the Northeast, South Florida, and Southern California, owner and artist Kate Lauter creates a compelling mix of styles and aesthetics that makes for many a return customer.
Thrift Lab
Greenpoint
Hand-sourced across Europe by owner Jarka, the carefully curated racks at Greenpoint's Thrift Lab are a gold mine for seasonal essentials like leather jackets, blazers, button downs, denim, and more. One of the city's best kept secrets, the pocket-sized store is located on its building's fourth floor and is open on most Saturdays and Sundays. Check their IG page for weekly schedule updates, as well as upcoming clothing drops.
Unearth Vintage
Boerum Hill
Shifting from a series of pop-ups to its first storefront in 2022, the family-owned Unearth Vintage has earned a favorable reputation in Brooklyn for its large selection of bespoke vintage and thrift clothing, jewelry, and mid-century homewares. One of the most admirable aspects of the shop is the team's attention to detail. Namely, each item of clothing and accessory within the over 2,000-square-foot space comes with a hand-written tag that offers the manufacturing date, fabric rundown, and condition level.
Queens Vintage and Thrift Stores
Vintage Queens
Astoria
Courtesy of owner Jade Oliver's unique penchant for antique clothing, shoppers of Vintage Queens are treated to a rare peek into fashions that trace back to the 1900s. With an emphasis on items from the 1940s and '50s—which have been used for film and TV shows like The Marvelous Mrs. Maisel—there's everything from flowy skirts and lace tops to embroidered dresses and velvet caps on display. For all vintage connoisseurs interested in this time travel-esque experience, in-person time slots are available for $20 per hour.
Izzy Baskette is the New York City Staff Writer for Thrillist. Talk to her at izzy.baskette@voxmedia.com or find her on Instagram.