New Yorkers love talking about their commute. Between everyday delays, entire lines being shut down, and goats on the tracks, many of us are desperate for transportation alternatives. What's a straphanger to do? Subways pain you; busses are trite; Uber can't sustain you; might as well bike!
To a novice, cycling around the city at first appears terrifying. Why leave the devil you know -- in the this case, the MTA -- for the devil you don't: out-of-control drivers, oblivious pedestrians, other cyclists, and the notion that all that's separating you from the tooth-chipping pavement is a couple of rubber tires? Sadly, New York City Transit gives us more reasons to turn to the humble bicycle with every passing rush hour.
Maybe the impending L train service suspension will leave you in the lurch, or air-quality destroying diesel buses make you kvetch. Or, maybe your motives are less altruistic and you just want to save a little money and stay in shape without relying on the bank account vampires at SoulCycle. There are infinite reasons to enjoy New York City's nearly 1,200 miles of bike-friendly streets, roads and paths. Here is how to begin.
Learn the rules of the road: NYPD and Bike Laws
Though taxi drivers and pedestrians may find it hard to believe, the NYPD does enforce its bike laws. Thousands of summonses are issued each year. It can cost you at least $150 if a cop catches you riding on the sidewalk, and blowing through most red lights can get you pulled over, too. Study the city's bike laws, and then decide which rules you are comfortable breaking. Do you know of any cyclists who actually wait for a traffic light to turn green when there is no oncoming traffic? Exactly.
Master hand signals
Most New Yorkers eschew hand signals, prefering to shout, "Coming on your right," "move out of the way," "turning left," "BIKE LANE" -- you get the idea. Want to old-school it? Check out the city's Department of Transportation's colorful online pamphlent to learn silent hand signals other than the one you're already familiar with from commuting in this city.
What to wear
Obviously, biking is easiest during a mildly warm, sunny day. For summer and spring, just wear as little as possible, or invest in some fancy, sweat-wicking fabrics. Make sure to slather on the sunblock. The summer sun can burn a cyclist's exposed shoulders and arms within minutes.
Since New York weather is seldom so temperate, get ready to embrace the power of layering for the fall and winter. Uniqlo's Heattech undergarments -- leggings and shirts -- are ideal for riding on colder days. Icy wind is the enemy of an urban cyclist. A fleece face ski mask only leaves your eyes exposed, which you can protect with well-fitting sunglasses.
Actually get on a bike
First, borrow a friend's bike to determine whether you're chill enough to ride alongside cars. Strap on a helmet for extra confidence and (obviously) safety. Mount the bike and gauge its -- and your -- equilibrium. If you feel calm, steady, and in control, it's time to start pedaling. Start on a leafy side street and circle the block like you probably did when you were a kid. Stay away from well-traveled bike lanes -- like the 2nd Avenue stretch in the East Village or anywhere on the Williamsburg Bridge -- where slow, clueless, cyclists tend to attract loud jeers and silent eye-rolls.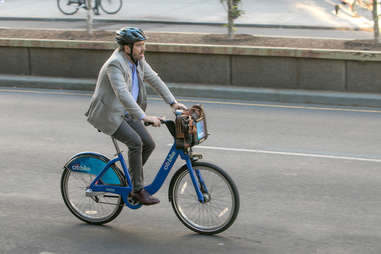 Ease into the cycling life with with Citi Bike
Those two-wheeled blue cruisers have become part of the New York landscape alongside yellow cabs and pooping pigeons. What's up with them? For starters, there are several pricing options -- $169 for an annual membership, $24 for a three day pass or $12 for a 24-hour period. Here's where it gets tricky: Memberships and passes doesn't equal unlimited riding time. For example, a yearly membership includes 45-minute rides, but if you want to keep the bike longer, it will cost an additional $2.50 for each 15-minute interval on that particular bike. Some people find them too clunky for daily use, but others have made them a permanent part of their daily commute. Check out the CitiBike website to find the plan fit for your cycling needs.
Burn that MetroCard and buy a bike -- but don't go broke
Before committing to one particular bike, date around first. Go out and shop for a used, reliable, bike that's sturdy enough for a beginner and won't attract thieves. This is not the time for flash! All you need are thick tires to handle pot holes and curbs, a wide seat that won't make your butt ache, and upright handlebars for easy steering. Craigslist still exists, and has a vast selection of used bikes. There are also shops that hawk pre-owned bikes, but you need to ask how the store sources its goods to ensure that their inventory doesn't include stolen merchandise. It's bad karma to buy a stolen bike.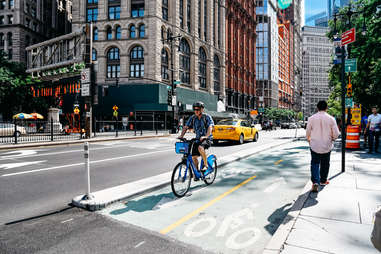 Master your ride: bike lanes vs. greenways
Everything in New York City is complicated, even our bike lanes. There are three types: Protected (those green lanes that are blocked from moving traffic); Conventional (a lane with a white border that runs alongside moving cars); Shared (an occasional picture of bike painted in white on the pavement is supposed to remind motorists to share the road. There's no separation from the cars).
We also have greenways -- car-free paths where you can cut loose. The Hudson River Greenway is the crème de la crème of such paths, boasting an 11-mile trek on Manhattan's west side up from Battery Park City to Washington Heights. A less marvelous greenway runs along the East River in several sections. The northern half goes from East 125th Street down to East 63rd Street, and the southern stretch starts at East 37th Street and ends at Battery Park. NYC Bike Maps has all the details.
Upgrade, baby!
You got the basics down on that jalopy, and now you are ready to commit to a two-wheel love. Yes, this is a marriage. Bikes, with the proper care, can last a lifetime. First, learn the types: Cruisers are heavy, move slow, and are good for riding on beach boardwalks. Thumbs down for commuting. Hybrid bikes are a good investment for a newbie cyclists. Hybrids are a mashup of a mountain bike (thick tires and a sturdy frame) and a road bike (gears for various levels of speed and not super heavy in weight). Expect to spend $400 to $500 on a decent hybrid. If you want something even faster, and have the skills to ride around this city like a pro, get a road bike. The handlebars on a road bike, "drop," meaning you ride around hunched over. We are getting into physics now, so just trust, you go faster on a road bike.
Learn to Lock
You need to keep your investment safe. We have very creative bike thieves here in New York, and learning how to properly lock up your bike is essential. Visit your local bike shop and ask about the differences between a "U-lock" and a chain lock. U-locks, are, duh, shaped like the letter U, and have enough width to secure your cycle to a bike rack or a railing. They're also lighter than a heavy chain.
But heavy chains have their benefits. This Kryptonite model weighs 6-pounds, and is long enough to lock a bike's frame by looping the chain through the front tire and securing it to a light pole or parking meter. You want to secure as many parts of your bike as possible.
It can be tough to find an empty bike rack in busy commercial districts like Williamsburg's Bedford Avenue, or in areas highly concentrated with office buildings, like anywhere in Midtown, and using a chain-lock gives you more options to secure your bike to a fixed object. DON'T use a skinny tree, scaffolding, or a wobbly loose pole, as your fixed object. Thieves can knock over unstable trees and poles to get to your bike. They can also unscrew parts of scaffolding.
Play it extra safe
Bike shops also sell gear that makes it tough to screw off bike parts. Thieves walk around with bike tools, and hunt for easy-to-strip tires, seats and handlebars. Protect your bike from such malfeasance with wire locks that can tie down your seat, and bolts that make it's harder to unscrew a tire. Again, the folks at your friendly neighborhood cycling store will be happy to help -- and sell you stuff.
Necessary accessories
Wear a helmet. Nobody cares about your hair, or how stupid you may look wearing a goofy plastic dome. Wear a helmet. Only New Yorkers under the age of 14 are legally required to wear one, but still, wear a helmet. Also, use bike lights. You need a single white, bright, removable headlight on top of your handlebars. And the same thing, but in red, needs to go on the back of your bike frame. Turns them on at night so cars and pedestrians can see you. New York State traffic law requires the use of these two lights from dusk to dawn. The law also requires that your bike has a working bell, or a similar "hey, get out of my way" signal.
At Home with Your Bike
Ask your building's landlord, super, manager, whomever, where you can store your bike -- a smart move for before you buy anything. If your building won't allow you to install bike hooks in your apartment to store and display your baby like a piece of modern art, ask if you can leave your bicycle in the hallway, the basement, a storage room -- anywhere, damn it! Worst case scenario you sleep next to it in bed. Just don't leave your bike outside overnight. Constant exposure to rain leads to rust and erodes the your bike's health. And it will get stolen.
Biking while social, for when you had one too many at happy hour
Don't do it, although legally speaking, a cyclist in New York can't be hit with a DWI (driving while intoxicated) charge. The law applies to "motor vehicles" — not bikes. If you get wasted and your two-wheeler is only way to get home, order an Uber XL or a Lyft Plus, and because you are a polite human, make sure to call the driver to give him a heads up about the extra cargo.
Sign up here for our daily NYC email and be the first to get all the food/drink/fun New York has to offer.