Black culture is an integral part of what defines New York City's vibrant, creative, and ever-flourishing identity. And across the five boroughs, with 1.9 million Black New Yorkers—identifying as Black American, Trinidadian, West African, and more—making up 22% of the city's population, their impact across communities here can be found in everything from art and music to food and entrepreneurship.
In addition to communities like Bed-Stuy in Brooklyn and the rich breadth of historical museums and citywide landmarks, the city is home to a multitude of cool new hubs of culture like SEED Brklyn and the upcoming Louis Armstrong House Museum slated to debut this spring.
And as we continue to honor Black culture throughout February during Black History Month—as well as all year-round—we've rounded up some of the best ways in town to celebrate. Here's our guide on 2023 events and programming to check out across NYC.
Saturday, February 4, 10:30 am–5:30 pm
Prospect Heights
Popping up in different locations throughout Brooklyn every week, the Brooklyn Pop-Up artisan market is known for their incredible selection of handmade goods created by local artisans. In honor of Black History Month, on February 4 outside of the Brooklyn Museum, the market will showcase Black-owned businesses. Stay tuned for more info on vendors via their IG page.
Get a taste of 2023 James Beard Award semi-finalists
Throughout February
Various locations
Each year, The James Beard Foundation honors a select group of chefs, bakers, and restaurants across America with a range of "best in the city" nominations, such as Outstanding Chef and Best New Restaurant. The recently announced 2023 list of semi-finalists, all of whom are one step closer to earning a sought-after title, include an exciting group of NYC eateries operated by some of the city's top Black culinary talent.
Among this year's buzzy local spots, drop by the Musket Room where pastry chef Camari Mick is hosting a special dinner on Sunday, February 5 in collaboration with chef Brittney Williams (BWC Catering) to honor of Black History Month. The family-style meal draws inspiration from Mick and Williams' Jamaican heritage and includes dishes like Smoked Jollof and Plantain Sticky Toffee. Tickets are available on Resy.
Additionally, head to either of chef JJ Johnson's FIELDTRIP locations in Harlem or Rockefeller Center for Black History Month specials like Sweet Potato Rice Grits served with Creole King Crab and Rice Milk Strawberry Shortcake Soft Serve.
Other popular NYC contenders for 2023 prizes include Harlem Hops, a beer bar and restaurant owned by Kevin Bradford, Kim Harris, and Stacey Lee Spratt; Melba's, a Southern eatery in Harlem led by chef Melba Wilson with an outpost above Central Park's Wollman Rink; Dept of Culture, a Nigerian dinner party concept in Bed-Stuy from chef Ayo Balogun; and Cadence, where chef Shenarri Freeman specializes in vegan soul food.
Champion creative freedom at an art exhibit
Wednesday, February 8, 5:30 pm–7:30 pm
Midtown East
Home to an impressive collection of art by legendary artists like Jean-Michel Basquiat and Takashi Murakami, the Carlton Fine Arts gallery also showcases work by contemporary and emerging artists. Slated for the month of February, visitors can peruse a new exhibit titled Art is Dead, featuring 18 paintings by artist Vincent Peters (also known by ÆTHELSTAN) and from which all purchase profits will go to the Decree 349R organization (which fights for the creative freedom of Cuban artists). Additionally, drop by on February 8 for an intimate artist's reception, where Peters and others will dive into which historical Black figures inspired his collection.
Enjoy imaginative waffles at a culinary collective's pop-up
Throughout February
Midtown
A collaborative effort between the Park Lane hotel and the Bronx-born culinary collective Ghetto Gastro—which highlights recipes and techniques of Black, brown, and Asian folks across the globe—drop by Midtown for a Black History Month-inspired dining series. Held at the hotel's second floor cocktail lounge and eatery, Harry's New York, the limited-edition menu items are created with the Ghetto Gastro's line of WAVY waffle mixes and include offerings like Buttermilk Fried Chicken and Ancestral Roots & Toasted Matcha Waffles (served with walnut syrup).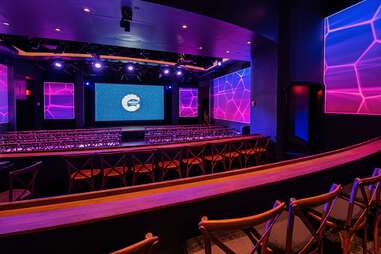 Friday, February 24–Saturday, February 25
Manhattan West
After a long week of Zoom calls and deadlines, an evening of laughs is in order. Coming off of a sold-out run at Washington, D.C.'s Kennedy Center, The Black Version makes its NYC debut for Black History Month at Midnight Theatre in the Manhattan West development. Here, the cast prompts the audience for things like names of movies, which spurs skits by the cast in the form of songs, dances, and more. Notable cast members include Nyima Funk (Wild N' Out) and Cedric Yarbrough (Reno 911). Tickets are available online now.
Friday, February 24 and Saturday, February 25
Upper West Side
Featuring awe-inspiring performances by Black women artists from around the world, tickets are now available for the Black HERstory Live two-day festival. Held in collaboration with Black artistic collective AFROPUNK at Lincoln Center, the event's purpose is to amplify and celebrate Black women through music, performance art, poetry, dance, and film. Among the performers, expect appearances from the singer UMI, dancer and choreographer Ebony Williams, poet Mahogany L. Browne, and more.
Friday, February 24–Sunday, February 26
Hell's Kitchen
Known for its impressive selection of artwork created by African, Caribbean, and Black artists from across the globe, Harlem Fine Arts Show celebrates its 15th anniversary this year. Claiming the title as the largest traveling arts show in the U.S. that features artists from the African diaspora, the festival pays homage to the Harlem Renaissance from a century ago and features everything from paintings and photographs to food and live performances. Tickets are now available online.
Saturday, February 25, 6:30 pm and 9 pm
Williamsburg
Perfect for music lovers of all kinds, these two Candlelight Concerts celebrate the music of America's most legendary Black artists under the gentle glow of hundreds of candles at The Williamsburg Opera House. Led by the musicians of Pure Soul, the 65-minute set lists include songs by Stevie Wonder, Al Green, Nina Simone, Ella Fitzgerald, Frank Ocean, and more.
Snag a res at a month-long prix-fixe experience from a notable chef
Throughout February
Chelsea
At his first new NYC restaurant in twelve years, chef Marcus Samuelsson (Red Rooster) teams up with executive chef Rose Noël (Maialino Mare in DC) for Hav & Mar, a seafood-centric eatery showcasing contemporary Black cuisine. Opened in November, guests will be able to experience a different prix-fixe menu every Monday of February—all of which utilize ingredients sourced from local Black-owned and -managed companies (like Prince Abou's Butchery in Astoria and Striped Lion Distilling in Woodbury, New Jersey). Each meal is priced at $85 per person and will be hosted by well-known members of the community like chief curator of The Studio Museum, Thelma Golden, and artist Derrick Adams. Reservations can be made on Resy.
Throughout February
Upper East Side
During the 19th century and in what is now Central Park, there was once a thriving community of mostly Black landowners and tenants living in an area called Seneca Village. Consisting of homes, churches, a school, gardens, and more, it represented freedom and prosperity to its residents before it was seized by the city in 1857 to make way for the park. Now, as a way to shed light on Seneca Village's indelible impact, The Metropolitan Museum of Art has created the exhibit, Before Yesterday We Could Fly: An Afrofuturist Period Room, featuring a wood-frame structure filled with artifacts from the village, as well as other relevant ephemera and artwork from the museum's collection.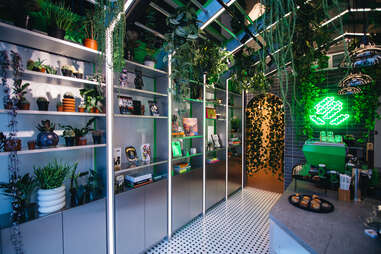 Shop locally made goods at Black-owned small businesses
Throughout February
Various locations
While on your retail therapy mission around our city's coolest small businesses, Lichen in East Williamsburg, owned by Jared Blake and Ed Be, displays eclectic and NYC apartment-friendly furniture and home accessories. Elsewhere around Brooklyn, grab some greenery for your home at Natty Garden in Prospect Heights, sharpen your bicyclist skills at Burrowes Brothers Bikes in Flatbush, and order flower bouquets from Les' Bloom of Brooklyn in Prospect Lefferts Gardens.
Find your next great read at a local independent bookstore like Sister's Uptown Bookstore in Washington Heights, which is the only Black-owned bookstore in Manhattan. Additionally, check out The Lit Bar in Mott Haven, which functions as a bookstore, wine bar, and community center rolled into one, as well as the intersectional feminist Cafe Con Libros in Crown Heights.
Other NYC-based favorites include frozen treats from Island Pops in Crown Heights; sustainable threads from Byas & Leon in Bed-Stuy; trendy accessories and vintage fits courtesy of Trintage in Central Harlem; and coffee and lifestyle goods at SEED Brklyn in Bed-Stuy.