While Sunset Park was once primarily known for its Costco, the neighborhood is now celebrated for far more than wholesale grocery items sold in packs of 48. In addition to its authentic global fare (like some of the city's best tacos and dim sum), the neighborhood has also been attracting hoards of visitors for another reason: Industry City.
So, what is Industry City? New York's answer to Silicon Valley? A rave space? A think tank for meme artists? The short answer is all of the above. Formerly titled Bush Terminal, IC is a collection of enormous warehouses stationed from 32nd to 37th Streets on Third Avenue, and from 39th Street to the waterfront on 2nd Avenue, each of which was once part of the waterfront's intermodal shipping, warehouse, and manufacturing complex (each individual building spans the full surface area of a city block). Like Chelsea Market, each warehouse still pays homage to its industrial roots with exposed piping, heavy iron doors, and large freight elevators -- but with the added amenity of rooftop films, chocolatiers, and $18 cups of drip coffee. With 6 million square feet of repurposed warehouse space, the area is now the home base to over 400 companies specializing in everything from film and architecture to fashion and food. Here's everything you need to know about how to get there and what to eat, drink, and do when you arrive.
How to get there
Take the D/N/R train to 36th Street in Brooklyn, or catch the B35/B37 to 39th Street. Or technically, you could try swimming across the toxic expanse of the Gowanus from Brooklyn Heights' Ikea waterfront. Or take a Lyft.
Where to get coffee
Industry City's food hall has six different artisanal coffee vendors, each of which serves a nice collection of caffeinated almond-coconut-soy-hemp-rice milk beverages. One Girl Cookies, a local bakery specializing in whoopie pies, serves Joe coffee at its full-service espresso bar; Blue Marble -- the organic ice cream spot just opposite One Girl -- serves La Colombe; and for the more refined coffee consumers out there, the Alpha Dominche Extraction lab offers exclusively drip coffee, ranging from a $4 Toby's Estate blend to an $18 Panamanian brew.
Where to eat
Industry City's food hall is like a permanent Smorgasburg set in a New Jersey mall food court -- only better. The place has communal seating, bussing stations, and lengthy rows of food kiosks with menus hung above service counters. Each of the eateries produces its fare on-site: Behind each kiosk, patrons can watch bakers roll croissants, butchers cure meats, and chocolatiers spread cocoa into molds (but be wary -- the whole place shuts down at 6pm on the weekdays, so you're strictly here for breakfast and lunch).
Ends Meat, stationed by the Third Avenue end of the food hall, is a whole animal salumeria specializing in dry-cured meats sold by the pound -- but beyond cold cuts, it's best known for its sandwiches (like the muffaletta topped with soppressata, mortadella, provolone, and parsley caper oil). Just down the hall, an outpost of Harlem's popular Taco Mix serves a variety of meat and veggie tacos, homemade taquitos, and cheesy chicken tortas. For finer dining (as fine as food-court dining gets, that is), hit up the Filament gastropub for skirt steak and tuna tataki. And for some healthier, endlessly photogenic plates, there's Avocaderia, the city's first restaurant serving a menu built of exclusively avocado-centric food items (including an avocado burger). If you're looking to grab something for later, stop by Brooklyn Brine's enormous pickling and jarring factory for the best damn maple bourbon pickles in New York.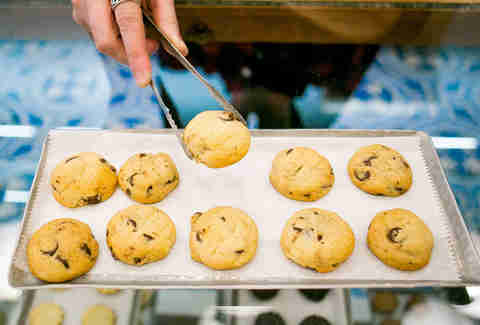 If you're not totally stuffed after polishing off your avocado burger, the food hall has plenty of sweets to offer. Colson Patisserie, a major pastry supplier for cafes and coffee shops all across the city, sells fresh-baked croissants and Belgian confectionery treats. Ninja Bubble Tea has an impressive collection of sweetened bubble teas, ranging from honey and coconut milk to papaya and blueberry. Li-Lac is the food hall's go-to chocolate vendor, with an impressive spread of home-made fudges and chocolates (think 2-foot chocolate replicas of the Empire State Building), all of which is prepared by chocolatiers directly behind the shop's display case. For a dessert that might be too beautiful to actually consume, stop by The Fashion Chef, where Charlotte Neuville's 30 years of international fashion experience and her deep-rooted love of pastries join forces in the form of some truly remarkable cakes.
Where to drink
What's the quickest way to draw hoards of New Yorkers to a series of once-vacant warehouses hidden in the far depths of Brooklyn? Alcohol. IC's pioneer tenant was the Industry City Distillery, which continues to produce the only vodka distilled in New York City (with a beet sugar base), and the top floor tasting room offers distillery tours, weekend tastings, and panoramic rooftop views, where you can gaze out over the golden expanses of Costco's parking lot. If you're not quite ready for the hard stuff, attend one of the Moore Brothers Wine Company's daily tastings. If you like what you sample, you can pick up a bottle for later, each of which is sourced from a selection of sustainable, small-batch wineries. Like the food vendors, these places close early during the week, but they're open as late as 11pm on the weekends, and even later in the summer.
From June through October, NYC's most popular barge-bar, The Frying Pan, will operate a new bar/restaurant called The Wheelhouse, on a tugboat stationed in Courtyard ⅚. It'll offer a full-service bar with an impressive craft cocktail list and three different types of lobster rolls. And while you'll probably have to wait a bit for a table, the restaurant has ping-pong tables and a 9-hole Brooklyn-themed mini golf court to keep you entertained.
Where to see art
IC has its very own gallery with a rotating series of exhibitions curated by the Wallplay -- an experiential creative platform dedicated to exhibitions that combine art and technology. Each May, Wanted Design holds its Brooklyn NYC X Design program in Industry City, complete with events devoted to all forms of design, from 3D printed jewelry info sessions and beauty talks to interior design and lighting workshops. If you're more of a creator-type than a spectator, BHQFU, a New York-based artist collective, offers a series of free community art classes, and twice a year, IC holds an event called Open Studios, where the complex's creative tenants open the doors of their private studios to the public (this year's event is scheduled for May 20 and 21).
Other things to see and do
The greatest benefit of occupying 6 million square feet of real estate is ample room for activities. Industry City's Food Hall offers its own gym (to help cancel out any guilt you might be feeling after that chocolate Empire State Building), a series of courtyard sunset yoga classes, and, if you're really feeling ambitious on the athletic front, you can try crashing The Nets' warmup.
IC is also home to a co-working space from the founders of Milk Studios, called Camp David, which is specifically geared toward Sunset Park's creative community, complete with professional-development seminars, collaborative workshops, and advising services for freelancers. Just one building over, the culinary experts from Brooklyn Kitchen teach daily cooking classes inspired by the diverse local cuisine.
This summer, Brooklyn Bowl will host a live series of both ticketed and free concerts on Wednesdays, Thursdays, and Saturdays in the outdoor venue space at Courtyard 1/2, and Rooftop Films will host a summer series of movie nights on on one of the area's spacious warehouse rooftops. The screenings -- ranging from niche, Independent Swedish art films to works like the Anthony Weiner documentary -- run from May through August and often come paired with food and drink options curated specifically to the film at hand.
IC also hosts a year-round rotating series of sample sales, an indoor rendition of Smograsburg and Brooklyn flea, and an outpost of Chicago's Renegade crafts fair, where you can pick up reliable essentials like artisanal turmeric aftershave and needlepoint recreations of Future lyrics.
Sign up here for our daily NYC email and be the first to get all the food/drink/fun New York has to offer.