Remember when people used to go to Brooklyn because it was more affordable? HAH! These days, New York's second-largest borough (Queens is reigning!) is one of the priciest of them all -- so much so that finding 29 things you can actually do in Brooklyn for $10 and under was pretty damn hard.
But we did it, and you're the lucky beneficiary of our knowledge. Now give us $10.
Williamsburg
Every Thursday, Questlove (Giant afro! The Roots!) takes over the turntables to spin hours of throwback jams all resulting in "Holy shit, I haven't heard this in forever!" screams.
Cost: Tickets are $10 (fried chicken you'll inevitably order not included).

Williamsburg
The line for the tasting room to this Brooklyn staple starts forming at 5pm, but the cask is officially tapped at 6pm. Get there early, grab a table, drink delicious local beer.
Cost: Beer tokens are $5 each (that's for one beer).

Brooklyn Bridge Park, Pier 2
Grab some friends, smuggle some booze (kidding, NYC Parks!), and play one of Italy's oldest pastimes with the Manhattan skyline as your backdrop.
Cost: Free

Red Hook
You have permission to come aboard 1914 Lehigh Valley Barge #79 (on the National Register of Historic Places, nbd!) whenever you want, as long as that falls within museum hours.
Cost: Donation-based. Do the right thing.
Bay Ridge
If a little garden goes a long way for you, this is your spot. This volunteer-run, five-acre plot has mini gardens (of the lily, butterfly, and rose variety) and killer views of New York harbor.
Cost: Free

Prospect Park
Lions, and tigers, and bears -- actually, they don't have those, so it's more like sea lions, peacocks, and monkeys... OH MY!
Cost: $8

Prospect Park
Think bigger and easier to locate than The Secret Garden, but with a similar literary tie-in thanks to the "Shakespeare Garden." Seriously, this one is no joke -- it's 52 acres of oxygen-producing plant life.
Cost: Free on every winter weekday (December - February) and every Tuesday

Fort Greene
Learn the ins and outs of the 100-year-old subway system without potentially being late for work and/or inhaling urine.
Cost: $7

Park it with pizza on the Promenade
Dumbo
Best way to do this: one person waits in line at Juliana's -- or another BK pizza spot of your choosing -- the other grabs a spot. Then one other person just pretends he/she is doing something helpful (pro tip: be that person).
Cost: Depends on which slice you opt for, but we expect you can keep it under $10.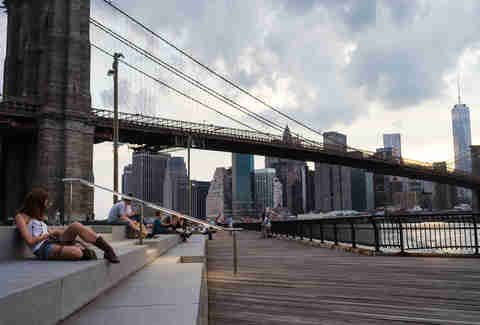 Cook out at Brooklyn Bridge Park
Brooklyn Heights
Even though I admittedly hate big group dinners, this is one of the few exceptions. Everyone brings one item of food to cook on one of the community grills, then you eat on the adjacent picnic tables and take in the equally adjacent views.
Cost: Space is free, plus the cost of whatever you bring

Walk the Brooklyn Bridge (the Brooklyn side!)
Dumbo
It's a tale as old as time: you walk up the bridge, Instagram the view (which is the whole reason you even did this), get tired, and decide you only want to walk half of it.
Cost: Free

Prospect Heights
First of all, this place is huge -- like, 560,000sqft huge (the only museum in the city that's bigger is the MET) -- and filled to the brim with priceless works you can't touch. Mysteriously, MC Hammer isn't among the collections. Don't miss the sculpture garden, though.
Cost: $10 (if you were smart and kept your student ID)

Prospect Heights
You don't even have to go inside this place to be impressed, thanks to a 50ft-high entrance adorned with literary characters (Br'er Rabbit shout out!) made out of gold. But also, go inside.
Cost: Free
Greenwood
Besides this being NYC's first rural cemetery, and an incredibly fun place to try to scare your friends, Frederick August Otto Schwarz (aka FAO Schwarz) is buried here. Pay your respects!
Cost: Free

Prospect Heights
Kill two birds with one stone: check out an 80ft-tall structure that pays homage to Civil War battles, and stock up on blueberry wine.
Cost: Free (unless you go overboard on the blueberry wine)
Dumbo
There's no shame in riding a carousel as an adult... as long as you actually ride a horse, instead of just sitting in the ornate carriages. Have some pride, dammit!
Cost: $2

Williamsburg
Here's a real urban adventure: off-roading biking in the city, with a lot of city still in the background. It's pretty much the best of both worlds.
Cost: $10 for a 2-hour session; free if you just watch (this also guarantees no potential injuries to your dignity/coccyx)

Red Hook
At the end of this majestic ride over the East River, to the land of moderately-priced homeware... there are Swedish meatballs. So many Swedish meatballs, and way cheaper than you'll find anywhere else.
Cost: $5 on weekdays; free Saturday & Sunday

Head to Coney Island
Coney Island
50 rides. Insane carnies. NATHAN'S FAMOUS HOT DOGS. You can't lose! [Ed. note: you will almost certainly lose, but that's part of the fun.]
Cost: Either free, or every dollar you have. It's hard to say.
Williamsburg
An arcade that's actually cool because, beer. Get it? Barcade?!
Cost: $10 will get you a craft brew and at least 4 rounds on Ms. Pac Man (or one of the other 50+ vintage arcade games).

Williamsburg
You think you're great at trivia until you're in a room with a ton of people who also think that. Every Tuesday, they duke it out for a $150 bar tab prize with picture rounds, taglines quizzes… and Nicolas Cage quotes like "Put... the bunny... back... in the box." (There's one.)
Cost: Trivia is free, but go ahead and factor in the $8 nachos.

Carroll Gardens
Two guys from Greenpoint Beer Works opened their own rustic taproom that's about the size of your studio apartment, but filled with way more delicious Belgian ales and IPAs.
Cost: $6 pints; tasting flight $5

Bushwick
Is it an art gallery, a nipple tassel-filled cabaret, a circus, a cocktail lounge, or a falafel joint? Yes. A whole House of Yes, in fact. After its East Williamsburg spot burned down because of a toaster (seriously), this menagerie of weirdness came back with its mission still firmly in tact: to blow your mind.
Cost: Free entry unless there's a special ticketed event, typically $5 in advance or $10 at door.

Prospect Park
It's an 1868 condemned home that looks like the Addams Family house. Need we say more?
Cost: Free (unless you break in, then whatever your bail money is).

Carroll Gardens
Instruments hanging from literally everywhere; bluegrass bands taking the stage in a theater so small you feel like you're on stage with them; open mic nights and music lessons! Jalopy makes you feel famous even if you already are.
Cost: The cover's usually around the $10 mark, depending on the band.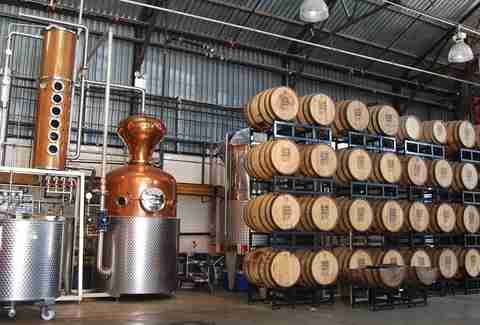 Williamsburg
Gins like Dorothy Parker and Perry's Tot taste better when you're being guided through a distillery with a 1,000-liter copper pot. Probably because of all the gin.
Cost: Tours are free; post-cocktails at The Shanty run you about $8.

Fort Greene
75 free concerts a year. 75 free concerts a year!
Cost: Free (if you go to one of the aforementioned 75)

Boerum Hill
It's 22,000sqft of climbable space... that you're actually allowed to climb on.
Cost: The climbing assessment is free! The subsequent judgement could cost you.

Fort Greene
Remember when P.Diddy made his Making The Band minions walk across the Brooklyn Bridge just to snag him a slice from this famed establishment? There's a reason for that... aside from just "because he could."
Cost: $6.95 per slice
Sign up here for our daily NYC email and be the first to get all the food/drink/fun New York has to offer.
Liz Newman is a freelance writer for Thrillist, and can't believe how many awesome things were only $2 away from making this list. Damn economy! Follow her on Twitter and Instagram at @lizn813.