Dating in New York is brutal. Dating in Brooklyn, specifically? It may be harder than trying to get a spot at Royal Palms on a Saturday (what's a girl gotta do to play some shuffleboard?!). Assuming you do find someone, though, don't blow all your dates on beers at your neighborhood dive (that's first/second date material in our books). Make sure you're keeping things interesting by hitting the 24 activities on our Brooklyn sex & dating bucket list.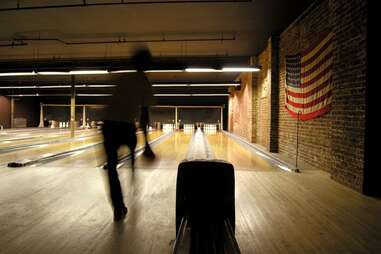 Drink a few beers, get overly excited when you get a strike, then make out in McCarren Park.

2. Take a walk on the Brooklyn Heights Promenade
Free romance with a view!

3. Go home with someone who sports a generic hipster tattoo
Any of the following will suffice: a flock of birds, an arrow, a feather, an owl, or a geometric shape (extra points if that shape is the plain outline of a triangle).

4. Be socially acceptable yet tipsy in the afternoon at j'eatjet
Unlimited mimosas are $10, which is reason enough to bring a date (especially of the last-night-went-better-than-expected variety), but the nice people at j'eatjet will also sell you a waffleburger. Yes, waffle + burger = waffleburger.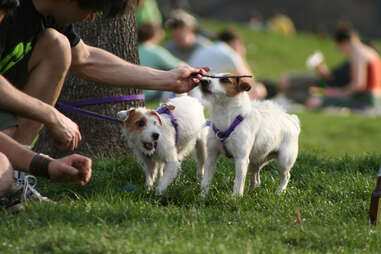 5. Play with other people's dogs in Prospect Park
I mean, ask first, but people are generally really nice about it, plus if the dogs like you, your date will think good things about your character that may or may not be accurate.

You can pretend to be cooler than you are while saving money, a pleasant rarity in New York: $3 Champagne, $3 Flamingo Tacos [insert obligatory "no flamingos were harmed in the making... " joke here].

7. Receive an awkward massage from a Burning Man attendee
At a House of Yes Party, you can almost guarantee you'll get a massage and unpersuasive mini-lecture on polyamory from someone who has helped build a sparkling unicorn bus while on peyote.
8. Order one of everything at Snacky
Everything on the menu is the perfect post-drinking food, and it's also super cheap. Just go down the list ordering one of everything until you're both full.

9. Date a Brooklyn native
You'll discover so much about the city (plus they might have a cute accent... depending on what you find cute and what you consider an accent).

10. Rip each other's clothes off in the bathroom at The Ides
And then check out the pretty view from the roof or whatever.

11. Get competitive over a game of shuffleboard at the Royal Palms
Assuming you can get a spot... there's nothing like flirting over a game that your grandparents could kick your ass at.
12. Ride out to Brighton Beach for Russian snacks
Blintzes, pirozhki, and plates of smoked fish, capped off with classic Russian pastries. Yes.

An updated take on classic sideshow acts like fire breathing, sword swallowing, and human blockheads. The folks who run this show are wonderful -- bring extra $ for tips.

14. Bang someone who's "getting into the authenticity of cassette tapes"
Now you've really been to Williamsburg.

It's a tits-themed bar that you can totally take a girl (or guy) to without feeling like a creep. Plus Pizza Party's just across the street. A+.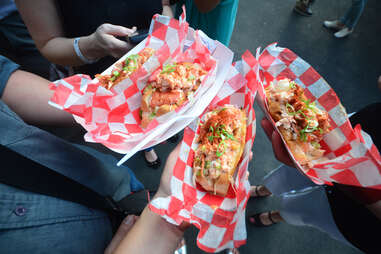 16. Head out to Red Hook for food and booze
Make a day of it with with eats from Red Hook Lobster Pound and Hometown Bar-B-Que, and then head to Sunny's for drinks and live music.

17. Go for a seaside stroll at Manhattan Beach
Less crowded than Coney Island beaches, and just as quick a train ride.

A one-two date night that's so easy!
It's dark, so nobody can see whether or not you suck at it.

They'll teach you the fundamentals of taxidermy, give you a lecture on peep shows, or host you at a very strange party.

It's a metal bar. No further explanation needed.
23. Flirt with a stranger at a gallery opening in Greenpoint
If it goes well, you can suggest a stroll to Transmitter Park, which is one of the best places to make out in the whole city.

24. Buy a good-looking stranger a shot at Union Pool
This could be the start to a very very terrible, wonderful thing.
Sign up here for our daily NYC email and be the first to get all the food/drink/fun New York has to offer.

Jess Novak will totally give you Brooklyn neighborhood-specific suggestions for dates. Ask her advice on Twitter and Instagram, but don't be upset if her suggestions revolve around finding an aviation cocktail.