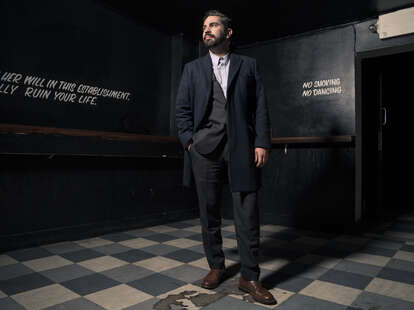 Bushwick's Bossa Nova Civic Club is quiet. A lone DJ occupies the checkered dance floor. A painted "No Dancing" sign glows white against the back wall, and a gaggle of neighborhood locals take up residence at the bar, sipping IPAs and nodding to reserved electro tracks.
What most of them don't know is that this is no ordinary Tuesday.
For nearly a century, the city's tyrannical Cabaret Law forbade dancing in bars without proper licensing. In a metropolis with some 25,000 venues, barely 100 could host fully sanctioned social dancing. This meant a crackdown on modest hip-shaking. On full-on twerking. On the Hora, probably.
So yes, you have likely broken the law, you shimmying hoodlum.
Enacted in 1926, legislation was a paternalistic effort to patrol speakeasies. But over the course of the last hundred years, the law morphed into a veiled platform for not-so-subtle racism, a justification for exorbitant cover charges at venues with proper licensing, and a dated framework for a city that supposedly never sleeps.
"Nightlife is a big part of the character of the city, but this is about more than that," City Council member Rafael Espinal explains, sipping his beer at a dim table opposite Bossa Nova's dance floor. "This is about expression and character. It's an integral part of our city's culture. Who are we to restrict that?"
In November 2017, following a plenty-difficult crusade against the ban, Mayor Bill De Blasio formally repealed the Cabaret Law, backed by Espinal and a coalition of devoted venue-owners. Though this only cleared social dancing among venues in particular zones, it was a big step.
And on this quiet, drizzly Tuesday in New York, the repeal finally went into effect.
"I just came here to dance."
At Bossa Nova, John Barclay -- the venue's handsome, wiry owner -- greets customers as they emerge from the long, dark front hallway, offering daps and fist-pounds to apparent regulars. The crowd knows him, knows the DJ on the stand, knows which floppy-haired guy at the bar is next up at the turntable. Low buzzy chatter surfaces over the droning untz untz of the bass.
"I had no idea [about the law]," 24-year-old Violyt Martin shouts from her bar stool, nodding along to the music. "I just came here to dance."
Like most folks in the space, she arrived at Bossa Nova on a Tuesday for one essential reason: to move. "I feel like music is the No. 1 form of expression that everybody can relate to," Martin says. "And dancing comes in second. How can you make something so natural illegal?"
Barclay says the answer lies with city government. As he sees it, the Cabaret Law was a direct echo of local authority's gripe with nightlife, itself. "Nightlife has been an enemy of the city for hundreds of years. Music, dancing, anything -- it was all persecuted like crazy," he says, leaning against the bar. "Think about a place like Bed-Stuy. It's one of the most musically and culturally influential neighborhoods in the entire world, and there are no hip-hop clubs. They all got shut down."
In short, the city's nightlife is not just a tone-deaf symphony of noise complaints and inebriated pedestrians. It's a cultural pulse point. When nightlife is treated as a form of public menace, culture, too is reviled.
"Take Sinatra," Espinal adds. "His black counterparts -- mostly jazz musicians -- were getting their Cabaret licenses revoked. He led a boycott and told everyone the great Frank Sinatra will not play in New York until someone does something about this."
The new generation's music scene is arriving.
Tonight, Bossa Nova is not lined with Sinatra-types, but rather, a host of niche techno and electro DJs who worship the place as the CBGB of its day. In addition to wielding their shiny Bossa Nova membership cards -- a perk that allows them to forego the weekend cover charge -- they spend hours supporting their musical peers and confidantes. For those spinning this particular brand of steady, bass-reliant techno, Bossa is holy.
"Tonight will be awesome," a DJ seated at the bar who refers to himself as Kid Ginseng tells me, donning a primary red snapback. "We have four electro DJs. I'm going on at 2am."
After performing in a host of Brooklyn-based techno bars, Ginseng's only regular gig is Bossa. He performs here a handful of times a month and spends off-nights at the bar among the other regulars.
"Maybe two or three years back, the crowd here was like a little family of electro," he says. "Nobody knew much about the music so they weren't about to come to deep Brooklyn just to hear it. We used put out these flyers that said 'Brooklyn Croquet Club' after the bar got fined for dancing. Everybody knew that was code for dance party"
In a bar that thrives on techno, a dancing ban was more of a suggestion. Performers simply had to be a little more creative.
"I remember getting a bunch of flyers that said 'party at OMG Pizza,'" says Ryan Beppel, a beardy local DJ, from his spot at the bar. "Somehow, everyone knew that meant Bossa. I don't know if you've been to that pizza place, but it's seriously, like the grossest place in the world. I always thought it was just a good joke, but I guess it was a legal tactic."
The two DJs argue the merits of American techno versus the European iteration. They comment on the DJ currently spinning on the now not-quite-empty dance floor (he's good for a new kid, they agree). When I ask if they ever switch up the traditional Bossa sound for the sake of a particular crowd, they respond with disapproving glares. Apparently, the venue never falls out of step with its own brand.
"I mean, I like Drake. I love Cardi B. But I would never play that stuff while I'm here," Beppel says. "This place is filled with people who are supposed to be really committed to their aesthetic. They know their scene."
He pauses to greet two baby-faced guys in matching black beanies who are arriving.
"But the whole city isn't like that," Beppel continues. "I mean, on the weekends I'll go to white people brunch place and the DJ will be spinning A Tribe Called Quest. I can probably assume that DJ Connecticut knows nothing about the group, or the music. To be a good bar or a good DJ, you have to pick your scene and stick to it. That's why people love it here"
Finally, bars can let nature take its course.
There is no DJ Connecticut here tonight. Just DJ New Kid scratching away, while a councilman, a nightlife impresario, and a throng of locals nod along. Some folks have migrated to the dance floor, but most linger around the narrow bar, gently moving their hips and their shoulders to the rhythm, feet tapping along with the bass.
In the lexicon of illicit dance, this motion in this space, has been verboten for nearly 100 years. Barclay and Espinal have been fighting tooth and nail for this very thing -- this natural bob and sway. But tonight, they're not fighting. Tonight, they dance.
"I think most of these bars will keep those 'No Dancing' signs up as a relic," Espinal laughs, accepting a second beer. "And while they're dancing they'll think, Wow, there was this crazy time in New York when we couldn't do what we're doing today."

Sign up here for our daily NYC email and be the first to get all the food/drink/fun New York has to offer.