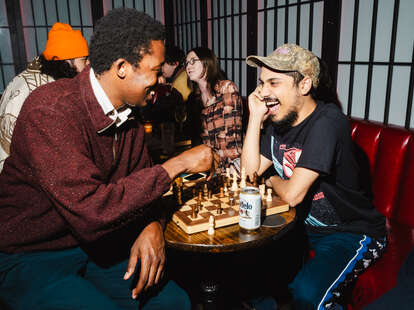 Club Chess meetup at Two Doors Down on the Lower East Side

| Photo by Lanna Apisukh for Thrillist
Club Chess meetup at Two Doors Down on the Lower East Side

| Photo by Lanna Apisukh for Thrillist
Club Chess Is Convincing New Yorkers to Lean into the Sexiness of Chess
This ain't your grandpa's chess club.
Ever find yourself wondering, "Where are all the young, hot people playing chess in New York City?" Well, spend your Wednesday evening at the Lower East Side nightlife newcomer, Two Doors Down, and you'll find your people.
Across a smattering of tiny two-top tables lit by tea candles, well-dressed Club Chess participants can be found sipping on cocktails and earnestly battling through matches. Everyone not huddled over a board lounged around—chatting with the bartender, smoking cigarettes out front, and dancing in the basement.
This sexier and oh-so-New-York approach to chess meetups was brought to life by Alexander Luke Bahta and Corrine Ciani. With the desire to revive local chess culture from its pandemic-induced hiatus, Bahta, 29, was the original founder of Club Chess in 2021. After a few initial, and more casual events (it was unambiguously called Chess Club back then), Ciani, 27, joined as a co-founder. Now, the duo collaborates to bring the series of chess-meets-dance-party meetups to downtown bars and venues on Wednesday nights.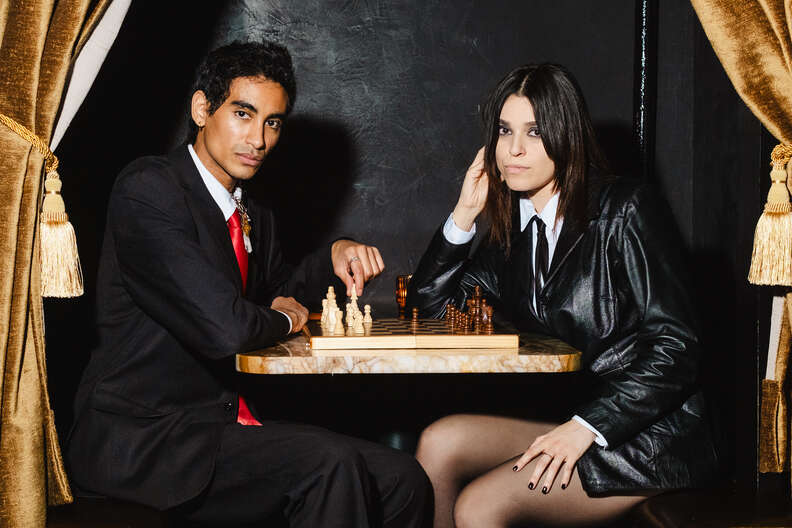 "Something that we've lost along the way is cafe culture," says Ciani. "A space for people to have conversation is incredibly important not only in New York City, but everywhere. We're all so terminally online. [Club Chess] provides a space for New Yorkers to have conversations, have a drink or not have a drink, and play a game or maybe even not play a game."
What's obvious when scrolling through the group's social media presence is Club Chess' dedication to curating a very distinct vibe. There's a transparent keenness to create something driven by an aesthetic agenda.
"We thought, what if we just started doing this at a bar and wore suits and drank Manhattans or martinis or whatever," explains Bahta. "And there's nothing really going on on Wednesday nights. I'm really obsessed with the 1920s and [the] Dada [movement] and avant garde art. And then the idea of a roaring '20s sort of ethos, I think, parallels the time we're in now, but in a way that includes tech and modern culture."
Bahta's self-professed "chaotic creativity" combined with Ciani's artistic capability drives the essence of Club Chess. There's often a dress prompt on meetups flyers. "Dress codes are too strict in our opinion," Ciani says. Bahta continues, "[Dress prompts are] sort of a nod to AI prompting where it's like, 'If you put these words together, this image will come out,' kind of thing. One prompt was just the swords crossed emoji or another one was Hyper Modern Chic."
For those who might not know how to play chess, Bahta and Ciani can attest to the benevolence of their fellow attendees. Ciani herself had never touched a board in her life before her first meetup. "I didn't know the basic rules or anything like that," Ciani reminisces. "People will teach you. You take a seat and after a martini or two, it's not so bad." Those who define themselves as more serious players are often the first people through the door on Wednesday nights. And, most likely, they'll have their own boards in hand.
While chess is often pigeonholed as an intimidatingly cerebral or buttoned-up pastime, Club Chess can be used as a testament to its multifaceted nature—one in which the game can actually be both approachable and predominantly social. These downtown Wednesday nights are an anthropological study of sorts. "It's this cool collage or social sculpture of unlikely compatriots, people you wouldn't expect to be in the same room," Bahta observes.
Bahta adds, "We say chess is played ambiently sometimes because it's like chess is just a part of the equation that creates something special. Chess, music, and then a secret third thing that's not the lighting, not how everyone's dressed, not the people there, but just how everything comes together."
We just might be witnessing the sexy rebrand chess has been waiting for.
Izzy Baskette is the New York City Staff Writer for Thrillist. Talk to her at izzy.baskette@voxmedia.com or find her on Instagram.