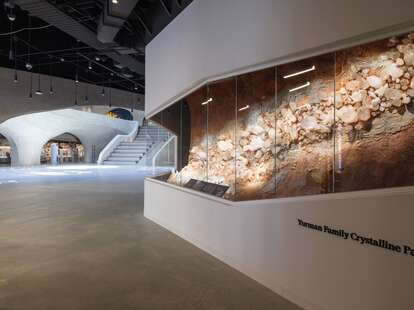 Yurman Family Crystalline Pass exhibit at the American Museum of Natural History

| Photo courtesy of American Museum of Natural History
Yurman Family Crystalline Pass exhibit at the American Museum of Natural History

| Photo courtesy of American Museum of Natural History
After many trips to local crystal shops and hours spent "reading articles" (ahem, scrolling through #CrystalTikTok), we now confidently consider ourselves up-and-coming apprentices within the world of gemstones and minerals.
One of the most important things we've learned along the way is that quartz is kind of a "cure all" crystal. It reportedly exudes a healing energy, helps fight fatigue and sadness, and harmonizes environments (obviously, our apartments are essentially shrines to quartz).
This summer, New Yorkers can amplify their chakra healing by dropping by the new "Yurman Family Crystalline Pass" exhibit at the American Museum of Natural History. The 19-foot exhibition displays a recreation of a transparent quartz vein in Blue Springs, Arkansas, which is known for having some (if not the) finest clear quartz crystal in the world and has been used to create sought-after pieces of David Yurman jewelry.
"As you'll see in our collections, so much of what we do is all about the beauty of the earth, what comes to us naturally—every stone," says co-founder of David Yurman, Sybil Yurman. "We hope that everyone who sees the Crystalline Pass feels as inspired as we do by nature's infinite possibilities."
The Yurman Family Crystalline Pass is now open at the American Museum of Natural History between the Hall of Gems and Minerals and the recently unveiled Richard Gilder Center for Science, Education, and Innovation.