It's tempting to spend New York City winter weekends warmly inside a nice restaurant or building your own double-feature of Oscar contenders at your local movie theater, but sometimes you get hit with some serious cabin fever. The good news is, it's totally curable -- and all you need to do is get in a car and drive. You see, there are cultural gems in NYC's backyard that can pull you out of even the worst seasonal slump. From one-of-a-kind concert venues to the birthplace of a renowned American artist, here are some of the coolest attractions within two hours of Manhattan.
West Hurley, New York
Located in the tiny hamlet of West Hurley, near Woodstock, Crafts People is a massive, 6,000-square foot shop featuring a curated collection of fine crafts. Jewelry? They've got it. Pottery? You know it. Blown glass? You should know the answer by now. (It's yes.) Handmade items from more than 500 craftsmen are showcased here -- so you might want to set aside a whole day to peruse. While checking the website offers a good primer, the crafts can't be bought online, and many items, like artist Robert Held's hand-blown glass vase in peacock motif, are exclusive to the store.
Nyack, New York
Every place has their hometown hero: Long Island has Billy Joel, Minneapolis has Prince, and Nyack has Edward Hopper. The famed American realist painter and printmaker was born in this Hudson River town in 1882, and Nyack is so proud of its famous son that his childhood home was turned into an art museum in 1971 and listed on the National Register of Historic Places in 2000. It's here, just an hour's drive from Manhattan, that Hopper first put oil to canvas. (He would later go on to create famous works such as "Chop Suey" and "Nighthawks.") Aside from ongoing installations, such as "Edward Hopper's Bedroom Reimagined," which help you get to know the artist, check out upcoming exhibitions on painter Sean Scully and legendary graphic designer Milton Glaser.
Ogdensburg, New Jersey
Just an hour west of NYC in the Jersey town of Ogdensburg is a sight unlike anything you can find in the city: the world's largest publicly-displayed collection of naturally fluorescent rocks. This rave-in-a-cave was once a functioning zinc mine; when it closed in the 1980s, brothers Richard and Robert Hauck transformed it into a museum. Now, under ultraviolet lights, the mineral rocks glow in bright shades of blue, red, purple, etc., including on the massive "Color Wall," a 16-foot-wide, floor-to-ceiling display of 100 fluorescent minerals, some of which are nearly three-feet long and weigh up to 100 pounds. For the best selfies, wear a white shirt -- you'll be glowing in the dark just like the rocks.
New Rochelle, New York
Bring your checkbook and an empty backseat when you head an hour north of NYC to this 10,000-foot gallery in New Rochelle. Its mission: to make the process of buying art "easy, affordable, and accessible for all." That's why you'll find sweet prints spanning genres like surrealism, pop art, sculpture, photography, and more, starting at just $49. Though the gallery only opened in 2012, it's located in the historic 1920 J.A. Mahlstedt Coal and Lumber Company Building, so even if you don't leave with any art, you can still feel like you soaked up some culture.
Asbury Park, New Jersey
If you're a die-hard Bruce Springsteen fan, you've definitely been to the legendary Stone Pony. Even if you're not and you haven't, the trip to Jersey is worth it for any music aficionado. Open since 1974, this concert venue was a known launching pad for artists, including The Boss and Jon Bon Jovi (which explains why tourists stop to take selfies in front of it) -- and still books big names today, including upcoming shows with Dashboard Confessional and Minus the Bear. Pro tip: Roll into town a smidge early and spend the day at the Silverball Museum, an arcade with pinball machines dating back to the 1930s.
Kingston, New York
Ever wonder why your favorite bands don't stop in NYC when they're on tour? They might be performing 90 miles to the north, at the Ulster Performing Arts Center. Originally built in 1926, this historic 1,500-seat theater is the only unaltered, pre-World War II theater left in Kingston, so seeing a show there feels pretty special. While a two-hour drive might seem a little excessive for a concert, this month it's the closest place to Manhattan where you can catch the Beach Boys, David Byrne, and Andrew Bird while they're on the road. Plus, when it's not hosting sweet musical acts, UPAC screens old fan-favorite movies like The Big Lebowski and Gremlins.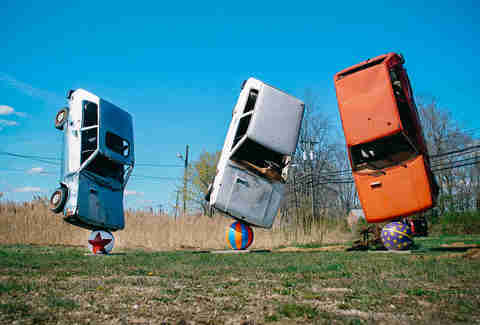 Middletown, Connecticut
Advertised as "not just a store, [but] a way of life," Wild Bill's Nostalgia is a paradise for pop culture fans -- or anyone who wants to reminisce about the good ol' days. Collectible toys, old show posters, and even rare vinyl & books are available for purchase on this 45-acre lot, and trust us, you'll spend at least an hour or two sifting through the gems. Aside from a huge assortment of bobbleheads (Betty Boop, Gumby, Obi-Wan Kenobi, and even Jersey Shore's Snooki, included), Wild Bill's boasts a giant fun house and the world's largest jack-in-the-box (its head is 600 pounds). Though founder/namesake Bill Ziegler died last year, Connecticut will always have this wacky collection to remember him by.
New Haven, Connecticut
Cousin to the Great White Way location, New Haven's Shubert Theatre opened in 1914 and has been a titan in the regional theater scene ever since. We know what you're thinking: Why drive two hours to Connecticut when there's a slew of productions to see in Times Square (and all over the city)? Hear us out: Some of the most respected shows and actors got their start at this Shubert; a little-known play called A Streetcar Named Desire starring oh... Marlon Brando and Jessica Tandy premiered here in 1947, as did 1956's My Fair Lady with Julie Andrews and Rex Harrison -- NBD. Also, these shows are cheaper than Broadway. Orchestra tickets to the Tony-nominated Beautiful: The Carole King Musical are about $30 less per ticket than the same seat at the New York production. Missed the Steve Martin musical Bright Star during its 2016 Broadway run? No sweat, it's playing six shows at the Shubert in April.