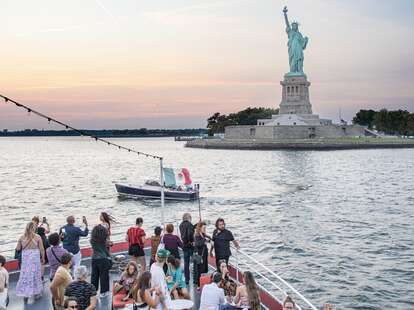 La Barca Cantina

| Photo courtesy of La Barca Cantina
La Barca Cantina

| Photo courtesy of La Barca Cantina
There's no shortage of tourist traps in New York City. And to be fair, when I was first presented with the idea of sailing down the Hudson River whilst throwing back margaritas, I dismissed it as something relegated to an awkward corporate outing or cheesy high school prom.
But let's be clear, if it's not cool to embark on La Barca Cantina and have your mezcal and tacos with a view, then we need to redefine the word.
My hour-long sunset sail up and down the west side of Manhattan on a floating Mexican restaurant may just be one of the most unexpectedly delightful things I've done in the city in recent memory.
For starters, let's address the fact that the city views from the water are a) Beautiful, b) Relatively hard to come by, and c) Infrequently come with club vibes and strong drinks. But with La Barca Cantina—and sister ship North River Lobster Company—you're not only presented with a sweeping panorama of the Manhattan skyline, but can also do so with the added benefit of ordering from a full menu of Mexican favorites. After paying the reasonable price of $10 per person to set sail, the menu ranges from $15–$26 for food and $9–$16 for drinks.
It's recommended to show up half an hour early before docking in order to get a jump on ordering dinner. So when I arrived on a Friday at 5:30 pm for a 6 pm evening sail, there were plenty of other eager sailors already boarding.
The mixed crowd spanned from couples on a date night or large groups celebrating occasions like a birthday, to families with children. As part of a couple myself, I was pleased to see several other duos who were seemingly equally interested in both trying a new Mexican eatery against a stunning backdrop.
Once I was on the boat, the sailors' enthusiasm was quickly justified—the boat itself is nicely outfitted for a river cruise, with ample seating both at standard tables as well as lounge-like couch areas.
But you may not actually want to sit inside, at least not while the weather remains cooperative. The best views are on the top level with a deck featuring a full bar and table service. Of course, regardless of which of the three levels you're on, thanks to the abundance of large windows, you'll be sure to catch a unique vista of New York City and its landmarks (including the Statue of Liberty on some cruises). Most tables on the two interior levels are set directly next to these windows with either the New Jersey or the Manhattan skyline viewable while dining.
To highlight the fact that this is indeed a floating restaurant and not just a boat, La Barca Cantina has outfitted its interior with everything you would expect from an Instagram-ready Mexican hotspot, including neon signs espousing tequila-ready slogans, Día de los Muertos skulls, lounge-ready couches with lower-set tables for snacking, and on the lowest level, a full backlit bar featuring with one of the most expansive tequila and mezcal collections in town, whether on land or water.
Over the course of an hour, servers stand at the ready to take your order from the menu, where everything is priced a la carte (except for bottomless brunch, where both food and drink are included in your ticket price). Like any NYC restaurant, the food and drink have to be on point to stay alive—and the offerings here do not disappoint. From Macha Shrimp Tacos with Veracruz-style ancho-roasted shrimp and the Impossible Nachos, pair everything with options like Margaritas with flavor combinations like hibiscus and ginger, and signature cocktails with names like Cheeky Rabbit with rum, mezcal, and passion fruit.
If you're looking to party for a little longer, the last sailing of each day at 8 pm runs for two hours (which is $25 to sail, rather than $10), giving you ample time to not only eat up, but tear up the dance floor (made all the easier by the natural swaying of the boat). There's also a popular Sunday brunch, which may just put all other boozy brunches to shame. From 12:30 pm–2:30 pm, indulge in unlimited food, mimosas, and Bellinis for $99 a person.
Considering the views of the Statue of Liberty and Manhattan, the price tag feels quite reasonable. All in, with both the cost of the boat ride and food, my partner and I spent $80 per person.
Whether you're celebrating something, looking for some tacos with a view, or just nodding hello to a Tuesday evening, check out La Barca Cantina for an unexpectedly good time.
La Barca Cantina October Schedule:
Thursdays and Fridays
6 pm–7 pm
8 pm–10 pm (sails South with views of the Statue of Liberty)
Saturdays
2 pm–3 pm
4 pm–5 pm
6 pm–7 pm
8 pm–10 pm (sails South with views of the Statue of Liberty)
Sundays
12:30 pm–2:30 pm Brunch
5 pm–7 pm (sails South with views of the Statue of Liberty)
8 pm–10 pm (sails South with views of the Statue of Liberty)