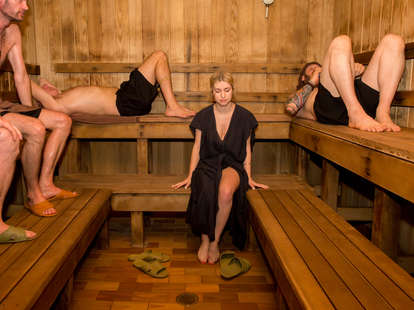 Cole Saladino/Thrillist
Cole Saladino/Thrillist
It was the Sunday after a particularly taxing series of late nights, and mine was one of a dozen slick, flushed bodies hunched over and dripping heavy licks of sweat onto the steaming wood slats of the Russian Room. The furnace was raging heat throughout the 8x20ft room, and it was approaching 200 degrees. Striving to achieve some physical catharsis that could propel us into Monday, we had stripped down near-naked and offered ourselves to the hydration, heat, and hands of the East Village Russian & Turkish Baths.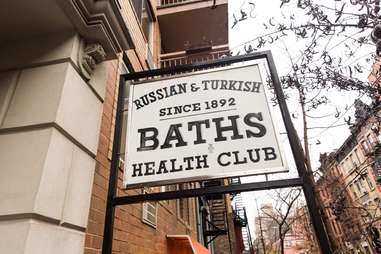 The 10th St Baths (as it's known colloquially) first cropped up on my radar when I was living in Alphabet City. I'd walk past the sign that read "Russian & Turkish / Since 1892 / Baths / Health Club," and imagine hirsute old men in floral shower caps, scrubbing each other's slouched backs with pink loofahs. (Spoiler alert: this was not the case -- probably because we live in New York, not in a cartoon.) Spa Castle horror stories muddying the local bathhouse industry be damned. I decided that I had to go.
The Baths, which are open 365 days a year, are co-owned by two men who alternate weeks because they refuse to work together. One owner, David Shapiro (alongside his son, Dmitry Shapiro, the general manager), is set on bringing the bath business into the 21st century, and has introduced electronic bookkeeping, Facebook, Twitter, and Groupon and LivingSocial deals. Boris Tuperman, the other owner, is old-school and a bit of an enigma. Dmitry hesitantly describes Boris as "a character whose methods are antiquated," yet Yelpers more readily cite him as "rude," "arrogant," and "mafioso." Rumor has it that Boris and his staff have more than a few tactics on rotation for swindling customers out of money.
Since the two parties split in the late '80s, the only thing they seem to agree upon is keeping the details of their falling out facing away from the public. Utility and maintenance costs are shared, but profits are not. The interactions come to a head in comments laced with passive aggressive undertones. When Boris says, "My week is better because I keep the room hotter," Dmitry shoots back in a New York Times story, saying, "that doesn't make the place better, it just makes the place hotter."
Far from hurting business, the rivalry has arguably fueled public interest. Regulars and those familiar with the establishment are used to hearing the terms "Boris Week" and "David Week," and commiserate over having non-transferrable passes. Dmitry insists there is no juicy story worth going into detail about, but the mystery remains a good conversation piece.
At any rate, this was a David Week. I arrived at roughly 3pm, an hour after the men's-only shift had opened up to coed attendance. There were a few people dining on pork stew and Polish sausage at the cafe in the upstairs reception area, and though I'd heard great things about it, I resolved that meat plates before an afternoon of swimwear and sweating were decidedly unnecessary. After checking my valuables in with the receptionist, she pointed me to the changing rooms.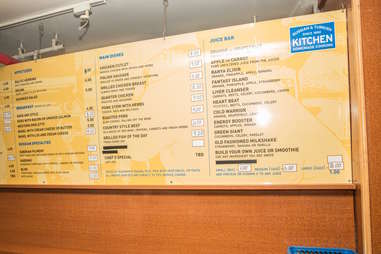 The women's room, figuratively, was the canal lock that separated me from the realities of the outside world -- weather, rent, email, clothes. Literally, it was a barebones space lined with tall grey lockers where I swapped my winter layers for a thin black robe and beige plastic slippers. I flip-flopped over to the adjacent staircase, and down into the subterraneous steam suite that was as hot as Catholic hell and wet as Hades' underworld.
Even Gorbachev shvitzed here at least once.
Established in 1892, the bathhouse has a rich and winding "old New York" history -- flush with all the necessary tropes of gangsters, run-ins with the law, and Jewish cemeteries.
In the '40s it was a place for mafiosos and corrupt politicians to conduct their dicey dealings. The same way I checked-in my iPhone and wallet, mobsters would unburden their holsters at the front desk. Down in the shvitz, they insisted that masseurs and attendants be deaf-mutes, to keep prying ears as far above ground as possible.
Cops were involved in a uniformed way a handful of times, too. Once, for the theft of a resident's pricey three-piece suit. Another time, because the adjacent tenants couldn't handle the rising temps permeating through the walls. One couple ultimately moved out when they cracked an egg in their bathtub and watched it fry.
The building may have been heating up, but for many years, business was lukewarm.
With its service rooted in the kind of functional immigrant shvitz that young Jews considered an outdated practice belonging to their parents' generation, the Russian & Turkish Health Club on 10th St survived the bathhouse shuttering pandemic for precisely how uncool it was. By the 1970s, bathhouses around New York had been taken up by the gay community as sex clubs and spaces for entertainment (Bette Midler and Barry Manilow both performed at the Continental Baths, a popular spa at 74th and Broadway). Meanwhile, at that time, the 10th St Baths were owned and managed by Al Modlinz, a man remembered solely by his unimpeachable rudeness. This establishment was hardly the type to inspire interest from the gay community. When the AIDS crisis washed over the country, it took the bathhouses in its wake. By 1985, there were only a handful still in business, and in the early 1990s the 10th St Baths became the sole survivor.
In its reign as last bath standing, the 10th St Baths began to build a weighty repertoire of A-list regulars. It appeared that some of New York's most royal last names had a penchant for sweating. Sinatra, Murray, Ackroyd. Leary, Kennedy, Jagger. Even Gorbachev shvitzed here at least once.
The tradition of mega-celebrity has carried on into 2016. A day at the baths might spell out a sweaty shoulder rub with the likes of Uma Thurman, Colin Farrell, Jennifer Lopez, John Travolta, Sean "Diddy" Combs, Robert De Niro, or LL Cool J.
The David-Boris era brought about some additions and renovations, ultimately shaping what the bathhouses look like today. Below the upstairs restaurant, reception, and locker rooms is the downstairs bath area. There are five rooms -- the Redwood Sauna, the Turkish Room, the Aromatherapy Room, the Russian Sauna, and the Steam Room -- as well as a row of showers, massage booths, and a cold plunge pool. There's also a roof deck with wooden chaises that, unsurprisingly, draws little interest during the colder months.
It was a culture of open invitation to watch strangers' bodies.
The Redwood Sauna is one of the more mellow-temp'ed rooms. I started my afternoon in this electrically heated banya, easing into the bathhouse headspace with the pleasant scent of warm cherry wood. I appreciated the cabin feel of the wood-panelled walls and ceiling, but became anxious to unlock the moisture from my pores, and so I went in search of something a little more taxing.
The next stop was the Steam Room, a tile-lined room about the size of a walk-in closet. Serving up a good, clean, comfortable moisture, this well-lit wet sauna puts you in intimate proximity to strangers. Seating six people comfortably, your conversation becomes theirs, and vice-versa. You chatter about the baths and the news. It's springy, innocent, and well-intentioned.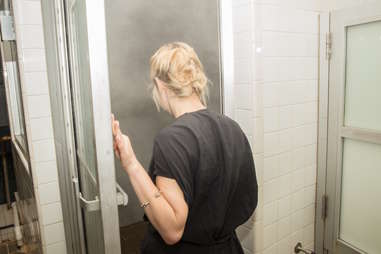 Soon after, I was lured into the Aromatherapy Room, which breathed out a nerve-calming bouquet of essential oils at every open and close of the door. I inhaled lavender and closed my eyes for a few moments on the white bank that wrapped along the edge of the long and narrow room. People resorted to standing around when the bench filled up, and a group of young men rabble-roused at the far end of the room. In the dimness, with muffled laughter bouncing from end-to-end, I felt like a character in someone's naughty camp memory. Maybe Jonathan Ames, another bathhouse regular, was writing me into his next book. Maybe I wasn't really there at all.
In the Turkish Room -- a tiled steam room with three narrow tiers arranged in an inward-facing semi-circle -- all eyes were directed at the entrance. It was a culture of open invitation to watch strangers' bodies. I watched groups of two and three flow in and cast about for open seating. Intermittently, bathers would break the room's stillness, lifting a pulley for an overhead spigot above the door and letting the cool water spill over their heads and shoulders. Couples leaned against each other, and friends kneaded at one another's steaming muscles.
I felt certain I had stumbled upon the sweatiest and sexiest place in Lower Manhattan.
The Russian Room is where you go to get the wind knocked out of you. It is the cornerstone of the establishment and without a doubt the hottest room of all. An oven filled with 20,000 rocks is heated overnight, and releases their concentrated heat into the cave-like space throughout the day. Legend holds that these stones come from cemeteries. Whether you believe that or not, the ancient feeling here is undeniable.
Every inhale burned my nostrils, so I breathed through my mouth. As I panted, I cast my eyes about and watched as men and women approached the center, where dual spigots of constantly flowing cold water were filling up two buckets. Some would splash water on their faces out of cupped hands, and others would upturn the entire bucket over their heads with a flair of dramaticism that made it feel like you were watching everything in slow motion.
Pause for room tone. The temper of the wet, underground baths was undeniably erotic; it seemed constantly on the cusp of an orgy. The palate was flesh; wet hair; swatches of black fabric, clinging and draped; and more flesh. Clientele make-up was about 80% men, 20% women. Some women took in the steam in T-shirts and shorts, others were not encumbered by much at all, save for the modest formality of bikini bottoms.
Perhaps Ponce de León should have re-oriented his quest for the alleged Fountain of Youth away from current-day Florida, to this dank basement in New York City's East Village. I felt certain I had stumbled upon the sweatiest and sexiest place in Lower Manhattan, the dirty (get clean) secret of the 25-34 set.
What had happened to the patrons whom The New York Timesdescribed in 1984 as "Big, fat men, in large part; naked men who sweat profusely in the steam bath," and in 1991 as "people [...] in everything from three-piece suits to post-punk purple permanents"?
Dmitry attributes the shift in clientele, whom he describes as "middle class hipsters that come from Downtown and South Brooklyn," to the use of Groupon and social media, which have grown the business despite the recent recession. In a January article about the lasting popularity of the baths, the NYT echoed this notion regarding the change in clientele.
Aside from all-day access to the steam rooms, pool, and rooftop -- which are included in the $40 day rate -- bathers can purchase additional spa services, including massage, Dead Sea and seaweed salt scrubs, black mud treatment, and Platza. "But Laura, what is Platza?" I'm glad you asked. Billed on their website as "Jewish acupuncture," the treatment puts you horizontal as a man "beats you" (their words) with a bushel of olive oil soap-soaked oak branches, and yes, I totally did it.
I imagine my experience of the treatment strayed a bit from the norm, as while it was happening, a photographer (for this piece) repeatedly took flash photos and an intern looked on. I harbor the suspicion that this particular iteration swung closer to Platza Lite. The courteous attendant performed the service by dabbing the branches gently on my front, back, legs, arms, and then called it a wrap (for everyone's sake) when it seemed like we had gotten the shot. This was not the body-clenching elective abuse I had read about (hoped for?) so I resolved to get a real Russian-Turkish spa experience as well.
The opportunity presented itself when I returned that Sunday. En route from the Redwood Room to the Aromatherapy Room, a tall Russian man named Gene stopped me and my roommate, asking, "You want any spa service? Two for one deal for you." I had seen him making the rounds earlier, offering massage/mud/scrub/Platza to the rooms of languid attendees. At that point I was still working on raising my internal temperature, but now the time was right.
I was a menina of the steam rooms, a goddess of this basement, just four blocks from the L train.
Opting for the mud treatment, we rinsed off in the showers and headed into two of the four massage rooms. Handing me a small towel, Gene instructed me to "take off this" (gesturing to my swimsuit) "and lie, head this way." After the extremely modest Platza experience, I was surprised by how naked I was about to be, which was of course a questionable reaction from someone who had just signed up for a full-body mud mask.
Gene left to attend to my roommate who was one booth over, and when he returned, the treatment began. He massaged palmfuls of smooth black mud over my shoulders, back, arms, legs, and feet, and covered me with towels to dry as he popped back over to the other room. I drifted in a hazy, ASMR fog, thinking about nothing but the echoing voices from beyond the dark massage booth.
When he came back, I turned to my front. More mud was painted onto my body. OK to put mud on chest? Permission granted. And face? That as well. My body was limp and loose as he yanked deftly at my limbs and smeared the mineral paste over my skin. You had better believe I felt lavish. I was a menina of the steam rooms, a goddess of this basement, just four blocks from the L train. New towels came out and were draped over me as Gene dipped out once more to follow up next door.
When he came back to rouse me from my royal slumber, I blearily gave in to the pleasant stream of warm water that was rinsing me off. I leaned up to expose my back to the hose and lay back down to enjoy the unexpected salt scrub that he threw into the mix. That too was rinsed off and followed by a moisturizer. I had walked into that massage booth an expired old woman and, in a half an hour, I emerged a newborn.
We hit a few of the rooms again after that -- the steam room, the Aromatherapy Room, and the Russian Room. We saw two girls getting Platza'd in the latter, which was as hypnotic as watching a fire. It also felt like fire, and after two hours of heat and heat and heat, we craved its opposite. A half a dozen people lounged beside the pool, but the water was empty. We moved quickly down the steps into the 40-degree reserves until we were submerged up to our necks. It was taut, cold, and soothing.
Returning to the real world is a bit of a culture shock. How can you bring yourself to care about cracked screens, grocery shopping, or Amazon Prime when an underground womb of running water, humming radiators, and pumping steam buzzes beneath your feet? How can social hierarchies claim to exist when the world's most beautiful and most recognized are stripped of their affectations and sit shvitzing alongside the rest of us? In the buried baths, donning the complimentary black shorts, everyone begins to look alike. Even if the 10th St Baths are the worst kept secret of the East Village, they feel like a secret nonetheless. Or maybe a dream. Several weeks have passed since I went to the baths, and my memories are clouded by vapor. Blurry, foggy, and warm, I wonder if it ever really happened.
Sign up here for our daily NYC email and be the first to get all the food/drink/fun New York has to offer.
Laura Reilly is the Contributor Network Manager at Thrillist. If she isn't shvitzing, she's probably tweeting.