Everywhere You Can Actually Go From 'Broad City' Season 3, Mapped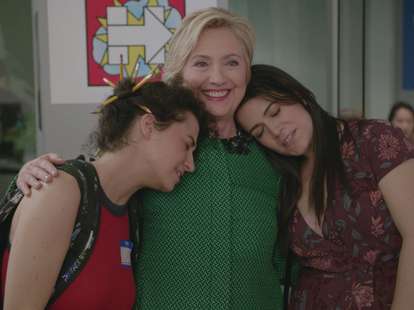 Courtesy of Comedy Central
Courtesy of Comedy Central
Last year, we mapped out every single spot our favorite "Yasss, queen"-shouting gals set foot in (at least, the ones you can actually visit), and it was so much fun, we're doing it again. In honor of Abbi and Ilana's endlessly entertaining adventures, we've rounded up every single place they've graced in all 10 episodes of Broad City Season 3.
Check out the map below and click on the spots to reveal where each scene was shot, and then scroll down to find out more details about each place.
Galli
Episode 1: Two Chainz
98 Rivington St
Abbi waits outside this now-closed Italian restaurant for Ilana. When a table opens up, the snotty hostess gives her the usual spiel about only being able to seat full parties, adding an excessively judge-y "Unless you're here just by yourself?" When Ilana arrives, she drops the key to the bike chain she's wrapped around her waist into the sewer grating on the corner of the block. The snotty hostess threatens to relinquish their table, so the gals decide to leave the key retrieval until after brunch. When Abbi's shirt rips in the rescue process, they give up and head to a warehouse sale, so they can get her a new one in time for her college roommate's super scene-y gallery opening that evening.
They're about to re-enter the restaurant so Abbi can "pee first, just in case," when the snotty hostess tells them the bathroom is for customers only. They're tiffed that she's wiped them from her memory, declaring, "We will never be patrons at this place again" (Abbi) "... unless we're having a birthday because the garden is perfect for large parties" (Ilana). Perhaps they can try the still-open Soho location next time?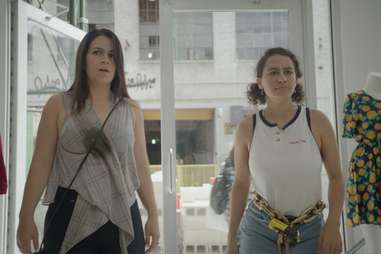 Episode 1: Two Chainz
219 Mulberry St
Ilana, who's been holding it in for a while, tries to pee between two cars parked in front of a Nolita boutique. When a cop passing by gives her an admonitory ahem, she claims to be doing squats. Meanwhile, Abbi's inside the store trying to get the security tag removed from the top she's just purchased from the warehouse sale. The boutique thinks the shirt is stolen, so the gals make a run for it.
Episode 1: Two Chainz
353 West St
Abbi and Ilana attend Lincoln's Trapeze School "graduation." When Abbi asks what got him into the whole trapeze thing, he says, "I saw it on an episode of Sex and the City. The Miranda in me thought, 'I'm out of my comfort zone,' but the Carrie in me couldn't resist." They discuss who's who in the show's cast. Abbi admits that she's a "Miranda-Carrie too... with like a little bit of Charlotte... even though she really annoys me." They all agree -- surprise, surprise -- that Ilana is a Samantha. "Sometimes I'm happy about it," Ilana admits. "And then other times I'm like, 'It's gross.'"
Episode 1: Two Chainz
44 Little West 12th St
Thanks to the bike chain she still can't remove, Ilana gets stuck to the back of a Mason's Best Breads truck headed for the Meatpacking District. Abbi valiantly chases the truck until it stops in front of a diner nestled under the High Line. Abbi pulls Ilana off the truck, and a traumatized Ilana suggests that they get married; Abbi doesn't hear her, and asks her to repeat herself; Ilana, who's now peed in her pants, insists she didn't say anything.

East 6th St basketball court
Episode 2: Co-Op
E 6th St between Ave C & Ave D
Abbi and Ilana are walking down East 6th St when they get cat-called by a group of middle school-aged boys who have some surprisingly lecherous things to say about their "boobies." When Abbi declares that "The only way that you're gonna get to touch these boobs is if they graze the top of your head while I'm slam-dunking your skinny ass," the boys challenge them to a game. The girls crush them, Abbi makes some threatening "yo mama" comments, and the boys burst into tears.
Dominique Daas Bakery
Episode 2: Co-Op
205 N 9th St
Marketing itself as the "pioneer" of churro-macaron hybrid, the "churron," this Williamsburg pastry shop is an unapologetic parody of Dominique Ansel, the super-hyped Soho bakery that created the cronut back in 2013. Much like its real-life counterpart, the churron is in such high demand that supplies have to be rationed ("There is a limit to three churrons per customer, so please maintain decorum") and folks are waking up at the crack of dawn to wait in line to snag them. Abbi is eager for a chance to sample this month's flavor (anise) because, "I'm not even a huge macaron girl and churros are just like hit or miss for me, but the combination..." Take note: the churrons turn out to be multi-colored, much like those bagels that are all the Billyburg rage right now. Ironically enough, the exterior of the bakery is filmed at Driggs Ave health food haven Organic Planet Pharmacy.

Episode 2: Co-Op
18 Putnam Ave
Ilana, gunning for some organic zucchini and grapefruit, is told that "today is the last possible day" she can finish up her shifts at the co-op "for this moon cycle." Since she's headed out to Long Island that afternoon to get a belated HPV vaccine from her childhood pediatrician, she asks Abbi to go in her place. Abbi, who claims that Ilana's organic produce-based meals have given her the "healthiest shits of [her] life" feels they can't stand to lose the co-op membership, and agrees to the scheme. But, since co-op members aren't allowed to share shifts, Ilana has Abbi impersonate her, which, of course, entails a lot of "Yasss, queen"-ing.
When Ilana shows up at the end of the shift, Abbi reveals her true identity to Craig, the man-bunned co-op member she's been lusting after. The gals are promptly led to a dingy basement storeroom by the co-op's witchy-looking middle-aged manager who's still able to breastfeed the infant strapped to her body, "because the power of co-op produce has made me fertile into my fifties and beyond." Lori takes their mugshots with a Polaroid and pins them to a wall labeled "Shitty Peoples," proclaiming that, since they signed a billion-year contract prohibiting shift-sharing, they'll be banished from this co-op and all others for life. "All the co-ops are connected," she cackles. "You two are going to be eating vending machine foods and bodega vegetables for the rest of your very short lives." The scenes were shot at Greene Hill Food Co-Op, where members held a meeting to discuss the show's request to film onsite. (They voted yay, because "We decided it's better to laugh at ourselves.")
Soulstice
Episode 3: Game Over
193 N 9th St
The high-end gym (the name parodies popular athletic haunts SoulCycle and Equinox) where Abbi has finally been promoted from cleaner to trainer makes its way into many of the season's episodes, per usual. Soulstice isn't actually real, but the scenes are shot at Chalk Gyms in North Williamsburg.
Inwood Hill Park
Episode 3: Game Over
Indian Rd btwn W 218th & W 215th St
Since she's been promoted to a full-fledged trainer, Abbi is invited to her first annual Soulstice Games (translation: adult field day.) She's hesitant to join in ("I get a little intense about competition. In high school, people used to call me Tanya Harding"), but her boss, Trey, assures her the day is really just about "team building." Over the phone, Ilana senses that something's up, and rushes to the park to encourage "All Caps Abbi" to be a little more "case sensitive." Her efforts quickly turn out to be in vain: Abbi enters a pole fight with the annoyingly perky Gemma and repeatedly smashes her face. Her behavior luckily doesn't get her into trouble with Trey who assumes it's just a side effect of the steroids she must be taking.
Soulstice
Episode 4: Rat Pack
193 N 9th St
Back at it again at Chalk Gyms in North Williamsburg!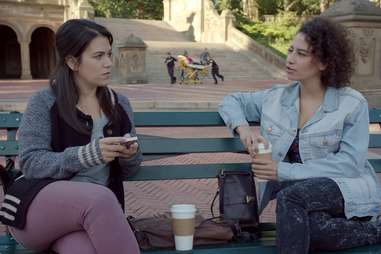 Bethesda Terrace
Episode 5: 2016
Mid-park at 72nd St
The gals sit on a park bench sipping coffee and taking turns dreaming up far-out inventions like "a GIF basket -- an app that stores .gifs in your phone so when you send a text you can send the GIF faster than your friend" (Ilana) and "a gynecologist that's also a bikini waxer" (Abbi). Meanwhile, a woman in a wheelchair goes plummeting down the steps leading to the terrace and is carried away on a stretcher by paramedics. The girls remain blithely unaware. When they reach weird invention number 63, they decide to head out for brunch.
Episode 5: 2016
20 Thompson St
Abbi heads to this trendy Soho salon before renewing her license at the DMV. She's determined to get the perfect haircut because "every single professional photo I have ever taken in my entire life has come out horrible." Her hairdresser assures her that she's "gonna look just like a Bachelor contestant -- but one that quits because she's too good for the show." But he has a change of heart when she hands him a coupon from Ilana's former employer, Deals, Deals, Deals, that brings the price of the haircut down to only $15. Abbi leaves the salon with hair in total disarray and a neck that's been thrown out of whack by her hairdresser's revengeful approach to blow-drying.

Grand Central - 42nd Street subway stop
Episode 5: 2016
East 42nd St & Park Ave
Clad in a coconut bra over a halter top, Ilana hops on an A train (it's unclear why it's running on the 4/5/6 line) and tries to pick up some cash by way of some very questionable tap dancing. She shuffles right into her older brother, Eliot, who tells her she needs to get a real job because their mom doesn't know she got fired and he's tired of covering for her.

DMV
Episode 5: 2016
20 Exchange Place
Abbi arrives at the DMV, her hair disheveled and her head glued to her shoulder. She's sickened by the epic line of people who are steadily losing their sanity. Her number is finally called, but the pain of turning her face forward towards the camera is so intense that she vomits just as the photo is being taken. After a restorative visit to her chiropractor (Alan Alda), who informs her that she can actually make a DMV reservation online, because "this is 2016 and the DMV is actually very nice now," Abbi returns. This time she's ushered past a dead person being zipped up in a body bag, and into a private room where's she offered chocolates and a massage before starting her session with a fashion photographer who asks if she's a model. The exterior of the building is filmed at 20 Exchange Place, a 57-story Art Deco building that once housed Citigroup's headquarters.

Office of Dr. Jay Heller, Chiropractor
Episode 5: 2016
119 Washington Place
After a few snaps, crackles, and pops administered by Dr. Heller (Alan Alda), Abbi is realigned and ready to go. The doctor informs her that another patient recently bought one of her drawings off his office wall: "About $45! That covers your copay, so that means this appointment is for free!" After booking her the day's last DMV appointment online, he transforms her rat's nest into magazine shoot-ready hair with a single snip of his scissors.
Hillary for America headquarters
Episode 5: 2016
1 Pierrepont Plaza
Ilana temps as a bike messenger and finds herself delivering a package to Clinton's campaign HQ. She asks the receptionist if they're hiring, and is immediately transferred to a room full of call volunteers where staff member Barb (Cynthia Nixon) shares "some answers to common questions we get on calls: 'No, Hillary does not cry at the office.' 'Yes, Hillary can read a map.' 'No, Hillary will not enforce male birth control or male pregnancy as that is not a thing.' And, 'No, Hillary is not a witch.'" Ilana decides to check out when she realizes the gig isn't paid, but when Abbi comes to pick her up, they're lucky enough to encounter HRC in the flesh.
Abbi introduces herself as a proud "Demo. Crat." who "pegged" while, Ilana, addressing HRC as "Secretary Clinton, Madame, Président, She-King," admits that she can't afford to volunteer full-time but will vow to tweet once weekly on HRC's behalf. HRC likes this idea and goes to fetch the same type of inflatable stick figure Ilana tried to introduce at the Deals, Deals, Deals. HRC echoes Ilana's words almost exactly: "I thought this would be really good for office morale." "Isn't she great?" HRC adds. The gals had assumed it was a he. HRC assures them it's a she, and the three of them hug contentedly.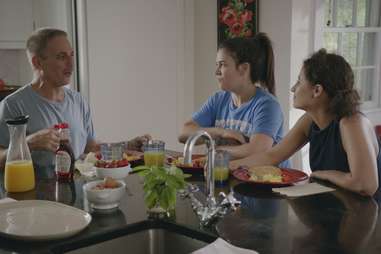 Penn Station
Episode 6: Philadelphia
7th & 8th Ave, btwn 31st & 33rd St
The gals brave Penn Station to take a bacon-egg-and-cheese-fueled Amtrak ride. They're headed to Wayne, Abbi's childhood home in the Philadelphia suburbs, so Abbi can clean out her old bedroom before her father (Tony Danza!) turns it into an infrared sauna.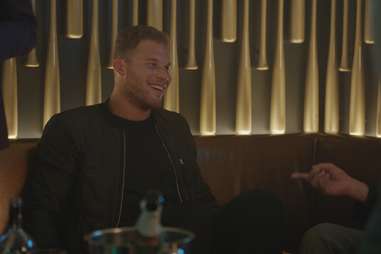 Episode 7: B&B-NYC
6 W 25th St
The gals rent out their apartments on B&B-NYC (AirBnB) to make some extra cash. When their plan to camp out on Abbi's roof for the night backfires, they decide their best move is to stay out until morning. They stroll through Flatiron and overhear a 40/40 Club-bound bro chatting on his cell phone about a "Hernandez" party with free bottle service. Once the gals drop the name to the bouncer, they have no trouble getting into the sports bar/club, which happens to be co-owned by Jay-Z. Ilana quickly sets her sites on a freakishly tall dude Abbi recognizes as NBA player Blake Griffin. Abbi returns home, intending to hook up with the hot French guy who's renting her apartment (and also sending her flirty texts).
Madison Square Park
Episode 8: Burning Bridges
23rd St btwn 5th Ave and Broadway
The gals meet for a catchup. Ilana invites Abbi to her parents' anniversary dinner later that evening. To get out of telling Ilana about her secret date with Trey, Abbi says she's busy training Shania Twain. Abbi leaves and Lincoln shows up to tell Ilana they can't see each other anymore now that he wants to be monogamous with Steph, the girl Ilana's encouraged him to keep hooking up with. In one of the show's more serious moments, he tells Ilana, "I love you but I want to be in a relationship and you want to do other stuff, which is fine -- that's cool, but we want different things, so I got to move on." Ilana's parents join her on a park bench where she's ferociously hitting on strangers. Her mother's totally entertained until the "butt-clenched" dude Ilana's drooling over from a distance turns out to be her brother Eliot.

Episode 8: Burning Bridges
211 W Broadway
Trey takes Abbi to dinner at celebrity chef Floyd Cardoz's Tribeca outpost. It's a bit over-the-top for a first date (the New Yorker once said "If Ron Burgundy were real, he would bring his lady friends [here]") -- but, then again, so is the rest of Trey's behavior. He's moved his "cheat day" in case Abbi wants to "split stuff," has bought her a corsage, and makes a toast to "new beginnings." On her way to the bathroom, Abbi spots Ilana and fam. She hides behind a palm frond but is discovered by Mama Wexler who assumes she's come to surprise them. Abbi is forced to join their table or reveal her relationship with Trey. Naturally, she spends the rest of the evening sneaking back and forth between her date and the Wexlers, making a string of eccentric excuses involving an unraveling bandage and a lost diaphragm.
Ilana makes eyes at a guy seated nearby, but is completely turned off when they meet in the bathroom for a makeout sesh and she realizes he's married but not in an open relationship. When Mama Wexler starts choking on a lychee, Abbi blows her cover and frantically seeks out Trey's assistance. Ilana freaks out at Abbi for keeping Trey a secret and storms out of the restaurant. Abbi follows her, assuring Ilana that Trey is no more than "a guilty pleasure. He's like a joke," just as Trey is stepping outside. Trey leaves, dejected, and a hysterical Ilana admits the real reason she's devastated: Lincoln.
Episode 9: Getting There
12 St. Marks Pl
The gals head to the East Village yoga haunt famed for its jam-packed classes and "suggested donation" pricing. Ilana relishes the opportunity to "zen out" in close proximity to randos, elatedly sniffing the armpit of the shirtless guy next to her. Meanwhile, Abbi's not so jazzed about the the lack of personal space. When someone let's out a loud and lengthy fart during Savasana, the crunchy-as-can-be instructor responds with praise.

Jay St Subway Station
Episode 9: Getting There
Smith St & Fulton St
Abbi and Ilana plan to meet at Jay Street on their way to JFK where they'll depart on "Birthmark," an all-expenses-paid trip to Israel (a thinly veiled parody of Birthright). Abbi arrives super early and chills on a bench outside the station, enjoying a croissant, a latte, and a travel guide. Ilana, true to form, is late.
John F. Kennedy International Airport
Episode 9: Getting There
JFK Expy & S Cargo Rd
Ilana manages to get through security with weed packed into her crotch thanks to on old -- and massive -- period stain on her jeans. (She claims it's the "ultimate decoy.") When a security dog starts sniffing her nether regions, she complains it's sexually harassing her. The agent leading him is so weirded out by the state of her pants that he pulls the dog away and lets her pass through, no questions asked. When they arrive at their gate, a stewardess is already closing up, so Ilana tosses a flip flop to "get a foot in the door," but misses and hits her in the head. The stewardess is thoroughly pissed but the colleague co-manning the gate lets the gals on because "we all hate her."

Airplane to Israel/back to New York
Episode 10: Jews on a Plane
No real-life locations in this far-out finale. Abbi and Ilana board the Birthmark plane, where everyone is seated according to "match potential." Abbi gets her period; Ilana tries to help her steal a tampon from the flight crew, who thinks they're scheming to blow up the plane. The gals are interrogated by Israeli intelligence and are immediately sent back to the U.S.
Sign up here for our daily NYC email and be the first to get all the food/drink/fun New York has to offer.
Nina Stoller-Lindsey is a Brooklyn-based writer who's covered arts and culture for Time Out New York and New York Magazine. Follow her on IG @ninarino919 or reach out to her on Twitter with speakeasy endorsements, urban hiking tips, or to debate the merits of growing up in New York City.