New York is one of the most dog-friendly cities in America, and it's becoming even more canine-inclined all the time (case in point: puppy brunch is a thing). So it only makes sense that NYC would openly welcome dogs in the workplace -- to the point where they're practically employed. These hard-working pooches perform a number of duties, serving as traditional guard dogs, models, or in-house therapists to their stressed-out human co-workers. Perhaps most significant, though, is the way these photogenic pups help promote their companies on social media, with many becoming Instagram celebrities in their own right. These are some of our favorite working dogs of NYC.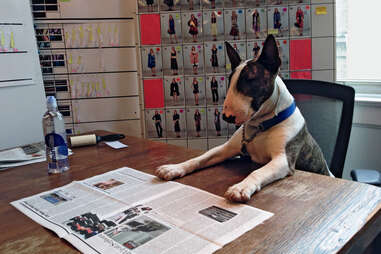 Neville
Job title: Chief Executive Spirit Officer at Marc Jacobs International
Instagram: @nevillejacobs
Designer Marc Jacobs' incredibly stylish bull terrier, who boasts not one but two NYC billboard appearances, doesn't actually work in fashion, per se, but rather keeps spirits high at home and in the office. His multi-faceted role, as explained by co-owner Nick Newbold, involves patience, kindness, cuddling up with people, and, of course, being fed treats. When Neville isn't out with his colleague Choo Choo Charlie the French bulldog, he can be found napping on a floor of his choosing at the company or rummaging through garbage cans. Neville can also add "published author" to his resume, having recently released his very own book, I'm Marc's Dog.
Luella
Job title: Shopkeeper at Love Gang
Instagram: @luellathefrenchie
East Village boutique Love Gang may be best known for its women's apparel, but it's also got the most stylish French bulldog working the floor. The seven-year-old Frenchie has been proprietor Cara Bloch's "number one salesgirl" since the shop opened almost a year and a half ago. But don't expect her to help you find another size speedily. Luella can typically be found hanging out and occasionally modeling canine-appropriate fashions, using her playful personality to lure customers into buying things.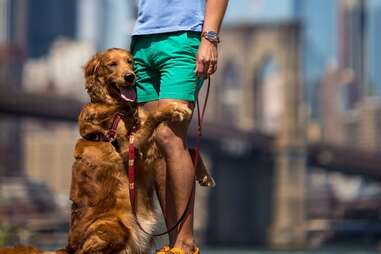 Louboutina
Job title: Freelance therapy dog
Instagram: @louboutinanyc
Informally nicknamed "the hugging dog of New York," Louboutina (named after the famed red-bottomed stilettos) has become an Internet sensation for the enthusiastic way she embraces people on the street. Loubie's owner, César Fernández-Chávez, originally from Lima, Peru, currently manages the language interpretation department for Mount Sinai Hospital, where Loubie has been known to comfort patients with her signature handshakes and hugs. Most recently, Loubie and Fernández-Chávez have been spending their time visiting senior centers and outreach programs. Since Loubie recently received her official therapy dog certification, Fernández-Chávez is thinking about enrolling her as a volunteer at other hospitals in the city and at LGBT elderly organizations.
Penny
Job title: Model and office assistant at Pawmiscuous
Instagram: @lifewithpenny
Fresh from Florida, this blonde dachshund mix has been hard at work trying to make her way as a model in this fast-paced city. Penny's mom, Mariko Miyake, is a former NYC real estate agent who started a dog-walking business and a canine clothing line called Pawmiscuous. Miyake describes Penny as her co-captain as well as her office assistant, who will also model Miyake's latest sweatshirt creation.
Bailey
Job title: Brand Ambassador at Puppy Parties NYC
Instagram: @bailey_in_nyc
Ohio-born Bailey is an English bulldog that spends her days helping her mom, Hayley Mehalco, spread the word about her event startup, Puppy Parties NYC. While Bailey is technically the brand ambassador of the company, Mehalco says she's often used as a "guinea pig," testing out fun new party activities like paw painting. Bailey will also play hotel dog when visiting her dad's office at Chelsea's Eventi.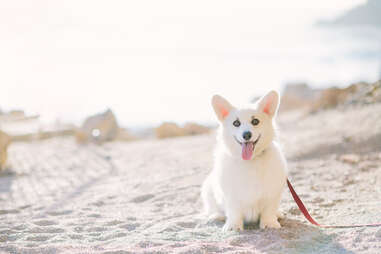 Winston
Job title: Brand ambassador at Honest Kitchen and BarkBox
Instagram: @winstonthewhitecorgi
This white corgi might just be the most in-demand canine in the city at the moment. Winston currently serves as brand ambassador for two different companies: Honest Kitchen, a California-based maker of high-end pet food, and BarkBox, a New York-based subscription service that supplies toys, treats, and other dog accessories. According to Winston's mom, Tina Kim, these sorts of gigs come with perks, both for pet and pet-owners alike. "If we were in some type of disaster, and my husband and I didn't have any food, we could probably survive on Winston's food," laughs Kim, who notes that Honest Kitchen's chicken dinner meal tastes just like chicken noodle soup. Winston has also appeared in promotions for Warby Parker and American Express.
Neptune
Job title: Lead Pawgrammer at Thrillist Media Group
Instagram: @neptunethedoodle
For the past two years, this quirky goldendoodle, adopted by Thrillist's own vice president of product Annie Trombatore and chief technology officer Ken Peltzer, has ably served as the go-to office stress reliever at the company's headquarters in Soho. "You can always tell when someone is having a tough day because they'll come snatch him for a while or sit with him and work from his couch," says Trombatore, adding that demand for Neptune time usually spikes around big project launches and end-of-quarter deadlines. Unlike his very busy human counterparts, Neptune spends most of his day being lazy -- "generally laying on his couch, accepting love, and taking selfies with his buds," Trombatore says. When he's not lounging around the office, Neptune can be found frolicking around the city with his elite goldendoodle clique.
Sign up here for our daily NYC email and be the first to get all the food/drink/fun New York has to offer.
Tiffany Do is a writer in New York. She likes dogs but is really more of a cat person.