First dates are filled with magical moments -- especially in NYC. There's the exhilarating MetroCard swipe before a series of service changes render you late. Holding hands for the first time, albeit instinctively as a cockroach scuttles across the bar of your go-to cocktail spot. Wondering whether you'll get a kiss or the kiss-off at the end of your painstakingly planned night. And the next morning, finding $200 worth of credit card receipts in the back pocket of your jeans. Magic, guys, it's everywhere.
Well our lovingly curated list of first-date ideas will give you one less thing to worry about. You can even break these out if you earn a second or third -- we'd never kiss and tell. But if your dance card is especially full be sure to check out our winter dating itinerary and weekend guides.
Williamsburg and Sunset Park
If you're spending serious dough on a dinner date, you may as well both pick up some cooking tips along the way. The Brooklyn Kitchen offers date-night specific classes where you can learn some sexy knife skills and risotto tricks with other couples. Or, you can bring the romantic pressure down to a simmer with more general lessons in pickling; gluten-free food; or pig butchery. Book early: even at $100 per person to start, slots fill up.
South Williamsburg
Dating is fraught with dizzying emotional highs and lows -- why not put those feelings into action? The New York Trapeze School teaches both the newbie and experienced trapeze artist how to hurtle through the air like a spider dangling from its web. The adrenaline surge and mandatory hand-holding will hopefully rid you of any first-date jitters. Two-hour classes start at $55 for beginners and are capped at 10 students.
Make reservations for an all-you-can-eat feast
Citywide
If you're dating primarily for the dinner company, buy a book; it's cheaper. Or, make the most of having someone to share a meal with (and compare appetites with) by heading to an all-you-can-eat meal. Some of the city's best restaurants offer all-you-can-eat sushi, homemade pasta, barbecue, mussels, and more. May you find your very own Joey Chestnut.
Staten Island
A day trip can be a big commitment, so keep it casual with an outdoorsy adventure accessible by public transit, which -- bonus! -- includes a romantic ride on the Staten Island Ferry. Once you're in SI, catch the X12 bus (or an Uber) to the Staten Island Greenbelt. This public conservancy offers easy, moderate and difficult trails, ranging from 4 to 12 miles in length, so you can escape the chaos of the city dating scene and just enjoy nature together.
Meatpacking
As a first date, group outings are strictly a break-in-case-of-emergency affair. Dust off the group date when and only when: you aren't sure if the other person is single; you aren't sure if the other person likes you; or you aren't sure if the other person has anything to say to you. Triple-check these criteria and book a spot at Sunday bingo at The Standard. This rowdy, DJ-ed event has a weekly theme (costumes encouraged!) and a dance party following three rounds of bingo. Expect to sip from dramatically oversized crystal punch bowls, dance on banquettes, and try to decode whether you and your date have a future. Reservations required; $35 per-person drink minimum.
Hamilton Heights
You probably can't score tickets to Hamilton but you can take your date to the former home of Alexander Hamilton and his wife, Elizabeth Schuyler Hamilton. Now a National Memorial open Wednesday through Sunday, Hamilton Grange allows visitors to take a self-guided tour or follow a park ranger for a more in-depth history lesson. After you've been saturated in Hamilton knowledge, head for a picnic in St. Nicholas park or grab noodles and dumplings at the nearby Handpulled Noodle.
The Bronx
The Bronx Zoo's new 400-foot zip line across the Bronx River gives you an aerial view of the city and the Bronx treetops. While you have to speed across the zip line solo, you'll have plenty to chat about after you zip back to the starting point. The New York Botanical Garden and Arthur Avenue bakeries and red sauce joints are both nearby, should zip lining put you in the mood for a two-date kind of day. Tickets are $34.95 for non-members.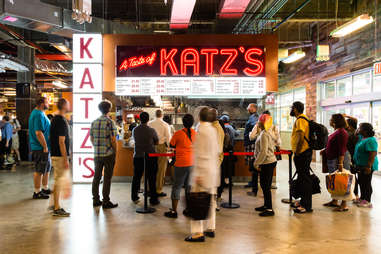 Citywide
Instead of booking an overpriced and likely disappointing food tour, lead your own through one of the many new food halls New York City has welcomed lately. Sharing Nom Wah Kuai's dumplings and Kuro-Obi's spicy ramen at Canal Street Market will bring you instantly closer. Debating Katz's original pastrami sandwich versus the Brooklyn spin-off at DeKalb Market Hall will give you some fodder when chatting about your childhood gets stale.
Tour a chocolate factory
Red Hook
You don't yet know whether your date is more of a Charlie Bucket or a Mike Teavee, so take them on a chocolate factory tour free from any judgmental Oompa Loompas. Red Hook's bean-to-bar Raaka Chocolate factory offers tours, tastings and weekend chocolate-making classes -- judgment free.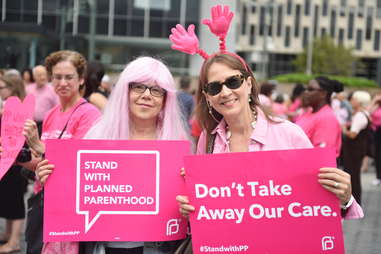 Citywide
Flaunt your benevolent side, and actually help people (or animals or the environment) by spending your date volunteering. One-time volunteer projects offer opportunities to clean up parks (kind of romantic if you're into stacking branches?); stock food pantries; or organize clothing drives. However you choose to give, you'll get plenty of time to chat and feel good about yourselves while giving back. Find opportunities for last-minute first dates at New York Cares.
Crash a Saturday night wedding or bar mitzvah
Probably Midtown
On the opposite end of the spectrum, walk into the ballroom of any elite New York City hotel (The Plaza, The Pierre, The St. Regis) after 8pm on a Saturday and you're pretty much guaranteed an open bar and space to dance, provided you're dressed up. If you're questioning your ethics, know that you're probably just taking the place of some no-shows who were already paid for. If your date isn't down to dive into a free chocolate fountain, maybe it wasn't meant to be.
Flatiron
Leave the storefront paint-by-numbers joints in the suburbs and embrace the Etsy-everything generation's enthusiasm for crafting. This BYOB craft school hosts lessons in glass-etching, succulent-potting, embroidery, and many more semi-practical skills that will result in an adorable souvenir of your date. Even if love doesn't last, your cactus will. $45 and up.
Sign up here for our daily NYC email and be the first to get all the food/drink/fun New York has to offer.