<a href="http://www.shutterstock.com/gallery-679411p1.html?cr=00&amp;pl=edit-00">Christian Mueller</a> / <a href="http://www.shutterstock.com/editorial?cr=00&amp;pl=edit-00">Shutterstock.com</a>
Valentine's Day is a really, really bad excuse to spend tons of money, you guys. Do you really want a super-rushed, embarrassingly cutesy $200 prix fixe meal that ends with a self-described "decadent" chocolate dessert that's actually really bland? Skip this contrived nonsense, save your cash for a less manufactured evening of romance, and hit up these free options instead.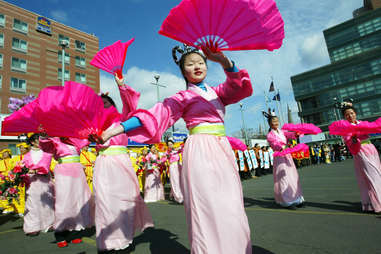 Chinatown
Starting at 1pm on Valentine's Day, a moving street party starts to wend its way through Chinatown and Little Italy, heralding the Year of the Monkey. Expect great performers and even better snacks.
Midtown West
The annual Westminster Dog Show starts on Monday, February 15th, which means that by Sunday, February 14th, the 600 dogs who will be staying at the the extremely dog-friendly Hotel Pennsylvania will have already arrived. This hotel offers the services of a full-time dog concierge, Jerry Grymek, who thinks stopping by on Valentine's Day is grand idea. "Nothing says love like puppy love," he says. "You can meet breeds you've never even seen before." Just, you know, ask the owner before you pet the pets.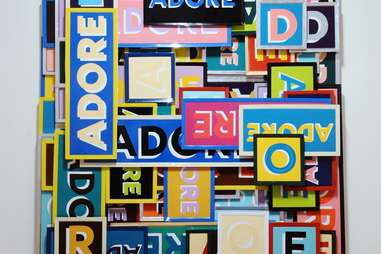 Prospect Heights
Artist Stephen Powers makes hand-painted signs that look strangely identical to vintage ones from Coney Island, except that instead of reading, "CHEESE FRIES ICE CREAM COLD BEER SODAS," they say stuff like "Everything is shit except you love." At the Brooklyn Museum, his work meets other artists' in a seaside-themed installation. While entry to the museum is free, they do ask for a donation, so if you're feeling solvent, go ahead and pony up -- it's a good nonprofit, etc.
Times Square
Yeah, yeah, if you're a New Yorker, you don't believe in Times Square. But watching a bunch of cuties propose to each other and renew their vows might be an exception. Or... at least it's an opportunity to steal some unsuspecting lovers' wallets (don't do this).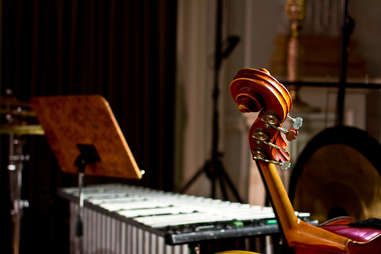 Upper West Side
The North/South Chamber Orchestra will be playing four works by contemporary New York composers. Tailcoats appreciated, but not required.
Williamsburg
Hosted by Will Miles, Clark Jones, and Kenny DeForest (who are funny enough on their own), this show is known for attracting random surprise guests, including Louis CK, Aziz Ansari, and Chris Rock.
SoHo
Italian restaurant Il Principe, located in the Hotel Hugo, will be serving super-fancy hot chocolate from Belgium any day that it's below 20 degrees. So if you it gets super chilly and you're out in SoHo, pop in for a treat.
SoHo (& other locations)
Babeland is always one of the best date spots in the city -- assuming you've gotten past the taking-each-others'-clothes-off point already -- but on Valentine's Day, the city's best sex shop turns it up to 11: free wine and chocolate for browsing customers, and free massage candles (they heat into warmed massage oil and smell amazing) with purchase.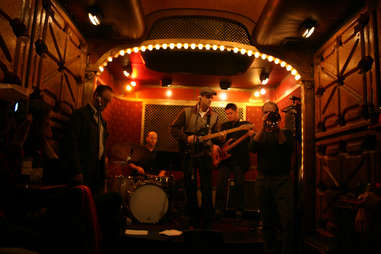 Williamsburg
Sign up for Pete's open mic from 5pm-8pm (sign up starts at 4:30pm, and it's a good idea to show up early for that), or stop by from 9pm-11pm for some shows.
Sunset Park
Valentine's afternoon, grab a cocktail from the bar and check out a Southern street jazz street band. The party will take place at The Landing at Industry City, and it's co-hosted by party gurus The Bell House and Union Hall.
Meet some animals (and maybe adopt one)
Upper East Side
Zani's Furry Friends will be at Carl Schurz Park on February 14th from 11am-3pm, with a van full of cats and dogs ready to be adopted. Go say hi, scratch behind their ears, and consider bringing a cutie home with you (it's totally a better bet than the bar).
Sign up here for our daily NYC email and be the first to get all the food/drink/fun New York has to offer.
Jess Novak thinks all holidays are fake, and is down with the one that is celebrated by having sex and drinking champagne. She'd love it if you'd stalk her on Twitter and Instagram.