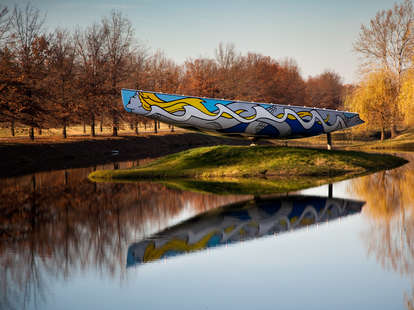 Roy Lichtenstein, "Mermaid" at Storm King Art Center

| Flickr/Sébastien Barré
Roy Lichtenstein, "Mermaid" at Storm King Art Center

| Flickr/Sébastien Barré
Despite all the activity guides that try to tell you leaf peeping is the ONE thing you must do in fall, upstate New York has much more to offer than just staring at nature dying beautifully. This season, consider escaping to an adult campout in the Adirondacks, hiking to a hidden live music café on a New Paltz rail trail, taking flight in the Finger Lakes, and toasting to autumnal flavors in a new open-air restaurant from a James Beard award-winning chef.
New Paltz
Apple picking is a tried-and-true upstate New York fall activity, but it's also dependably predictable (do you really want to be responsible for another Instagram with the hashtag #applegram?). Mix things up this year at Twin Star Orchards, where in addition to grabbing a bushel of Red Delicious, Fuji, McIntosh, and several other varieties, you can also enjoy wood-fired Neapolitan pizza, cider, donuts, burgers, and handcrafted hard cider in an open-air chalet overlooking an orchard and a pond.
Adirondacks
Feeling nostalgic for sleepaway camp? When you're done rewatching Wet Hot American Summer, pack your duffel for Wilderness Field Notes, a new all-inclusive retreat for New Yorkers to unplug and reconnect with the great outdoors on 80 private acres in the foothills of the Adirondacks. The retreat will run from October 14th-16th, with food, late-night bonfires, drinks, and music. "During the day, guests can relax or take part in any of the various workshops, including archery, natural dyeing, fishing and our first annual strong (wo)man sawing competition," says co-founder and Brooklynite Clarissa Driban. In addition to these and other Bear Gryllsian pursuits -- like sessions on survival in the woods, chopping wood, and night sky navigation -- there's canoeing, local brews, beach s'mores, and the fact that you get to wake up in your lakeside cabin to farm-fresh eggs on the griddle.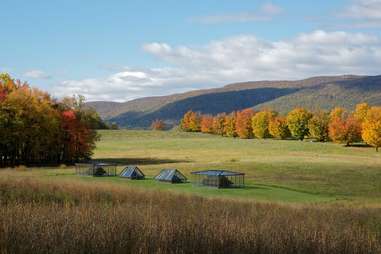 New Windsor
No place ushers in the fall season more majestically than Storm King Art Center, where a 500-acre sculpture-dappled field surrounded by every shade of autumn easily makes you forget about presidential elections and work deadlines -- at least for an afternoon. Whether you do a beekeeping tour, yoga class, or pedal one of the most scenic bike paths in the Hudson Valley alongside works by Mark di Suvero, Roy Lichtenstein, or the latest exhibit, Terrestrial Studio (through November 13th) by Dennis Oppenheim -- who ignites meadows with stars and planted an Electric Kiss of stainless steel in the grass -- don't miss a trip to this rare natural sanctuary.
Hudson
Chef Zak Pelaccio of Fish & Game is giving New Yorkers yet another reason to take the train north, this time to a Malaysian-inspired oasis tucked away behind an antiques shop in a former '40s-era gas station. BackBar's farm-to-picnic-table fare, cocktail sorcery, and charming Warren St backdrop on the patio will get you in a fall state of mind (and may even inspire you to finally plan that Southeast Asia trip). Order the curried crab, bok choy with fried chicken, kimchi-lada, turmeric-marinated squid, and Sichuan peppercorns and sip Hudson-produced Sundström Cider in your coziest clothes.
Greenville
Here's something to add to your romantic getaway guide: plan a trip to the northern Catskills, where you'll discover that drive-ins are the new (or really, original!) Netflix & chill. "Drive-ins and scary movies go great together," says owner Dwight Grimm of the Greenville Drive-In, which dates back to 1959. "Come fall, there is no better way to enjoy a fright than wrapped up safely with your loved ones in a car." Grimm recommends having a hot cider-apple brandy toddy in the drive-in's beer garden. Now through October 15th, bring a blanket, some candy corn, and try not to fog up the windows while canoodling during movies like The Shining, Beetlejuice, and a Bruce Campbell double-header of Evil Dead 2 and Army of Darkness.
Kingston
If you're not spending weekends eating in an open-air market like the one at Hutton Brickyards, you're doing fall all wrong. October 15th is your last chance to catch the newly launched Smorgasburg Upstate, with dozens of local prominent chefs, farmers, craft brewers, and artisans on a scenic 10-acre stretch of waterfront along the Hudson River. Ride the rails with a lot of reusable bags and a fierce appetite (we're partial to the sweet corn fritters from Raven & Boar, the Rubiner's Cheesemongers' grilled cheese, and the Oaxacan donuts from Sweet Poppy).
Attend any kind of festival you want
From Woodstock to Lake Placid
It's easy to bid farewell to the beach when there are this many great festivals so close to (yet far enough from) home. You're looking at options like the Crown Maple Fall Festival, the Woodstock Film Festival, the NY Craft Brewers Festival, the Hudson Valley Garlic Festival, a yoga and music festival, the Flaming Leaves Festival with ski jumping, blues, brews, and BBQ, aaaand last but not least, the Sheep & Wool Festival in Rhinebeck -- if for no other reason than #leapingllamas and Rastafarian Angora goats.
Elmira
Sure, the FLX is an idyllic place to sip riesling and relax, but come fall the best way to experience this beautiful region is to go far from it. During a 20-minute ride ($96/person) on this ASK-21, you can glide 4,000ft above sea level, over vineyards, lakes, rolling farmland, and miles of crimson-and-carrot-hued countryside. The plane's wraparound windows bring in views so incredible you (almost) won't want to detract from the moment by recording it with your phone. Before returning to the Inn at Glenora, a winery resort on Seneca Lake, enjoy a different kind of flight at Rooster Fish, New York's first farm brewery, by ordering four 4oz pours for $8.
Rosendale
Rail Trail Café is the stuff of backcountry dreams. It's worth planning to hike, bike, or reach the 22-mile Wallkill Valley Rail Trail on horseback just to happen on this little locally sourced food cart on Stone Mountain Farm. Of all the autumnal adventures you've got planned this season, this hidden gem and its live music, wood-fired pizza, empanadas, apple cider popsicles, and chocolate oatmeal Cosmic Nectar Balls will be the highlight.
Adirondacks
Avoid the temptation to row a boat alongside tourists in Central Park by heading way upstream to the Adirondacks. Enjoy some spectacular scenery as you paddle the North Branch of the Moose River, where you can easily spend five hours exploring eight pristine miles of the gentle rapids. Not long after launching, pick a sandy bank to eat your breakfast sandwiches from Walt's Diner while facing a brilliant panorama that needs no filter.
Sign up here for our daily NYC email and be the first to get all the food/drink/fun New York has to offer.