Wedding Vows to New York City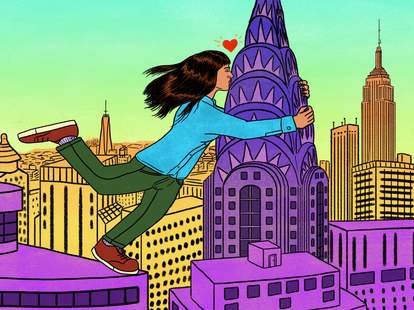 According to a recent study by a sociologist at the University of Utah, the best time to get married (if you don't want to get divorced) is between 28 and 32. But this is New York City -- a place where legally signing over half our closet space to another human comes second to memorizing the location of all 500 Citibike stations and fiercely defending our right to sidewalk space in SoHo. Since the majority of people who live here are in no rush to get married, that leaves us plenty of time to direct all our love and attention to the important things, like the goldendoodle who lives in 3A, the deli lady with perfect bagel-to-cream-cheese ratios, and that guy who held the F train door open last week. So, dearly beloved, we are gathered here today to honor the city that will always come first in its residents' hearts, and I've taken the liberty of writing some vows. Here's to you, New York, a love even more thrilling and complicated than Johnny Haverford, who gave me a rock for 4th grade Valentine's Day.
I will love you unconditionally, even when it is November and July in a single day
I will be there in sickness, health, and Weekend Service Changes
I promise to cherish every part of you, even Murray Hill
I will grow old with you, and smile as my children turn 45 in our non-rent-controlled one-bedroom
I pledge to be your biggest fan and your greatest ally against another matcha bar
I will lay awake with you at night (and not just because they're repaving 6th Ave at 3:18am on a Tuesday)
I will love you until the end of time -- precisely how long it takes for the G to come
I can't wait to share in all your interests and say yes to every $42 workout class you have to offer
I will relish in your unique and everlasting beauty, from Central Park Citibike rides to vomiting into the Gowanus Canal
Not even a Supreme bouncer can fence in my feelings for you
I promise to devote every resource I have to making you happy, for richer or for poorer, even if I have to switch to non-organic almond milk
I promise to always be kind to you, and direct my high-level anxiety towards Midwestern tourists instead
I, too, would suction-cup my way to the top of Trump Tower just to shout my love from the rooftops
I promise to always share my wildest dreams and deepest secrets with you, like that Saturday I Postmated from the deli downstairs for a $26 delivery fee
Waking up to you every morning makes me the happiest woman on Earth, and don't ever let my LA Zillow searches convince you otherwise
Sign up here for our daily NYC email and be the first to get all the food/drink/fun New York has to offer.
Emma Holland works for The Wing and grew up in Inwood, which will probably never have a matcha bar.