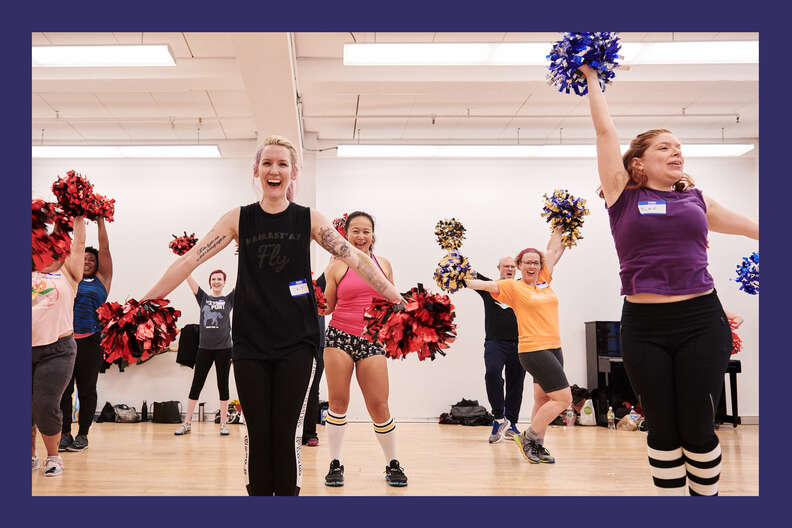 Auditions for the Jeerleaders

| Louise Palmberg/Thrillist
Auditions for the Jeerleaders

| Louise Palmberg/Thrillist

Aspiring Gotham Girls Roller Derby Jeerleaders bound into a rented Midtown studio as Carly Rae Jepsen's peppy lyrics pump through a speaker: I'll just dance for myself. The Ripley-Grier Studios on Eighth Avenue has two levels of spaces just like this one -- small, with squeaky wood floors, ballet barres, and pianos.
The 15 Jeerleader hopefuls are here, on this bright November Sunday afternoon, to try out for a spot on the squad that dances, cheers, and pumps up the crowd at derby bouts.
The action at your first match will appear fast and unfamiliar, and the Jeerleaders -- a Greek chorus of hell on wheels -- will likely be the first point of contact between you and the Gotham Girls. Squad members climb into the stands to teach you the rules of play: each bout consists of a series of two-minute "jams," where a "jammer" from each team of five tries to skate laps around the other team. The other eight players are "blockers," who play both offense and defense as they try to help their own jammer while attempting to stop the other jammer. Jeerleader guidance is the antidote to mansplaining in sports.
Throughout the game, the Jeerleaders' antics and infectious energy will embolden you to get crazy, whether you'd planned to or not. And at halftime -- of course -- they take to the track to shake their booties.
Are you comfortable shaking your booty in public?
Unlike the manufactured uniformity of an NFL cheerleading squad -- whose woefully underpaid members have matching blowouts, spray tans, and six-packs -- every single person at this audition looks decidedly different and exactly like themselves. The floor-to-ceiling mirror at the front of the studio reflects diverse body types, skin colors, genders, and every pastel shade of hair on Pinterest.
"I'd been to a few derby games and I ended up loving the sport because it was so inclusive," says Arkeida "Dreadpool" Wilson, a fashion designer who's been a Jeerleader for three years, "and I was like well, if I can't skate, I can dance and still be a part of the community."
Everyone fills out a questionnaire. Are you comfortable shaking your booty in public? Are you shy in front of the camera? Are you free on Monday and Wednesday evenings?
Deborah "Assault Whitman," Wolfson, the choreographer, changes the music to Beyoncé's "Run the World (Girls)," and cheers rise up from around the room. Outside of the Jeerleaders, she's a freelance theater director, choreographer, and an office worker for a nonprofit.
The contenders are invited to pick up pairs of multi-colored sparkly polyester pom-poms, which make exactly the pleasant rustling ASMR sound you want them to make. Like autumn leaves, or the most popular girl in your high school flipping absentmindedly through her papers.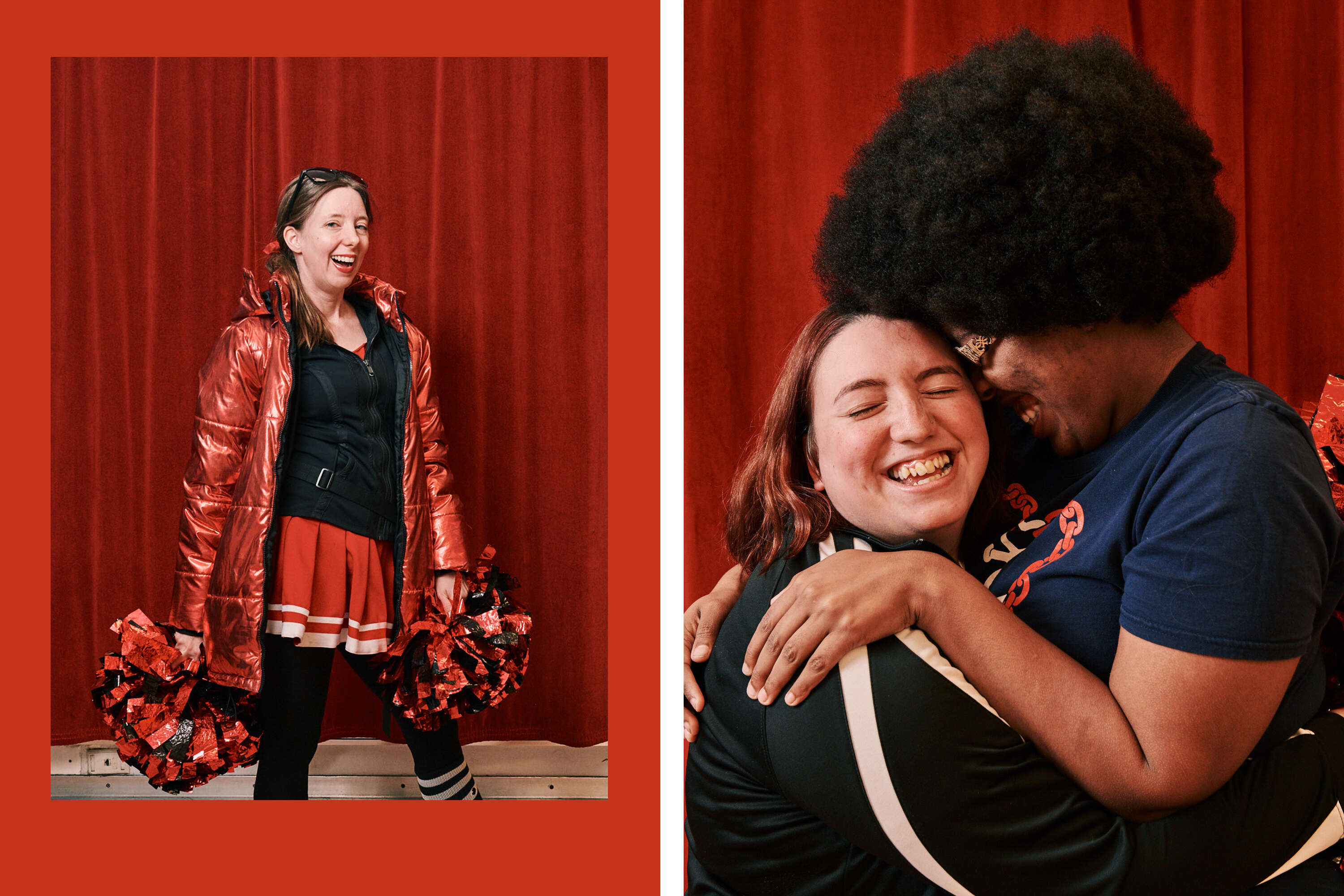 Everybody does a Liberty: Arms up and spread, pom-poms to the sky, left leg lifted with the foot firmly against the right knee. Or, everybody tries to do a Liberty. It's a hard pose to hold, balanced on one leg and all.
Mary "Little Mary Switchblade" Hawkins, a graphic designer and the Jeerleader captain of eight years, watches them from the sidelines. She's the only returning Jeerleader dressed in her uniform -- it's red, with a flippy skirt, and printed with a cartoon cheerleader in a pin-up pose. "The Jeerleaders are not," she reassures the wobbling auditionees, "a precision dance crew."
That's precisely what separates the Jeerleaders from other cheerleading squads. While the Jets have their Flight Crew and the Nets have their Brooklynettes and the Knicks have their City Dancers, the Jeerleaders are less about finesse than having fun. Professional cheerleaders often work 40-hour weeks (in addition to their regular jobs). Their salaries are kept purposefully secret by teams, and they reportedly earn close to minimum wage. In an interview with Cosmopolitan, one Dallas Cowboys Cheerleader member shared her tips and tricks for staying in shape, like eating one bite of a cookie and then throwing the rest away. Jeerleaders don't get paid, but they do get to eat as many cookies as they damn well please.
In the 2018 season, there were twenty-five Jeerleaders across the four squads. Most are in their 20s and 30s -- although there's no age limit -- and many work in creative fields, like publishing, design, and theater.
Back in the roller derby revival of the early 2000s, when the Gotham Girls barely had enough skaters for two teams, the Jeerleaders were drag queens. They performed at the very first Gotham Girls game, in 2003; the squad then was ironic, outrageous; more camp and cut than cheer. There were no auditions. If you showed up, you got to cheer.
The early Gotham Girls bouts came to blows on a Chinatown playground; in '06 and '07, they began to skate on the tracks at Hunter College and City College. As roller derby grew in popularity and the Gotham Girls began to dominate the game, becoming five-time interleague champions, the Jeerleaders evolved alongside them.

As Gotham Girls Roller Derby and the Jeerleaders enter their 16th year, Switchblade is looking to level up the squad's athleticism and dance skills. They now have a Stunt Captain and host a yearly stunt workshop. But the original freewheeling, DIY spirit of the squad remains. "I'm not looking for someone with twenty years of dance experience," Switchblade says. "I want people who are doing an amazing job of being themselves."
Although the Jeerleaders don't require dance experience, it definitely doesn't hurt. During the audition, the few women with dance and cheer backgrounds spend time helping the others learn the routine. Turn on 7, 8. Hands on hips -- you got it! The choreography's not particularly complicated, but it does move fast. Shake it! Yes!
You gotta look out for number one in showbiz, but the jittery, self-doubting energy of a typical audition is absent from the room. Everyone claps for each other, shouting and laughing and posing and comparing notes and high-thousanding each other with their pom-poms. Returning Jeerleaders shout encouragement from their spots on the floor around the room. They're whispering to each other and comparing notes about the hopefuls.
Just like the squad's no-dance-background-required policy, they also eschew height, weight, and gender-identity requirements. In fact, there are hardly any requirements at all. The only two rules the captains can recall offhand are 1. Please answer your email and 2. Please wear underwear.
Only a sport like women's roller derby, built as it was in the spirit of inclusion, could have a cheer squad like the Jeerleaders. In 2015, the Women's Flat Track Derby Association, the largest international roller derby governing body, drafted a progressive policy to explicitly welcome "all transgender women, intersex women, and gender-expansive participants" to the sport.
Roller derby doesn't just attract diverse athletes -- it attracts diverse fans, too, many of whom wouldn't be caught dead with a Cheesehead hat or Terrible Towel. "We're not everybody's fifth-favorite sport," says Switchblade. "We're everybody's first and only."
Many Jeerleaders join the squad because they're Gotham Girls super-fans. "Derby is my religion," says Megan "2 Lives Left" Zebrowski, a freelance video editor who just finished her rookie year with the Jeerleaders. "Gotham Roller Derby has made my life intrinsically better. Via roller derby, I was able to reconnect with my older sister, I met my long-term girlfriend, and I met some really close friends."
At the audition, though, not everyone is a Gotham Girls fan (at least not yet). Some have been to one game, or none. They're here to try something outside of their comfort zone, or make new friends, or find a new and active hobby. "I went to a bout in May," says Hannah Johnson-Walsh, who's auditioning for the first time, "and it looked like a ton of fun." She works behind-the-scenes in theater but rarely performs. "I spend so much time working. I like the idea of doing something that's just fun."
"One of my most secret desires is to be a professional cheerleader."
Others are truly here for the cheer. "One of my most secret desires is to be a professional cheerleader," says Cait Hackett, who was on a state championship pom squad in high school. She now lives in Bushwick and works in the NYC Parks Department budget office. Today, her blonde hair is pulled back in a ponytail, showing off the cotton candy-colored dye above her ears. If she makes the squad, she wants her derby name to be "Little Miss Anxiety."
"I don't want to cheer for the NBA or the NFL because I have problems with their policies, and how the cheerleaders are more like sexy symbols," Hackett says, "This is my chance to be on a cheer squad, but with people who are like-minded."
After an hour of instruction, the hopefuls seem to have gotten a handle on the routine. Assault Whitman moves to the sidelines to watch them dance in small groups; those who volunteer to go first get temporary tattoos for their efforts. A sixteen-count "freestyle" interlude -- they've been given no choreo, just a few counts of freedom to shake what their mamas gave them -- gets the Jeerleaders cheering so loud from the sidelines they nearly drown out Beyoncé herself.
Twenty minutes later, the dance portion of the audition is over and the friendship circle portion begins. Both the auditionees and the returning Jeerleaders sit on the floor and go around the room sharing their derby names, their dance experience, their preferred pronouns, and their Patronuses (a trash panda, a pizza clown, a cat). It's the first evening of daylight savings, and as they talk, the midtown sky is blue-black by 4:30 p.m. Someone finally ventures to ask, a little nervously, when they'll find out if they made the team.
Unlike auditions for other cheer teams, the Jeerleaders take nearly everyone who comes with passion, pluck, and punctuality. The hopefuls will get an email in a week or two, welcoming them; in a few months, they'll be invited to a potluck to learn which squad they've been placed on.
The 2019 Gotham Girls Roller Derby season starts next spring
There are four Jeerleader squads in total -- The Bronx's Backseat Betties, Brooklyn's Bomb Squad, Manhattan's Mayhem Misfits, and Queens' Royal Pains. The squads cheer for the Gotham Girls' home leagues -- Bronx Gridlock, Brooklyn Bombshells, Manhattan Mayhem, and Queens of Pain, respectively, as they compete for the league title.
Although the Jeerleaders might cheer for competing teams, when the bouts are over, the competitive spirit of derby gives way to their bond. Even in the off-season, they travel together, text constantly, and have sleepovers. "This is a community that welcomes absolutely everyone," says Saribel "Daisy Blitzroy" Pages, a bookseller and co-captain of the Brooklyn Bombers. "All of us are misfits in our own kind of way."
When the 2019 Gotham Girls Roller Derby season starts next spring, the new Jeerleaders will have polished up their Liberty poses and learned some new routines. They'll have bought their pom-poms (about $35), paid their dues (about $150, 90% of which goes to studio space, 10% of which goes to candy), learned the ins and outs of roller derby, and gotten to know their new teammates.
Seeing the Jeerleaders at a Gotham Girls Roller Derby bout makes even the cheerless want to shake their pom-poms. "If you look around, everyone is so different," says Celina "Spiked Honey" Flores, who works as a waitress and bartender when she's not cheering with the Backseat Betties. "Everyone has different backgrounds, different jobs, different looks, different sizes. Derby's the same thing. Can you do it? C'mere. Do you love it? Let's roll."
Sign up here for our daily NYC email and be the first to get all the food/drink/fun New York has to offer.