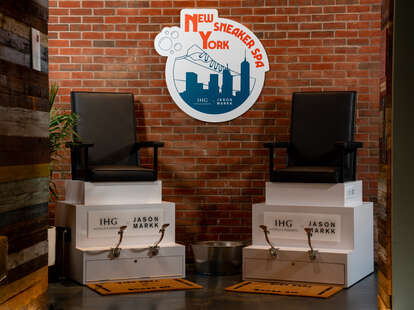 IHG Hotels & Resorts' Sneaker Spa

| Photo courtesy of IHG Hotels & Resorts
IHG Hotels & Resorts' Sneaker Spa

| Photo courtesy of IHG Hotels & Resorts
We don't mess around when it comes to our kicks—we mess around in them. But, that's only because, why would we stalk StockX, GOAT, or any other sneaker site for hours, if we can't flex that shiny, hard-earned pair the next time we're out.
This year's Governors Ball is no exception. While we might not be dusting off our finest pair for the jam-packed music festival, we're certainly not showing up sloppy. So, with the expected snaking through crowds to watch Lizzo, Odesza, and Kendrick Lamar or mow down of messy bites from top tier vendors, the inevitable comes to mind: How messed up are my sneakers going to get, and is there a way to treat them to a thorough clean after all the debauchery?
That's where the IHG Hotels & Resorts' Sneaker Spa comes into play. Operating out of the Hotel Indigo Lower East Side NYC, concert-goers and locals can drop by for complimentary (yes, it's free) 15-minute sneaker-cleaning appointment this weekend. During each session, guests will have their prized kicks transformed back to practically new through the use of products from the renowned shoe care company Jason Markk.
"Sneakers are one of the greatest forms of expression," Jason Markk tells Thrillist. "Your sneakers speak a thousand words and are a catalyst for social connection, or at the very least, a means of recognition."
Basically, it's more than acceptable to love on your kicks by treating them to a spa day.
Walk-in appointments at IHG Hotel & Resorts' Sneaker Spa are available on a first come, first served basis from 9 am–1 pm on Saturday, June 10 and Sunday, June 11 at 171 Ludlow Street.
Izzy Baskette is the New York City Staff Writer for Thrillist. Talk to her at izzy.baskette@voxmedia.com or find her on Instagram.