Every year, it feels lofty to call one Saturday the "Best Day Of Your Life." And every year we somehow end up convincing ourselves that it's true. And this year's installment, parading its glory through Greenwich Village, certainly did not disappoint. And we just cannot keep it to ourselves. So we decided to round up some of the coolest haps from the day, along with some useful tips, recipes, and fun facts for you to take home with you (and maybe have your own Best Day!).
First off, the restaurants and bars (and everything they served) were out of control
To really celebrate a neighborhood, you have to honor its tried and true institutions. Everything from the corner dive to a multi-floor club. Here's where those places are and what they brought to the party: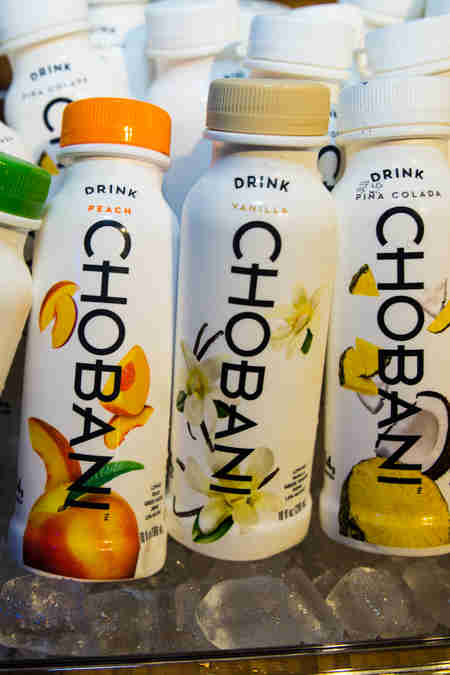 Le Poisson Rouge
Check-in with a yogurt breakfast and full circle for the after party with Holy Ghost!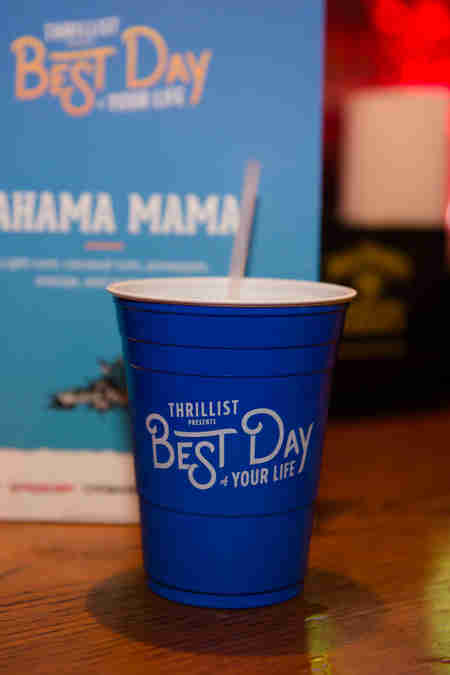 Wicked Willy's
Pirate karaoke and Bahama Mama cocktails
Peculier Pub
Board games and Berries and Cream Shots
Bantam Bagels
Stuffed bagel bites
Seabird
Chobani® infused Mediterranean dishes & live music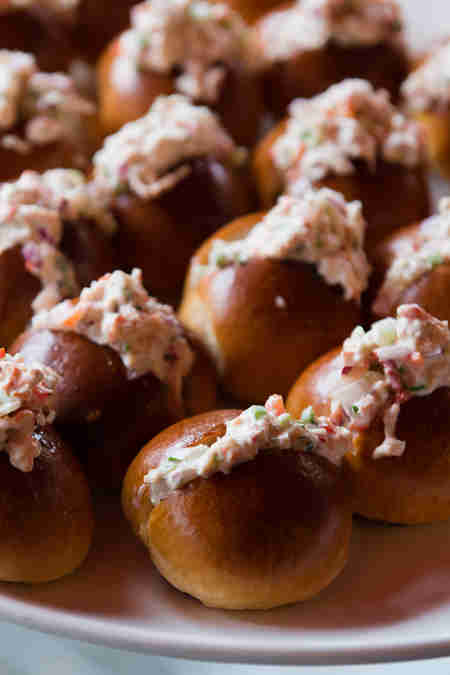 GMT
Ballast Point brews, lobster rolls, and crab cakes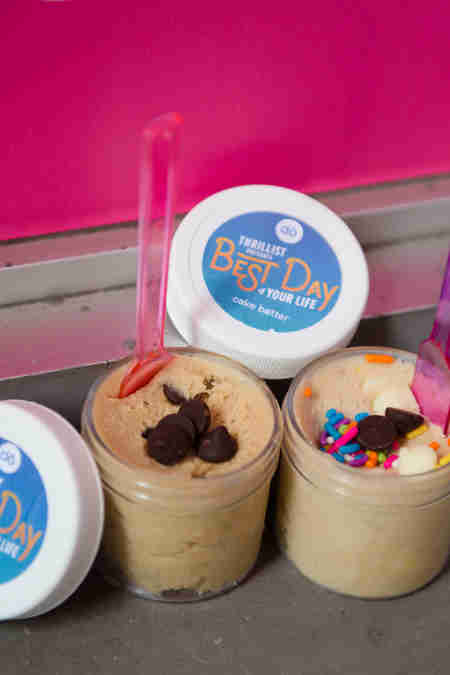 La Newyorkina
Mexican chocolate ice pops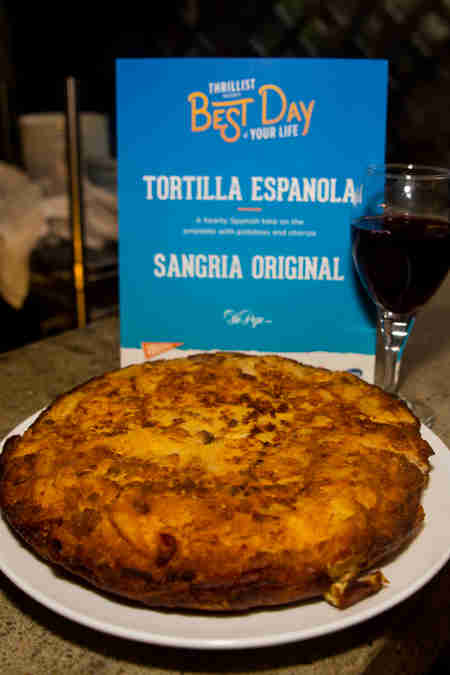 Tio Pepe
Tortillas Espanola & sangria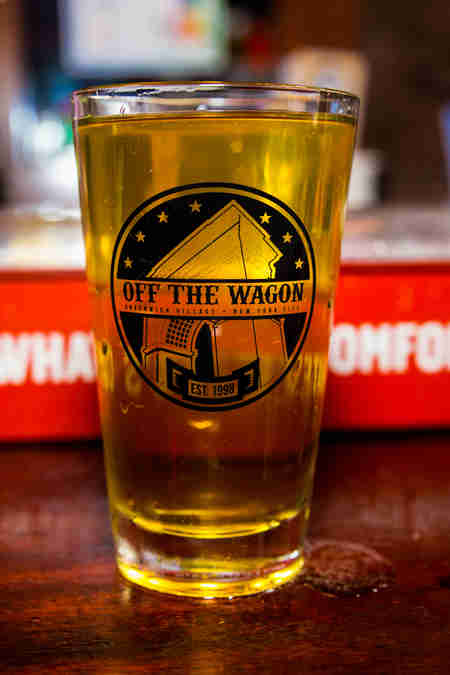 Off the Wagon
A classic pub pint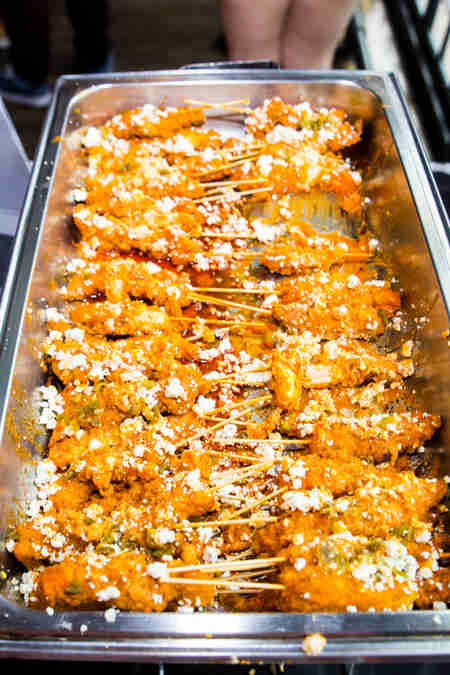 3 Sheets Saloon
The Tums and Thrillist State Fair with buffalo chicken skewers, gravy-smothered onion rings & carny games
AOC
Spiked popsicles, Sanpellegrino cocktails & massages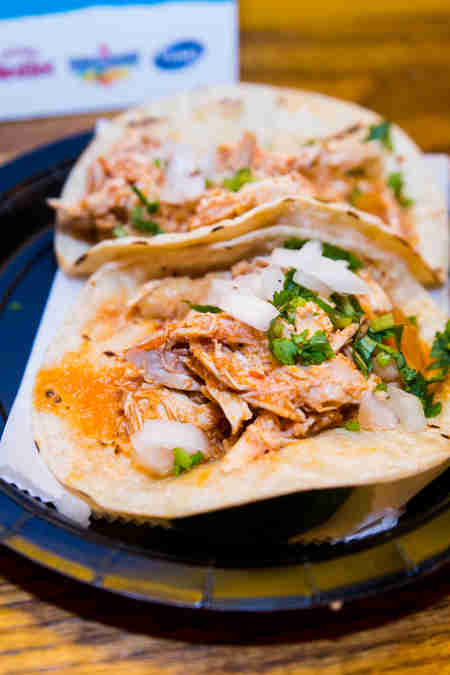 Taco Shop
Chicken Tinga Tacos
Chomp Chomp
Belacan Fried Chicken Wings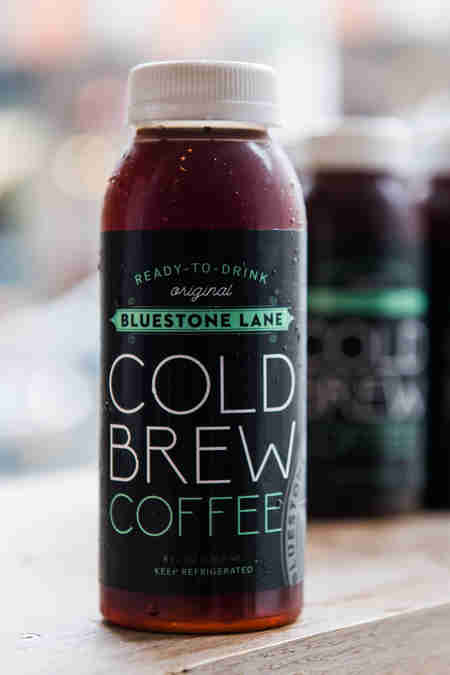 Bluestone Lane Coffee
Refreshing cold brew
Down the Hatch
Deliciously spicy wings with Frank's RedHot
We learned three game-changing tips on Karaoke
Pirate-themed dive Wicked Willy's was serving up Bahama Mama cocktails and karaoke hits all day long. We got the lowdown from resident DJ Jason Cotton about what makes a great karaoke song and what you need to always remember before getting up on that stage.
Go for a crowd-pleaser
This isn't your car or your morning shower. You should sing something you're in the mood for, but don't kill the bar's vibe while you're doing it.
Your DJ can change the key if you want
Don't stress over your pipes -- or lack thereof. Believe it or not, your DJ can actually change the song to fit your vocal range. "No one really knows this, but one thing we can do is change the key of a song," says Cotton. So fear not: If it's "Since U Been Gone" you're trying to sing, it's "Since U Been Gone" you shall sing.
'It's karaoke, not American Idol'
Most importantly, Cotton says you shouldn't stress. "I always tell everybody: It's karaoke; it's not 'American Idol.'" So whether you're up there singing Backstreet Boys or Britney Spears, just embrace it. And if you're really nervous, Cotton says there are range-friendly songs that no one can mess up: "I Want It That Way," "No Scrubs," and "Say My Name" are forever.
We scored some cold, hard facts on the history of ice pops
Ice pops are refreshing, so it felt like a natural fit to pair them up with the masters of refreshment at Sanpellegrino Sparkling Fruit Beverages at their stop. Not only were they serving fizzy cocktails, but they were also serving custom frozen pops swimming in sparkling deliciousness. And it got us thinking: Where did this frozen treat get its start? Well...
There's debate over its origins
According to legend, the Popsicle brand (and most likely all ice pops, in general) started when an 11-year-old Frank Epperson left powdered soda, water, and a stirring stick outside over a cold night in San Francisco in 1905, only to wake up to find a frozen treat (a fact also corroborated in Epperson's obituary in the New York Times). But almanac-savvy sleuths have since detected this couldn't possibly be true because San Francisco didn't hit below-freezing temps at all that year. Either way, Epperson did unveil his commercially viable ice pop with a patent in 1923.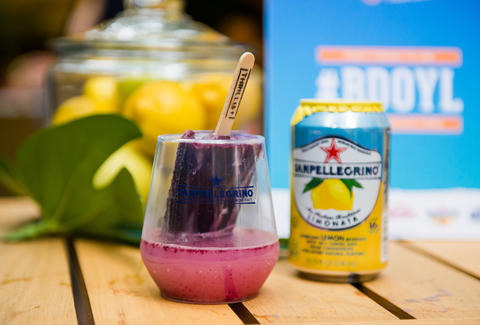 The double stick came from the Great Depression
During peak Depression years, pop makers elected to sell the same size treat with two sticks frozen into it, rather than one, to give the illusion that you were getting two popsicles. Try to remember that next time you won't share your second cherry-sicle.
Today, more than 2 million commercial treats are sold yearly
While the brand name Popsicle and the common reference of popsicles sometimes get intermixed, there are thousands upon thousands of artisanal ice pop shops popping (sorry, had to) up all over the world. But even with all that mom & pop shop (again?!) competition, the name brand still sells more than 2 million units every year.
We got to thinking about the world's craziest fried food
Anyone who stopped by The Tums and Thrillist State Fair was met with buffalo chicken skewers, gravy-smothered onion rings, carny games, face-painting, and more. You see, fairs are always buzzing with excitement -- and mouthwatering eats.
In the past few decades, fair food has gone from bland and boring to crazy inventive -- with deep-fried delicacies taking center stage. Since the first annual Big Tex Choice Awards in 2005, things have been getting crispy at the State Fair of Texas. Each year the competition gives out prizes to the most creative and best-tasting deep-fried entries.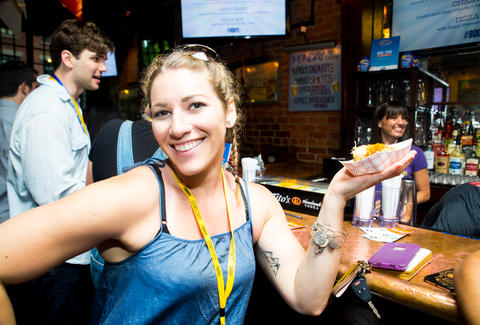 Previous winners include: Fried Thanksgiving Dinner (deep-fried stuffing, turkey, and creamed corn balls with a cranberry dipping sauce and gravy served on the side) and Fried Jambalaya. Abel Gonzales Jr. (who's so good he's been dubbed "Fried Jesus") has won for his fried peanut butter, jelly, and banana sandwich (inspired by Elvis Presley's favorite snack), fried Coke (soda pop-flavored dough), and lastly, his deep-fried butter -- which oozes liquid butter when you bite into it.
Then there's Charlie Boghosian who's been called "The Man Who Fries Everything." Aside from deep-fried Kool-Aid and the Zucchini-Weeni (a hot dog stuffed inside a zucchini and then deep fried, of course), he once deep-fried whole White Castle cheeseburgers -- bun and all. He sold 9,000 of them in 18 days. How many Tums do you think it takes to cure the heartburn from eating a New Balance sneaker? Let's not find out.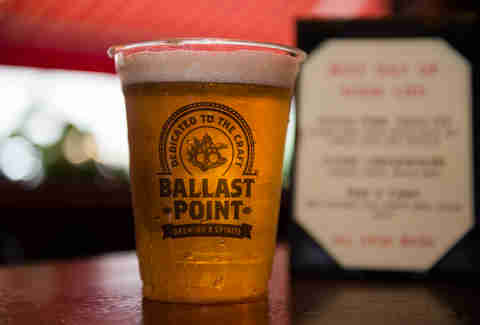 We learned the difference between filtered and unfiltered beer
At Best Day, the brewmasters from Ballast Point saw fit to bring us a few of their favorites. And among them was their Sculpin IPA, a beer that they offer in both a filtered version and a limited run, unfiltered. But what exactly is the difference between the two when it comes to taste, prep, and character? We got you covered:
We dipped wings in a ranch fountain
At BDOYL, we teamed up with Frank's Red Hot to serve up some incredibly spicy options at Down the Hatch. Then, we had an entire fountain of ranch dressing to cool off your palate. So we asked, what if you could take that classic bar bite, and put it on one giant sandwich? That's exactly what this recipe does. Here's the gist:
The Red Hot Mega Buffalo Chicken Hero
Ingredients:
1 hero loaf, approx. 6' long
24 buffalo chicken cheesy strips (see link for recipe)
2 bottles of Frank's RedHot
24oz hot french fries
24oz hot onion rings
24 pickle chips or as many as you feel like
24 slices of cheddar cheese (for layering)
24 bacon slices cooked / chopped
6 red onions, sliced
6 tomatoes, sliced
2 heads of romaine lettuce, shredded
3 cups of Frank's RedHot Buffalo Mayo (see link for recipe)
Instructions: 
Slice hero loaf
Slather both sides with Frank's RedHot Buffalo Mayo (see link for recipe)
Layer cheddar cheese on one half of hero
Layer sliced tomatoes
Layer cooked Frank's RedHot Buffalo Chicken Cheesy Strips (see link for recipe)
Layer sliced red onions
Layer cooked onion rings
Layer bacon
Layer pickle chips
Layer french fries
Splatter that bad boy with dashes of Frank's RedHot from end to end
Layer shredded lettuce
Cover with top half of hero
Slice and serve!
Bask in the glory
Chefs gave us their best yogurt tips for savory dishes
Yogurt is so much more than a breakfast parfait. Don't believe us? Just check out how yogurt is used around the world. Thanks to our Best Day collaboration with Chobani and Chef Bahr Rapaport of Seabird, we got their best tips on how to use it in a savory dish at home:  
Use it as a marinade
Yogurt has some mildly acidic properties, making it perfect for breaking down tough proteins -- especially chicken, lamb, or beef. That makes it pretty difficult to overcook these cuts, and you can add in a ton of flavor (think: dill, garlic, or curry).
Swap out heavy cream
Heavy cream can be substituted with yogurt, especially thicker Greek varieties, when you're making a white sauce or a soup that needs to be finished with cream. To keep the yogurt from separating under the heat, bring it to room temperature first. Then take your dish off the heat and whisk it in at the end of cooking. The results will mimic the heavy cream, without adding in extra calories.
Turn it into cheese!
Turning yogurt into cheese is shockingly easy. Just strain out the whey using a cheesecloth, and you'll be left with a cream-cheese like product that's perfect for a topping, dip, or spread. Rapaport served it with his salmon at BDOYL, but we won't blame you if you decide to top your next bagel with it.
There were tons of carnival-like surprises
It wouldn't be BDOYL without a few surprises -- and this year was no different. Wandering on Bleecker Street, you may have noticed a clown handing out balloon animals to start the morning. He told us he never actually popped a balloon in his entire life, and attributed it to studying under the Tibetan monks at balloon-animal-making school. We definitely believe him.
Then, at Off The Wagon, we had an expert bubble blower entertaining the crowd while they sipped on pints. Besides making fascinating bubble art, he also was able to make bubbles big enough to fit AN ACTUAL ADULT HUMAN -- a skill he's honed for the last 15 years. Want more numbers? Well check out this fancy little graphic we made:

Some of our favorite photos from the day
And that's it, folks! Here's to another year of Saturday warriors making us truly proud. Here are a few of the best shots: