Courtesy of Atlantic Records
You may have heard of a little-known, totally niche, off-Broadway, underground show called Hamilton, written by some unknown named Lin-Manuel Miranda. But unless you know someone who knows someone who knows Oprah, odds are you haven't seen it. And unless you have $800 lying around, you probably won't be getting resale tickets for this show anytime soon. So what's the next best thing to actually seeing the musical in person? Walking the same footsteps that the real Alexander Hamilton took more than 200 years ago.
Hamilton is, of course, the main focus of this groundbreaking musical, but New York City itself comes in close second. The majority of the musical's most important scenes and musical numbers take place all around the city, and most of them can still be visited today. We've highlighted 11 spots in the city that will have you seeing New York through the eyes of Hamilton, including places he actually frequented and some places that are created in his honor. And who knows, now that Lin-Manuel Miranda has a little more free time, maybe you'll find him reliving the glory days at Fraunces Tavern or the Hamilton Grange.
Hamilton Grange
Hamilton Heights
As he says in "Helpless," Alexander Hamilton always wanted "to get a little place in Harlem and figure it out" with his wife Eliza, and in 1802, he did just that. After their son Philip died in a duel in 1801, Alexander and Eliza were understandably devastated, so Alexander built a summer house -- the only house he ever owned -- up in the then-countryside in Harlem. Today, the beautifully preserved Hamilton Grange is a national monument, so you too can enjoy "how quiet it is Uptown." You can visit the house for free Wednesday through Sunday from 9am-5pm with either ranger-guided or self-guided tours on the hour. Make sure to arrive at least 30 minutes earlier than when the tour starts, as each tour only accommodates 15 people at a time. Bonus: don't forget to stop at St. Luke's Episcopal Church around the corner and snap a picture of the statue of Hamilton hidden among the church's trees.
Trinity Church
Lower Manhattan
You'd probably never guess that right next to a subway entrance littered with rotting hot dogs lies one of America's greatest founding fathers. Alexander Hamilton can be found on the burial ground of the impressive Trinity Church on the very edge of the south churchyard lining busy Rector St. At the foot of his massive tomb lies Eliza. Hamilton's son Philip is also buried somewhere in the grounds, but historians are not sure where exactly his remains lie. Even though in "Who Lives, Who Dies, Who Tells Your Story," Eliza sings that her sister Angelica is buried in Trinity Church near Hamilton, she's actually buried separately from the rest of the Hamiltons on the edge of the north churchyard lining Trinity Place. The best time to pay your respects would be Sunday afternoon, when church services are done and guys in suits aren't racing around the Financial District. Make sure you bring some tissues -- we can almost guarantee this part of your Hamilton journey of New York City will cause a few tears.
Federal Hall
Lower Manhattan
Federal Hall is the first capitol building of the United States, but more importantly, it's where Jefferson and Hamilton's "cabinet rap battles" took place. Washington was also inaugurated here as America's first president, so basically, you can't get much more historical than this. You can visit Federal Hall 9am-5pm, Monday through Friday. Power past the selfie sticks and hot dog stands outside, and once you enter the impressive grand hall, break out your best Hamilton rap for everyone to hear. It's OK. Nobody will judge you.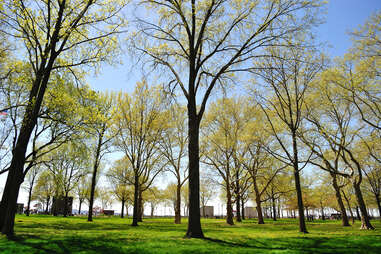 Battery Park
Lower Manhattan
During the song "Right-Hand Man," Hamilton proves himself to General Washington at the southern tip of Manhattan during a revolutionary battle. Hamilton, who was undoubtedly the most badass of our founding fathers, stole the British cannons and successfully changed the tide of the battle in favor of the revolutionaries. It's hard to imagine a battle taking place among the lines for sightseeing cruises and tourist dads of Battery Park today, but walking around the area at sunset with towering skyscrapers on one side and Lady Liberty in the distance will make any American feel sentimental for the sacrifices our Founding Fathers made. I'm not crying, you're crying.
Morris-Jumel Mansion
Washington Heights
The oldest standing residence in Manhattan, the Morris-Jumel Mansion was used as Washington's headquarters during the Battle of Harlem Heights, and later, Aaron Burr's residence with his second wife. The mansion is so vital to Hamilton that Lin-Manuel Miranda was granted a writing space in one of the rooms to write parts of it. So if you're feeling inspired to write the next great American musical, you might want to bring a notebook for your visit.
Graham Windham
Brooklyn Heights
During the musical's final song, "Who Lives, Who Dies, Who Tells Your Story," Eliza reveals that she lived another 50 years after Alexander dies, and in that time, she helped create the first private orphanage in New York City. Today, the Graham Windham orphanage still stands in Brooklyn Heights and helps more than 4,500 kids and families every year. Knowing from the musical that Alexander Hamilton was an orphan by the age of 13, this is one of Eliza's most lasting and meaningful legacies, truly making her "best of wives, best of women."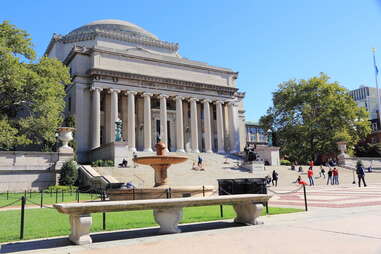 Columbia University
Morningside Heights
In "My Shot," Hamilton raps that he's going to graduate from King's College. Today, it's known as Columbia University. When Hamilton and his archvillian Aaron Burr attended the university, it was located in Lower Manhattan, but that location has since been demolished. Columbia's campus is now is located in Morningside Heights, and it's a perfect place to tour after hitting up Hamilton Grange in Harlem. Fun fact about Hamilton's time at King's College that they don't tell you in the musical: Hamilton once distracted a mob that was trying to kidnap Myles Cooper, the college's president, by delivering a lengthy speech, giving Cooper enough time to escape. It's one time that Hamilton's tendency to "shoot off at the mouth" actually helped someone out.
Fraunces Tavern
Lower Manhattan
Even though a pub name is never mentioned in "The Story of Tonight," it's inferred that Hamilton and friends were drinking at Fraunces Tavern. It was one of the most popular gathering places in Manhattan at the time, where some dudes you might have heard of, such as George Washington and John Adams, would often hang out. The tavern, which still operates as a bar and restaurant, is Manhattan's oldest standing building and served as an important meeting place throughout the Revolutionary War. In the museum upstairs, you can even stand in the room where George Washington said farewell to his officers. Then you can eat in the more formal room or have a pint in the connecting porterhouse. Just make sure to take a shot (or five) with your closest friends and "raise a glass to freedom." It's only the Hamilton way.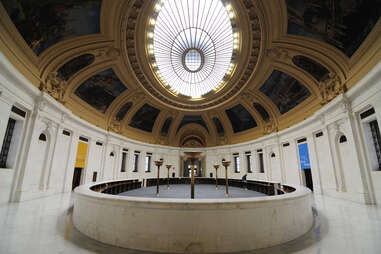 Alexander Hamilton U.S. Custom House
Bowling Green
Hamilton never actually set foot in the U.S. Custom House bearing his name Downtown, but it was named after him in honor of the legacy he left as America's first secretary of the treasury. Although tours of the Custom House are often hard to nail down, you can get a special tour of the building October 15th and 16th as part of Open House New York Weekend.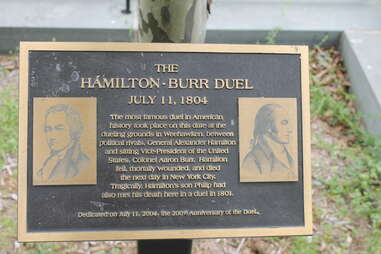 Dueling grounds
Weehawken, New Jersey
OK, this technically isn't in New York City, but just over the Hudson in Weehawken are the dueling grounds where Burr mortally wounded Hamilton, which is played out in one of the musical's final numbers, "The World Was Wide Enough." Hamilton's son Philip was shot at the same dueling grounds during the song "Blow Us All Away." You can still visit them today and view the actual boulder where Hamilton lay his head as he died.
Richard Rodgers Theatre
Theater District
You've done it. You've walked the same steps our "favorite bastard, orphan, son of a whore" walked through New York City, but you can't forget the inspiration that brought you on this journey. So, just waltz up to the box office at Richard Rodgers Theatre and buy a ticket. Just kidding! As you're already aware, mediocre tickets to Hamilton might cost you around $800 face value, so your best bet is to listen to the soundtrack on repeat. However, you can enter the online Hamilton lottery every day for front-row seats to the show for $10 (get it, you pay a Hamilton to see Hamilton?!). But the writer of this piece has entered the lottery approximately 70 times with no luck, so don't hold your breath. You used to be able to enter an in-person lottery for Wednesday matinees and watch impromptu performances from cast members, but the theater has just discontinued it. We hear the line itself is pretty entertaining, though!
Sign up here for our daily NYC email and be the first to get all the food/drink/fun New York has to offer.
Ciera Velarde is an editorial production assistant at Thrillist who listens to the
Hamilton
soundtrack at least once a day. Her favorite song is "Satisfied" and her spirit animal is Peggy Schuyler. You can follow her on Instagram and can contact her anytime if you have extra Hamilton tickets. Seriously.