New York can be a pretty scary place -- between cockroaches, rats, high rents, and L train woes, there's plenty to be afraid of in this city. The one thing you probably haven't considered fearing? Ghosts. Yes… on top of rodents the size of cats, we have to worry about the dead. The city is purportedly full of haunted buildings -- from old bars and banks to NYU dorms and Staten Island asylums -- many of which you can visit yourself this Halloween. Think of it this way -- maybe the paranormal will make your everyday life feel kind of normal?
1890s Brooklyn Trust Company's Bedford Branch
Bed-Stuy
Finance in and of itself is scary. But add in some inexplicable, probably ghost-related activity and your checking account's negative balance looks a lot more manageable. This 2500sqft 19th-century bank, which was a gritty home to squatters in the late 20th century and now houses luxury apartments and Wintercheck Factory's furniture studio, is rife with spooky stories. "We continue to find small notes in the building, strange and sometimes menacing little pieces of paper with writing on them slipped into moldings and in between floorboards," Kristen Wentrcek, who runs her business out of the space, said. You can visit Wintercheck's showroom or rent the haunted historical venue for spooky festivities for $250/hour.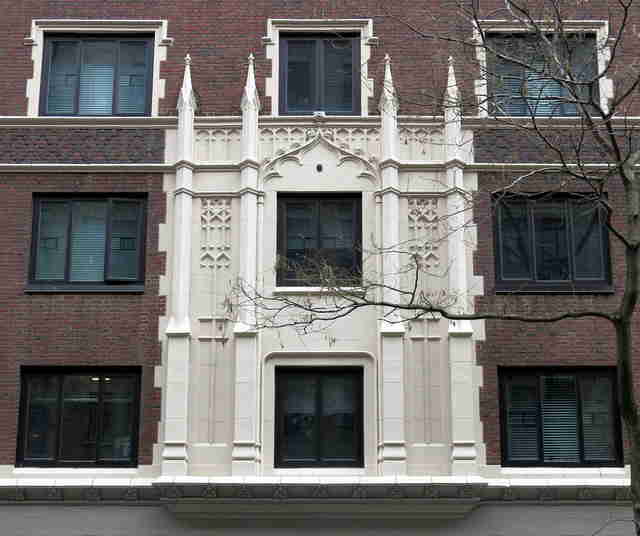 NYU's Brittany Hall
Greenwich Village
As if starting college is not scary enough, NYU students placed in Brittany Hall have yet another worry to add to their list of stressors: hauntings. While Washington Square Park, built on top of an estimated 20,000 bodies, and the surrounding area are certainly spooky, this dormitory is a tried-and-true haunted locale. Students, building workers, and staff all have their own accounts of strange events in the building, ranging from mysterious knocks and sounds coming from the ceiling, mysteriously flickering lights, feelings of being watched, and a phantom chair placed in the entirely empty building during its renovation.
One if by Land, Two if by Sea
West Village
Taking a date out to a romantic meal may be the most terrifying thing you do all week, but that pales in comparison to the hauntings at this intimate steak and seafood spot. Housed in a former carriage house, this restaurant was once the home of Aaron Burr -- you know, that guy who killed the star of the world's favorite hip-hop musical sensation. After Vice President Burr and his daughter Theodosia (you know the song) were said to have been kidnapped by pirates and forced to walk the plank, they allegedly started to haunt the building, which became a brothel and pub after Burr died, before it started serving $160 tasting menus today. Want to see if the father-daughter duo are still haunting their old home? Along with staff being taunted by the ghosts, numerous guests have claimed to have their earrings pulled off while in the spooky dining room. Also scary: A loaf of table bread (baked to order) here costs $14.
The Astor Room
Astoria
Hollywood-style hauntings are rampant at this former commissary to Kaufman Astoria Studios. Built in 1920, the commissary would serve as a cafeteria for both movie stars and the crew. Old-school stars like Rudolph Valentino, Mary Pickford, Gloria Swanson, and W.C. Fields all filmed here, and could still be sticking around. Visitors to The Astor Room (now a restaurant) have reportedly spotted a woman with a vintage cigarette holder in the ladies' bathroom who disappears after a second glance, as well as another mysterious woman dressed in historical clothing who makes a spooky appearance on the staircase. On top of that, Valentino, a silent-film actor who filmed at the studios and died at just 31 years old in 1926, allegedly still tries to sneak in some bar time by haunting The Astor Room as well as many Los Angeles venues, which sounds like a really nice bicoastal life for a ghost.
White Horse Tavern
West Village
This old-school drinking hole has a long history of attracting artists and writers -- everyone from Dylan Thomas and Jack Kerouac to Allen Ginsberg and Jim Morrison were loyal customers, and allegedly still haunt the bar today. Legend has it that back in the day, Kerouac would get kicked out of the bar after drinking too much and once saw the words "Go Home Jack" scribbled near the urinals. To this day, different versions of "Go Home Jack" or "Jack Go Home" are still found written mysteriously on the wall, perhaps by a peeing patron, but more likely, by a ghost with a Sharpie.
Staten Island, in general
"Some of the most haunted spots in the city happen to be, perhaps unsurprisingly, in our least populous borough: Staten Island," says Andrea Janes, owner and founder of Boroughs of the Dead: Macabre New York City Walking Tours. "For some reason, and I can't quite figure out what it is, there's an enormously high concentration of eerie and haunted spots out there." The Conference House and the former Willowbrook Asylum, which is now part of the College of Staten Island, are both notorious for their hauntings. For lesser-known haunted spots, just explore the borough: Janes says hauntings appear at "the oddest places" like Richmond Rd in Graniteville, where a vaporous man in gray is said to drift in a wooded lot on the side of the road. Janes pointed out that this location also happens to be the spot where Polly Bodine allegedly murdered Emeline Van Pelt and her 18-month-old baby in 1843 (coincidence or not?). To add to the spooky factor, the location is also by the Moravian Cemetery, "where the Vanderbilt Tomb is said to be haunted by the luminous form of an unknown woman, as well as the shade of a man in a gray suit, who people swear is none other than old Cornelius Vanderbilt himself," says Janes. "Gray, it seems, is the sartorial color of choice for the departed gentleman in Staten Island."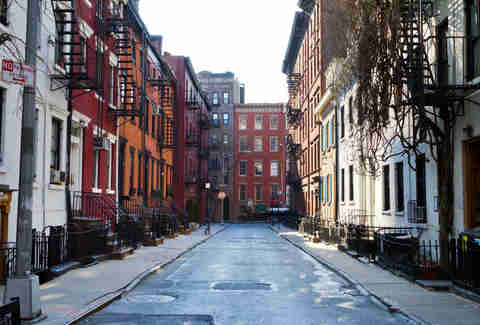 Gay Street
Greenwich Village
This short, curving street may be one of the most adorable in Greenwich Village, but it's also home to a fair amount of spooky sightings. Mayor Jimmy Walker housed his mistress, showgirl Betty Compton, at 12 Gay St in the 1920s, at a site that was formerly home to a Prohibition-era speakeasy called Pirate's Den. While it's unclear whether Betty herself is haunting the building, that specific townhouse is said to be especially spooky, with a strange, restless energy reported near it, as well as mysterious footsteps at night. Creepier yet, puppeteer Frank Paris, who created the seriously terrifying Howdy Doody marionette, lived at 12 Gay St and reported odd paranormal activity, including an inexplicable smell of onions frying at odd hours when he was alone. Gutted in 2007 and put on the market for over $4 million, 12 Gay Street is currently completely desolate. Even if you're avoiding the empty townhouse, all of Gay St has been said to be haunted with the ghosts of flappers, as well as the Gay Street phantom, reported both as a dapper man in coattails (perhaps the adulterous Mayor Walker?) and a slender woman who appears with a pill bottle in her hand and is said to have once made an appearance all the way up on 42nd St. Nowhere is safe.
84 West 3rd Street
Greenwich Village
This historic, 1906 Greenwich Village firehouse was purchased and converted into a private residence in 2010 by no other than the silver fox himself, Anderson Cooper, who enlisted architect Cary Tamarkin to do a $4.3 million renovation. The lavish lifestyle doesn't come without everyday ghosts, however. In 1930, after discovering that his wife was having an affair, Firefighter Schwartz hung himself from the rafters of that very firehouse. Firefighters working in the building for decades to come reported hearing strange noises and even seeing the shape of a corpse hanging in mid-air. While Cooper is notoriously secretive about his personal digs, we'd guess that after a late night of CNN anchoring, he's had a few haunted run-ins.
Your next apartment, probably
Everywhere
"The craziest stories are always the ones that customers tell me on my tours," Janes said. "These private, domestic ghost stories are often extremely intense, and quite emotional." One Upper West Side woman told Janes about waking up in the middle of the night to see her ex-boyfriend sitting at the foot of her bed. He'd committed suicide in her room the week before, shooting himself with her own gun. Nina Ruggiero, who lives in StuyTown, says that when she was little she'd wake up and see ghosts every so often, but after living in StuyTown for three years, she hadn't experienced the paranormal -- until recently. "I woke up and saw this blonde girl, it's never someone I know, she seemed to be around my age though, in her 20s. She was wearing a black skirt and black top and was just hovering in my bedroom by my door, looking down at the floor." Ruggiero notes the ghost was "an extra-stubborn one and wouldn't disappear, so I slept with all the lights on."
Sign up here for our daily NYC email and be the first to get all the food/drink/fun New York has to offer.