Biggie, Drake, and Nicki Have Their Moment at This New Immersive Exhibit
It's only right, since New York is the birthplace of hip-hop.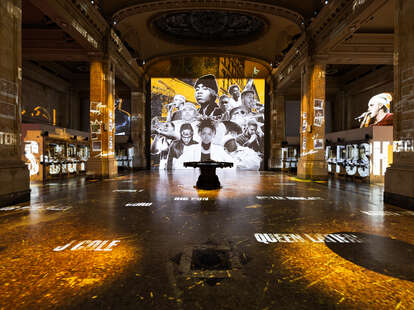 "Hip Hop Til Infinity" exhibit at Hall des Lumières

| Photo by Mark Zhelezoglo
"Hip Hop Til Infinity" exhibit at Hall des Lumières

| Photo by Mark Zhelezoglo
Fifty years ago, hip-hop was born at a South Bronx house party. Since then, New York City has become a mecca for aspiring artists—with success stories including (but definitely not limited to) local legends like Biggie Smalls, Jay Z, Lauryn Hill, and the Wu Tang Clan.
So, it just makes sense that one of New York City's hottest art venues is transforming into a massive homage to hip-hop on the cusp of the genre's fiftieth birthday. On Wednesday, August 2, head to Hall des Lumières to see the newest exhibit: "Hip Hop Til Infinity".
In collaboration with Mass Appeal's Hip Hop 50, which promotes hip-hop as a global movement, the immersive experience spans two floors and takes visitors through five decades of hip-hop history with floor-to-ceiling projections and a curated playlist.
"The opening scene, The Mecca, is pretty epic," says Vice President of Creative Strategy at Mass Appeal Jon Colclough. "Guests are surrounded by all this classic New York imagery set to a soundtrack completely comprised of iconic breaks. It sets the tone for the show."
Alongside the 45-minute digital installation, visitors can also drop by for virtual concerts, listening parties, and artist meet-and-greets. Stay tuned via IG for upcoming announcements.
"Hip Hop Til Infinity" opens on August 2 at Hall des Lumières. Tickets are $42 per person.
Izzy Baskette is the New York City Staff Writer for Thrillist. Talk to her at izzy.baskette@voxmedia.com or find her on Instagram.