Where to Find the Hottest Burlesque Shows in NYC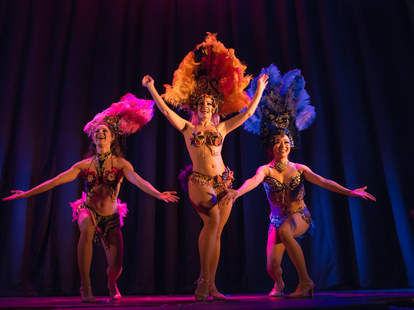 Bad burlesque is a lot like bad Chinese food, in that it can leave you feeling sick (and potentially turn you off the experience forever). Fortunately, a really great burlesque show has the exact opposite effect, and since knowing where to find the best ones in New York City is like being in on an incredibly dirty little secret, we've decided to share 10 of them with you. Some are regular revues, while others are companies with multiple shows under their belts (garters?), but they all offer the same allure (dancing naked people).
Kat Market
Circus Revue
Bushwick
It's wall-to-wall sexy-meets-strange at this very affordable Brooklyn performance space, where burlesque dance shows regularly take center stage in the main room (yes, you can drink there), complete with jazz, aerialists, and more props than a Hollywood set. Then there's the overall anarchy of its signature Circus Revue -- picture an extremely NSFW Cirque du Soleil, with a free dance party in the front room after the show.
Bushwick Burlesque
Bushwick
This themed show on the third Tuesday of every month pushes the boundaries of just how weird a burlesque performance can be: picture abstract surrealist cabaret, with some cross-dressing and glitter thrown in for good measure. The venue itself is French-themed, doubles as an absinthe bar, and the entire room is coated in a Red Light District filter. What's not to love?
Mark Shelby Perry
TeaseohhhRama
Bowery
The crazy part about this place is, it looks like a run-of-the-mill (yet classy) banquet hall -- until you look up and see a corset-clad dancer dangling from a silk scarf on the ceiling. Between the fancy ambiance, delicious Southern plates (get the Georgia cheese grits), and the slew of saucy minxes taking the stage throughout the week, there's no shortage of reasons to hit this place up during the week.
Any show
LES
Located on the LES near Freeman Alley, this place feels downright illicit as soon as you walk in -- add in the fact Simon Hammerstein (he of the Broadway royalty Hammersteins) is the brainchild behind this New Orleans-style speakeasy, and you know you're in for something spectacular. The nightly shows start at 1am, and can best be described as equal parts freaky and sexy, with additional acts continuing on through the rest of the night. The "dinner theater" sources its extremely talented (and limber) performers from all over the world, and you'll wanna show up by midnight to ensure you get to see every last one of them.
Dumbo Burlesque
Big Sky Works (address and info)
Williamsburg
These peeps truly know their burlesque, putting on two regular shows -- "Burlesque Below the Bridges" and "Wildcat Cabaret" -- at this nondescript waterfront warehouse. Rue burlesque fans should go see them both: odds are between all the flying hoops, articles of clothing, and... people, you could definitely miss something.
Take a Turn for the Nurse
LES
The Wednesday show here stays true to the bar's name by embracing a sexy pin-up motif, but on the off chance you're not able to make it, have no fear: there's an equally sexy Thursday show called "Spanking the Lower East Side," hosted by Calamity Chang (the self-proclaimed "Asian Sexsation"). Plus, the place is tiny, so you'll be about as up close and personal as you can be without actually being in the show.

Best of all, both shows are 100% free, and while the idea of a free burlesque show might sound kinda gross, rest assured: it's just as tantalizing as the paid performances on this list.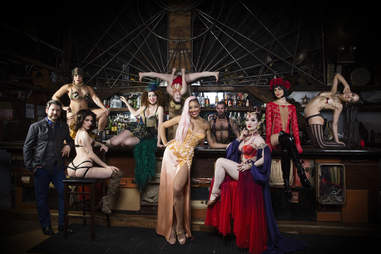 Steve Prue
Wasabassco Burlesque
Multiple locations
Wasabassco is like the Hall of Fame of burlesque, with an all-star cast that roams throughout the city to perform a series of sassy shows (including a naked talk show and one called Naked Detective). A new performer makes a weekly stop at the ever-provocative Bathtub Gin speakeasy, but other regular venues include The Bell House, City Winery, and The Hellfire Club. Basically, make sure to follow these girls wherever they go -- but not, like, in a creepy way.
RAWR! Burlesque
East Village
Each of the performers at this idiosyncratic-meets-sexy show has their own playful character -- think Power Rangers, but with far less clothes (and much hotter). In addition to their regular performance every third Thursday, the RAWR! crew holds an experimental "Burlesque Lab" on the first Thursday of every month, allowing audience members to watch established performers (and newcomers) workshop their latest routines. It's like watching a college seminar, except the instructors get naked!
The Slipper Room Show
LES
If you've only ever been here for the excellent comedy show, you're seriously missing out: this place is one of the most notorious burlesque venues in the city. In addition to the eponymous Slipper Room Show, the venue host multiple guest events like Glitter Gutter, The Girly Girl Revue, and Mr Choade's Upstairs Downstairs -- all are wickedly entertaining, and performed in intimate stage setting that's equal parts swank and spank.
!BadAss! Burlesque
Multiple locations
This traveling show is run by Velocity Chyaldd, arguably the Madonna of all burlesque -- specifically, Madonna in her cone-bra-wearing '80s days. In addition to the bare skin, a wide variety of accompanying music takes center stage at these shows: you'll see scantily-clad gals getting down to everything from Janis Joplin to Pink Floyd... in about every provocative angle possible.
Sign up here for our daily NYC email and be the first to get all the food/drink/fun New York has to offer.