How to Do the Holidays in New York Right, From Uptown to Downtown
From the giant tree in Rockefeller Center to the elaborate Fifth Avenue window displays, NYC during the holidays looks like one huge movie set. And while you should definitely check out the more famous offerings while you're here, to really experience a true Manhattan holiday, you need to explore the whole island. With that in mind, we compiled the best holiday offerings from uptown to downtown, so you know exactly what to hit up -- whether you're into holiday-themed cocktail bars or seeing a classic ballet.
f11photo
Uptown
Take a horse-drawn carriage through Central Park
260 Central Park South
Central Park is the crown jewel of uptown, but with more than 800 acres to explore, you're not going to see the whole thing in one fell swoop. That means the best way to see a majority of the park is with the help of a horse-drawn carriage. Sure, these are popular with the tourists, but for good reason: you'll see skaters at Wollman Rink, the holiday decorations at the Plaza, and you'll take it all in while wrapped up in a toasty blanket with hot chocolate in hand.
Eat a steak in a festive restaurant
240 E 58th Street
Steakhouses are to uptown what cream cheese schmears are to bagels, and that's true during the holidays, too. But when it comes to dining out over the holidays, one of the prime spots to hit up is Club A. It's been open for nearly a decade, but the owner, Bruno Selimaj, has been a restaurateur for 40 years. The menu features classic New York steakhouse options, with prime cuts of beef, oysters, and steak tartare. But what makes this place perfect for the holidays is the ambience. It has a toasty fireplace, a decorated tree out front, and cheery red walls -- a choice combo for a nice night out. Pro tip: if you want a table near the crackling fire, make sure you tell the hostess when you make your reservation.
Advertisement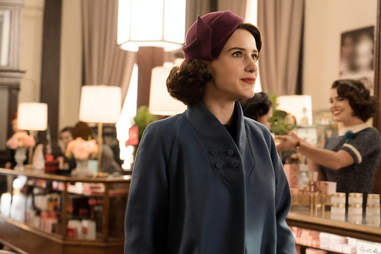 Courtesy of Amazon
Go inside both of New York's vastly different neighborhoods in the new Amazon Prime Original series, The Marvelous Mrs. Maisel. From the creator of Gilmore Girls, the series is about a fearless woman in 1950s Manhattan who goes from perfect housewife to stand-up comic after her life takes a sudden turn. Stream it starting November 29 on Prime Video.
Spend the holidays at the Apollo Theater
253 West 125th Street
Harlem's famous and longstanding theater is maybe one of the most recognizable names in New York history -- and the best time to visit is around the holidays. Starting December 9, the Apollo hosts holiday events including its annual Kwanzaa celebration and a special holiday version of its famed Amateur Night. But regardless of the show, if you've never been inside the Apollo and seen its iconic interior and stage, you're missing out on one of the most important spots in New York's artistic history.
The Jerni Collection, New-York Historical Society
Check out antique toys and trains at the New York Historical Society
170 Central Park West
Yes, you should spend a few New York minutes checking out the Fifth Avenue window displays. But for a real treat, you can head to the New York Historical Society to see a New York Christmas from times long past. Every year, the museum's Jerni collection of antique toys and trains goes on display. This year it'll run from October 28th through February 26th, and it transforms the society's first floor into a wonderland of old playthings, like something from a classic holiday movie. Go there to embrace your inner kid, while still feeling cultured.
Courtesy of Lillie's
Take in Victorian holiday decor over drinks
249 West 49th Street
Technically, Lillie's Victorian Establishment has two locations, one near Times Square and a second near Union Square. However, the antique Victorian holiday decor that covers the bar before Christmas seems like something from vintage uptown NYC -- and the drink menu isn't bad either. (We suggest trying the Cranberry Sauce Caipirinha, made with avua lata, cachaça, agave, lime, and cranberry sauce to put you in the holiday spirit.) Plus, they have an entire Victorian high tea menu here -- and that seems decidedly "uptown" to us.
Paul Kolnik
See the Nutcracker at Lincoln Center
20 Lincoln Center Plaza
Checking out The Nutcracker at the New York City Ballet is way more refined than seeing the Rockettes, but just as spectacular -- thanks to 90 dancers, 62 musicians, 32 stagehands, and 50 kids from the School of American Ballet. (Plus, you'll avoid all those tourists with selfie sticks at 30 Rock.) It's a classic uptown holiday experience that runs from Nov. 24 to Dec. 31 at Lincoln Center each year, so wear your most festive finery and be dazzled by toy soldiers, real-crystal snowflakes, and a 40-foot, one-ton Christmas tree.
Liz Barclay
Downtown
Drink festive libations at a holiday pop-up bar
649 E 9th Street
Four years ago, MACE cocktail bar transformed itself into the holiday-themed craft-cocktail pop-up Miracle on 9th Street for the month of December, and in the short time since, Miracle has become something of a downtown holiday tradition. Now, it has three NYC locations (all downtown, at MACE, Boilermaker, and Pier A Harbor House) and is sought out for its festive decor and creative take on holiday drinks. Try the Snowball Old Fashioned, made with gingerbread bourbon, wormwood bitters, and lemon zest, or the Run Run Rudolph with blanco tequila, coffee liqueur, iced hot chocolate, and Mexican spices. The best part, though, is that the holiday spirit (pun intended) has spread far beyond the lower Manhattan bar scene, with 50 participating "Miracle" bars across the country set to open this year -- but you can visit the original in the East Village.
Katz's Deli
Celebrate Hanukkah with traditional Jewish delicacies
205 E Houston Street
Sure, there are Jewish delis all over Manhattan, but only the Lower East Side has Katz's. Yes, this is the place where When Harry Met Sally's famous "I'll have what she's having" line was born -- but in New York, it's known for more than its ahem, pleasurable, pastrami sandwiches. It's also a go-to for traditional Jewish classics like matzo ball soup and potato latkes. If you're lucky enough to score some of Katz's latkes -- the deli sells literally thousands of them around Hanukkah -- pair them with applesauce or sour cream and be prepared to indulge.
Drink fancy hot chocolate in the middle of Soho
156 Prince Street
Soho is known for being one of the most trendy, fashionable parts of NYC, making it a prime neighborhood to do some serious holiday shopping. But while you're there, you'd be remiss to skip L.A. Burdick. It has some of the best hot chocolate in the city, with dark chocolate, milk chocolate, and white chocolate varieties to sip on. While you're in the neighborhood, you could also pick out your Christmas tree (or, let's be a real, a wreath for your apartment door) at the Soho Trees flagship store on 6th Avenue and Spring Street.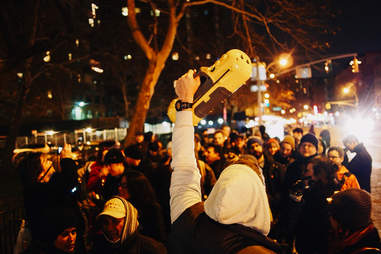 Taylor Davidson
Carol with boomboxes in Washington Square Park
Washington Square North
In 1992, composer Phil Kline started Unsilent Night, a "sound sculpture" that involves participants playing a part of Kline's work through a boombox and blasting it simultaneously with other participants playing a different part of the same song. Together, the recordings become a full, cohesive performance, like a walking holiday orchestra, parading through the East Village. To participate, just visit the Unsilent Night website, download one of the four available tracks, and get ready to join the ultimate downtown caroling party.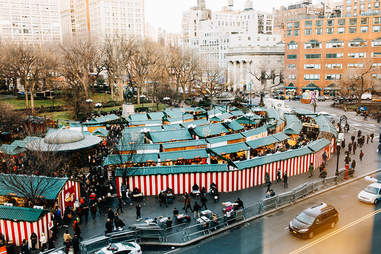 Erin Kestenbaum
Shop for gifts from local artists
Union Square Park, Southern Side
Downtown NYC is all about artists, and you'll find their wares at the Union Square Holiday Market each year. It's one of the most eclectic holiday markets out there, exactly where the downtown crowd would shop, thanks to the collection of vendors offering everything from screen-printed totes and t-shirts to handmade jewelry and original paintings. It's not only about unique gifts though -- you can also enjoy an eclectic mix of the best street food and live music in the city while you brave the winter chill.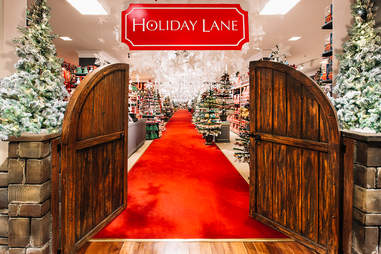 Barry Fidnick / Macy's
In Between
Rekindle your holiday cheer at Macy's
151 West 34th Street
34th Street doesn't feel like uptown or downtown -- but you really can't do New York at the holidays without stopping inside one of its mainstays. Macy's is the most festive department store in the United States, with a set-up so lavish it inspired a classic Christmas movie. Unless you're looking for a headache, avoid Santaland and head directly to the Herald Square Macy's Holiday Lane. Located on the ninth floor, this section is where all of the holiday decorations are kept -- so you can browse thousands of ornaments, handmade Santas, and nutcrackers to take home as keepsakes. Just be sure to drop a letter to Santa into one of the red mailboxes before you leave, because Macy's donates $1 to Make a Wish for every letter they send off to the "North Pole."
Experience Christmas the German way at Rolf's
281 Third Avenue
Rolf's is something of an NYC holiday institution, right up there with checking out the tree at Rock Center and ice skating in Bryant Park. Located near Gramercy Park, Rolf's is known to attract a crowd thanks to the thousands of lights and ornaments they have on display -- but there's more reason to go than just to fill your Instagram story. They have one of the best schnapps menus in the city, even though most patrons are heading there for mulled wines and eggnog. Along with your drinks, make sure to sample the traditional German menu, with knockwurst, schnitzel, and roast suckling pig. Our best advice, though: don't be dissuaded by the line outside. The best things in New York are worth the wait.