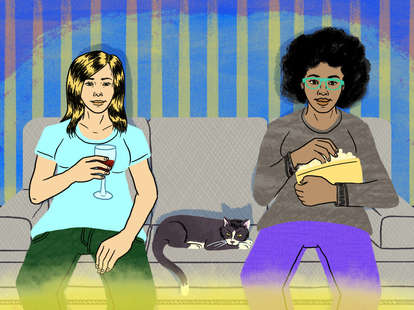 Daniel Fishel/Thrillist
Daniel Fishel/Thrillist
Unless you're a Monica Geller-type who has inherited a rent-controlled apartment in Greenwich Village from your grandmother, you're almost definitely going to need a roommate in New York City.
Most recently, Rent Jungle listed the average price of a one-bedroom in New York City at $2,711, with two-bedroom pads costing approximately $3,454 a month. Split two ways, that's a (somewhat) more reasonable price of $1,729 per person. Unfortunately, not everyone in New York has a best friend or a significant other ready to sign a lease with them. Finding a roommate in a city as big (and as expensive) as this one isn't hard, but finding a roommate you don't hate -- one who doesn't eat your food or leave his or her hair all over the bathtub -- can be a remarkable challenge.
To help, we've compiled a list of the best tools to help you find a perfectly habitable match -- someone who, hopefully, doesn't just contribute to the monthly rent and utilities, but who also enjoys watching Friends reruns and splitting Indian takeout.
Let's get this out of the way: There are definitely creepy, terrible people on Craigslist. But there are even more decent human beings just looking for a roommate. On any given day, there may be thousands of relevant postings at any time -- and because it's one of the most popular places for housing listings (and people listings) you may not be able to avoid using it. Just be smart about your Craigslist hunt: If you find a room (or a mate) that fits the bill, agree to meet in a public place.
In addition to posting an ad under New York City's shared rooms page, you can find roommates on Craigslist by browsing ads posted by people searching for housing. Sift through all the irrelevant listings by using the pipe key (that vertical line over the backslash) to simultaneously search with multiple keywords. Think: "roommate | Brooklyn | clean | not crazy | likes Friends."
At press time, Gypsy Housing had more than 172,700 members (or potential roommates), with separate -- somewhat less official -- groups dedicated to both Manhattan and Brooklyn housing. This Facebook group, founded by local actor, photographer, and entrepreneur Matthew Kilgore, is designed to connect members of the performing arts community in New York City and their friends. Just as if you were to post your housing needs as your Facebook status, there's a huge bonus to using the social platform during your hunt. You can quickly see if you have any mutual friends, ask for references, and -- in the case of Gypsy Housing -- swiftly find people with similar interests. To become a part of Gypsy Housing, you can either be directly invited by a friend (you probably know someone in the group) or request to join. Note that posts are public, but in order to comment or create an ad of your own, you'll need to be a member.
One of the newest players in the New York City roommate-finder game, Roomi is a free app that aims to give room- and roommate-seekers some serious peace of mind. Every member is vetted by Roomi staff (users are asked to connect their Facebook, LinkedIn when applicable, and upload either a passport, driver's license, or visa), and there's a handy chat feature, so you can speak with your potential cohabitants, Tinder-style, before things get too serious (i.e., you don't have to divulge your real email). Room listings require a location, roommate preferences, pricing and availability, included amenities and rules, a summary of the place, and photos.
Sign up for this free email newsletter (delivered every Wednesday morning) to see a tight list of housing opportunities -- featuring everything from no-fee rooms and apartments to artists studios. The newsletter is curated by Stephanie Diamond, who was inspired by her own mass email-driven apartment hunt prior to starting grad school in New York City. If you're looking for a roommate to move into your space, you can submit an ad to the Listings Project for $30 each week. Include a catchy headline, a detailed description for your space, and any details about you that a potential roommate needs to know (you're a student with early mornings, a waiter working nights, a pet owner, a pet hater). Every listing is reviewed personally by Stephanie or Listings Project community manager Jordan Delzell.
The roommate version of speed dating is hosted by SpareRoom.com and lets New Yorkers with open rooms to fill (or people looking for a place to live) mingle during safe, social -- and totally free -- events in both Manhattan and Brooklyn. There may be as many as five events per month, at neighborhood spots like Matt Torrey's in Williamsburg and the The Penny Farthing in the East Village. You'll meet dozens of potential roommates in the time it would normally take to chat with one contender over an awkward cup of coffee.
Another free dating-inspired site, Symbi starts by asking users to describe whether they're looking for a mate, or a room and a mate. Depending on your needs, you'll fill out a tailored questionnaire, answering questions like "how often do you drink?" and "cleanliness -- be honest" or "which subway lines are nearby" and "are pets allowed?" A compatibility algorithm will evaluate who you are and what you're looking for, and pair you with a potential match. Like Roomi, users are verified as real human beings before being matched.
Sign up here for our daily NYC email and be the first to get all the food/drink/fun New York has to offer.
Melanie Taryn Lieberman has had four New York roommates, including a friend-of-a-friend-of-a-friend and an ex-boyfriend's co-worker. If she ever needs another roommate, she'll probably live alone.