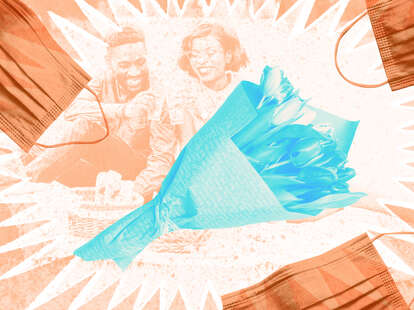 Design by Maitane Romagosa for Thrillist
Design by Maitane Romagosa for Thrillist
This story is a part of a Thrillist series helping our readers navigate and slowly return to the world. Be sure to always follow CDC guidelines and, most importantly, don't leave the house if you're experiencing fever, cough, shortness of breath, or other symptoms of COVID-19.
We are slowly reemerging from one of the most unromantic years of all time. Dating, which was already stressful enough pre-COVID, became almost non-existent during the early parts of 2020. Casual hook ups, in the most fun and enjoyable sense, felt reckless. And yet, while so much has changed in life as we know it, here we are, the same human beings who deeply crave romantic connection. So where do we go from here? At this point, many people are vaccinated, and singles are ready to mingle. But how? As a love and sex writer who has seen, heard and done it all, I have some advice for dating in the post-vax world.
Ask for your date's Covid status in advance.
I completely agree with this guiding principle from Allison Chawla, a New York-based psychotherapist, "We are all going to have to be very honest about the way we feel and forthcoming when these experiences or opportunities present themselves...do your due diligence ahead of time. Ask the person whom you are about to meet if they haven't been feeling well or if they have had any recent symptoms. Let us not forget that we are STILL IN the pandemic and the virus is still a threat to many. There should be no shame in continuing to protect ourselves at this time. Ask someone if they have been vaccinated. Be sure to be aware of your own health as well."
This doesn't have to be a dead serious conversation.
You can keep it light. Send a text: "Vax'd 'n waxed, U?" Or, be super direct: "Let's get the unsexy stuff out of the way: I've been double vaccinated for several weeks now. You?" Or save time by just putting the info right in your dating profile. Just know that you're really at a stand-still in terms of date-planning until you have all the information.
Even if you're both vaccinated, should the date still be outdoors?
Not necessarily. According to the CDC, if you're fully vaccinated, you can resume life as normal—which includes grabbing dinner or drinks indoors. However, considering you're both strangers (most likely), an outdoor date is probably the safest option given you still don't know each other too well.
How do I greet my date, knowing we're both vaccinated?
This is actually a great way to share a cute little moment together before you settle into the date. You can say, "Hi! Is it cool if I hug you?" or "Should we elbow bump?" A little physicality, paired with some lightness in spirit, will make things less awkward when it comes to our next issue...
Again, according to the CDC, "Fully vaccinated people can resume activities without wearing a mask or physically distancing." Translation: if the mood strikes, go for it! Make out like it's 2019!
Again, assuming you're both vaccinated, you should feel safe to share a plate of calamari or nachos grande. But just in case, talk it through first. As Allison Chawla says, "Ask them how they would feel about sharing an appetizer or some fries? Normalize the experience. There is nothing to feel ashamed about here. While you don't want the entire date to be about germs, you can certainly and you should certainly address the topic briefly. Don't ignore the elephant in the room. Instead, introduce her!"
What else do I have to think about when picking a place?
Know that many of your ol' faithfuls have changed in terms of hours and culture and rules. Places you've been to a hundred times might now be closed half the week and have limited capacity when open. Definitely check if reservations are required beforehand and be aware of any time limits. The spaces might look different from what you remember in terms of tables and design.
Most of all, remember that we've all been through a year from hell. Take this wonderful advice from New York restaurant owner Julian Brizzi (whose sexy and delicious restaurant Rucola was always a first date favorite of mine), "Want to make an ideal first impression on a date right now? Be kind to service staff—everyone working in restaurants either just had the hardest, most depressing year they've ever experienced in hospitality, or, they just got hired and are trying to learn on the job. Be understanding! If a place still wants guests to wear masks when ordering, just do it—even if you disagree on the science or you are vaccinated; it's all about meeting folks where they are comfortable. If your date is a decent human being, they will notice and be appreciative of your good-hearted nature!"
Alyssa Shelasky is a Brooklyn-based love and sex writer whose popular columns and personal essays can be found in New York Magazine and The New York Times. Her next book: This Might Be Too Personal & Other Intimate Stories comes out in May 2022. You can find her on Instagram
@AlyssaShelasky
.