Believe it or not, online dating is NOT for everyone. Some people, in fact, do not enjoy coming up with a single-line bio that somehow magically comes off as smart, witty, flirty, and not murderer-y. Not everyone yearns to find the perfect selfie that will persuade someone that he or she is dating material, without so much as exchanging a single word to each other.
For those of you who still believe in meeting people "the old-fashioned way," i.e., in 3D, human form, rest assured the art is not lost. Yes, it IS possible to meet people in this enormous city of ours without swiping right. We spoke to NYC matchmakers to get their top tips on how to meet REAL people, in person, in New York. Now get out there.
Get involved in community events and sports leagues
Erika Kaplan of Three Day Rule advocates for getting out there any way you can. "I think that Meetup events and singles events are a really great avenue. You will find a lot of people at those events that are online, as well, but that's good. Online is a really big network of people and just because you don't want to be online doesn't mean you don't want to meet people who are. Running clubs, ZogSports... be willing to put yourself out there with friends and to be set up. It's a nice place to start and it's important to be vulnerable."
Michelle Frankel of NYCity Matchmaking agrees that Meetup events are the way to go. "New York has so many hobby-focused groups that you can do," she says. "There's the 92nd Street Y that has a fascinating lecture series, as does the New York Times Center, as does Lincoln Center. Charity events are another great place to go because they are always filled with singles."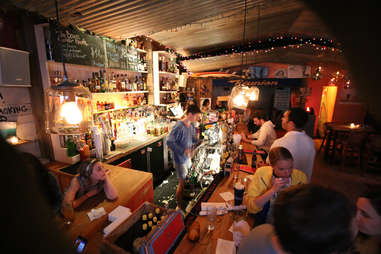 Be an active participant when you're out socializing
Get involved while you're out. Don't text, don't check Instagram, don't nervously pretend to text because you feel uncomfortable being social. "Every time you go out, stop looking at your phone," Frankel says. "Engage everyone in conversation, whether it's a man or a woman. That woman's brother could be your next date. When people ask how your weekend was, let them know that you had a great weekend but say you are still looking to meet someone. Put yourself out there."
Try the "Hello Challenge"
Janis Spindel of Janis Spindel Serious Matchmaking, Inc says she tells women to try what she calls the "Hello Challenge" every day. "Here's what it is: if you're on a mission to find someone, you should literally be on a mission wherever you go. We meet men everywhere and anywhere, from Starbucks, to Verizon, to the shoemaker, to the carwash, to the gym. You don't have to be online, because for many people online dating doesn't work for them. You have to be open to finding someone and change your body language to say you are approachable. All you have to do is make eye contact and say hello. He'll take it from there."
Make a calendar commitment to go out... and stick to it
Sure, after a long week of work, Netflix and Seamless on a Friday night is hard to beat. But you're not going to meet anyone if you're not forcing yourself to get out there. "I have this theory, and I've tested it," says Maria Avgitidis of Agape Match. "If you block out on your calendar a couple of days a week for the next three months and you said that on these days you HAVE to go out, either on a date, networking event, a seminar, what have you, 90% of people in three months would be in a relationship. Literally block out on your calendar for the next three months that you have to go out these two days.
"What ends up happening is that your attitude on those days changes. It's all about attitude. You'll be open-minded, you'll dress a little nicer. You'll be excited. And you will be ahead of your competition," Avgitidis says.
When you do meet someone, give it some time
"Perfection doesn't exist," Avgitidis says, which is an important point for New Yorkers to note in a world of constant swipe-lefts and waiting-for-something-betters. "I'm a big fan of online dating because I met my husband online. But I think the biggest problem with it is twofold: it's the case of a bigger, better deal. People expect ego gratification and there are advantages to stepping away from that and giving people a shot. If your goal is a long-term relationship or marriage, don't jump too quickly. Let's really get to know someone. I think we're in the era where unless it's a perfect date, people move on. Ten, 15, 20 years ago, if a relative said they were going to set you up, you got excited and gave it a shot. Now, with online dating, people assume that if it's not perfect, they're on to the next one. A slow burn is what sustains."
Sign up here for our daily NYC email and be the first to get all the food/drink/fun New York has to offer.
Meagan Drillinger is a contributing writer for Thrillist. Her pickup line is, "Wanna make out?" It works about half the time. Follow her on Twitter, Instagram, and Facebook at @drillinjourneys.