Take Your Scenic Strolls Up a Notch With A Floral Immersive Experience
IG opps at 1,000 feet in the sky.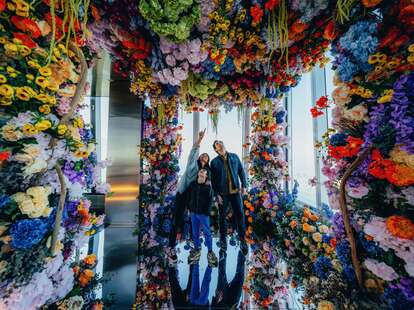 While scenic strolls around city parks are always on the agenda, Edge is proposing we take this pastime up a notch—1,131 feet into the sky, to be exact.
The 100th floor of 30 Hudson Yards—aka the highest outdoor sky deck in the Western Hemisphere—enters its summer era with the debut of Sky Bloom. Running from May 24 through September 4, Sky Bloom combines Edge's unparalleled skyline views of New York City with a heavenly array of fresh and synthetic flowers to create an IG-primed immersive experience.
Designed by NYC-based florist Ivie Joy Floral Arts + Events, a vibrant myriad of blooms covers the walls and ceilings using everything from hydrangeas and poppies to wisteria and ranunculus.
"Guests will find themselves encapsulated in the ultimate sensorial experience—over 100,000 blooms thoughtfully curated to reflect floral art in fluid motion with the city beyond," says founder of Ivie Joy Floral Arts + Events, Ivie Joy. "This installation was designed to reflect the love we feel for the place we call home."
Sky Bloom opens within Edge on May 24 at 30 Hudson Yards. Access to the experience is included with the purchase of an Edge ticket.