A Trip With the Secret Tour Group Changing the NYC Weekend Getaway Game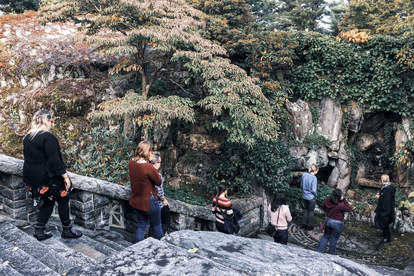 It's a postcard-perfect October Saturday in Sleepy Hollow, New York. The fall air is finally crisp, and tawny treetops sparkle like autumnal fireworks in the afternoon sunlight. A pack of tourists up from the city strolls past idyllic homes decorated with jack-o'-lanterns, black cats, and cobwebs. The houses are like palaces compared to the tourists' tiny apartments 30-some-odd miles downstate in Manhattan and its boroughs. The sidewalks are uncrowded, but the group's leader is careful to make sure his herd stays together. Someone remarks that he ought to have a flag pole like the kind you see out-of-towners bobbing behind in Times Square, but this isn't that sort of tour.
The day began at Grand Central Station, where nine strangers gathered to meet Joe Ferris and embark on his word of mouth, ascendantly popular backyard getaway series that splits the difference between a staycation and a vacation: In-Betweens.
"When this started, I was in a funk," says Ferris, a 33-year-old editorial manager who lives in Brooklyn. "I do long-distance bike rides and I'd gotten injured on one, just south of the Canadian border. On the train ride back to New York, I was frustrated, looking out the window at all these towns passing by that I'd never considered going to. I asked myself 'why not?'" When Ferris couldn't come up with a reason, "I saw this as an opportunity to get friends together and experience new things," he says.
These are places that merit a 'Now Entering' sign on the highway, but not an exit.
A year later and with 15 trips to his name, Ferris has compiled details on 350 municipalities accessible from NYC by commuter rail, and sorted them into the color-coded spreadsheet he pours over to plan jaunts to the In-Betweens: places that "merit a Now Entering sign on the highway, but not an exit," he says.
Sleepy Hollow, New York

| Jim Logan
In advance of each outing, Ferris considers the season, picks a town, weaves an exhaustively researched, minute-by-minute program through quirky local attractions, restaurants, and bars, writes up a tidy itinerary that rivals travel agent propaganda of yore, and blasts an invitation to the select but growing number of friends, acquaintances, former coworkers, gym buddies, chatty bartenders, and early adopters who, with an ear to the ground, have managed to get on the list. It's first come, first served for a limited number of spots -- usually fewer than 20. Most sell out within a few days. Anyone can pick a destination on the LIRR or Metro-North and make a day of it, but Ferris makes it look easy.
"It's a social currency factory," says Dan, a 10-time In-Betweener. "You go to a party and say, 'I'm going to Danbury, Connecticut, tomorrow -- I'm psyched!' People are like 'What the fuck are you talking about?' They have a hard time believing there's no irony, that you're not mocking anyone because nobody else in New York has really done this."
Anyone can pick a destination and make a day of it, but Ferris makes it look easy.
Every New Yorker who's been stuck behind obvious tourists walking three or four abreast on the sidewalk with nowhere to be and all day to get there has had the same fantasy: to go to wherever they're from and dart around like a dizzying subway rat. But Ferris' getaways make those same folks realize that a languid pace is actually kind of nice -- at least for a day or two.
In-Betweens is a ton of work for something that isn't a job, and Ferris doesn't even attempt to turn a profit. Guests only pay transportation and attraction costs. Their out-of-pocket expense is no more than it would be if they'd planned the day themselves. Most trips cost under $100.
Bannerman Castle

| Felix Lipov/Shutterstock
Excursions have included stops at the Billy Joel Motorcycle Museum a miniature golf course, and an oyster farm in Long Island, a bird sanctuary and glass house in New Canaan, Connecticut, an old bank turned arcade in Edison, New Jersey, and an uncharacteristically spendy two-night stay in trendy Beacon, New York, where Ferris' group rented an Airbnb, visited local shops and galleries, toured Bannerman Castle on Pollepel Island, went kayaking on the Hudson, and ate and drank their way through town. Each person spent $350 for the weekend away.
"[He] manages to find these super specific little museums and attractions," says Megan, who scored her spot on the email list after playing kickball with Ferris. "The proprietors are always equal-parts confused and thrilled that a group of people from the city have found them. The nerdery on display is amazing and hilarious."
Kykuit Estate

| Julien Levy
In Sleepy Hollow, the cityfolk mosey from brunch at local favorite Bridge View Tavern -- where Newfoundland blue mussels, wild boar chorizo burgers, and warming rounds of spiked hot ciders and craft beers do not require 30-minute-plus wait times -- across the town's main drag toward the Historic Rockefeller estate Kykuit (rhymes with "like it"). After taking in the Rockefellers' spectacular collection of Brancusis, Picassos, and Calders, it's time for a drink and a chat at a sports bar called The Huddle, where the vinyl siding, wood paneling, and atmosphere are a near-perfect contrast to Kykuit's elegance.
Breaking bread is integral to every trip's itinerary, and Ferris is greeted warmly by name everywhere he goes. "I realized on the first trip that, aside from it being a great way to experience a town and its culture, if you get people around a table for a meal or drinks, they're going to talk to each other. It becomes its own thing," Ferris says.
Two-time In-Betweener Fleur is happily sipping a beer. After moving to New York City from Australia for a job, her only point contact was out of town, but had a suggestion. "My friend Haley trusted Joe," Fleur says. "She suggested I go on an In-Between. I did, had a lovely time, and that trust was transferred. Now anyone I meet on one of these trips, I assume they're a good person." It's the word-of-mouth assurance.
Sleepy Hollow Cemetery

| Julien Levy
Soon, the group is off to a pre-Halloween Murder & Mayhem tour of Sleepy Hollow Cemetery. They cluster close in the dark, wending their way through tombstones in the historic boneyard. Lit by the moon above and kerosene lamps below, tour guide Laura unspools supposedly true spooky tales with a wink. Crickets chirp in the chilly air perfumed by damp leaves and fireplaces; this is what a late-October evening should be.
They shake off the chills over pasta and bottles of wine Red Zebra, a local Italian favorite Ferris visited with a different group around the same time last year. The In-Betweeners debate which of the bone-chilling cemetery stories might've been embellished and discuss their dramatic potential as movies or TV-series. Time is flying and someone wonders aloud whether they should just catch the later train -- dessert and another drink sound nice.
In-Betweens is exclusive by force of necessity rather than pretension.
By 11:30pm, the group is headed back to the city, tired and satisfied. They exchange social media handles on the Grand Central Concourse and begin saying their 'see ya next times.' They've made new acquaintances, seen some spots slightly off the beaten path, and gained a blueprint they can recreate with different groups of friends. These are all places anyone can visit given the time and inclination. At the end of the day, "This as an opportunity to get friends together and experience new things," Ferris says. A couple of days later, His next planned trip to Yonkers is already sold out, some spots snapped up by folks from the Sleepy Hollow adventure.
In-Betweens is exclusive by force of necessity rather than pretension. It must stay small to be sustainable. But Ferris says all are welcome to join the email list. We aren't going to share his contact information here, but he isn't that hard to find. Nobody is -- it's called the internet. And the journey to the journey is half the fun.
Although he isn't ruling anything out, Ferris has no immediate plans to turn In-Betweens into a money making scheme. "People getting to see what's out there, enjoying these towns; the history and culture, the food and drink scenes -- that's a win for everybody, the towns and the people who visit them," he says. For now, expansion is more attractive than possible profits. "For this to take off as a trend outside of New York would be amazing. Chicago, Boston, Portland -- there's history and commuter rails everywhere."
Sign up here for our daily NYC email and be the first to get all the food/drink/fun New York has to offer.
Julien Levy is a writer and native to downtown Manhattan. He now lives in Brooklyn. Follow him on Twitter @JulienLevy_
.