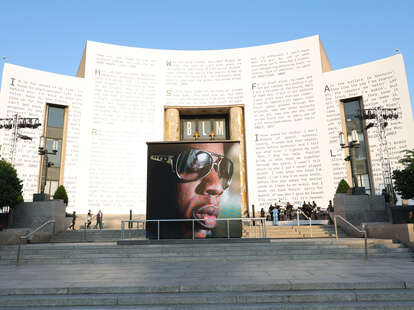 The Book of HOV: A TRIBUTE EXHIBITION HONORING JAY-Z at The Brooklyn Central Library

| Photo by Kevin Mazur/Getty Images for Roc Nation
The Book of HOV: A TRIBUTE EXHIBITION HONORING JAY-Z at The Brooklyn Central Library

| Photo by Kevin Mazur/Getty Images for Roc Nation
A lot of rappers have hailed from New York City, but few over the course of their careers have consistently put fans in an "Empire State of Mind" quite like JAY-Z.
Born and raised in Bed-Stuy, the recording artist and entrepreneur famously came up in the '80s and '90s where he influenced the local sound. He founded his first record label Roc-A-Fella Records in the mid-90s and later his current label Roc Nation in the '00s, and ever since, has continued rapping about his experience of hustling and thriving in the "concrete jungle that dreams are made of."
As this year marks the 50th anniversary of hip-hop—which is being celebrated with concerts and festivals across the globe, TV events, podcasts, and more—it was all but inevitable that Brooklyn would do something to honor HOV himself.
Today, the Brooklyn Library unveiled an exhibit, organized by Roc Nation, that honors the rapper at its Central Library branch in Grand Army Plaza. It arrives just days after the exterior of the library was covered in the rapper's lyrics, including songs like "Encore," "Hovi Baby," "Justify My Thug," "Smile," and others, which many Brooklynites noticed and shared online.
The exhibit, titled The Book of HOV, spans multiple rooms and floors of the Central Library location, with the grand lobby adorned in a mural of the artist born Shawn Carter. The collection features rare photos and footage, memorabilia, awards such as his Grammys, the art installment from his The Blueprint 3 album cover, his masters, vinyl donated to the library by Roc Nation (including all of his albums and about 220 records he's sampled across his discography), and more. It even includes a recreation of his iconic, former Midtown Manhattan recording studio Baseline Studios.
The Book of HOV is free, does not require tickets in advance, and is open to the public from now until fall. Christine Schonhart, director of the Central Library, explained during a press tour that curating the cultural experience in a location where anybody would be able to attend was a priority to Roc Nation, which is why they chose to partner with the library.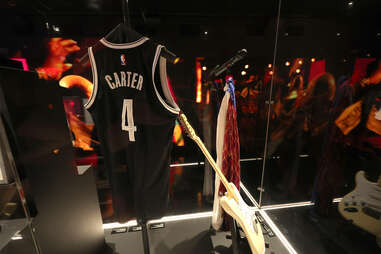 She added that it also made sense, given how it depicts a "uniquely Brooklyn story at a uniquely Brooklyn institution."
The Brooklyn Library's director of communications, Damaris Olivio, also shared, "The overall story is betting on yourself, so we're really hoping Brooklyn youth will be inspired by this story and learn more about the library has to offer," noting the library offers instruments available for check out, that there's even a recording studio exclusively for teens to reserve at the Kings Highway Library, and that The Book of HOV may host recording info sessions soon.
You can take the exhibit home with you, too. The Roc Nation-donated vinyl, as well as copies of books that JAY-Z has in his home, and his biography are available to be checked out.
And if you're able to visit the exhibit or the Marcy Branch soon enough, you may even be able to check them out with limited edition library cards featuring his iconic album covers. (If you're lucky, you can actually collect all 13 library cards that will roll out over the next couple of weeks, but only one can be used as an active card at a time.)
While the Marcy Library near the Marcy Houses that the rapper grew up in wasn't big enough to house the exhibition, in addition to the special library cards there, you can also check out copies of books that belong to Jay there, and more programming will be announced at a later date.
Plus, New York hip-hop heads will be glad to know that there's many other ways to celebrate Hip-Hop 50 across the five boroughs this summer. There's a festival headlined by Queens legends Run DMC featuring an array of Bronx and Queens natives being held at Yankees Stadium this August, and so much more that you can learn more about here.
Sadie Bell is a Brooklyn-based music and pop culture writer, and the former Associate Editor on the Culture team at Thrillist.