The TWA Hotel's Sunken Lounge at John F. Kennedy Airport

| Photo courtesy of TWA Hotel, Photo by David Mitchell
The TWA Hotel's Sunken Lounge at John F. Kennedy Airport

| Photo courtesy of TWA Hotel, Photo by David Mitchell
If you're flying in or out of the Big Apple during the 2023 holiday season, there's a good chance you'll be hanging out at John F. Kennedy International Airport.
Opened in 1948 in the Jamaica neighborhood of Queens, JFK Airport serves millions of passengers annually through five terminals, 130 gates, and four runways. It's the largest airport in New York State and the eleventh busiest in the country. A billion dollar renovation initiative—which is expected to run through 2030—is responsible for the major facelift to JFK's facilities including new indoor greenspaces, public art, and renewable energy technologies.
Whether you're looking for overnight accommodations at a retro hotel before an early flight or are scouting out a reliable spot for a pre-boarding bite and cocktail, here's our ultimate guide on everywhere to eat, drink, and shop at John F. Kennedy International Airport in NYC.
Terminal 1
24-Hour Flower
Closest gate: Outside of security on the east and west side of Arrivals
Whether for yourself or your special someone, fresh flowers are the perfect way to perk up after all the holiday get-togethers and hometown run-ins. As the name suggests, 24-Hour Flower offers a selection of floral arrangements, plus souvenirs any hour of the day or night.
Closest gate: Center Concourse
Although Victoria's Secret might have a rep for mainly selling underwear, if you're looking for a way to cozy up your flight it's worth a visit. Located in the Center Concourse, travelers can pick up perfumes, pajamas, eye masks, slippers, and more.
Closest gate: Gate 5
Pampering yourself is truly the ticket to having a more laid back trip. Release some pre-flight tension via a quick neck massage, manicure, or facial at BeRelax in Terminal 1.
Closest gate: Gate 1
Between the hours of 10 am–11 pm, take your airport experience to a much swankier level within the Air France Lounge at JFK. Here, you can take full advantage of self-service hot and cold meal counters, local and international newspapers, and showers. Additionally, the lounge also features a specialty Clarins treatment area, which offers three facials: Anti Jet Lag, Instant Detox, and Focus Regard.
Closest gate: Gate 1
On all days of the week other than Saturday, kick back at JFK's Lufthansa Lounge between flights. Catch a pre-flight buzz thanks to self-serve beer on tap, keep your strength up courtesy of a selection of snacks, and get some on-the-go work done with fast wi-fi and free printers.
Closest gate: Between Gates 5-7
In a time crunch, Terminal 1 offers Turkish food from Eat & Go Istanbul. Options include gyros, burgers, salads, and sandwiches.
Closest gate: Gate 5
Cravings for a sit-down meal of Asian fare can be found near Gate 5 at Soy and Sake. Choose from a variety of bites like dumplings, fried rice, lo mein, and ramen.
The LOCAL
Closest gate: Gate 5
The LOCAL in Terminal 1 is a reliable go-to restaurant within Terminal 1 for bistro-style foods—think burgers, fries, paninis, flatbreads. Additionally, order yourself a couple beers or a Bloody Mary from the bar.
Terminal 4
Closest gate: Retail Hall West
A sure way to impress any in-laws, friends, siblings, or partner is by gifting something uber-shiny. Pick up jewelry or a trinket of sorts as a last minute treat from Swarovski.
Closest gate: Retail Hall West
Button downs, sweaters, blazers, and slacks are the signatures of Brooks Brothers. If you find yourself with some extra time to kill or accidentally forgot to snag the dry cleaning on the way to JFK, this is a definite go-to.
Closest gate: Gate A8
For SkyMiles cardholders and those willing to pay for a $50 day pass, the Delta Sky Club is a restful haven with soundproof booths, a covered terrace, and a full-service cocktail bar. Other lounges scattered throughout Terminal 4 include the Swiss, Emirates, Air India, and Etihad Lounges.
Closest gate: Gate B39
For long layovers, Terminal 4 also hosts a crew of Minute Suites, which are quaint rooms with a daybed, desk, and TV for travelers looking to rest for a minimum of 1 hour to a maximum of 8 hours.
Closest gate: Retail Hall West
One of the nicer options for a sit-down meal at JFK is The Palm Bar & Grille. A leisurely feast can be had with an extensive menu that includes salads, seafood, and steaks.
Mi Casa
Closest gate: Gate B23
Something about a margarita and tacos combo just makes sense at an airport. Tacos, burritos, quesadillas, and chips make up the menu at Mi Casa.
Closest gate: Gates B22 and B37
This NYC-born burger joint is a favorite amongst peckish travelers. Our one kind suggestion, eat your hamburger and fries before your flight (because, let's be real, no one likes sitting next to that person).
Closest gate: Gate B34
For an ice cold beer, JFK is home to a pub outpost of the New York-based Blue Point Brewery in Terminal 4 near Gate B34.
Accessible through Terminal 5, the TWA Hotel flaunts a chic 1960s design. Built within what used to be the TWA Flight Center, the groovy spot consists of 512 rooms; a cocktail spot called The Sunken Lounge; an aviation history museum; a rooftop pool; The Paris Café by Jean Georges; an airplane converted into a bar called Connie Cocktail Lounge; and a holiday-inspired après swim destination called Runway Chalet at The Pool Bar.
Closest gate: Central Concourse
One of the larger book and magazine selections at JFK airport can be found at WhereTraveler Books. Peruse through the selection of staff favorites on the front tables or explore the shelves organized by genre.
Closest gate: Gate 6 and Gate 7
Sometimes the most stressful part of traveling is just getting to the airport. Unwind with a quick massage, manicure, or facial appointment at BeRelax.
Closest gate: Food Hall
When it comes to bagels in NYC, the competition is fierce (to say the least). But for this hometown stalwart, a 50-year-old legacy and still-buzzed-about menu helps keep it top of mind for New Yorkers. Lucky travelers in Terminal 5 can stop by for artisanal BECs and lox.
Closest gate: Central Concourse
The menu at AeroNueva in the Central Concourse of Terminal 5 was created by chef Mark Ladner (Pasta Flyer). The Italian offerings include classics like Spaghetti & Meatballs, Chicken Milanese, and more.
Closest gate: Food Hall
New Yorkers either love or hate Artichoke Pizza. For those who lean towards the love side of this divide can make a pitstop at the to-go counter for a classic Artichoke, Vodka, or Crab slice.
Closest gate:
Homegrown bakery, Baked By Melissa, commands a busy outpost out of JFK's Terminal 5. Pick up a sweet treat or two—like a seasonal cupcake or macaron—to get you through a busy travel day.
Terminal 7
Closest gate: Above TSA Security Checkpoint
We've all found ourselves in the predicament of leaving some (if not tragically, all) of your toiletries at home. Thankfully, Kiehls in Terminal 7 can save you from prolonged anxiety. The outpost offers everything from eye cream and shampoo to face wash and sunscreen.
Apartment 7B
Closest gate: Food Court
Apartment 7B in Terminal 7 is primed for when you don't have time (or the patience) for a sit-down experience. There's grab-n-go sandwiches and salads, plus coffee and teas.
Johnnie Walker
Closest gate: Center Concourse
Drop by Johnnie Walker in the Center Concourse for a stiff drink. This is a dependable spot to hang out if you're through security with some extra time to kill.
Le Grand Comptoir
Closest gate: Gate 6
Le Grand Comptoir in Terminal 7 is a wrap-around wine bar with snacks like cheese boards and Bruschetta. In addition to plenty of vino, there's also cocktails and beer to sip on.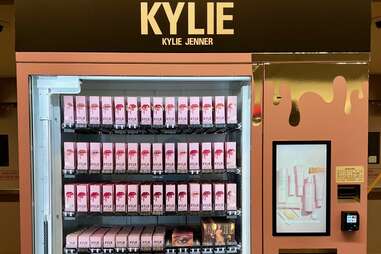 Terminal 8
Kylie Cosmetics
Closest gate: Concourse C across from C2
There's something about a vending machine filled with makeup from the Jenner/Kardashian world that sounds ridiculous, but intriguing. Accepting card and cash, take a jaunt over to the Kylie Cosmetics dispenser for lipstick, eye shadow, blush, and more.
Closest gate: Concourse B near Gate 8
We'd be lying if we said we weren't suckers for NYC merch. At New York Originals that's exactly what you're getting. Among the apparel and accessories on display, most are made in New York City and across New York State.
Closest gate: Main Terminal
While Bobby Van's Steakhouse isn't exactly equivalent to a high-class chophouse you would find in the city, it's certainly a valid spot to have a meal. In addition to a range of chops, there's sandwiches, salad, and seafood. A martini is also a good bet here.
Closest gate:
Not all airport bars will be able to serve you a pint of Guinness, but as the name suggests Tigin has you covered in that realm. There's also bar bites, sandwiches, and a classic Fish & Chips to accompany your beverages.
Izzy Baskette is the New York City Staff Writer for Thrillist. Talk to her at izzy.baskette@voxmedia.com or find her on Instagram.