The Ultimate K-Pop Guide to NYC
K-pop stores, dance lessons, and cool Korean hangout spots your favorite idol would approve of.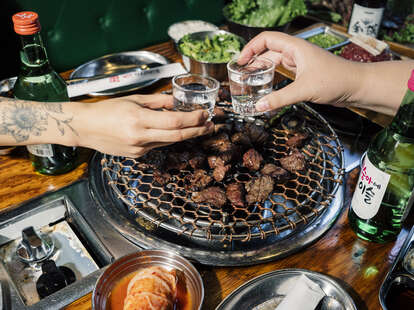 Soju and Korean barbecue at Jongro BBQ

| Photo by Jutharat Pinyodoonyachet for Thrillist
Soju and Korean barbecue at Jongro BBQ

| Photo by Jutharat Pinyodoonyachet for Thrillist
Back in the '90s, the South Korean government set forth a plan: Establish the country's culture as an exportable good via strategic planning and official policies.
Since then, from Korean food crazes (Trader Joe's Kimbap fans, keep reading), K-dramas, and K-beauty, elements of Korean culture can now be found peppered into many of our daily lives. And there's perhaps no other category as prevalent as K-pop.
What started as a music genre known for catchy pop set to captivating visuals and dances has sprouted a flourishing subculture of its own, with everything from its own slang and special monikers for loyal AF fandoms (never mess with the ARMY).
Since diehard K-pop fans know bops from artists like BLACKPINK, BTS, and New Jeans are just too good to dance to alone, flocking to meeting places filled with fellow stans or hanging at spots our favorite group members might love is an absolute must. From dance parties, Korean barbecue, and where to buy concert lightsticks, here's a K-pop guide to NYC, along with some cool Korean places to hit up.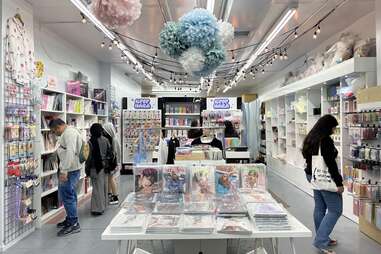 Kpop stores in NYC
Along with latest music releases, accessories, and fandom merch, K-pop stores are also cool spots to show off your stylish fits and run into fellow K-pop fans.
The Koreatown branch of KPop Nara in Manhattan is currently their only East Coast location, and its colorful entrance is littered with personal notes from customers. Half a block away, Koryo Books is a pioneer that helped make Koreatown into the thriving hotspot it is today. Originally just a bookstore, the storefront has evolved to adapt with the times over its decades of operation, and the shop currently offers a wide selection of K-pop products in addition to its book selection.
Farther uptown at Columbus Circle, Mandu Kpop Store at the Turnstyle Underground Market has all the posters, music, and stickers you'd ever need, along with cool custom merch like pins that were specially produced in collaboration with craft artisans and not sold anywhere else. In Flushing, Queens, head to Bandi Books, another Korean bookstore that's expanded its inventory to include K-pop goods.
Korean food in NYC
Barbecue is often regarded as the culinary jewel of Korean cuisine (and what our talented idols are always deserving of). The ultimate destination for this in New York City is Jongro BBQ. This South Korean chain has locations in both Koreatown and Flushing, Queens. With all meats butchered in-house, pair everything with soju shots within the restaurant's retro design aesthetic. And check out our Insider Tips for How to Order and Eat Korean Barbecue.
For more Koreatown eateries, bb.q Chicken offers takeout boxes of must-try fried chicken; Food Gallery 32 is a food hall with plenty of seating for budget-conscious hangs; Emo Kim Bob is a staple for handmade kimbap rolls; Sundaes Best serves non-dairy gelato in flavors like Banana Milk or Chocopie; and Her Name is Han is an essential drinking spot with an elevated food menu.
While Koreatown in Manhattan is known for its bustling shops, restaurants, and nightlife, the area is primarily commercial. When it comes to the majority of New York City's Korean population, they reside in Flushing and its surrounding Queens neighborhoods.
Continue your K-pop eating and drinking tour in Flushing at GongGan, a super cool bakery with whimsical desserts that also transforms into Bar GongGan at night; HanYang BunSik, a hole-in-the-wall eatery offering some of the best Korean food in New York City that's tucked away next to a supermarket; and KimGaNae for comfort foods like Kimbap and Kimchi Pizza Pork Cutlet.
For more Korean eats, Appas Pizza in the East Village specializes in Korean-style pizza; ARIARI, also in the East Village, showcases the food and drinking culture of Korea's second largest city, Busan; Kimbap Lab serves handmade kimbap in Chelsea and Williamsburg; and Hana Makgeolli in Greenpoint produces makgeolli at their onsite facilities that can be enjoyed in their tasting room.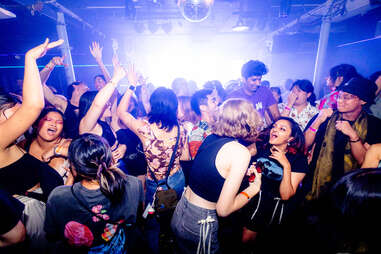 Kpop karaoke, parties, and dance classes
When it comes to the hottest party for K-pop hits, head to BIAS NYC's dance floor. A sweaty good time here includes fun remixes and drag performances, and the roving club merges NYC nightlife with your favorite bias while aiming to encourage community within the world of K-pop fandoms. The party is a designated safe space for all and is currently touring Asia—be sure to check their IG for details on their next local event in January.
To learn the latest dance moves, I Love Dance offers classes across locations in Manhattan, Queens, and New Jersey. Along with learning choreography, taking an in-studio class could also bring you face-to-face with idols like Luna or as a background dancer to Somi in Times Square.
While many fancy karaoke spots in Koreatown have come and gone throughout the years, Gagopa Karaoke remains a classic. This is in part to them keeping it simple with cozy private rooms to scream sing your favorite songs while your friends destroy it on the tambourine.
Tae Yoon is the Senior Editor of East, Local cities at Thrillist. He was born and raised in Queens, New York.